The UK's No.1 American Car Magazine! Classic American car magazine celebrates the style and glamour of cars and trucks made in the US of A. Gloriously powerful sports and muscle cars such as Mustangs, Corvettes, Camaros and Chargers take centre stage with everything from prewar vintage pioneers to the tailfinned wonders of the '50s profiled and pictured as well.
Expert columnists from both sides of the Atlantic debate the hot topics of American car ownership and development and the histories of big names such as Ford, Chevrolet and GM are explored. Every issue features restoration tips, romantic wrecks, ads from the archives and news from the burgeoning UK scene. The magazine features reviews, tips, stories and more on many American cars. So don't miss out – get involved and take out your magazine subscription now!
FREE Glovebox Guide with UK copies of the September issue!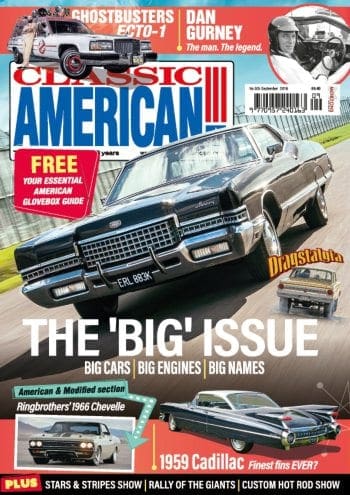 Got a classic American car? Then you'll need Classic American's indispensable 2016 Glovebox Guide! If you're in the UK you'll receive a free copy of our updated guide to dealers, garages, parts suppliers and more with the September issue.
But that's just one of the delights we have for you. If you like BIG cars, you'll love the fabulous offerings displayed in all their glory – from a stunning 1959 Cadillac Coupe de Ville to a fast and furious 1968 Plymouth Fury III.
And if words like 'fast and furious' quicken your heartbeat, you'll also love the movie theme that runs through the pages. We've got an astounding feature on a 1991 Cadillac hearse that's been transformed into the body double of Ecto-1 from the hit movie Ghostbusters… enough to send a shiver down your spine! There's a special treat in store with a review of the new movie The Nice Guys, with the emphasis firmly on the motors that star in this homage to 1970s LA – and if you like your motors sleek, black and with a hint of menace, make sure you track down our feature on a 1972 Mercury Marquis, a sinister and sizeable Seventies superstar. Plus we've got event news and reviews – Stars and Stripes, Rally of the Giants and Dragstalgia – and much, much more!