1953 Lincoln Capri two-door hardtop coupe
Aficionados consider the '52-'55 Lincolns among the best-looking models the company ever built. After seeing this Colonial Blue beauty that landed here in the UK just last year, we're inclined to agree…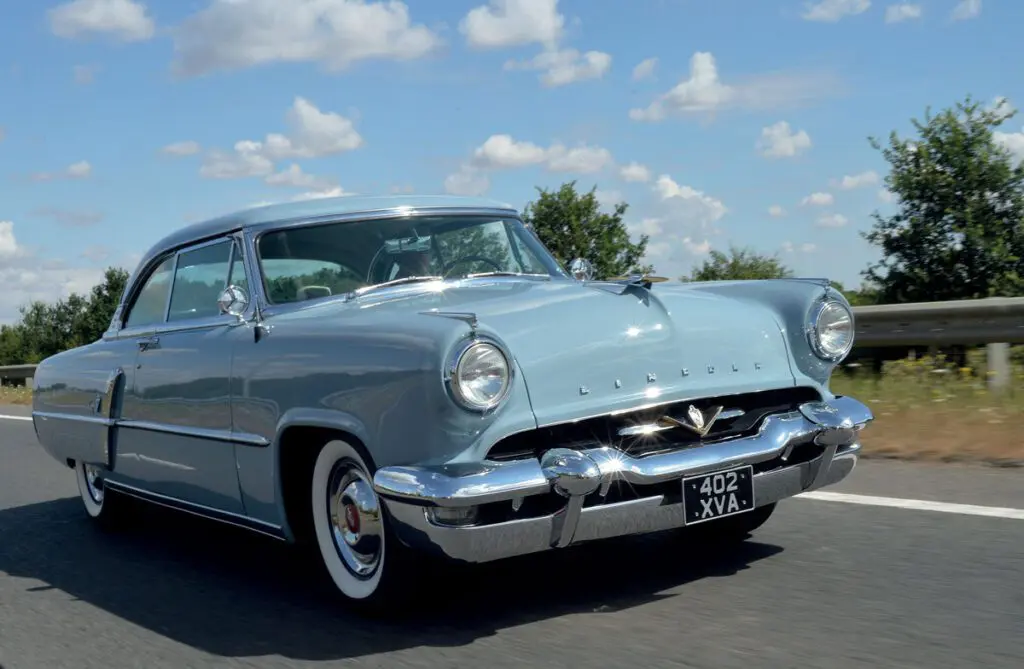 In the early Fifties, a legendary race that covered more than 2,000 gruelling miles along the Pan American Highway in Mexico became a testing ground for numerous marques and models of cars; but only one marque has become synonymous with the notorious road race – Lincoln.
By 1954 however, the race was proving too dangerous to continue, with fatalities being recorded every year, so '54 was its last year, but Lincoln had proved just how tough and durable their cars were. Their advertising took advantage of the race-proven credentials of the new Cosmopolitans and Capris.
With direct reference to the race, 'Lincoln Wins Again' was the heading, or another advert showed a gleaming new Lincoln Capri Convertible alongside Chuck Stevenson's winning Capri Hardtop race car; the strap line: "Lincoln – Designed for modern living – Powered for modern driving".
So confident was Lincoln-Mercury Division of its new models, the advertising rhetoric stated that once you had driven a new Lincoln… "you'll never go back to old-fashioned driving." In reality, the 1952-55 Lincolns were very modern compared to the models they replaced and many Lincoln aficionados think the 1953 model, like the one owned by Terry Fleckney, represents a high point in the '52- '55 model run styling.
For the 1953 models, Lincoln saw no good reason to change much on the outside; the '53 models were essentially the same in appearance, retaining a clean, uncluttered profile, with a distinctive rear fender moulding in front of the rear fender skirts – it was a world away from the heavy, bulbous look of previous models.
With the benefit of a more powerful V8 engine, a Holley four-barrel carburettor, HydraMatic transmission as standard, leather seating and a sophisticated 'Comfort Control' heating and ventilation system, the 1953 Lincoln Capri was a viable alternative to a Cadillac Coupe De Ville, being $400 less than a similarly equipped Cadillac and nearly $1,000 less than a 1953 Imperial Coupe.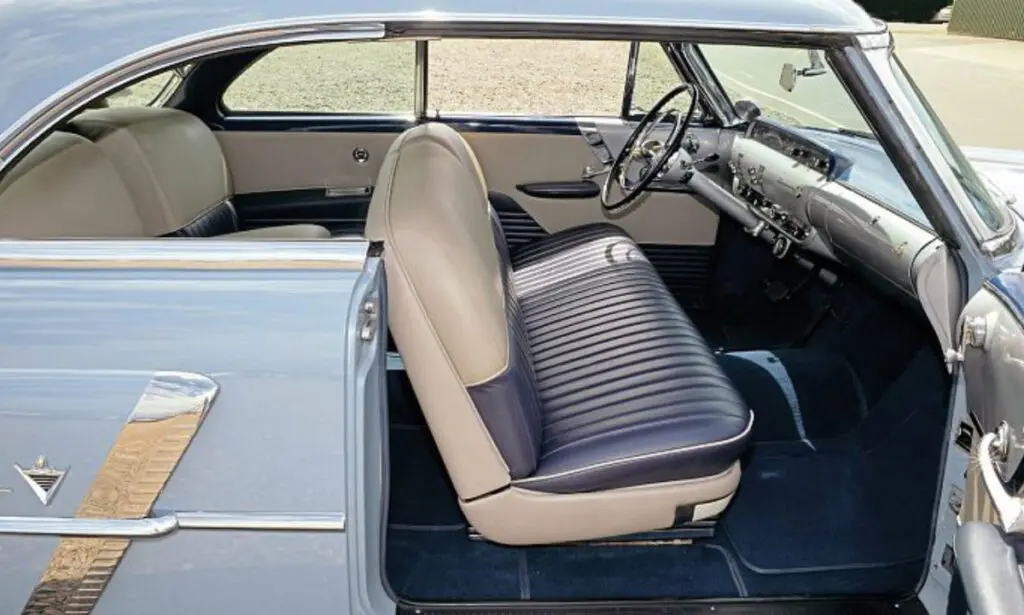 Basic factory price for a '53 Lincoln Capri, before extra cost options, was $3,549 and 12,916 were built, doubling the quantity for 1952. Around 7,000 more Lincolns would have found new buyers that year had there not been a fire at GM's Livonia, Michigan, transmission plant, which stopped production of the Hydra-Matic-equipped Capri for 55 days.
Terry Fleckney's '53 Capri Hardtop Coupe is a well-optioned example, with power-brakes, power-steering, electric windows, four-way power front seat, tinted glass, wide whitewall tyres, radio and 'Comfort Control' heating and ventilation system, which features two separate heaters.
Terry's Lincoln is also showroom perfect in every respect. It was built at the Lincoln plant in Wayne, Michigan, and was sold new in Rhode Island. Some years later, the owners moved to Ephrata, Washington, and subsequently sold the car to a body shop owner in another part of Washington State, who intended to restore the car as it had some surface rust on the front fenders, due to the severe winters in Rhode Island.
The owner then retired, moved with the Lincoln to Orange County, California, still intending to restore the car; but unfortunately it never received its restoration and was sold on again to a new owner in Texas.
Once in Bloomfeld, Texas, the Lincoln was finally restored; the front fenders were replaced with rust-free 'new-old stock' fenders and a body shop repainted the car in its original colour – Colonial Blue. Capris were available with two-tone paint finishes, so a single-tone finish is unusual.
Colonial Blue would have been a popular choice with, for example, darker Crown Blue. While the Lincoln was receiving its new paint, all of the chrome trim was re-plated, the gold emblems restored and the entire underbody and frame cleaned and detailed.
It was confirmed that there was no body filler under the paint, so the car was once again pristine on the outside, but needed a re-trim inside. This was duly carried out, in original blue and ivory leather and leather-cloth fabrics, matching the originals. A new dark blue carpet was also added.
The owner at the time, who had a collection of cars, including another 1953 Lincoln and several Packards, kept the car for a few years and claimed the Colonial Blue Lincoln Capri was one of the best driving cars he had ever owned. As the engine and transmission were working perfectly, no work on either was needed and, to date, the car has still only clocked up 63,400 miles, so it really is just 'run-in'.
The Lincoln then went to one more owner, who also had a collection of cars, and resided just south of Austin, Texas, before it was sold to Terry in October 2017, landing in the UK in January 2018. Terry was actually looking for a convertible, but, as he adds, this Capri had an instant appeal with a couple of favourable points: "I just liked the styling of it… and it was a nice looking car – nice colour, the interior looked good… and it fitted in my garage!"
Although the Lincoln was in very good condition, it needed more work on it when it arrived in the UK. Terry explains why and what was done: "Unfortunately, it got damaged at Houston. They shifted it with a fork truck and the exhaust system got crushed, so I got a stainless one made up to the original pattern, with two quite large silencers, but no resonator. Now it sounds more like a Rolls Royce than a Yank!"
Terry went through the mechanicals to make sure everything was in order, but there was one important item that he was not very happy about – the brakes. "When I bought the car, the brakes were not very good, so I replaced most of the pipes and the flexi-hoses." As the Lincoln was fitted with a mid-Sixties Mustang brake servo and twin-circuit master cylinder, that was also replaced.
Since then, Terry has kept the car garaged and immaculately clean, just cruising to shows and enjoying it. He too thinks it is a great drive, better than the 1956 Pontiac Star Chief Catalina he sold prior to buying the Lincoln, but then the Lincoln was 'Designed for modern living – Powered for modern driving'… it said so in the advertisement!
Carrera Panamericana Scrapbook
The Carrera Panamericana started in 1950, and in 1952 it was divided into two separate categories – one for sports cars, which was dominated initially by Mercedes-Benz and then Ferrari, and a second for stock cars – with Lincoln holding the crown in that category until the race was banned in 1954.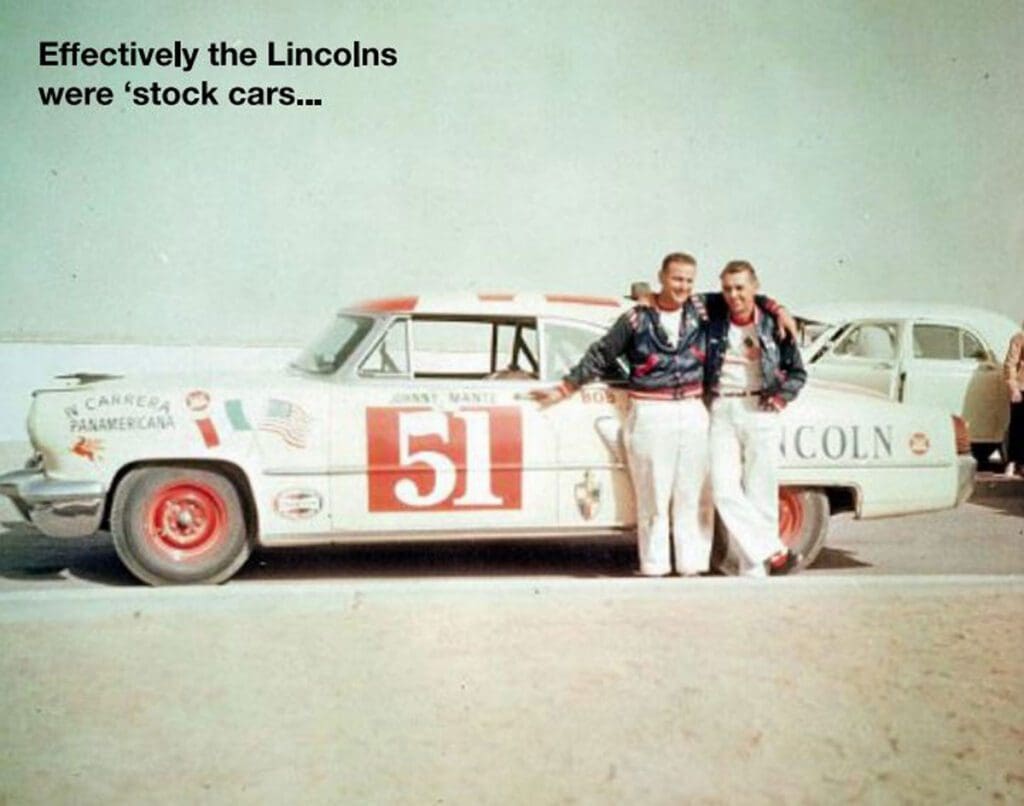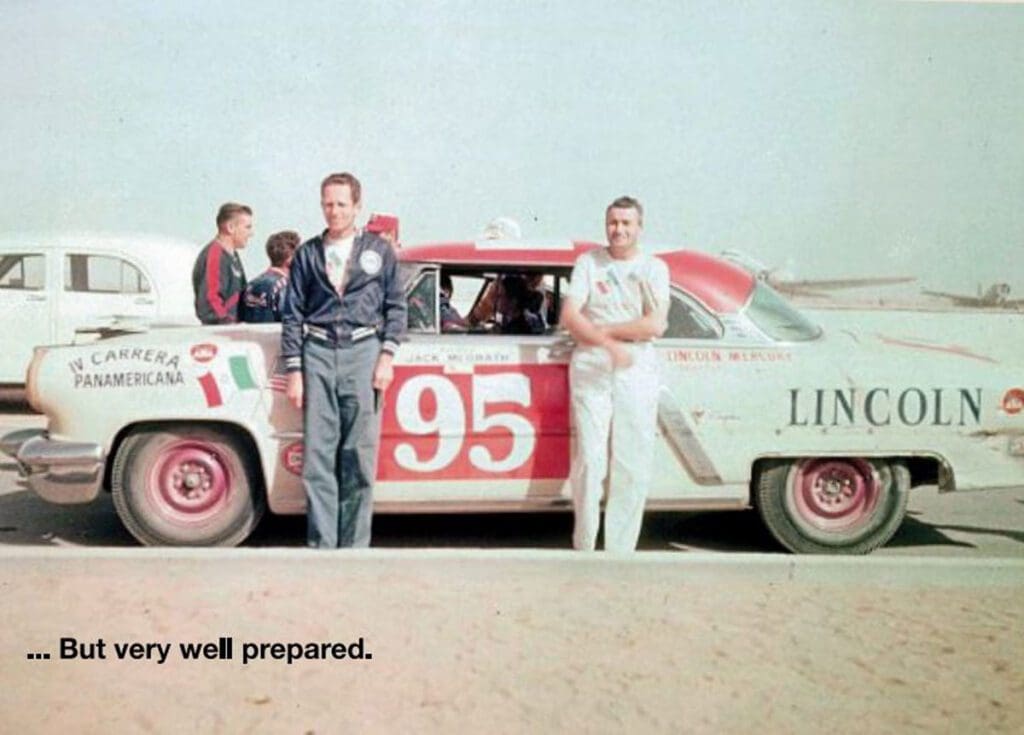 The Lincoln model line-up had been completely restyled in 1952, and a Lincoln Capri, driven by Chuck Stevenson, won its class. The car Stevenson drove for the '52 event was actually a 1953 model, which had the new overhead valve 317 cubic inch V8 engine introduced in '52, but with a significantly uprated horsepower output, from 160bhp to 205bhp. In the 1953 event, Lincolns achieved first, second and third positions in the stock car category, a situation that was repeated in 1954 when Lincolns again dominated the class by occupying the first two positions.
Words and photography: Geoff Carverhill