This 1970 Dodge Challenger R/T has spent far longer in Europe than America, selling new
to Zurich, Switzerland. We trace the past and present of a rare expatriate muscle machine.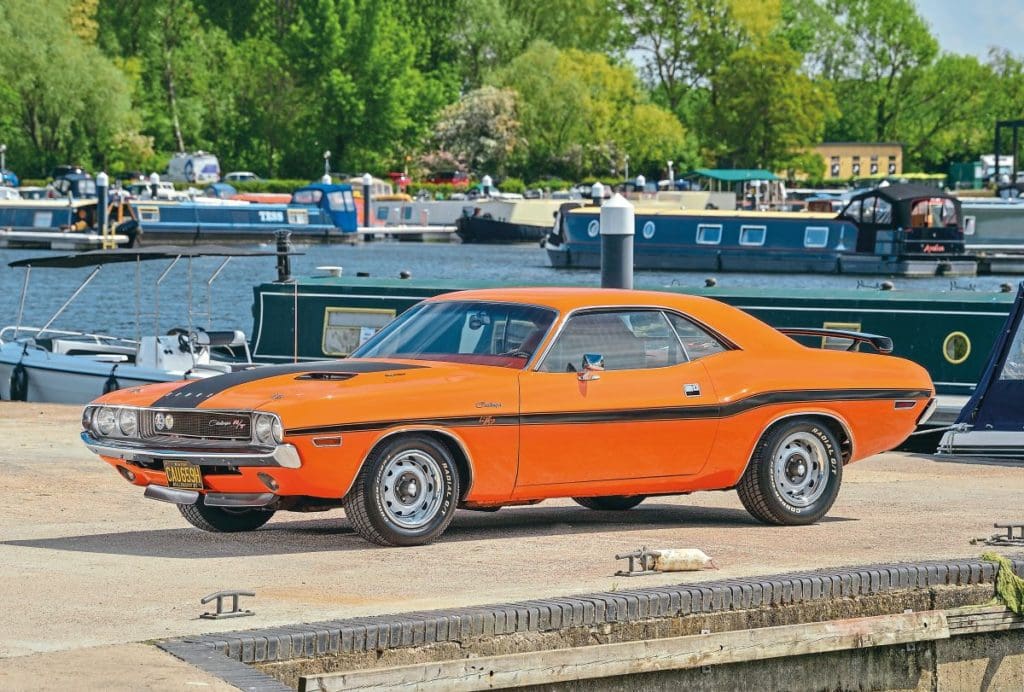 Words: Nigel Boothman Pictures: Matt Woods
American cars have been sold new in European countries for decades, sometimes through a manufacturer's dealer network, but usually as discreet, low-volume imports. Nowadays, cars that reached us in that manner are rarely seen, even those from the most prolific UK importer, Lendrum and Hartman in London. They were initially Buick and Cadillac concessionaires, and then Chevrolet and Oldsmobile too. By the 1980s all were becoming hard to sell here, and L&H entered receivership in 1990.
It seems a similar thing was happening in Switzerland around 20 years earlier. A company called AMAG had been assembling Plymouth and Dodge cars (presumably from complete knock-down or CKD kits) since 1948; selling around 1000 Valiants every year through the 1960s and a few hundred Darts, too. They even built and sold some second-generation Plymouth Barracudas in 1967, '68 and '69, demonstrating a modest local market for muscle cars. Perhaps it was this which persuaded Chrysler and AMAG to import a dozen or so of the eye-catching new Challengers in 1970.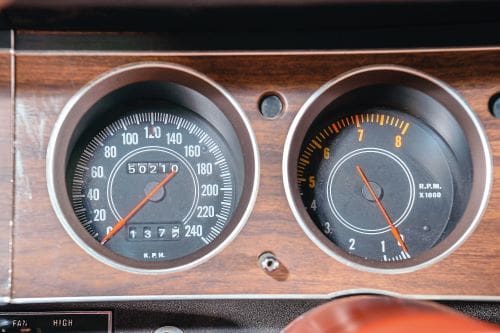 Yes, import, and not construct; building them in Switzerland was already being phased out. AMAG seems to have built up the cars to a very high standard, partly because of the stricter construction-and-use rules in Switzerland and other European markets when compared with America, but also to justify the prices they had to ask. The import duty may not have been as high as that on completed vehicles, but shipping the CKD kits, paying whatever Switzerland charged to let the goods in, then funding their construction meant that they were a rich man's option. And even in Switzerland there was a limited supply of rich customers, leaving AMAG short of sales and profits. The factory closed in 1972, and it's likely that imports ceased at that point too. Not before this one passed through their hands, though.
It seems AMAG went right through the imports, changing anything that wouldn't pass muster in Europe, such as the standard sealed-beam headlamps. These were deemed inadequate, perhaps for the limit-free motorways which were common across Europe at the time, and particularly in Germany. So a set of Hella Halogen lamps replaced them.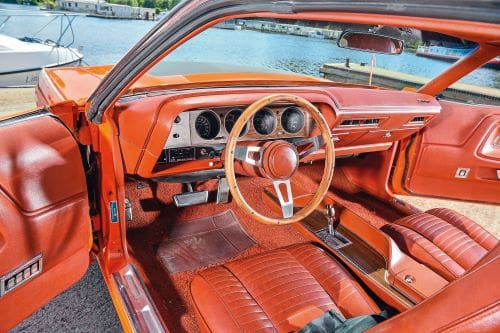 This car arrived with a strikingly high specification already. It's an R/T, meaning that the 383cu in V8 is the most powerful of three 383 variants offered in the 1970 Challenger, with 335hp. It has power windows too, a very rare feature in R/Ts that were so often bought by those who wanted a performance edge rather than a luxury package. But there's also an eight-track stereo and AM radio (a $196 option), air conditioning, power brakes and power steering plus all the standard R/T kit: Rallye suspension, the Rallye gauge pack on the dash and a side-stripe.
It was painted in 'GoMango' and ordered with a Burnt Orange interior and a rear spoiler, completing a pretty high-end muscle car that must have turned heads all over Zurich. Imagine streets full of little Opels, Citroëns, Fiats and Renaults and you have an idea of the impact a Challenger like this would have had. Unfortunately, we don't know the identity of the original owner, or the circumstances of the order. Was this someone's money-no-object dream car, with almost every option box ticked, or was it ordered for stock by a Swiss concessionaire who knew it would have to be tricked out to match the increasingly well-equipped Mercedes, Jaguar or Porsche offerings?
We do know that the car was eventually resold in Germany. We can't say how many owners it had, or how long it was off the road, but by the year 2000 or thereabouts it was in the hands of an American working at a US air base in Germany. He had bought the car to restore, apparently in original condition with all the important parts still present. He took it apart and had the engine rebuilt to stock R/T 383 specifications. But life took a bit of a turn for him when a divorce forced the sale of the car. Divorce for the previous owner, and a perfect marriage for the next one. Everything happens for a reason – right?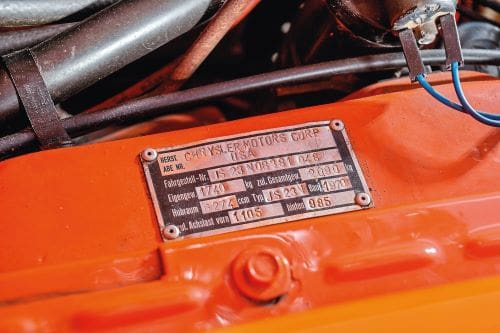 That next owner, Bob Nauer, had served in Germany with the US Armed Forces but retired not long before, staying on to work as a civilian in support of European Command at Stuttgart. This provided an opportunity to have access to the local Stars and Stripes publication which lists American cars for sale. In July 2006, Bob saw a listing for a special Swiss import 1970 Challenger R/T. It was meant to be.
"I rang him and asked if it was a genuine R/T," says Bob. "Yes, he said, it was, so I anxiously and quickly drove down the Autobahn to check it out and confirm that the VIN code was correct. I was ecstatic that the numbers on the side of the block, the left-hand side of the transmission and the date code and ratio on the rear end confirmed that the car was a true R/T Challenger. There was an added bonus; the original build sheet had been discovered under the rear seat and was included in the sale of the car."
The seller partially reassembled the drivable Challenger, though the interior trim was not fully installed. Luckily, Bob managed to gather all the bits and pieces and bring it home on a trailer to its 'forever home'.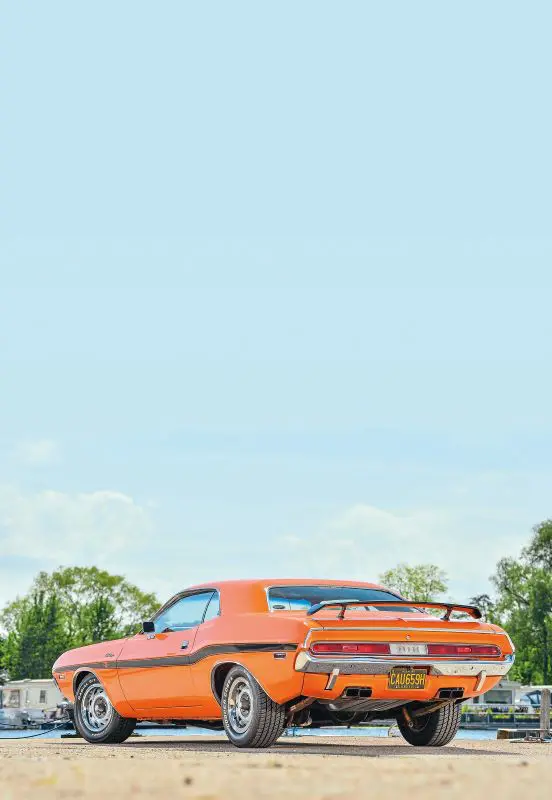 "I've owned several of them over the years, so I was well-versed with Challengers old and new," says Bob. "It took about a year to get it reassembled and back on the road. The interior was in great condition and while I can't swear to it, I believe it to be original to the car. The dash pad has no cracks in it, which for a classic Challenger is really unusual."
It seems likely Bob is correct – Switzerland and Germany don't often produce the months of scorching sunshine you get across the southern US, so vinyl and plastic are bound to survive better. And authentic − undamaged Burnt Orange interiors for 1970 Challengers are difficult things to buy second-hand… especially in Europe.
"I had to have the transmission rebuilt," says Bob. "I dropped the transmission myself as the seals were leaking. I delivered it to Yankee Motors in Nuremberg."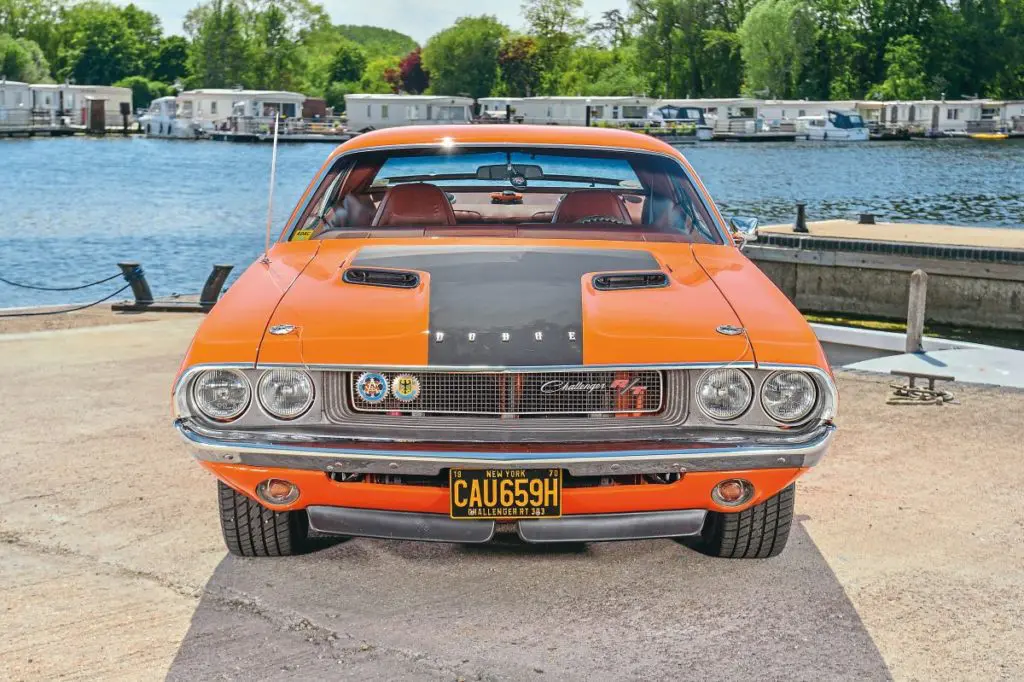 When the Challenger was finally assembled and complete, Bob had the last derestricted highways left in Europe as his test track. Not that there was anything reckless about it, just a chance to discover what a relatively high-geared and potent car was capable of.
"It could cruise on the Autobahn at 100mph," he says. "A nice 90-100mph cruise was good for as long as you desired, thanks to the 3.23:1 rear-axle ratio and the auto transmission. Since I had no plans to put this car on the drag strip, my expectation was to keep everything original."
Bob participated in shows and events in Germany, including a memorable day at Hockenheim for the Jim Clark Revival event where his Challenger was one of more than 800 cars on track at once – something of a record. In 2009, Bob moved back to the Jersey Shore, New Jersey, and his Challenger soon followed him. Bob shared his Swiss import by cruising the Jersey Shore and attending a few local shows, but that was a short-lived experience, as Bob's career soon found him back across the pond, this time to the UK.
"Occasional trips back to our holiday home on the Jersey Shore gave me the opportunity to enjoy driving my special Mopar," says Bob. "Unfortunately, these moments became few and far between. I sold our holiday home and decided to ship my Challenger to England – it was time for the expatriate and his car to reunite."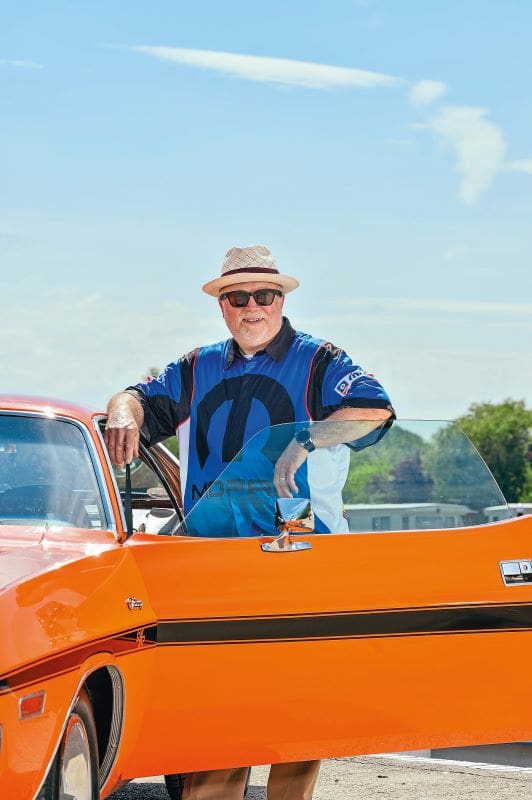 Since bringing the Challenger across, Bob has joined the Mopar Muscle Association UK and found fellow Mopar owners in this country. He had the pleasure of seeing his Challenger featured in the Pride of Ownership at the NEC Classic Motor Show in 2019.
"I was previously stationed in the UK in 1998," says Bob, "and back then, I was ill- advised to sell my 1970 440 Six-Pack and a 1970 R/T Convertible in the US before I left, due to the UK's narrow roads. I have since learned from my mistakes… you can't keep a good man and his Mopar down!"
Indeed, not! Bob has seen the odometer in the unusual k/ph speedo roll around from 32,000 (possibly its second time around) to 51,000 in his ownership. With nearly 20,000km under his belt, even with the six-year lay-up in New Jersey, it's a car that really gets used.
So next time you see a bright orange Mopar, keep an eye out for that Swiss Auto Club badge and the German eagle on the grille – this is a well-travelled rarity with a unique history, but it's still out there being enjoyed.