Imported new to London at the peak of the disco era, this Sundance Yellow Pontiac survives in lovely original condition with a tiny mileage, now living a quieter life in rural Scotland.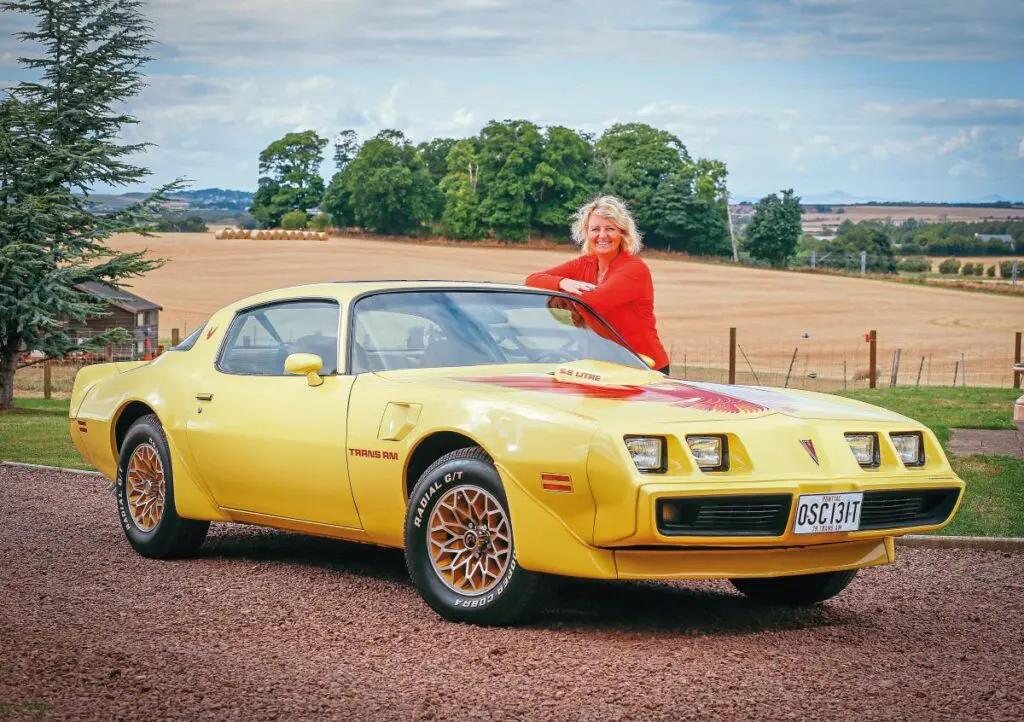 Words: Nigel Boothman Pictures: Lewis Houghton
Pontiac built 117,108 Firebird Trans Ams in the 1979 model year. Of those, a fairly small proportion were Sundance Yellow, and not all of those would have had red graphics – blue, argent (a silvery design) or gold were other options. Now imagine how few of these Sundance Trans Ams would have been ordered new to the UK. Of those, if indeed there were more than just this one, surely no others have survived to 2023 in immaculate original condition with fewer than 20,000 miles on the clock.
This, then, is a pretty special car. We'd love to know more about the original owner and their motivation for ordering such a noticeable machine, but all we have is the wonderfully well-stocked history folder. It's full of delights like the gold-lettered Owner's Manual, the guide to the Delco AM-FM Stereo Radio ('Increasing your LISTENING PLEASURE'), the warranty document, the consumer information fold-out and a leaflet from BF Goodrich on the 'Stowaway' Space Saver spare tyre, with pictures showing that even a lady can lift it. We also have the typewritten build sheet, full of option codes and details that confirm everything about the car's specification.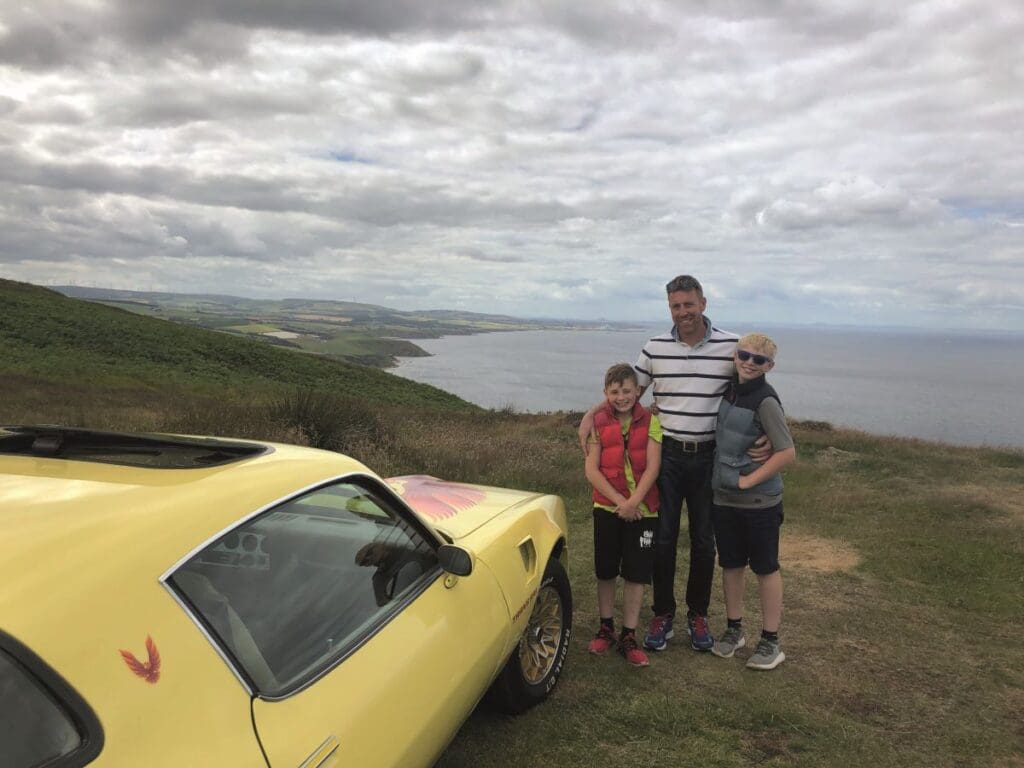 Whoever bought it wasn't short of a bob or two, as they happily added $529 worth of air conditioning to a car coming to rainy old Britain, plus a host of lesser options. The more expensive ones include electric windows for $132, 'hobnail cloth' seats in Camel Tan for $150, cruise control for $90, gold Snowflake alloy wheels for $310 and a whopping $351 for that Delco radio. What we don't know is the total cost as landed in the UK. In the US, the base price for a '79 Trans Am was $6299, and we can actually pin down a total (i.e. tax-inclusive) price in the UK before options, because Autocar magazine listed prices for a few American models imported through Lendrum & Hartman in London.
The build sheet seems to indicate the car was built on or around January 31, 1979 at the Norwood Plant in Cincinatti, Ohio. In the February 18, 1979 edition of Autocar, a Firebird Trans Am and the lesser Firebird Formula are both listed at £6767 basic and £7917 total. Inflation was rampant in 1979, even compared with today, and car prices hopped upwards from month to month, while the exchange rate moved as well, so we'll never be totally sure what the first owner paid. But add on at least $1500 in options, converted at an unfavourable rate to sterling, and with delivery, road tax, registration and a large tank of four-star petrol, you'd have been within sight of £10,000 – call it £9500.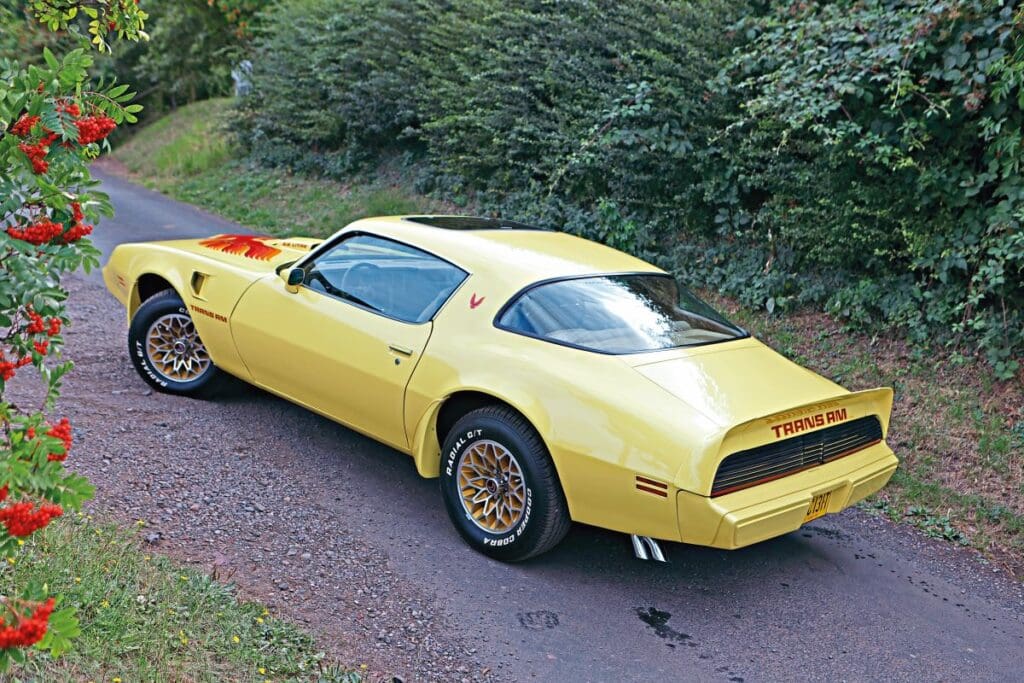 For that, you could have bought a Jaguar XJ6 saloon, a BMW 728, one and a half Datsun 260Zs, two 3.0-litre Capris or a Lotus Eclat. Though any of these would have been satisfying, fast and fun to drive, none of them had a rumbling V8 engine and not one of them would have turned heads like a Sundance Yellow Trans Am. For that, you'd have needed something like a red Ferrari 308 GTB at £15,000, which makes the Trans Am look rather good value. Perhaps it turned a few too many heads. Why else would it gather such a tiny mileage? By the late Nineties, the car was in the hands of Billy Alexander of Glasgow's well-known American car specialists Alexander Autos. At this point it had only 8000 miles on the clock. That's not much for 20 years… indeed it's so few that it's tempting to imagine an exciting first few months when the car gets used for everything, followed by a change of heart as the Eighties come along and fashions change – disco gives way to the New Romantics, and the car is garaged in favour of something less exuberant. But this is just guesswork…
A quieter life
What we do know is that the car was then bought by a gentleman in Lochgelly, Fife, who enjoyed it for 18 years, adding only 5000 miles to bring the total to 13,000 when he sold it to Brian Preston. Brian, owner of one of the two Dodge Chargers featured in our December 2022 issue, had spotted the car at one or two events before he met the owner and was very impressed with the car's condition and originality. "The owner said he was getting fed up with it," says Brian. "I think just because he'd had it a long time. I asked what he thought it was worth and when he told me, I said I'd like to buy it and offered him the money. I think he was a bit taken aback but I told him I was 100% serious, and eventually we shook on it."
There followed a nervous couple of weeks when Brian heard nothing from the gentleman, until he appeared at Brian's house one day to drop off the Trans Am. "It drove beautifully, in a way you often can't get back after a car's been restored," says Brian. "I think the previous owner had it painted, but apart from a new carpet set that I fitted, that's about all the work it's had, apart from servicing. There's a really good quality glass sunroof that I think must have been fitted when the car was new, or nearly new. It doesn't leak and it makes the interior feel nice and airy."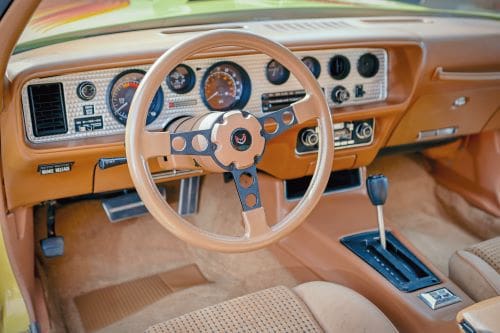 Brian's pal Grant Brand took a great fancy to the car and began nagging Brian to sell it to him, which Brian gently resisted until Grant found a new angle – when Brian bought his Charger, surely, he didn't need the Trans Am anymore?
After a while, Brian gave in, and the car duly changed hands. Grant, his wife Jane and their two boys were able to enjoy the sunny yellow Pontiac in the pretty countryside around their farm in East Lothian, and Brian remembers Grant being over the moon to own it. "He was a busy guy, but he always found time to polish the car and really loved it. People often use the description 'pride and joy', but it genuinely was that for Grant."
Tragically, Grant died in 2021, but the car remains with the family and probably always will. Jane takes it out in the summer months with the boys, and it lives in a large, dry barn with one or two other classics. It gets a once-over from Brian every year when he comes to check everything is working and renews the MoT, even though it's technically not in need of one, now that it's passed 40 years of age and changed to Historic Vehicle status.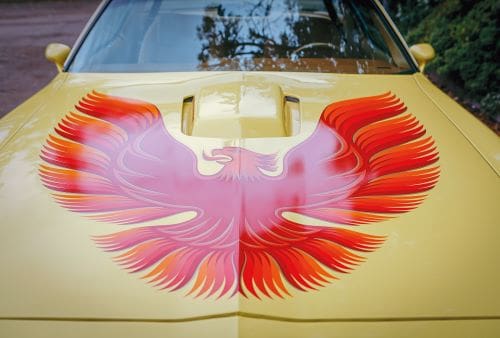 We were lucky enough to be handed the keys for a sunny afternoon outing of our own, with our photographer shooting some of these superb driving shots from the load bed of Brian's old Ford F-series pick-up. It's easy to see why Jane describes the car as easy and fun to drive, as it hits that sweet spot between being old enough and glamorous enough to be a true classic, and young enough to feel totally at home in modern traffic. There's enough power and heaps of torque from that 403cu in V8, which is actually an Oldsmobile engine. It was given the L80 code and used in preference to the slightly livelier 400cu in Pontiac motor when an automatic transmission was specified. It makes 320lb-ft all the way down at 2000rpm, which translates to an instant burst of acceleration from standstill or any gentle cruising speed.
The Camel Tan seats are soft but supportive and the power-assisted steering (nice and accurate) and power brakes keep you in full control. Brian's point about original, unrestored cars driving better than many restored ones comes to mind – with only 18,000 miles on the clock, this must be how a well-spec'd Trans Am would have felt when nicely run in after a year or two. No wonder Lendrum & Hartman found they could sell them into the UK market; it's a very capable, convincing package.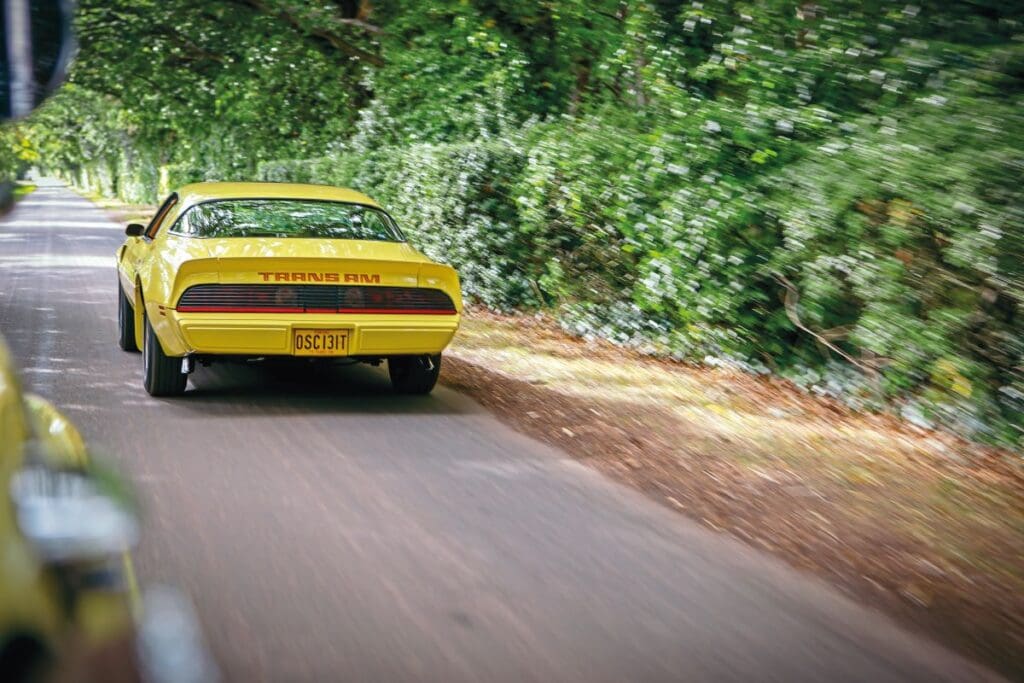 There's a Lendrum & Hartman catalogue from 1978 in the history folder, showing various Cadillac and Chevrolet models alongside the more exciting Trans Am and Corvette. The noble old firm had been a concessionaire for General Motors right back in the Twenties and continued this role even after its acquisition by the Lex group in 1968. It achieved something of a revival through the Seventies as it became cool to be seen in large and impressive American cars again, but the Eighties were tougher, as changes in both fashion and legislation hurt sales, until Lendrum & Hartman entered receivership in 1990. By then, though, the company had imported tens of thousands of cars that made our streets that little bit more interesting.
This wonderfully well-preserved and distinctive Trans Am is a perfect example – it would make you stare in 1979, in streets full of Vauxhall Vivas and Austin Allegros, and it still grabs your attention now. But it doesn't need to be seen and admired to fulfil its most important function, which is the pleasure it gives to Jane and her family.