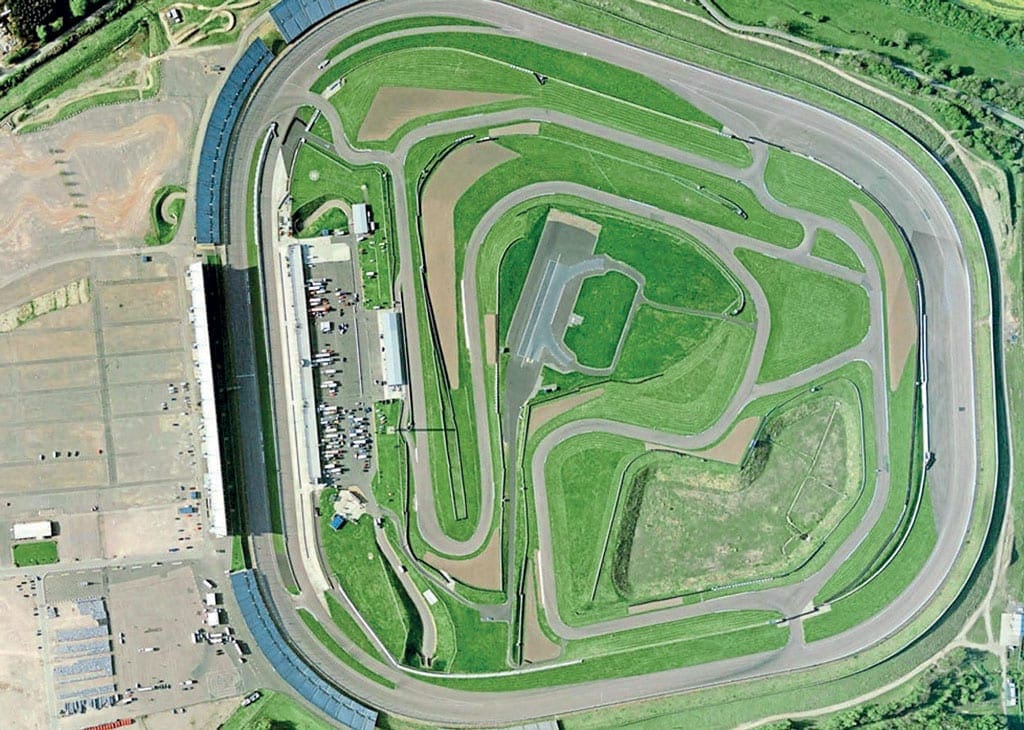 Another UK racing venue lost as Britain's premier oval racetrack closed at end of 2018*. Mike Renaut investigates what happened and how we ended up here…
Sad news for racing enthusiasts as Rockingham Motor Speedway is closing its doors. The 350-acre site was to be used for car refurbishment and vehicle storage.
Rockingham began as the £50 million, 25-year dream of race fan Peter Davies to make Corby in Northamptonshire the home of British motorsport.
Article continues below...
Davies bought the land for £60,000 in 1991 with planning permission granted for a circuit in February 1993. The derelict former quarry site had been used for steelmaking until 1980 and was one of several locations around Corby where thousands of tonnes of toxic waste was dumped in the Eighties and Nineties.
Despite local concerns about increased noise and traffic, the racetrack scheme went ahead, although Rockingham struggled to get serious backers despite proposals that it would include sufficient facilities for Formula 1 racing.
With his five years of planning permission for the circuit running out, Davies took an excavator to the site one day in 1998 to start digging and thus legitimised his planning permission. Soon after, his backer Guy Hands – later to own the EMI music empire – agreed to fund the project. Yet by 2000 Davies been ousted from the board.
With a 1.5-mile oval track, 36 pit garages and the potential for 130,000 seats, Rockingham Motor Speedway (not to be confused with Rockingham Speedway in North Carolina) opened January 15, 2001 and was formally opened by the Queen in May 2001. Supposedly, Davies watched the first race from the public stands.
The Corby Telegraph described the first six months of operation as a 'disaster,' but bosses were still hopeful for success. Rockingham was the first oval track in the UK since the closure of Brooklands in 1939 and they hoped to capitalise on an obsession for oval racing.
The track hosted two seasons of the US-based CART series in the early 2000s, as well as the ASCAR; a race category very similar to the American NASCAR championship. The Champ Cars series drew huge losses and was ditched in 2002, but several rounds of the British Superbike Championships took place at Rockingham between 2001 and 2003. As did Formula 3 racing, GT and Pickup Truck Racing Championships.
The British Touring Car Championships visited the circuit's infield road course for 11 consecutive seasons and, with ASCAR now renamed the Days of Thunder series, 2004 saw 20,000 fans attend for musical performances by 50 Cent and Blue. Yet that vision of NASCAR-style racing in the UK was never as successful as the original developers had hoped.
According to accounts for the year to March 31, 2017, the Speedway increased its turnover from £3.1 million to £3.5 million and cut its pre-tax losses from £1.2 million to £448,418 but it still wasn't enough.
The stadium was sold several times, supposedly only once making a profit in 2017/18. The site had been up for sale as a 'development opportunity,' since 2016 after owners Bela Partnership went into administration, virtually sealing the venue's fate. New owners Rockingham Automotive intend to build a 'world class logistics hub to de-fleet and re-market' over 20,000 vehicles at any one time.
A statement from the circuit reads: "A sale of Rockingham Motor Speedway Ltd has now completed and as a result, there will be changes in business operations at the venue. We would reassure all customers that these changes will not impact any aspect of events scheduled to run during 2018, nor the opportunity to stage further events this year.
*All information dated to November 2018.

Enjoy more Classic American reading in the monthly magazine. Click here to subscribe.
Sell your Classic American car here.