What do you buy when you're ready to hang up your drag racing shoes and focus your attentions on something a little less frenetic (and expensive?!). Andy Bennett from Lancashire decided returning this 1965 Buick Wildcat to its former glory was just the ticket… and a great way of occupying himself during two lockdowns!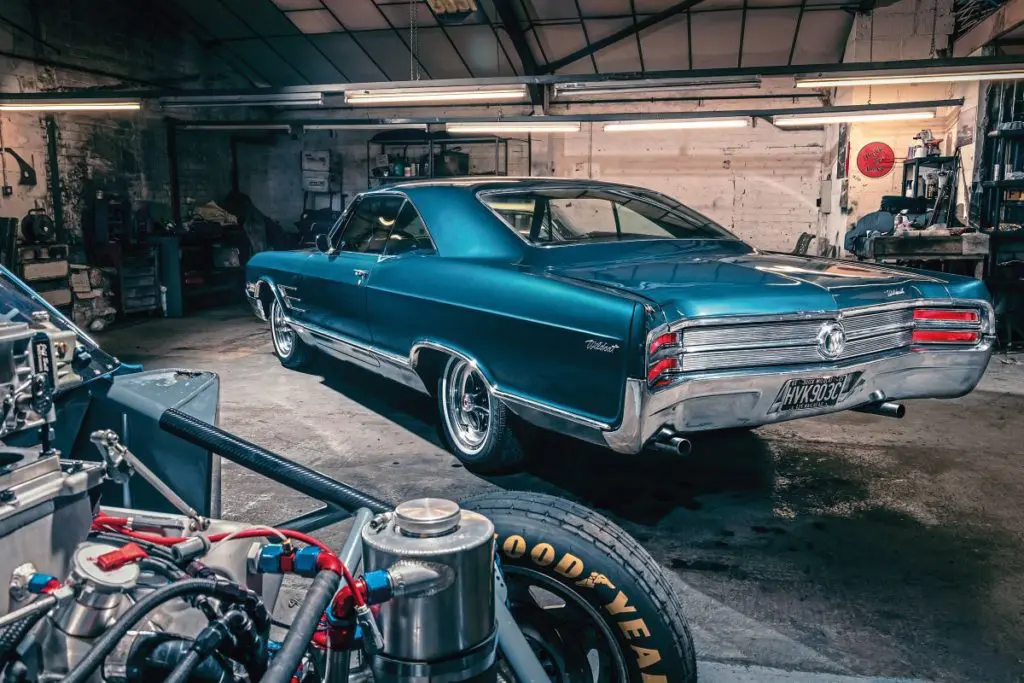 Photography: Jonathan Fleetwood
Words: Andrew Bennett and Ben Klemenzson   Model: Emma Baldwin   Styling: Lisa Baldwin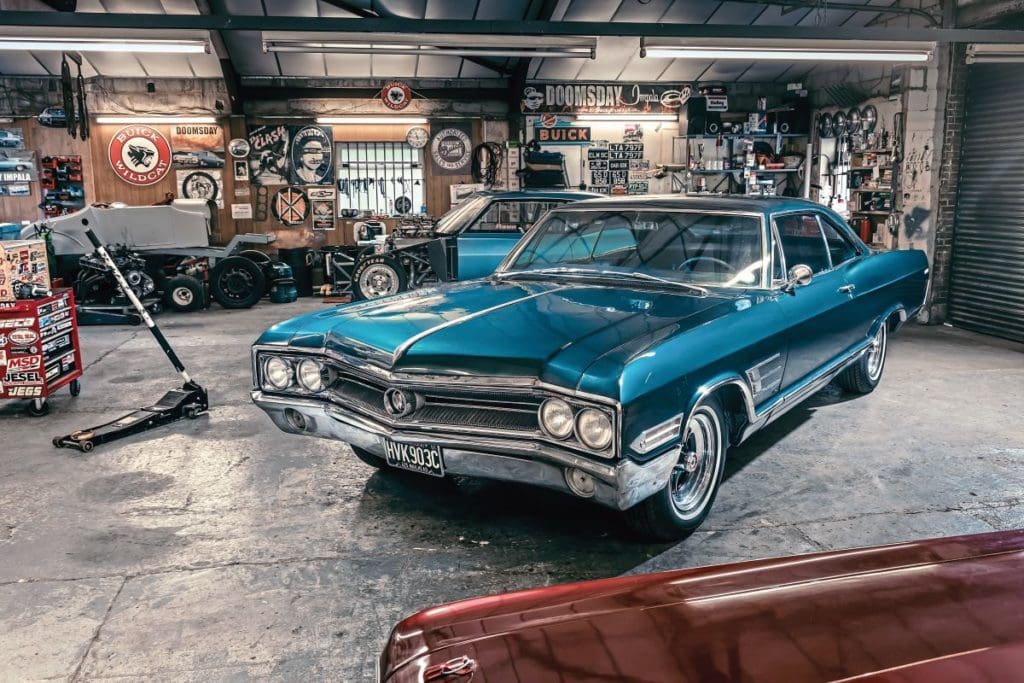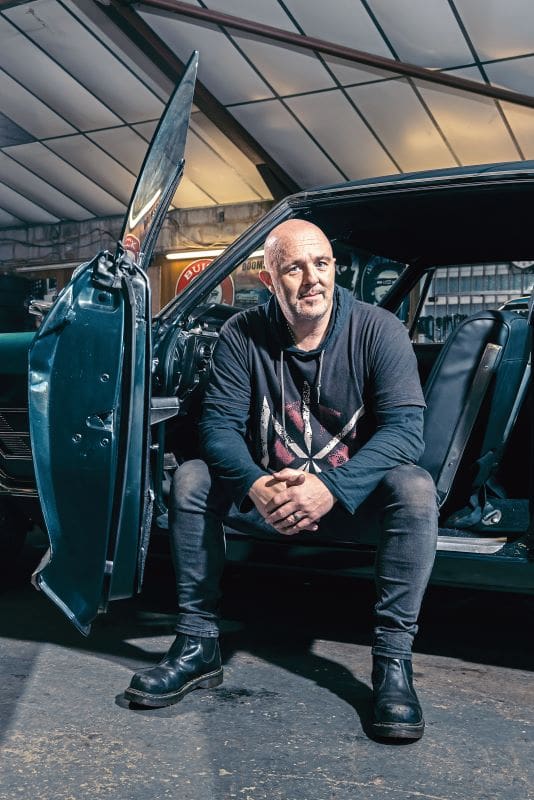 Andy Bennett from north Manchester is no stranger to American muscle cars, involved as he is in the Doomsday Garage, north Manchester's premier muscle car garage (a shared industrial unit up in the hills) that he and his buddy Dave Evans have run since 1999. Andy and Dave swapped extreme music for extreme horsepower a while back – both guys are long-time friends and in the early Nineties were both in underground punk/extreme metal band Hybernoid, a band with a record deal that saw a great deal of popularity in Europe but remained in relative obscurity back home.
The Doomsday Garage is a hobby shop, but has turned out many show quality, award-winning, and magazine front-cover featured vehicles in its time. Long-time readers might remember the Classic American December 1999 Issue front cover of a 1965 Impala with a rather fetching model? Well, that was a product of this garage. Doomsday was also the team that resurrected the 'Coco Connection' Camaro, Chris Spencer's well-known supergas drag race car.
Andy and Dave also built the race car, 'Doomsday Impala', a show quality 1968 Chevy Impala, a drag car that has featured world-wide on the cover and in many magazines, including America's Hot Rod magazine. Andy and Dave built this Impala from a £600 rolling shell into a 170mph, seven second, methanol-burning, 632cu in drag car (you can see it in the backgound on the front cover and in our shoot) running Super Pro ET at FIA events at Santa Pod. After a 5000-hour in-house build and a couple of years of competition (even coming second at the Main Event 2018 from a 70-car field,) eventually the financial burden of drag racing became too much, so Andy baled out (leaving Dave as sole owner) and purchasing this 1965 Buick Wildcat with his share of the race car.
From Impala to a Wildcat
Andy's Wildcat is a numbers-matching, 1965 two-door sport coupe hardtop, built in February 1965 at Buick's Flint, Michigan plant. It was sold into Europe by an American classic car dealer going by the name of The Classical Gas Station based in Eaton, Colorado and sadly that's about all we know of its history stateside, as the owner of Classical Gas passed away and the business is no longer around. In the UK it passed through British car dealers California Connection and Oldcott Motors and was purchased in 2002/2003 by Paul Sharkey from Dublin, who then sold it on to Anthony McNamara (who Andy is now friends with via Facebook). Ultimately it was a project car that never really got much further than running and driving and it sat in a dry warehouse for many years.
It was then sold to a chap called Irmantas, who did some more work and took the car to Lithuania and then put it up on eBay for sale. After chatting with Irmantas (to ascertain he wasn't a scammer – he was a really great guy in fact) the eBay purchase was done, and Andy imported the car to the UK and became its first UK owner. According to DVLA this is the only 1965 Wildcat in the UK, or at least the only car registered as a '1965 Buick Wildcat' in the tax/SORN database, although there have definitely been several '65 Wildcats here in the UK in the past (we're sure you'll let us know if you know of any!).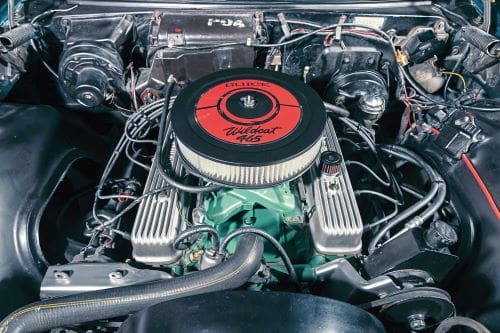 Andy's Wildcat was extremely solid, but very, very scruffy, so he immediately started a tidy-up and rolling restoration. The car had a heavy patina, with most of the paint burned off and 50 years of filth in every nook and cranny. The 'patina' look (much like the primer look) has a certain cult following, and initially Andy was a fan of this rustic sun-bleached look. However, unfortunately, genuine patina is usually acquired through years of neglect and while in Colorado it had obviously been stood abandoned for many years. This neglect manifested itself not only in the flat paint, but in the rest of the mechanics of the car.
One of the first examples of this was the cooling system, which during a cruise to the Veterans Garage Meet (held at Barton Airfield, the old Manchester Airport), saw pressure blow the top radiator hose in half. A fix with a plastic bag, zip ties and many stops on the way home meant it was possible to limp the 25 miles back home. This cooling issue proved to be caused by the radiator being full of sand (inside the core) resulting in all the fins being blocked and subsequently providing no cooling whatsoever.A fresh radiator was ordered from Summit (www.summitracing.com) and that did the trick. A second fateful outing to the same event saw the brakes seized on, again some on-site repairs meant that the car was able to limp home. The master cylinder was junk and had to be replaced. So, with the reliability in tatters, the 'patina look' became something Andy hated, as it had indeed gained that look from neglect, and consequently the rest of the car had suffered.
Inside story
The Wildcat's Custom Sport interior includes bucket seats, console, carpeting and optional tachometer. In the console sits the gear selector for the Super Turbine transmission, storage space and a smoking set. The '65 Wildcat also has many options that were one year, one model, and trim specific, so a lot of the parts are extremely hard to find.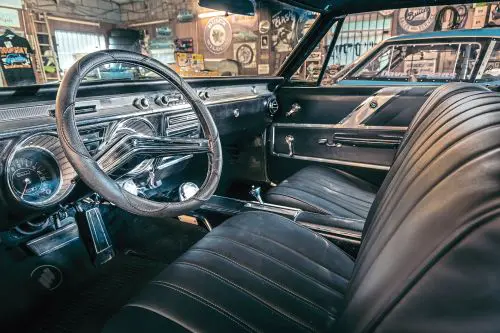 The Wildcat's previous owner, Irmantas, had done some work on the interior in Lithuania – the interior was originally green, but it had been re-trimmed red at some point – so even before the car had arrived in the UK, Andy had set about sourcing interior parts. An American friend of Andy's called Rob Wetak from Wisconsin sourced a set of bucket seats which were in great shape. Another American buddy, Ted Nagel, supplied the front and rear 'Custom' door cards and a steady trickle of missing parts, while the rest of the interior was fixed up in-house by the Doomsday crew. Incredibly, the original floormats still survive!
Ultimately it came out looking pretty special: the bucket seat, console and black trim perfectly setting off the Sixties muscle car look. Ted played a big part in helping get parts which are one year only, and trim-level specific. The Rally wheel centres for instance for the '65 Wildcat are a stunning addition to the car, but again, a one year only, one model, trim specific, so rare as hen's teeth. Step in another internet buddy from the V8Buick forum, Rick Rawls, who parted with a set for Andy's Buick. 
---
Restoration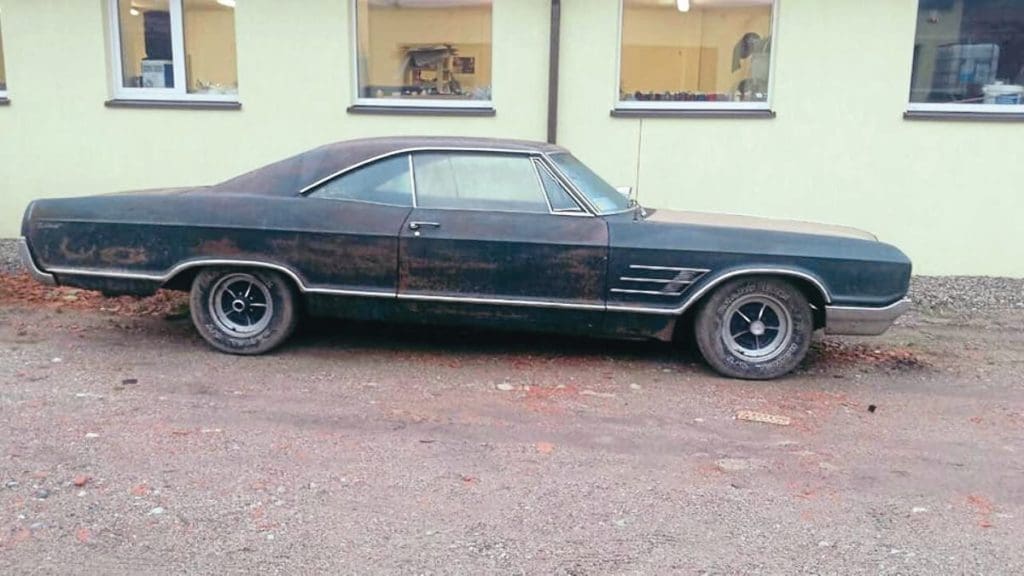 ---
Heart of the matter
Engine options for the Wildcat in 1965 were all based on Buick's famed 'Nailhead' motor in a variety of strengths. These were (in ascending order): the 325bhp 401cu in, (wild), the 340bhp 425cu in (wilder) and the 360bhp 425cu in Super Wildcat (wildest) which included two four-barrel carburettors and matching intake manifold. Andy's Wildcat features the 'wilder' 425cu, the optional performance upgrade on the standard 401 motor. This 425 engine was known as the 'Wildcat 465', (and was an option on the Riviera and Electra also) with the 465 denoting the torque rating, which Buick was very proud of, since it overshadowed almost every other V8 of the time.
Before Covid-19, the Barton meets usually had a good turnout from the Doomsday Boys, and the trips gave the Wildcat a nickname – 'Old Smoky" – John Candy in Uncle Buck would have been proud of these emissions. So, during the pandemic's first lockdown in 2020, the engine was pulled and sent to Jon at J & E Engineering Services (www.jandeengineering.co.uk/Tel. 01706 222662) for a full carb-to-pan engine rebuild. This particular V8 had lost a lot of its power over the years, replacing it instead with a swamp of sludge inside the oil pan. Luckily the oil pickup was sitting just millimetres above a thick layer of crud, so basically the engine had been caught just in time before something terminal happened.
Jon persevered and returned the 425cu back to factory brand-new, as fresh as the day it drove out of the showroom, although he was struck by its similarity in appearance to the Rover V8. Of course, classic American fans would know that engine was from Buick originally, so the similarities in design are no surprise. There were no performance upgrades – it doesn't need any – and the engine was dyno-tested and run in by Jon at J & E, with it maintaining the performance figures of 1965, pushing out 340bhp and 465ft-lb of torque – that's plenty enough to keep any car good fun, without adding any speed parts.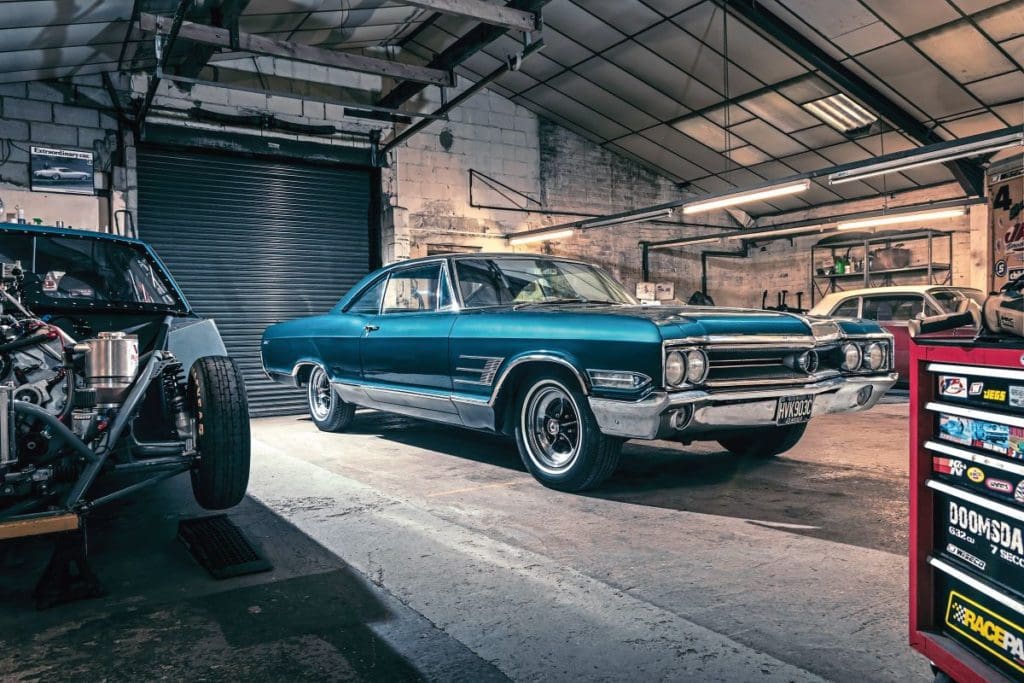 Painting by the numbers
The '65 Wildcat was originally painted a very dark green colour which is called Verde Green Metallic, it is also known as Cypress Green, Sherwood Green, and Forest Mist in other GM divisions. The colour code is still available in 2021 and for this particular car is the GM production paint code WA3304. As usual for the time, the colour formulation was used several times, primarily by Chevrolet, but also by Oldsmobile, Buick, Pontiac and Cadillac.
In order to return the Wildcat to its authentic self, it had to go back to the original colour (the Doomsday Boys are not 'customisers', more 'back to factory' enthusiasts with their street cars), so the correct paint was purchased to put the car back to original. The patina look had worn really thin with Andy (pardon the pun) by this stage, as mentioned previously… But how to get it off? After several discussions on various web forums, the overwhelming conclusion was to get the car 'dustless blasted'. Enter Dustless Blasting UK from Leigh in Lancashire (www.dustlessblasting-uk.co.uk/Tel. 07732 959702).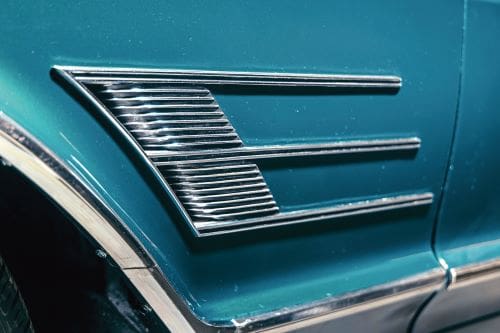 In December 2020 they stripped the entire car back to bare metal. The results were a little shocking as "dustless" doesn't mean there is no dust… rather, the process uses much less blast media and is surrounded in a water jacket, so is suited to blasting cars better than dry blasting (but it still makes a mess!). The bodywork it revealed however was rock solid, with some pin holes and some accident damage to one of the front fenders, but a very solid and strong base to work with.
Next up was the paint; enter Rob at Rossendale Classic & Performance (Tel. 01706 870707) with a proven track record of quality paint jobs, he was the perfect man for the project. Waiting for the bodyshop is literally like waiting for paint to dry, but Rob pulled through in the later lockdown of 2021, getting the Wildcat resplendent in its fresh paint by the time the 2021 lockdown was starting to ease off. The final reassembly and completion of the car took place just before the last days of summer 2021, resulting in a Buick muscle icon being well and truly resurrected.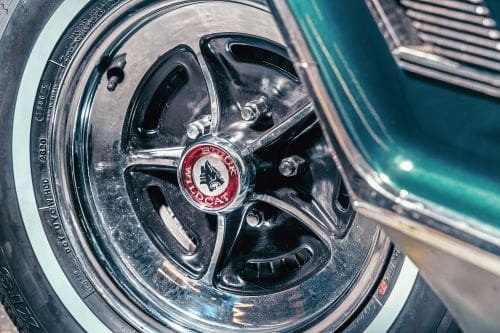 Anyone who's a big fan of Sixties GM products would be excited to see the car and speak to Andy about it. Resplendent in its fresh dark green paint, that almost looks black in certain light, the '65 Wildcat represents the high-water mark in American automotive engineering, styling and technology. Most of the trim still makes use of real metal, rather than the plastic that was to succeed it in just a few years' time.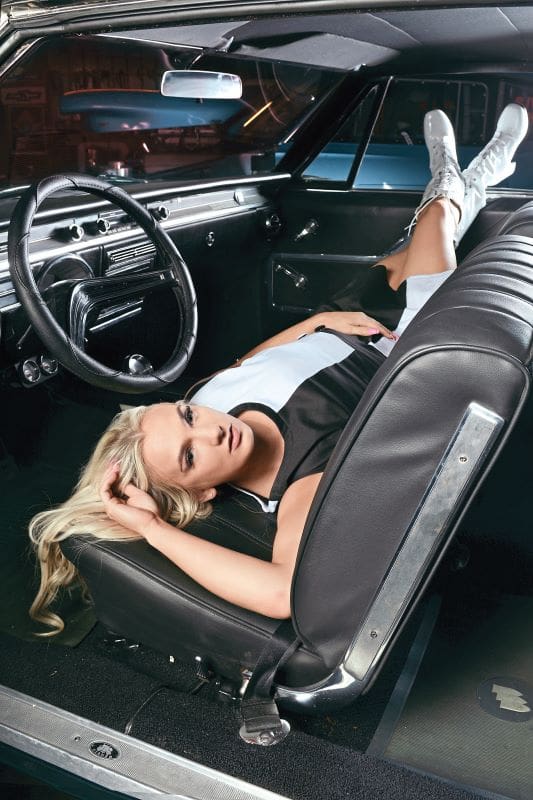 It's the little details, like the incredibly clever, but complex cantilevered fuel filler cap, which resembles an articulated racing fuel cap, embellished with a smart Buick shield logo. "Imagine someone making that nowadays, it's just incredible – it's just a fantastic thing…" And it's true, the bean counters would have none of it today and remember this was a one-year-only detail. The filler nestles in a smart W-shaped chrome rear panel that mirrors the front of the car. Likewise, the chrome faux 'vents' on the front quarters are exquisitely sculptured in metal…
And will Andy be taking this Buick up the track, like so many of his previous creations? Apparently not: "It's too 'luxury' – it's got tons of power and they pick their feet up when you want them to… but no." Looking at this handsome piece of Buick design, it's easy to see why the marketing department in Flint posed the question: "Wouldn't you really rather have a Buick?"
---
From wild to mild
Buick introduced the Wildcat in 1962 as a subseries of the Invicta. It was designed as a sportier version, utilising a hi-po version of Buick's 401 Nailhead V8 and boasted bucket seats, console, tach and wide Electra-style tail-lights. The stylists did everything they could to disguise its Invicta/Le Sabre underpinnings and differentiate it from that line with special badging, unique trim… even a vinyl roof. From '63 it became its own series and remained thus until 1970. The Wildcat was meant to offer Buick customers something a bit 'sportier' and more performance-oriented, but by 1970 it was little more than a slightly fancier-looking Le Sabre. For 1971 it morphed into the husky-sounding 'Centurion'…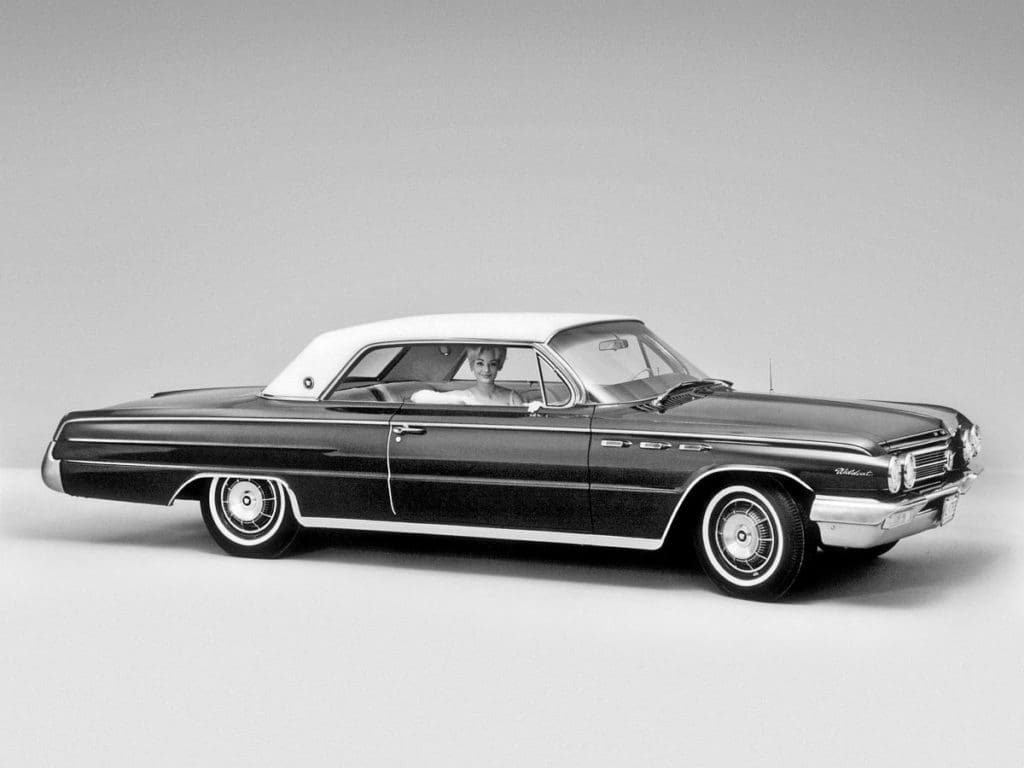 What the critics said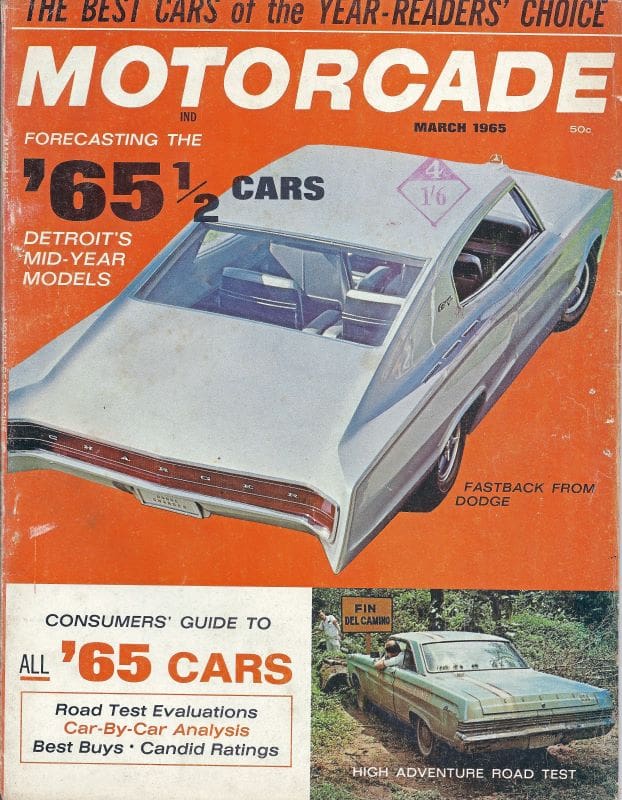 The March 1965 Motorcade magazine put a '65 Wildcat through its paces in a road test piece. In common with most American 'buff' magazines of the day, it harboured pretentions to preferring European-style handling, performance and ride: "We were somewhat apprehensive… because we harbour a leaning towards stiffly sprung sports car-like suspension and immediate throttle responsiveness… and such inherent qualities have never been a part of Buick's make-up."
Despite bemoaning the car's wind noise and narrow boot opening, they did find its performance was more than acceptable. Equipped with the same 340bhp/325 V8 and Super turbine automatic transmission as our feature car, the testers were able to coax 0-60 in 8.1 seconds, although "better news is the torque available at cruising speeds; 50 to 80mph in eight seconds flat." Motorcade put it through its paces over 1500 miles on all types of road and declared: "Overall the Buick handles well considering its bulk, weight and boulevard-type suspension…"
Overall, Motorcade gave the '65 a begrudging thumbs up: "Buick's '65 Wildcat handled the backcountry lanes like it was on concrete. Gone is over-spongy ride, for the Wildcat has come back with a long-awaited performance image which should make it a good seller." Finishing with: "The Wildcat is our favourite car of the current GM semi-luxury, sporty-image products and we've driven them all. Dollar for dollar, it's a comparative steal."
Tech spec
1965 Buick Wildcat
GENERAL:
Overall length: 219 inches
Wheelbase: 126 inches
Width: 80 inches
KErb weight: 4241lb
ENGINE:
Engine: 425cu in V8
Horsepower: 340bhp@4400rpm
Torque: 465ft-lb@2800
Compression: 10.25:1
Carb: Single four-barrel
Mileage: 12mpg
(average, US gallon)
Transmission: Super-Turbine Automatic Rear Axle: 3.42:1
PRICE:
Price: $3117 (base)
PRODUCTION:
TWO-door Sport Coupe: 6031
All Series: 28,330