Names like Mustang and Thunderbird are now iconic – but where did they come from?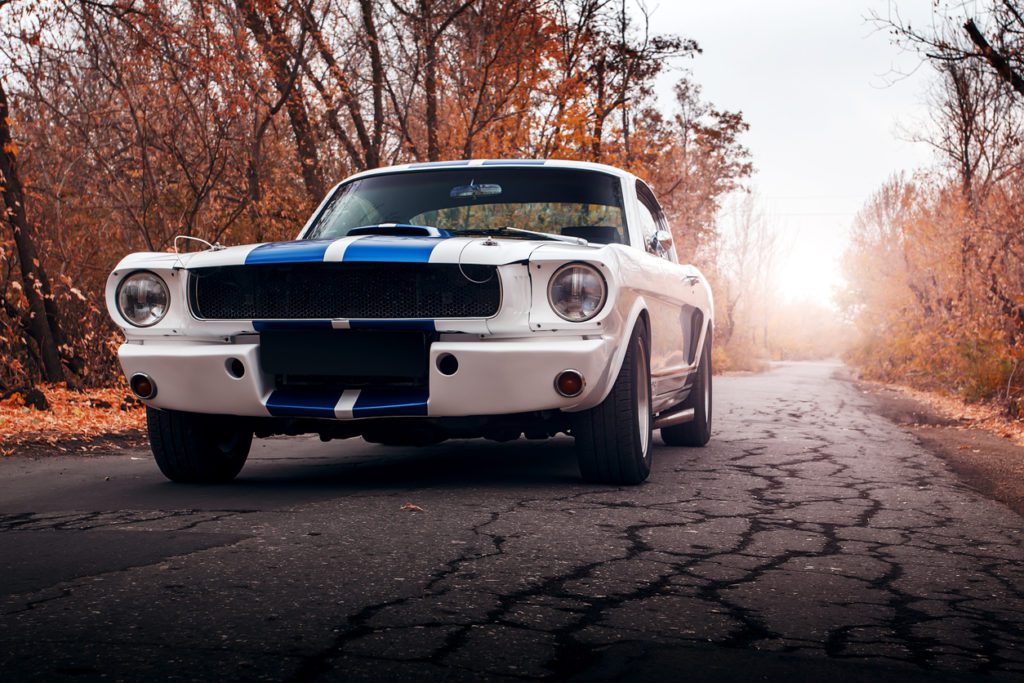 Naming a new vehicle is more important than we might initially think. After all, a name is one of the first things we learn about a car, and that makes it a powerful marketing tool. Often there will be a whole pool of names suggested, taking into account the look of the car and who it will be marketed to, and companies take the time to carry out market research as they whittle down their options.
One trend we see a lot is cars named after animals – think Mustang, Viper, Jaguar. One of the things which makes these names so effective is that they instantly convey characteristics we associate with the animal onto the car – strength, speed, elegance, etc. There's probably a reason you don't see cars named after, say, a gerbil.
Current events also had an impact on how companies named their cars. Given the space race of the 1960s, it's no surprise that we saw names such as Galaxie, Comet and Meteor popping up.
Of course, the other alternative is to make up a whole new word altogether – it worked for Ford Mondeo.
As for where the names of the manufacturers themselves came from, it's doesn't seem that quite the same level of thought is put in – Chrysler, Dodge, Ford and many more simply took their names from their founders. One exception to this rule is Cadillac, named not for its founders, but after a founder – Antoine de la Mothe Cadillac founded Detroit, Michigan (the location of the Cadillac headquarters) in 1701.
But now let's get into a few interesting stories about how cars got their names.
Ford Thunderbird –
If you need an example of how much thought goes into the naming process, more than 5,000 were considered in 1953 when Ford were coming up with a name for their new car.
They had asked employees to submit names, and many did, but it was vehicle stylist Alan Giberson's suggestion which stuck. Giberson had previously lived in New Mexico and brought a coffee mug from home with him when he moved to Ford. The mug had an image of the thunderbird – a creature from Native American legend which created thunder, lightning and rain.
Giberson's prize for suggesting the name was a $250 dollar suit.
Some of the other names which were suggested, and quickly rejected, include Hep Cat, Flag Liners, and Beaver.
Ford Mustang –
There are a couple of stories as to where the name Mustang came from.
The first is that it was pitched by designer John Najjar, inspired by the World War II P-51 fighter plane – it was rejected. Then Najjar pitched the same name again, but this time framed as a reference to the breed of horse. And the rest is history… or is it?
Another story goes that the name was suggested by Robert J. Eggert in the Ford marketing division. Eggert was responsible for researching potential names for Ford's new concept car – some of the names on the list included Cougar, Torino and T-bird II. But Eggert, who was a breeder of quarterhorses, received the book The Mustangs by J. Frank Dobie as a birthday present from his wife, which inspired him to add the name Mustang to the list. When tested on focus groups, Mustang was the favourite by a landslide.
Chevrolet Camaro –
The marketing team at Chevrolet had fun with this name. Throughout production, the Camaro was codenamed Panther, hence a telegram sent to journalists by GM in 1966 asking them to "be on hand to help scratch a cat."
However, the name Panther couldn't stick – all Chevrolet names had to start with a C. So what did Camaro mean? The press were told the Camaro is a small, vicious animal known for eating Mustangs… However, no such animal exists. Other claims were made that it was the French word for "friend" or "comrade"… but that's not quite true either.
The reality is it's a made up word – Chevrolet just thought it sounded good!
Shelby Mustang GT350 –
We've already talked about the origins of Mustang, but have you ever stopped to wonder where that 350 number comes from? You'd probably guess it would have something to do with the specifications of the car, but it's far more random than that. Apparently, Carroll Shelby became impatient with the debate over what to name the new version of the 1965 Mustang and told one of his team to go count the paces between his office and the next building – as it turns out, that number was 350 paces.
Chevrolet Corvette –
Somebody who had a little more patience for finding the right name was Myron Scott. Back in 1953, Chevrolet needed a name beginning with C to fit their regular naming convention, but this time they didn't want to go with an animal, or any of the 300 other suggested names.
In the end, Scott, who worked in the public relations department, decided to get out a dictionary, turn to "C" and start reading. Eventually, he came upon corvette, "a small warship designed for convey escort duty." And the name stuck.
Studebaker Dictator –
This is an example of a name that hasn't aged well. Studebaker had a naming system based on positions in government, with the idea being that as models ascended in price, so their name ascended up the ranks. As well as the Dictator, there was also the Commander, the President and the Chancellor.
The Dictator first appeared in 1927, but even at the time Studebaker realized the name might not go over well in all parts of the world, renaming export vehicles for Europe and the British Empire to Director. The Dictator title was quietly dropped altogether in 1938 as the connotations of the term dictator became increasingly negative.