Rushmoor Arena, Aldershot, Hants. April 15th
Words & Photography: Ben Klemenzson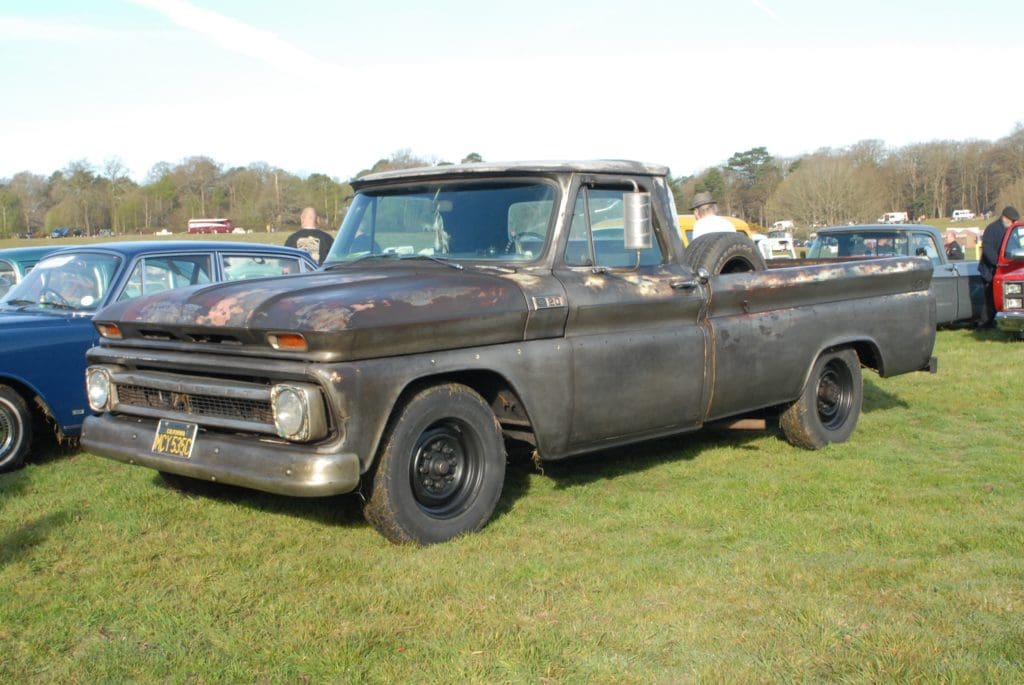 After two years of Covid cancellation, Wheels Day was finally back for 2022… and boy was it back, the forecast was for the hottest day of the year (so far!) and sure enough, it was blue skies, sunshine and temperatures so warm that folks were in their T-shirts, shorts and even bare-chested. As always, the show field filled up early and it was busy, busy, busy! Wheels Day always boasts an eclectic mix of vehicles: Rods, customs, Americans, British classics, Dubs… you name it… but this year, it seemed there were fewer Yanks than usual. Nevertheless, with the show field that busy and there was the usual veritable kaleidoscope of American metal on offer.
Being the first proper show of the year means plenty of new cars never seen before – either projects emerging for the first time, or freshly imported cars. One such car was Kevin Moran's 1965 Buick Riviera, painted in a special-order Cadillac colour: Aleutian Gray with the VIN tags to prove it. Kevin's Riv not only boasts this unique colour, but inside the wood marquetry (a real indicator of how well looked after this make and model of car is,) was immaculate. Options on it included Guidematic auto headlamp dimmer, cruise control, 3.23 diff and wood steering wheel.
Not freshly imported (it came over last year,) but fresh out, was Mik Partridge's '64 Falcon, that had undergone open heart surgery in the form of junking the original 170cu in straight-six motor for a later 200 cu in straight-six and Webber dual carb conversion. "It's like another car now…" Said Mik and in these days of eye-watering fuel costs, at least he's going to be able to get out and about and enjoy the little Ford relatively pain-free financially.
It's always good to see the younger generation embracing the style and glamour of Fifties American motordom and one particularly nice-looking '56 Cadillac Sedan De Ville turned out to belong to Tom Crabbe from Southampton who was there with his girlfriend Demi. Looking gorgeous in its pale yellow paint (incongruously named 'Canyon Gray') this smart Caddy was nicely optioned, with power-windows and -steering, plust Autronic eye headlamp dipper. With period alloy wheels and lowered at the back, power comes from a 365 cu in V8. Amazingly, this isn't Tom's first Yank: he cut his teeth on a '68 Plymouth Satellite.
Slightly more muscular was the '66 Plymouth Satellite belonging to John Farazmand from Banstead in Surrey. Fitted with a 400 cu in motor and Torqueflite, he's had it for 7 years and it's part of a bigger collection he owns. Other interesting cars on the showfield included a very nice-looking Aussie 1973 Ford LTD and a stunning 1959 El Camino custom, with an amazing paint job that went on to pick up the Best in Show runner up award. One particularly rare vehicle was a 1947 Hudson 'Big Boy' pick-up that was up for sale. With a 202cu in/3.3-litre flathead in-line six motor, three-speed manual and only 50k on the clock, it had led a pampered life and was up for £35k. Interestingly, there didn't seem to be that many cars for sale – often in the past it's seemed that virtually every other car has had a 'For Sale' sticker on it…
With it's lazy, relaxed sunny feel and plenty of trade stands to browse and food and drink vendors, no one seemed in a particular hurry to go anywhere, so the day gently drifted towards prize-giving time, which was preceded by a special thank you presentation to John and James Pettifor of North hants tyres for their support of the event and the club over the years. The Surrey Street Rodders have got their prize-giving down to a fine art with John Price doing the honours and there being no more than a dozen or so awards to be given out (swiftly) meaning it's not a protracted painful affair like at so many other shows. And with that, it was all over for another year. Hats off to the Surrey Street Rodders for another belter event!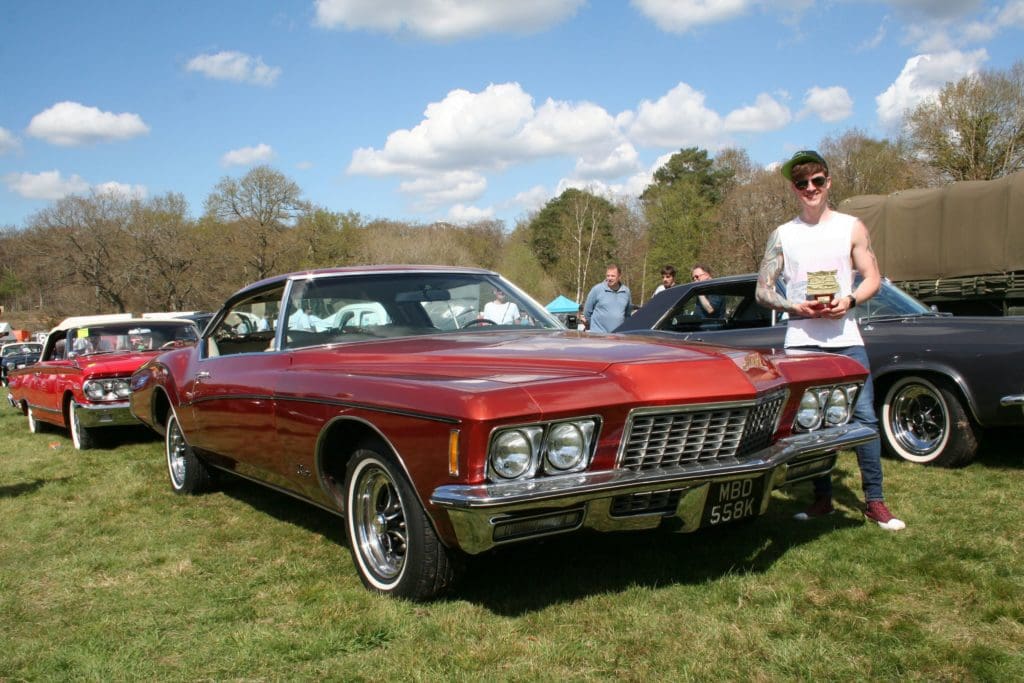 Kingstown Shipping Car of the Year Winner, Heat 1.
After a hiatus of two years because of 'you know what', Car of the Year is back, bigger and brighter than ever thanks to sponsorship from Kingstown Shipping. The first heat was held at Wheels Day which is the traditional kick-off event for the American car calendar and with a field full of vehicles, it was going to be tough to pick one car as the first candidate in this year's series.
Now if you're thinking this car and owner look familiar, that's because our heat-winning car has in fact appeared in Classic American in February last year (issue 358) and was in fact the cover car. Owner Adam Pearce cut his American car-owning teeth with this bodacious Buick and hasn't looked back since. "I just love driving it!" he enthuses. As befits Buick's top of the tree model, it's dripping with all the bells and whistles Flint could shoe-horn into their flagship.
Power comes from a four-barrel 455 cu in V8 and of course there's power-steering and -brakes, as well as air con. That dazzling Burnished Bronze paint sure will look a treat on the Classic American stand at the NEC in November, so make sure you come along to check it out and meet Adam!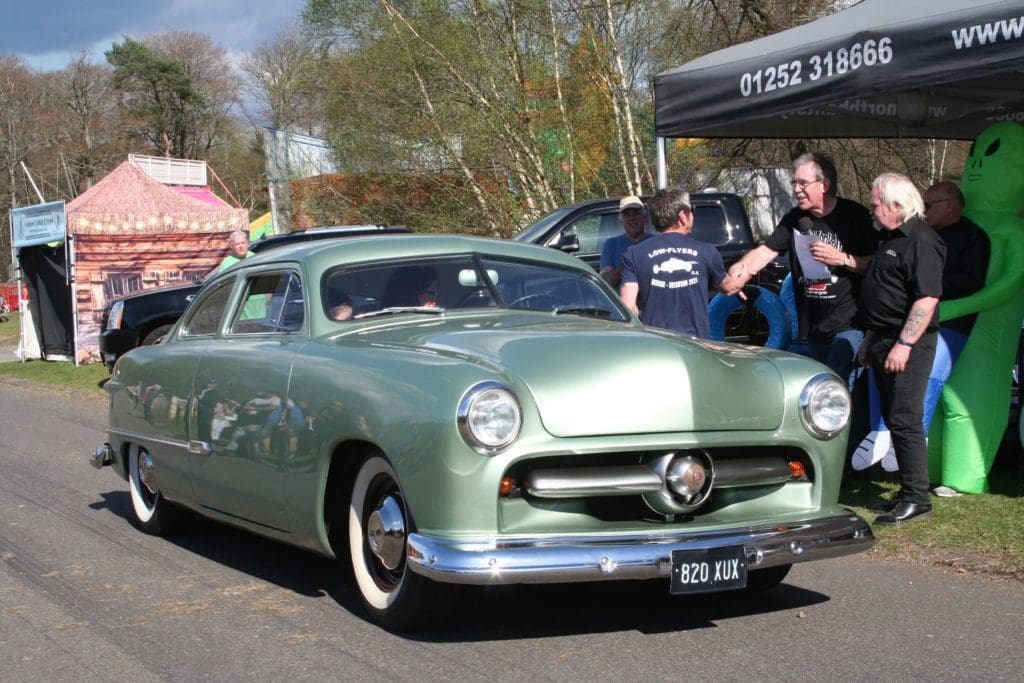 Wheels Day Prize Winners
Best in Show 1938 Oldsmobile Simon Smit
NSDRA Pick 1930 Model A Kevin Hafferden
UK Customs Award 1950 Ford Shoebox
Top 10
Ford Torino Wayne Wisbey
'32 Ford Richard Gasson
100E Ford Anglia Lisa Theobald
Ford Cortina Mk1 Rob Grigg
'32 Ford Coupe Steve Wilson
Wolseley 16-60 Vince Sherwood
'32 Ford Roadster Jago Body
'27 Model A Roy Ingram
Chevrolet El Camino David Wright