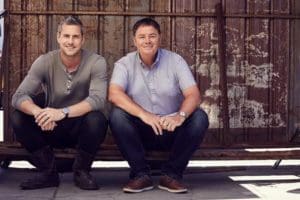 New episodes premiere exclusively in the UK On Discovery Channel on Monday 21st May, at 9pm
WHEELER DEALERS is back as the new team begin work on an array of second-hand motors in need of a second chance. From their southern California shop, automotive valuation expert Mike Brewer and new master mechanic and fabricator Ant Anstead go to work finding, fixing and flipping a wide variety of unique used cars.
New host Ant is a man of many talents. Best known for his day job as a car builder, he is also a designer, artist and a semi-professional football player. A total car nut creating true works of art, Ant has built an enviable reputation supplying cars and art works to museums, private collections and enthusiasts all around the world. Now he's joining Mike on a quest to find and restore some of the most iconic cars they can get their hands on.
In the new series Mike and Ant enter the market for iconic American SUVs with a 1988 Jeep Grand Wagoneer. Hot property in the US, this model has a sagging suspension and a defective four-wheel drive, but with the chance of making some serious profit, Ant sets to work.
Mike also finds a rare, rally-bred 1972 Lancia Fulvia. He and Ant must fix its bad CV joints, a broken heater, cracked dash and a debris-clogged fuel system, and also drag a rare 1972 Datsun 510 2-door into the 21st century. The engine is in good order, but the bad paint job, gearbox and bodywork let it down.
Article continues below…
Advert
Models featured in the new series:
1988 Jeep Grand Wagoneer
1987 Alfa Romeo Spider Quadrifoglio
1977 Porsche 924
1969 Opel GT 1900
1972 Lancia Fulvia
1972 Datsun 510
2002 Mini Cooper S MC40
1970 International Scout
The brand-new season of WHEELER DEALERS premieres exclusively in the UK on Discovery Channel, 9pm, Monday 21st May (Sky 125, Virgin 250, BT TV 322)