The theme of July's magazine is 'muscle cars'… which of course I mean in the widest sense of the word: two-door coupes with powerful V8 engines. Of course some people may raise an eyebrow at including a Corvette in this category ("surely this is a grand tourer… especially an automatic!"); however the magnificent '65 GTO featured on our cover and on page 24 surely ticks every 'muscle car' box and many would argue was the original progenitor of the genre.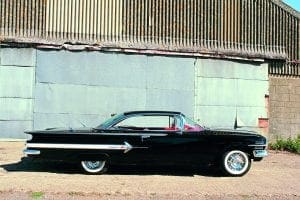 But what about the 1960 Impala on page 47? Full size, fair enough, but that coupe styling and hopped-up engine spell sporty performance in anyone's book. And bringing things bang up to date is Steeda Mustang featured on page 41 – it's amazing to think that today you can walk into a British-based Ford dealership and buy a high-performance, right-hand-drive Mustang offering almost 800 brake horsepower right off the 
sales floor!
Now that summer is well and truly here, I hope everyone has been able to get their cars out, hit the road and attend some fantastic shows, cruises or events. There seems to have been a seismic change in the American automotive show scene over the past couple of years. The biggest events have all but disappeared, with even the closure of one of the UK's few drag strips (Shakespeare County) announced and impending. Having said all that, there seems to be more of an appetite for shows that offer more than just parking up in rows and having a picnic… 'Lifestyle' events dominate our advertising and the events pages, and many would argue that this type of gathering makes our lives the more richer for it. What do you think?