Ringbrothers, creator of some of the most innovative and beautiful vehicles in the world, debuted the "UNKL" Mach 1, on the Flowmaster (Holley) stand at 2019's SEMA Show. We take a closer look away from the bright lights of Vegas…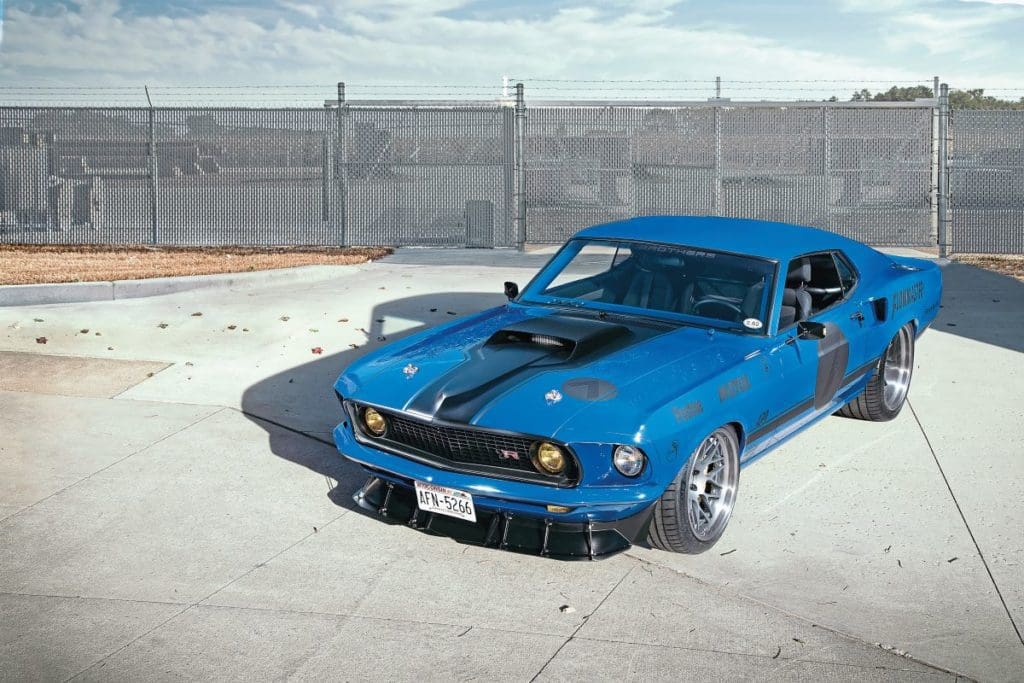 "UNKL" is the first Mach 1 to leave the Spring Green, Wisconsin, shop after a series of memorable Mustang builds. The widened body and unique race-inspired theme make the most of road and race technology in one car.
"UNKL" is powered by a 520cu in Jon Kaase Boss engine making 700 horsepower. A reworked Bowler six-speed Tremec transmission backs the high-powered engine, and a QA1 carbon-fibre driveshaft transfers power to the rear wheels. The Mach 1's growl comes from a custom stainless-steel Flowmaster exhaust, while Prestone coolant keeps the engine at an even operating temperature and Motul engine oil and gear oil keeps things running smoothly. Custom BASF paint called Big Boss Blue has been laid over a smooth body, which was shaped with 3M products.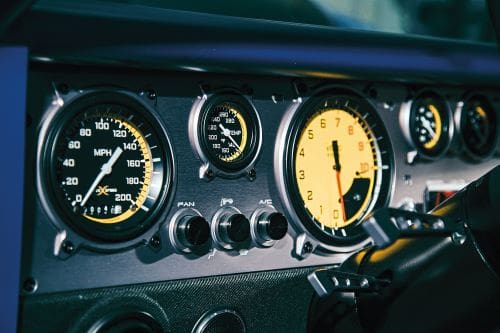 Ringbrothers extended the Mach 1's body by an inch on either side, which gives it a slightly more aggressive stance than stock, without compromising the classic look. The car's body is a mixture of carbon-fibre and steel panels, reshaped by Ringbrothers. Other custom details include billet tail-lights, reshaped bumpers and trim and engine-bay accessories that were custom machined at the Ringbrothers facility. The name for the build comes from the Ringbrothers owner who enjoyed a close relationship with his uncle. The build pays tribute to his uncle's influence on his passion for cars. The race-inspired livery continues that theme and will alsoserve a practical purpose when the car is used on track.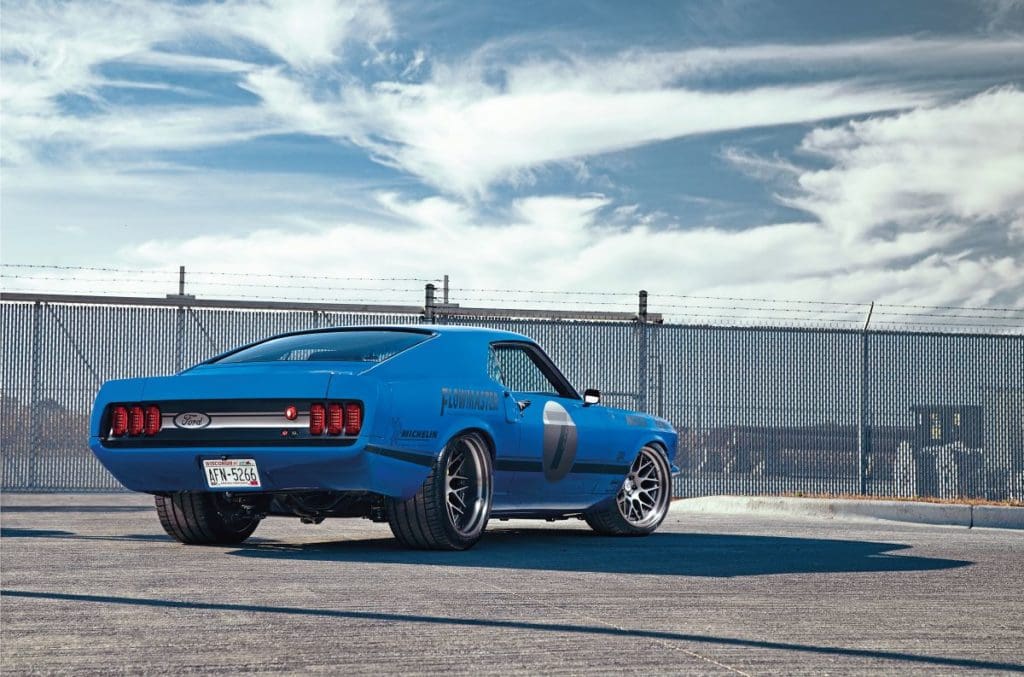 "UNKL" uses Detroit Speed Engineering's Aluma-Frame front suspension system with a cast aluminium cradle, custom-tuned steering rack, tubular suspension arms and custom adjustable RideTech coilovers. The rear is equipped with Detroit Speed's QUADRALink suspension system and RideTech shocks. Front and rear sway bars are also from Detroit Speed. Stopping power is provided by Baer, with huge 6S Extreme calipers. "UNKL" rides on a bespoke set of forged HRE Wheels wrapped in sticky Michelin Pilot Sport 4S tyres sized 295/35R-19 in the front and 345/30R-20 in the rear. The custom interior of "UNKL" by Upholstery Unlimited feels as race-inspired as the exterior, with supportive Recaro seats, Ringbrothers billet components, an Ididit steering column, gauges by Classic Instruments and a cabin kept at a comfortable temperature thanks to a Vintage Air Gen IV Magnum evap kit.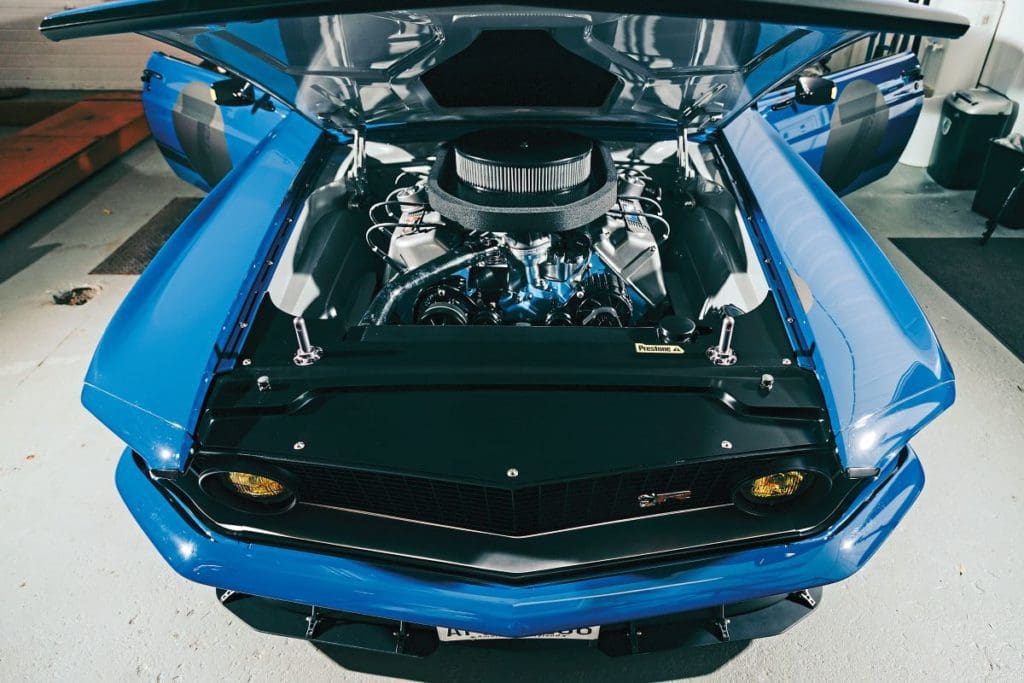 Ringbrothers
Based in Spring Green, Wisconsin, Ringbrothers has established itself in the automotive aftermarket as a premium parts builder and world-class car designer. Among its many accolades are several Chevrolet Best in Show awards, Goodguys Street Machine of the Year awards and Mothers' Shine awards. Ringbrothers has also been featured in some of the world's largest automotive and mainstream news outlets.
Ringbrothers proudly designs, fabricates, packages and ships all of its products from its headquarters in the United States with a focus on quality materials, craftsmanship and customer service. Revolutionising the way resto-mods are done, Ringbrothers continues to innovate its products and builds every year with the goal of at least one new car at each SEMA Show. Learn more about Ringbrothers products and builds at www.ringbrothers.com.
For more information on Ringbrothers, the "UNKL" Mustang, and Ringbrothers billet parts, visit www.ringbrothers.com or stay connected with them on Facebook, Twitter and Instagram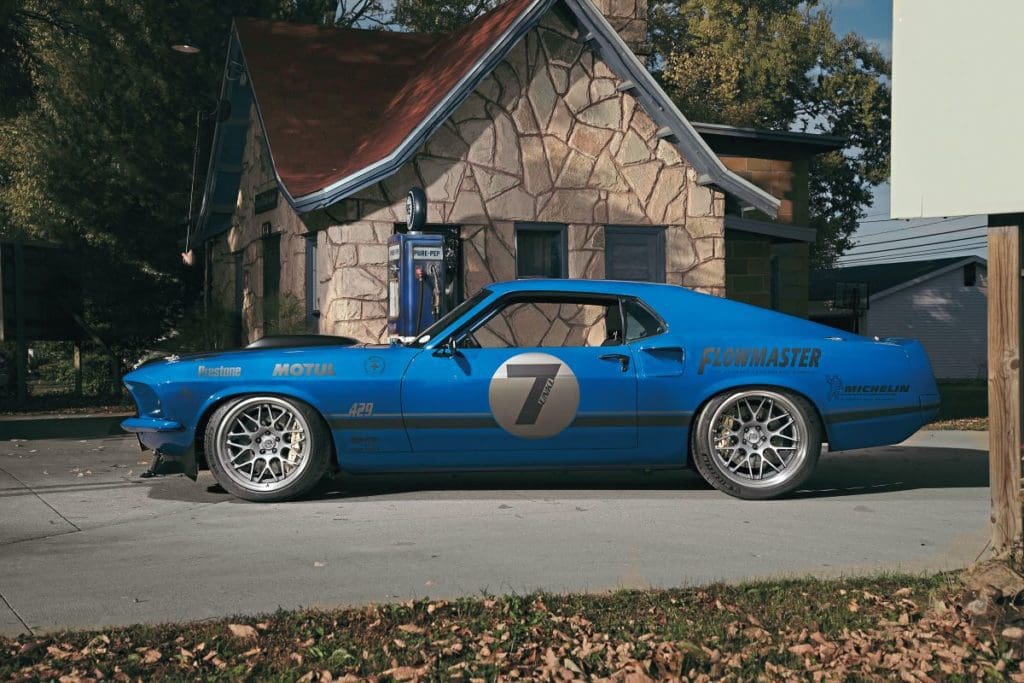 Specification
Vehicle: Ringbrothers 1969 Mach 1
Vehicle Name: "UNKL"
Designer: Ringbrothers
Design
Widened rear 2in – front 2in
Race-inspired
Drivetrain
Engine: John Kaase 520 Boss 700bhp
Forced Induction: None
Engine Extras: Holley carburetted
Transmission: Reworked Bowler six-speed Tremec
Drive Shaft: QA1 Carbon Fibre Driveshaft

Suspension
Chassis & Front Suspension: DSE Aluma-Frame
Rear Suspension: DSE Quadra-Link
Shock Manufacturer: RideTech
Front Sway Bars: DSE
Rear End: John's Industries 9in 3:55 gears
Exhaust
Header Manufacturer: Flowmaster
Header Details: Customised by Ringbrothers
Exhaust Manufacturer: Flowmaster 44 Stainless Steel
Cooling
Radiator: Custom by Performance Rod & Custom
Fluids: Prestone Anti-Freeze
Steering
Type: Rack & Pinion
Manufacturer: DSE
Steering Column: Ididit

Wheels and Tyres
Wheel Manufacturer: HRE RS1 Series RS100-61
Front Wheel Size: 19in x 11in
Rear Wheel Size: 20in x 12.5in
Tyre Manufacturer: Michelin Pilot Sport 4S
Front Tyre Size: 295x35x19
Rear Tyre Size: 345x30x20

Brakes
Front Manufacturer: Baer
Front Caliper Specs: 6S six-piston
Rear Manufacturer: Baer
Rear Caliper Specs: 6S six-piston

Fuel
Fuel Pump: Walbro 400LPH by Rick's Hot Rods
Fuel Tank/Cell: Custom by Rick's Hot Rods
Fuel Management: None

Electrical
Wiring Harness: Painless Wiring

Exterior
Paint Manufacturer: BASF Glasurit Waterborne
Paint Colour: SB177.50
Paint Booth: Global Finishing Solutions

Interior
Interior: Full custom upholstery by Upholstery Unlimited
Gauges: Classic Instruments
A/C System: Vintage Air Gen IV Magnum Evap Kit
Stereo System: Kicker

Sponsors
Corporate Sponsors:
Prestone
BASF/Glasurit
Flowmaster/Hurst/B&M
Motul
3M

Product Sponsors:
Baer Brakes
CTEK
Dynamat
GFS – Global Finishing Solutions
Heat Shield Products
Holley
HRE
Michelin
Miller Welding
MSD
Painless Wiring
QA1