Most readers of Classic American are probably familiar with the National Street Rod Association and its many and various events, but you may not know that there is also an ESRA, the European Street Rod Association. The ESRA is made up of National Street Rod Clubs from all over Europe, and each year a different country hosts the Euronats, making for an ever-changing destination for participants prepared to put in the miles (or kilometres!).
This year, it is the 21st Euronats and once again it's the UK's turn to host the event. Since the UK NSRA is the biggest club in the ESRA, it is a very popular event with rodders from mainland Europe. To give them maximum value for money in fun, and in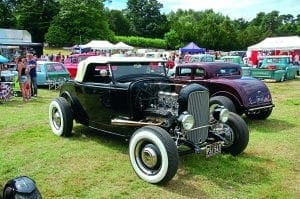 variety of cars, the NSRA 'piggybacks' the Euronats on to the already scheduled Hot Rod Supernats, held every year at Old Warden, Bedfordshire.
Unlike the NSRA, the ESRA does run a pre-'49 rule for actual participants who wish to attend on August 9-10. However, since the Supernats runs from August 10-13, many of the European rodders will be staying in the UK for the full weekend, sometimes longer. If you want to enter for either or both events, check out the NSRA website for entry forms and more information: www.nsra.org.uk
---

Enjoy more Classic American reading in the monthly magazine. Click here to subscribe.
Sell your Classic American car here.