This '67 Pontiac GTO might look like the star car from the action movie 'xXx', but this one, although living a more sedate life in the Lancashire town of Bury, can still be a bit of a handful…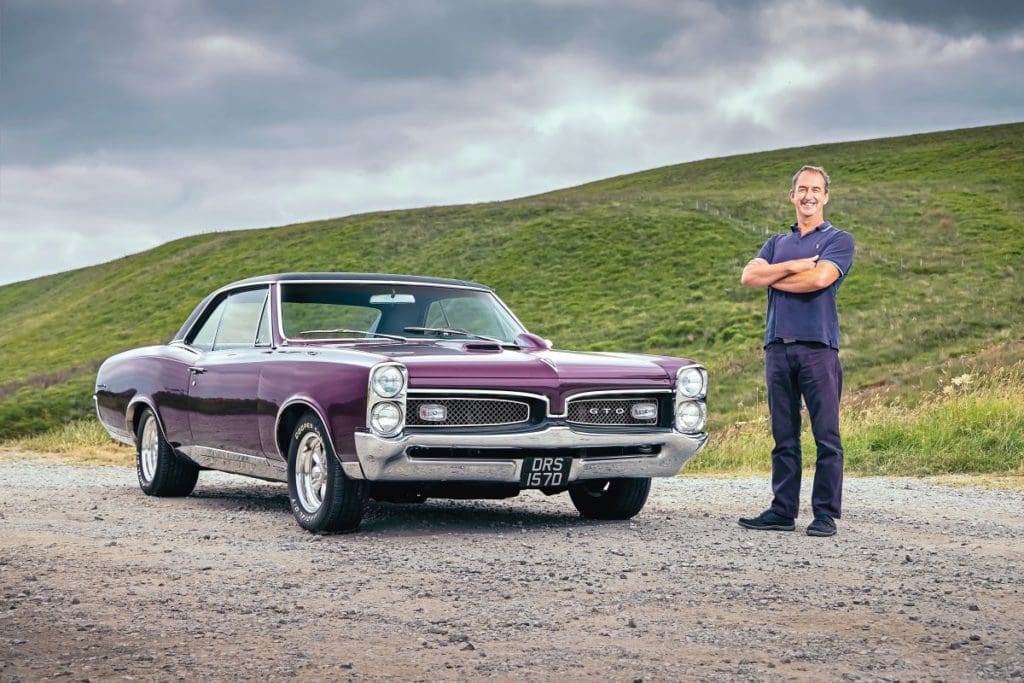 Words: Ben Klemenzson Photography: Jonathan Fleetwood
Sometimes a particular trade or profession can be useful when owning an American car. Think mechanic, petrol station owner… marriage counsellor (we've all been there!)… or even electrician. The owner of this superb 1967 Pontiac GTO is the latter and has found those skills invaluable in his fettling of the Poncho after acquiring it seven years ago: "I'm the sort of guy that likes everything to work," explains Ian McDonald from Bury, Greater Manchester. And while the car was in pretty good shape when he acquired it, there were a few niggles he had to address before he could be completely satisfied, but more about those later…
Ian has always had a passion for American cars, even as a teenager he'd spend his weekends looking at them in a local American car dealership back in the Seventies. "I've always liked that shape of car…" he says, pointing at his Pontiac, "I've just always liked that style – like Lincolns, Cadillacs… the 'three-box design', in a nutshell. For me that's the era of American cars that really got it right. They've just got a presence…" This GTO is Ian's first American car, but he has had other classics previously, such as a 1975 Toyota Celica ("a baby Mustang" is how he describes it) a Triumph Herald, Cortina and HB Viva…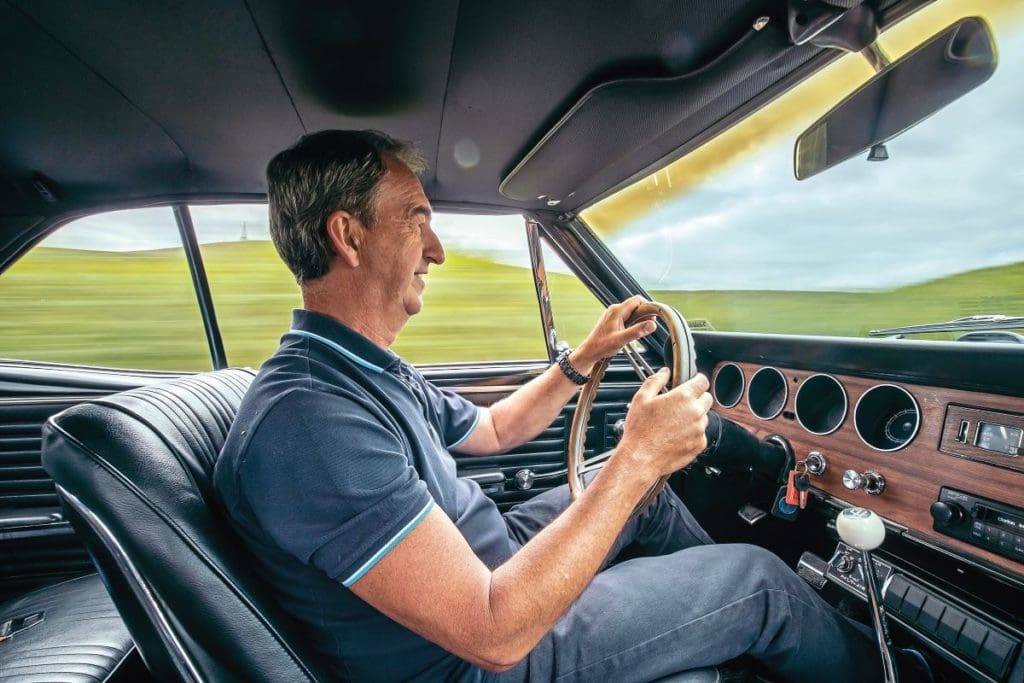 Did he set out to buy a GTO? "No, I was looking for a 1965 Buick Riviera and I found one online in the States. When I contacted them, they said it had been sold, so I had to start again from scratch." The search ended up much closer to home (York in fact) and resulted in something a little more lairy than the original desired-for Riviera – this GTO. When Ian went up to see the car and test drove it, he just had to have it.
So, what had he bought? Well, the GTO was built in Baltimore, Maryland and delivered to Frederick Pontiac in Woodbury, New Jersey, where it was sold on November 14, 1966. Nothing is known of the original buyer; however, they had specified the push-button radio ($61), hood-mounted tach with Rally Cluster ($84.26), deluxe wheel discs and three-speed HydraMatic automatic transmission. Things go blank until the car was restored in North Carolina prior to 2005 (there's still an inspection sticker on the windscreen from that year) when the GTO's colour was changed from Burgundy to Plum Mist (a '67 GTO colour made popular by the xXx film franchise) and a new black vinyl roof was added. It was imported to the UK in 2006/2007 and spent a rather glamorous-sounding six years in Spain, periodically being sent back to the UK for MoTs and servicing. In 2013, the previous owner from York bought it and two years later, in 2015, Ian acquired the car.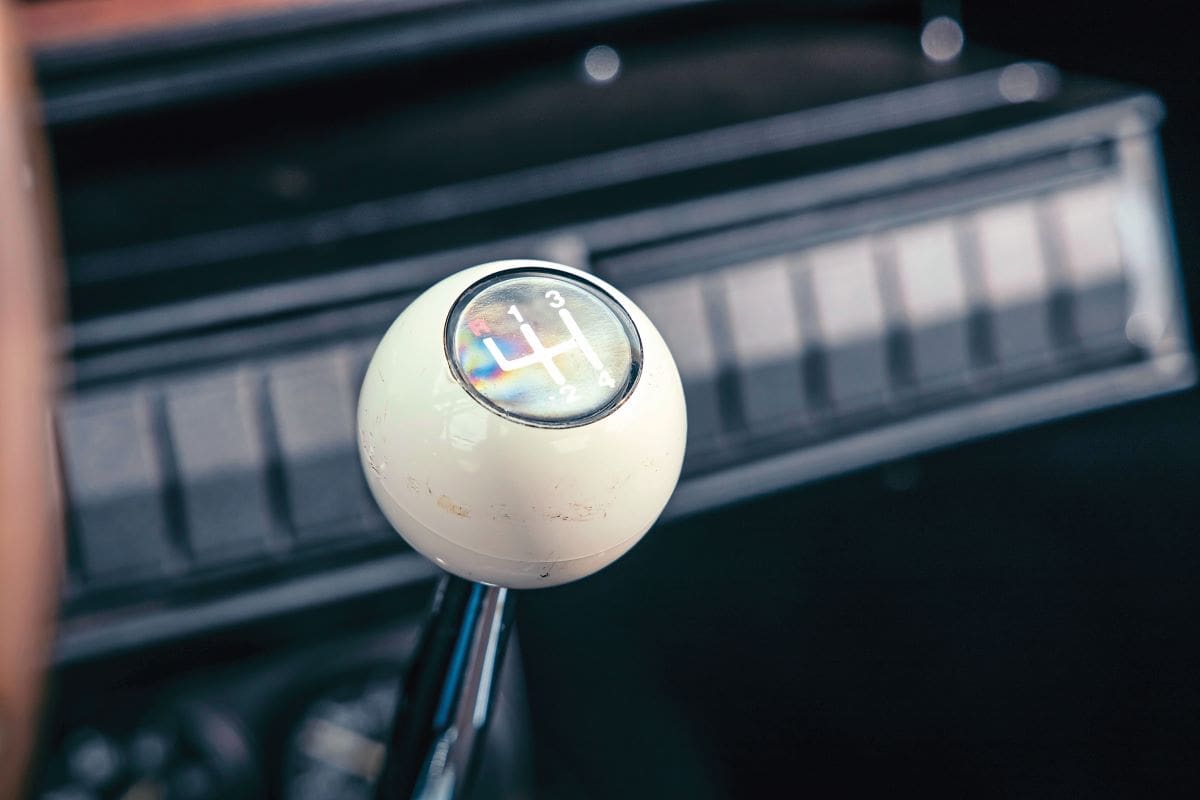 The Pontiac's original engine has been replaced with a 1971 455cu in (7.5-litre) V8 from an early 1971 Pontiac and it features a Muncie four-speed manual gearbox with a Hurst shifter and a heavy-duty racing-spec clutch. There's no power steering or power brakes, but there are discs up front (discs were offered as a $105 option for the first time in '67; prior to that they were only available on Corvettes). Other upgrades include a four-barrel Holley carb and Edelbrock manifold, plus Mallory electronic ignition and three-inch Magnaflow stainless exhaust system. One change that had been made which was less 'race-inspired' than the others was swapping in a 3.08 gear ratio in the rear end (from the original 3.90) for more comfortable and economical cruising on motorways. During the car's restoration things like the aluminium radiator were added and the aftermarket wheels were fitted (14-inch on the front and 16-inch on the back, clad in Cooper Cobras), as well as the previously mentioned black vinyl roof and the aftermarket air conditioning (vital for Carolina's unbearably humid summers).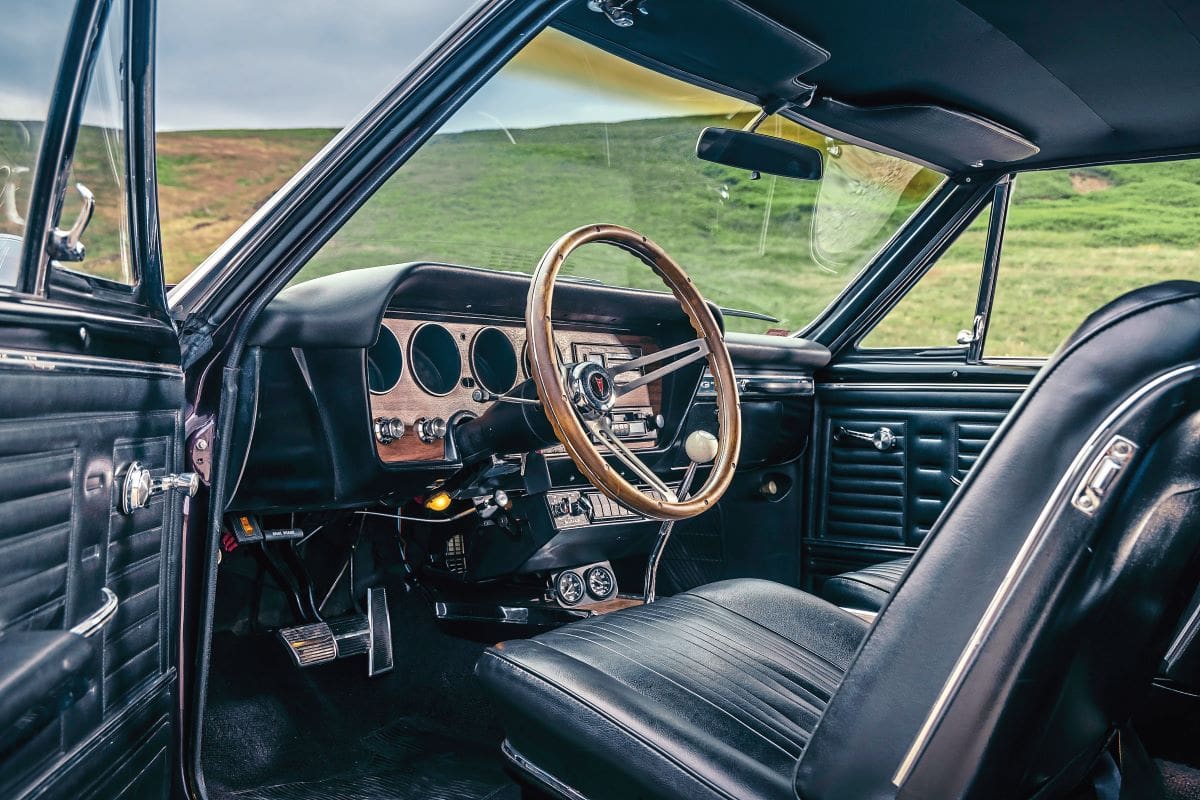 Bit of a handful
What's Ian had to do to the GTO while it's been in his custodianship? First off, he added a manual choke – "I found I was having to pump the gas about 10 times to get it started" – and he's added a new fuel pump too, all of which seem to have helped with starting the car. His electrical skills have come in useful (he describes auto electrics as being like a 'dark art'), ensuring all the interior lights were made to work, most of which seemed to have remained disconnected after the restoration. He's also added new headlamp bezels and bootliner, making use of services of advertisers in Classic American such as National Parts Depot and Summit Racing.
And what's it like to drive? "At slow speeds or parking it's a bit of a handful with no power steering and a super-stiff clutch, but on the road, moving, it's a dream!" All this means that Ian has had to come to terms with a totally different modus operandi of driving with the GTO, but it's one he's become used to ("I stall my Transit van after driving the GTO, as the clutch is so light in comparison!"). Would he consider fitting an after-market power-steering kit? After all, they're available and the car has had so many other changes and alterations, it would hardly affect its originality: "I've thought about that for the past couple of years…" says Ian, but the jury is most definitely still out on that one…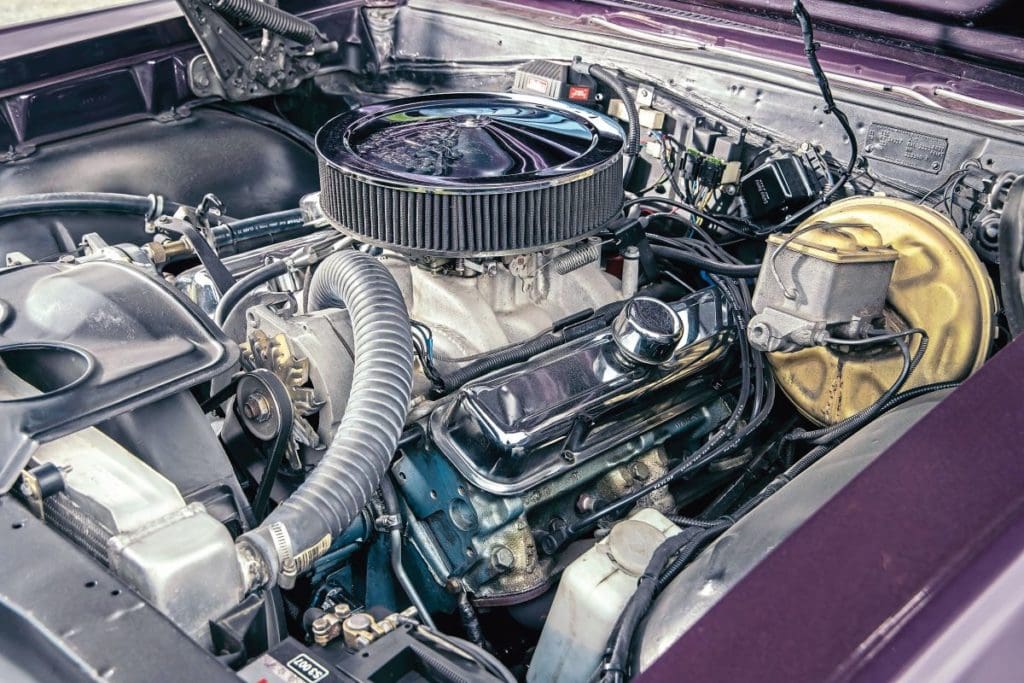 When the '67 GTO was first released, motoring magazines of the time took great care and attention to put the car through its paces at dragstrips and in various iterations. While the standard transmission from factory was a three-speed manual, a four-speed manual was available ($184), as was a new three-speed HydraMatic ($226). Motor Trend in particular took three versions of the car, all of which were equipped with the 360bhp 400cu in V8 ($77), Ram Air package ($263) and disc brakes ($105).
Manual and automatic versions were put through their paces at the local dragstrip in Detroit (the now derelict Motor City Dragway) and the results were astonishing, even before racing tyres and/or exhausts were opened. Once super stock tyres were put on the back, the manifolds opened and a Royal Oak 'Bobcat' tune-up kit fitted the GTOs really performed: the automatic consistently made passes of 13.40 at 105mph, while the four-speed made 13.10s at 106mph. Nought-to-60 came up in 4.9 and 5.2 seconds respectively. Less impressive to modern eyes are the fuel economy figures (admittedly using smaller American gallons) of 13.5mpg on the highway and 11.5mpg around town. Ian can confirm these figures – ouch!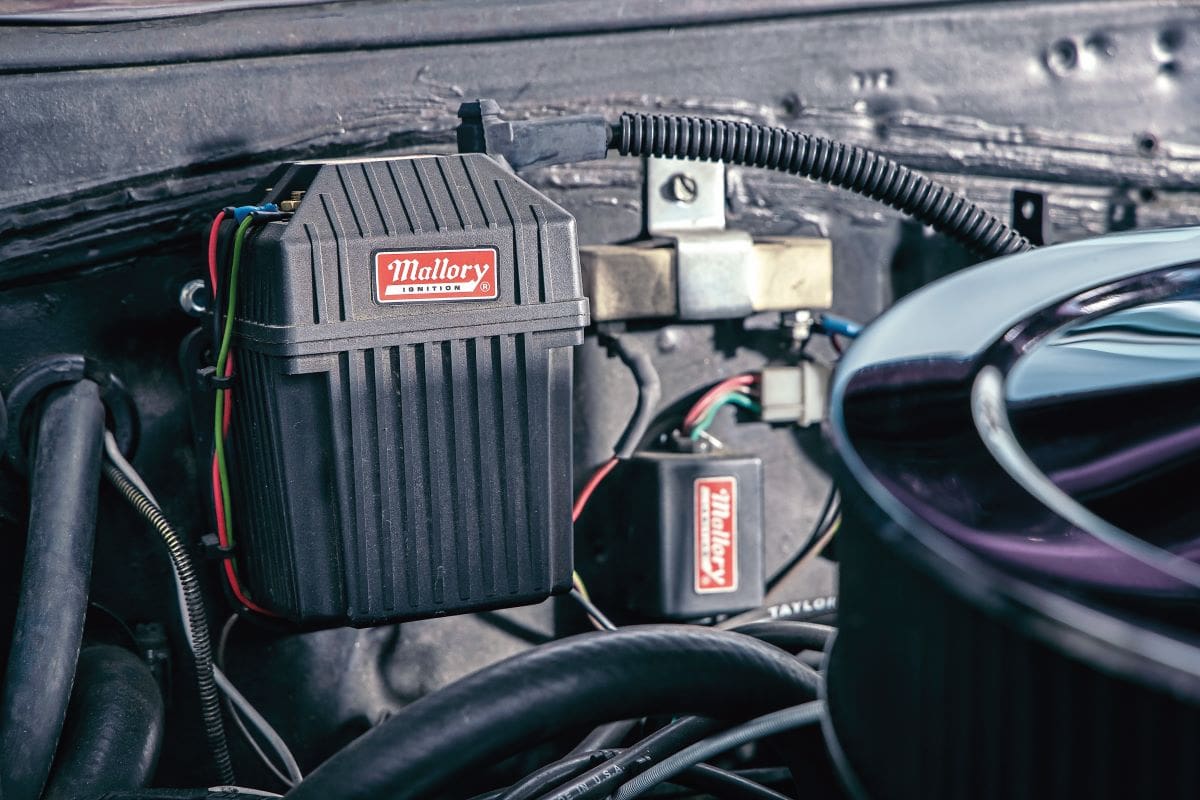 Which brings us nicely to the new realities of sky-high petrol costs today and which certainly make it look like local shows will be the order of the day for Ian and his Manchester-based GTO. And in order to avoid the perils of ethanol he sticks to premium fuels and uses an additive as well. The engine sounds as sweet as a nut and despite the calf and arm work required to hustle the big GTO around, Ian is adamant the car is a beauty to drive: "I just love it!" and well, who could blame him? This Goat really is a sweetheart of a car and it's great to see this rolling piece of muscle car heritage out and about for the great British public to enjoy and admire… which they do, in their droves!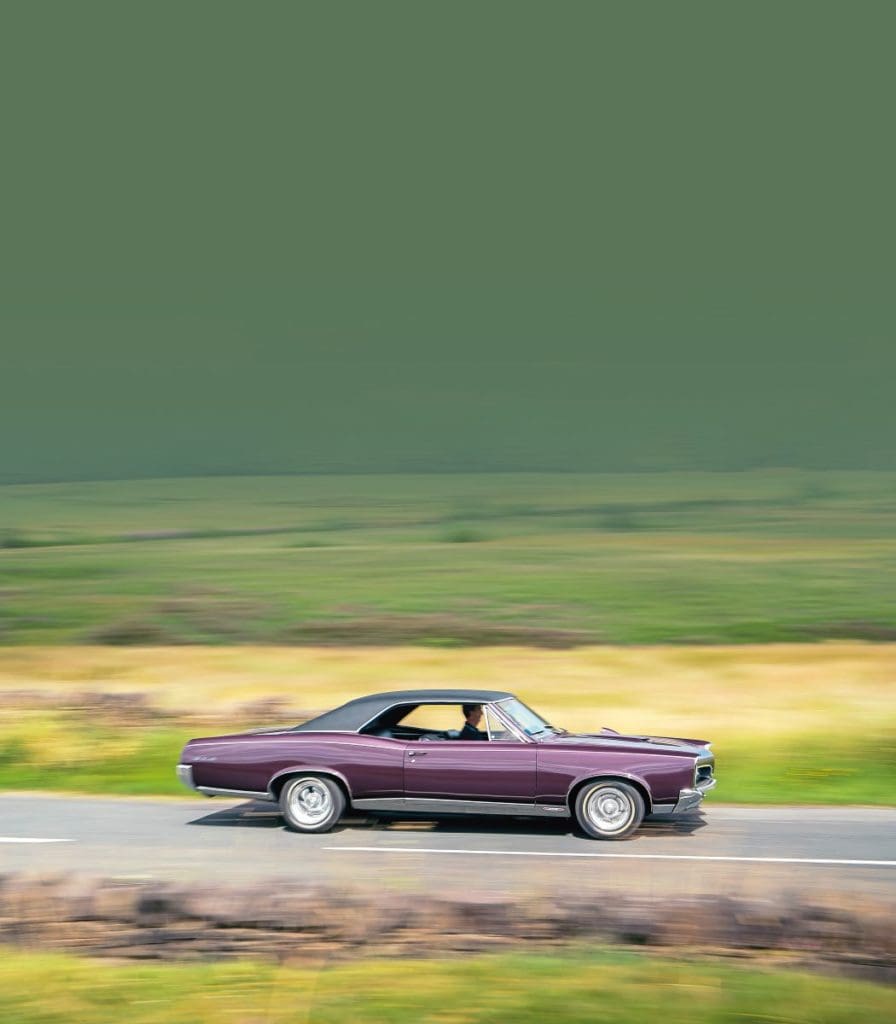 GTO golden years 1964-1969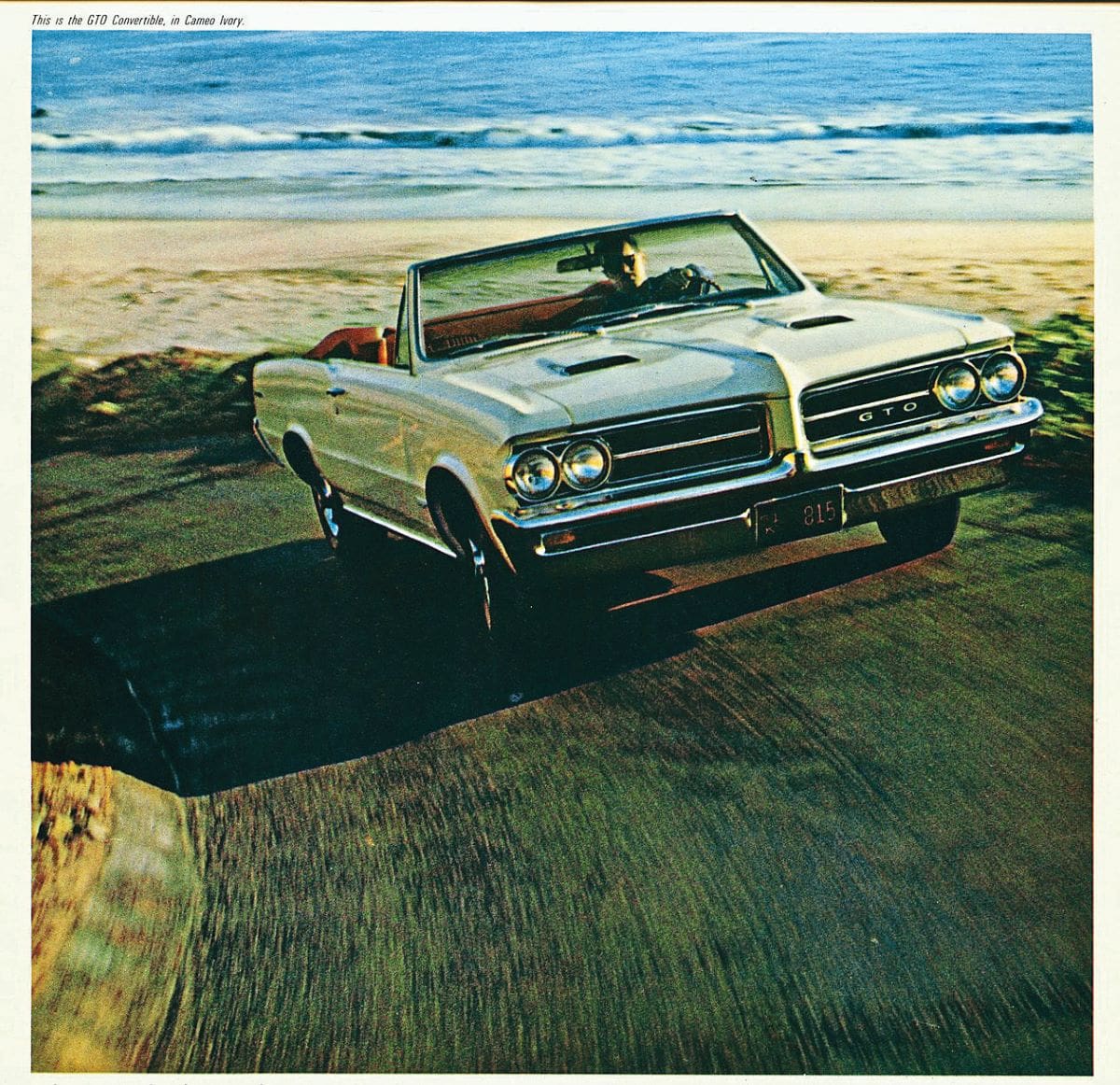 The story of how Pontiac Division chief engineer John DeLorean and Pontiac general manager Pete Estes shoehorned a 389cu in V8 into the mid-size Pontiac Tempest for the 1964 model year has been told many times on these pages. But it's worth reminding ourselves how revolutionary this act was and how it kicked off the halcyon days of the muscle car era that lasted several years until the early Seventies.
The option on the '64 Tempest was part of a 'GTO performance package', so side-stepping the GM mandate that intermediate cars like the Tempest couldn't have the bigger engines available to full-size models. The potent package included special handling modifications, GTO badges and a dual exhaust and 325bhp as standard. Also optional was a 348bhp tri-power carb set-up that offered three double-barrel carbs. A home-grown hot rod that could be bought off a regular dealership for less than $3k (prices started at $2852) caused a sales frenzy for Pontiac and 32,450 models were sold in the first year alone.
This sales success was built on in 1965, with new corporate stacked headlamps and increases in power, with the four-barrel carb versions up to 335bhp (360bhp in the Tri-carb versions); 75,352 GTOs were built for 1965. For '66 the GTO became a model in its own right, growing in size and offering handsome new Coke-bottle styling, while engines were carried over from '65, offering the same outputs. There was however a super-rare factory ram air option on the Tri-Power engines, believed to have only been ordered on up to 30 cars. In total, 96,946 GTOs were built for 1966. It was all change in the engine department for 1967 when the 389 was superseded by a 400cu in offered in four versions: 2bbl/255bhp, 335bhp/4bbl, 360/4bbl 400 HO or a 360bhp Ram Air; 81,722 GTOs were built in '67, and while front discs were offered for the first time, the Tri-power (three two-barrel carbs) option was dropped.
In 1968 there was a total restyle, as the Le Mans and GTO adopted GM's new sleek A-body style and while the 400cu in engine remained, there were hideaway headlamps up front and body-coloured endura bumpers. Engines ranged from a mild 265bhp 2bbl 400cu in V8 all the way up to a 4bbl Ram Air version capable of 360bhp. Although the '69 GTO was essentially a carry-over of the all-new '68, the big news was the introduction of the Judge package, which offered more performance goodies like a rear spoiler, Judge decals and unique stripes as well as the Ram Air III four-barrel 400 good for 366bhp. Altogether 72,287 GTOs rolled off the line for the 1969 year, of which 6725 were GTO Judge hardtops and a minuscule 108 were convertibles.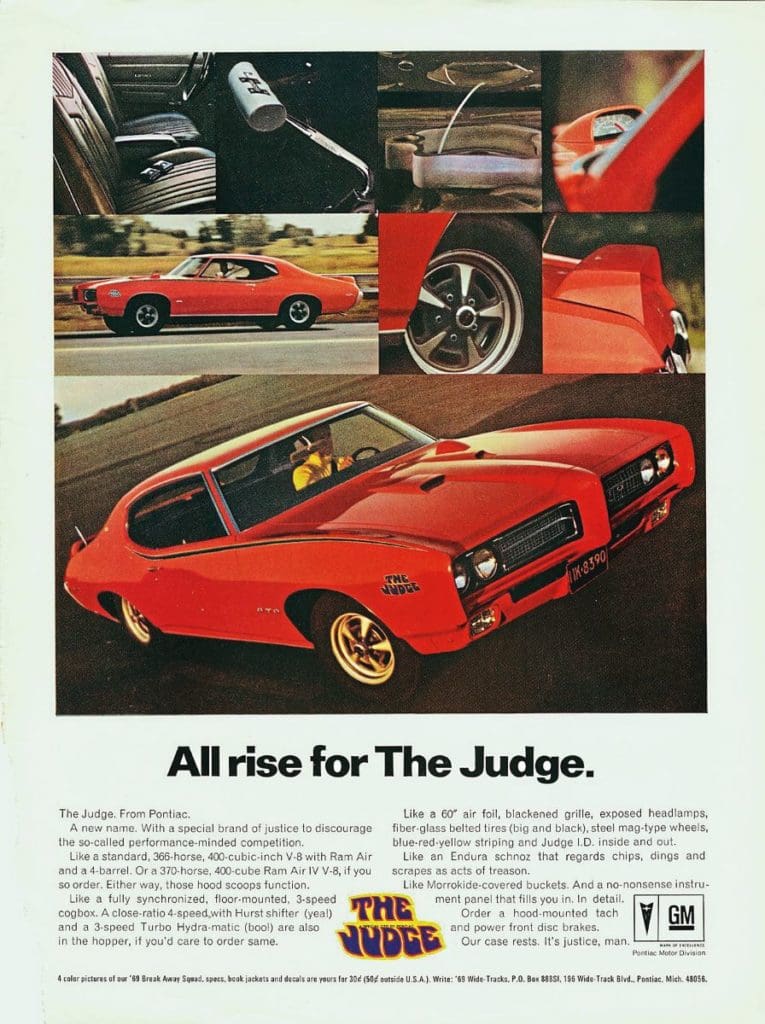 What the critics said
"Not surprisingly, it is a pretty good automobile and despite its somewhat misty European credentials, Europeans find it a likeable example of American engineering. The GTO has a harsher ride than an Olds 4-4-2; it doesn't corner quite as well and it isn't as solid, but even if it were, that's not why the kids want it. They want a kind of Spartan, lean-feeling machine with no monkey motion, one that jumps – this is what the GTO is. Not by accident or luck, but because John DeLorean and his enthusiastic Pontiac bunch have honed their products to fit the critical youth market standards." Erick Dahlquist, Hot Rod, May 1967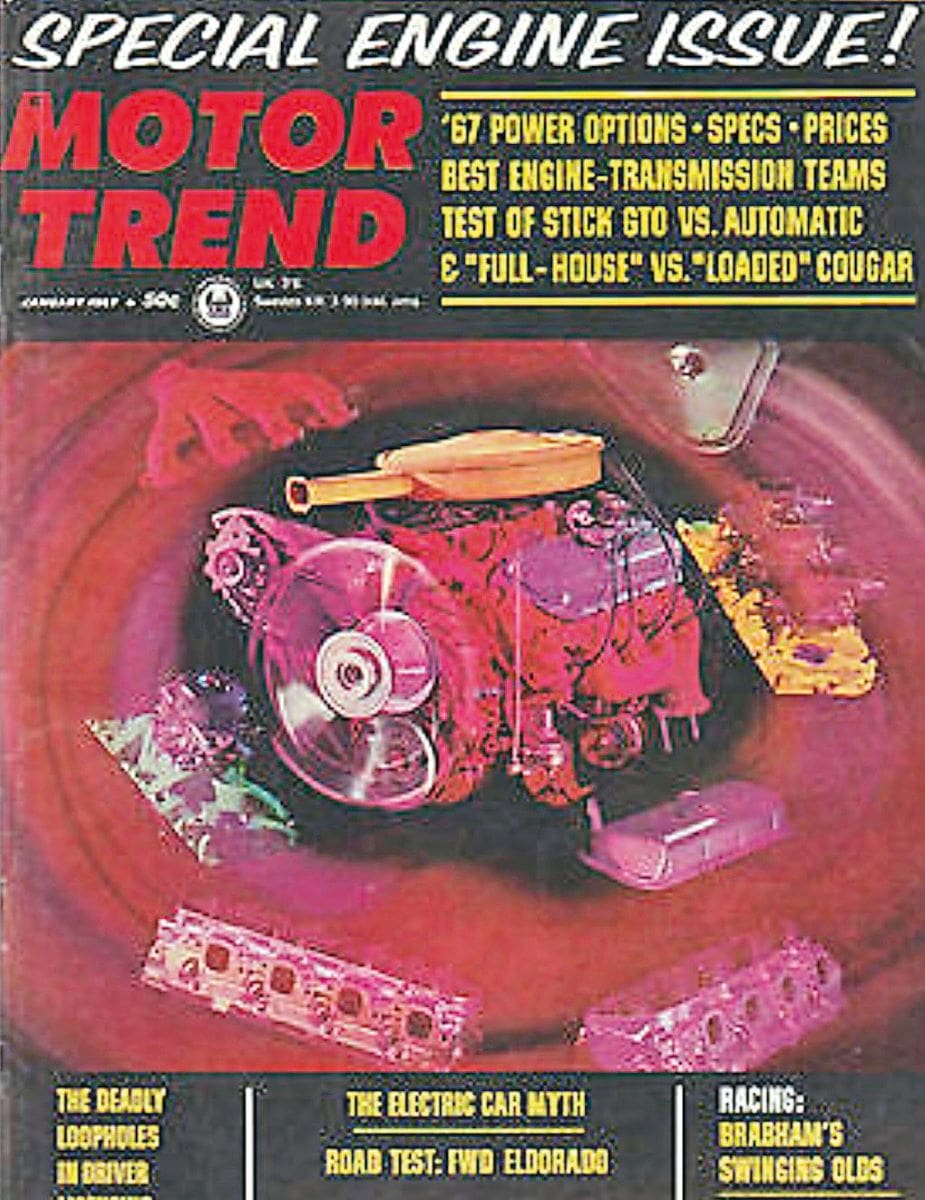 "Front disc brakes are available to further enhance good braking system… three-speed Turbo Hydra-Matic is quick and smooth… 400 cubic inch V8 performance equals – or beats – last year's 389 and offers more power potential… '67 is quieter inside and displays better quality. The fit and finish on all the cars was the best we've seen on any Pontiac GTO and we'd rate the driveability as excellent for enthusiasts as well as commuters. They're housebroken tigers, but they can revert to the jungle whenever you give the word." Steven Kelly, Motor Trend, January 1967.