With all the hoopla surrounding the 50th anniversary of the Chevrolet Camaro, Huw Evans pays tribute to another pony car that debuted back in 1967…
The other day I was visiting a garden centre with some family members. On the drive back along one of the many arrow-straight rural roads that populate this part of the Great Lakes, I caught a glimpse of a car hiding in the undergrowth not far from the asphalt. Closer inspection revealed it to be a 1973 Mercury Cougar convertible, one fit for the pages of our Discoveries section. It also got me thinking, that amid all the noise surrounding the Chevrolet Camaro's 50th anniversary this year, it's also interesting to remember that the Cougar, Lincoln-Mercury's 'senior' pony car, also debuted for the '67 model year.
To that end, I thought I'd pay tribute to Mercury's original 'Cat,' a car that has traditionally been overshadowed by its iconic Ford cousin.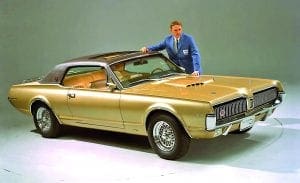 The Cougar arrived on the scene just as the pony car wars were starting to heat up in the late Sixties. The original 1967 model rode a 111-inch wheelbase and was 6.7-inches longer and about 200lb heavier than a comparable Mustang. It also came in just a single body style (a hardtop coupe). Distinguishing features included a razor face type grille with vacuum-operated hidden headlights, sequential rear brake light/indicators and the availability of a vinyl roof, plus more upscale interior appointments.
Mechanically, the Cougar came with standard V8 power (the base engine was a 200bhp 
two-barrel 289cu in small-block, with a 230bhp four-barrel version optional. Like the Mustang, the Cougar could also be equipped with a big-block that year, in this case a 320bhp, 390cu in unit. Manual or automatic transmissions were available (three-or four-speed stick) plus a three-speed Merc-O-Matic. With the Cougar's more genteel positioning in the marketplace and typical Lincoln-Mercury buyer tastes at the time, the vast majority of '67 Cougars were equipped with slushboxes. Given the demand for pony cars back then, the Cougar sold well in its first season – 150,893 units, which represented about 40% of division sales.
Despite being considered as more of a luxury grand tourer than all-out performance car, the Cougar was still pressed into motorsport. In the Sports Car Club of America's Trans Am Group 2 class, an officially L-M sanctioned team run by racing legend Dan Gurney saw the Cougars win four races for '67 but it wasn't enough to match the all-conquering Penske Camaros. Early Cougars could be optioned a million different ways, but of interest to enthusiasts was the GT Performance Package that included the big 390cu in V8, handling suspension, dual exhaust, quick ratio steering, power front disc brakes and six-inch wide wheels.
At mid-year, the XR-7 arrived. This was an upmarket trim level that added leather-covered seats, overhead console and other plush touches. As a nod to Cougar's Trans Am racing efforts, an XR-7 derived Dan Gurney Special was also released that featured Gurney's autographed signature as well as special wheel covers and under-hood treatment.
For 1968, like many other pony cars, performance became an increasing part of the product mix, despite the fact that L-M withdrew factory support for Cougar racing teams. Nevertheless, a limited edition XR-7G (the G signifying Gurney) was introduced though it had more to do with Gurney now promoting L-M products as opposed to full-out racing efforts. Stepping things up on the street was the GT-E. Equipped with the big-car 427cu in big-block (rated at 390hp) it was a fast cruiser/bruiser; the GT-E was the shape of things to come.
Article continues below…
Advert
A restyled Cougar that was longer, lower and wider arrived for 1969. Additionally, the hardtop coupe was joined by a second body style – a convertible. On the performance front, replacing the GT-E was the new Eliminator that featured full instrumentation and other sporty styling touches like racing mirrors, spoiler, tape stripes and styled road wheels. The standard engine was a 351cu in V8 but the hot Boss 302 and monster 428 Cobra Jet were available as options.
While performance was hot, the market for pony cars was starting to wane (sales volumes were now under 100,000 units annually). Cougar returned with a mild facelift for 1970 and then got a redesign the following year, gaining considerable bulk and further emphasising luxury over performance, even though a variety of hot engines were still offered.
Today the 1967-73 Cougars represent a very interesting and worthy alternative to the more popular Mustang. Relative obscurity means values tend to be more reasonable than comparable Mustangs stateside, but that doesn't diminish from a fun and rewarding ownership experience. So let's raise a glass in tribute to Mercury's cool Cat and the armada of enthusiasts that continue to restore, own and enjoy these cars. Happy birthday, Cougar!