If you're going to drive a big loud muscle car you might as well get one in a bright colour, Jase Bracey did just that… and not only that, this glorious 1973 Charger 440 is his first American car!
Who doesn't love a Dodge Charger? Even dyed-in-the-wool Ford and GM fans will (grudgingly) admit that Dodge made a hell of a decent and good-looking muscle car in the Sixties. Trouble is, the love everyone shows them rarely includes the Seventies models. We think it's high time that changed. Just look at this fantastic 1973 example belonging to Jase Bracey, it's got the looks and the attitude to go head to head with any other muscle car, and there's a 440 cu in (7.2-litre) V8 to back that attitude up.
I spotted the Charger at the Bristol American Car Show and immediately knew we had to get it into Classic American. At that time, Jase hadn't long owned the car and was a bit surprised by all the attention it was causing. "I've had American pick-ups before that I've used for work," explains Jase, "but this is my first American car. I actually went out looking for a Mustang and saw three, but they all seemed too small and were in quite rough condition with a lot of rust or bad paint. I'd started out hoping to find a project to restore, but then I reconsidered − because life's too short to be spent on rebuilding cars.
"I saw the Charger in Southend-on-Sea after Googling Chargers for sale in the UK. The guy hadn't had it long and was selling it to buy a house. The car had been local since being imported and was just sat in his garage. I'll be honest, I didn't even drive the Charger; as soon as I saw it I said, 'I'll have it.' My wife hated it at first, but I still knew I'd done the right thing. That was October 2017 and I've loved every minute since. In fact I've just bought another muscle car, a fairly rare 1965 Oldsmobile Cutlass convertible that's been in the UK from new; going halves on it with my mate Nick from Keynsham Auto Repair Centre (0117 967 6267). Nick does paint and bodywork and helps me out on the Charger if I have problems."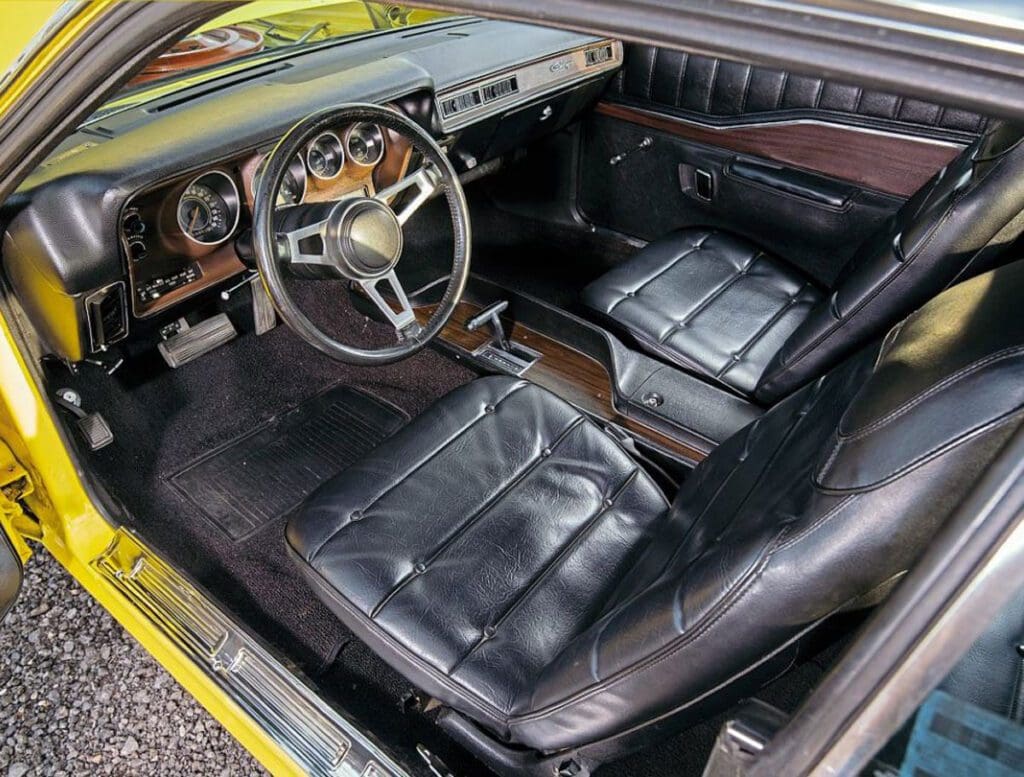 The Dodge Charger was launched in 1966, born out of two styling models; a show car based on a two-seater 1964 Polara gave the name Charger, while the 1965 Charger II show car foretold the styling of the 1966 production model. Using the chassis and virtually the lower half from their B-body Coronet meant Dodge was able to spend far more of the production Charger's budget on a stunning fastback body with hidden headlights, full-width tail lights and a luxury four-bucket seat interior.
The 1968 Charger was completely restyled with a semi-fastback, flying buttress roof and high topped curved wings. Every panel was unique to the Charger. It looked fantastic and sold 96,108 examples – almost double the previous two years' production combined. Sales dropped by some 7000 units for the split grille 1969 model, which got only minor changes inside and out. Both model years would gain legions of fans from their appearances in movies, including Bullitt then later Dirty Mary, Crazy Larry, Carquake and, of course, The Dukes of Hazzard. New for 1970 was a wraparound front bumper and unsplit grille, but bigger changes were coming.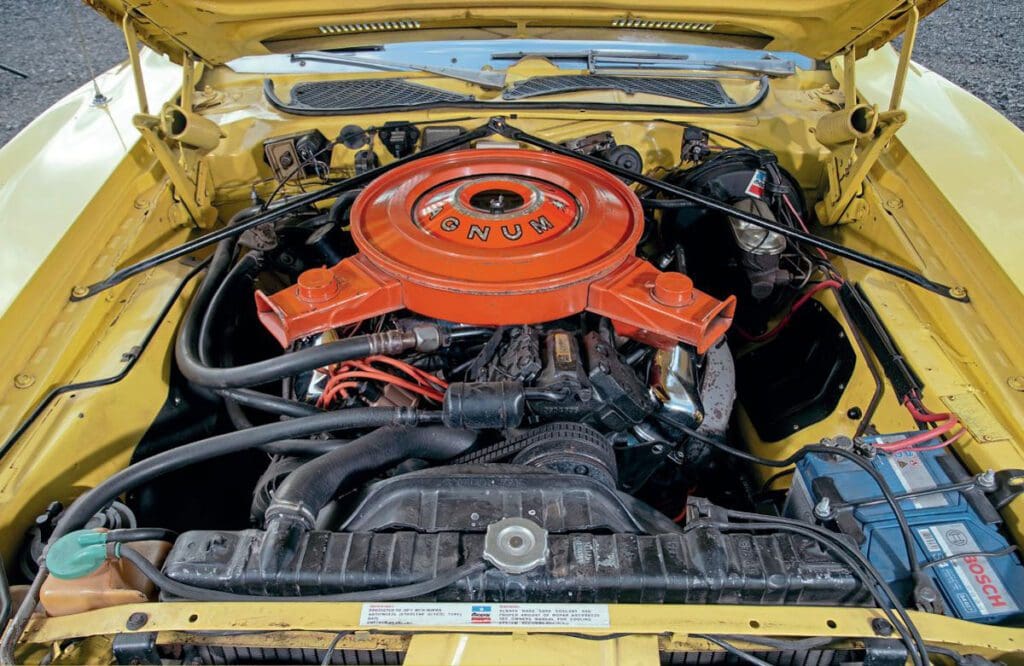 Super Chargers
In 1971 another completely restyled Charger made its debut, this one riding a unique 115-inch wheelbase. The base model Charger and Charger Coupes came with a slant six as standard. Cheapest model in the range, the Coupe, had fixed rear windows and a permanent B-pillar. Prices started at $2707 with the optional V8 for $95 more. Charger was the cheapest hardtop; $2975 got you a six-powered example while the 500, R/T, Super Bee and top-of-the-range Charger SE (Special Edition) could only be had with V8s. The SE boasted its own unique roofline with smaller side windows. R/T and Super Bee comprised The Dodge Scat Pack performance models, with optional 440cu in Six Pack or 426cu in Hemi.
For 1972, the R/T and Super Bee Chargers were superseded by the optional Rallye package comprising extra suspension handling pack, exterior decoration and 340cu in V8 as standard. High insurance costs and new emissions laws were killing the market and Chargers became less a muscle car, more a luxury car that went fast.
Dodge continued to offer a Charger Hardtop, Charger Coupe, Rallye Coupe and Charger SE for 1973. The latter was the best seller, with 61,908 finding buyers. An all-new front suspension and optional half-vinyl Landau roof were the main changes, although the $182 Rallye option including uprated chassis and power bulge bonnet could be specified with any V8. By 1974, the standard V8 wasa318 putting out 150bhp, the 440 had 275bhp, but few were buying muscle cars. For 1975, Chargers shared a bodyshell with the new Cordoba and gradually faded away by 1978. The badge would return in the Eighties, but that's another story. Fortunately, some muscle car enthusiasts had seen the writing on the wall and acted accordingly, such as whomever ordered our feature car.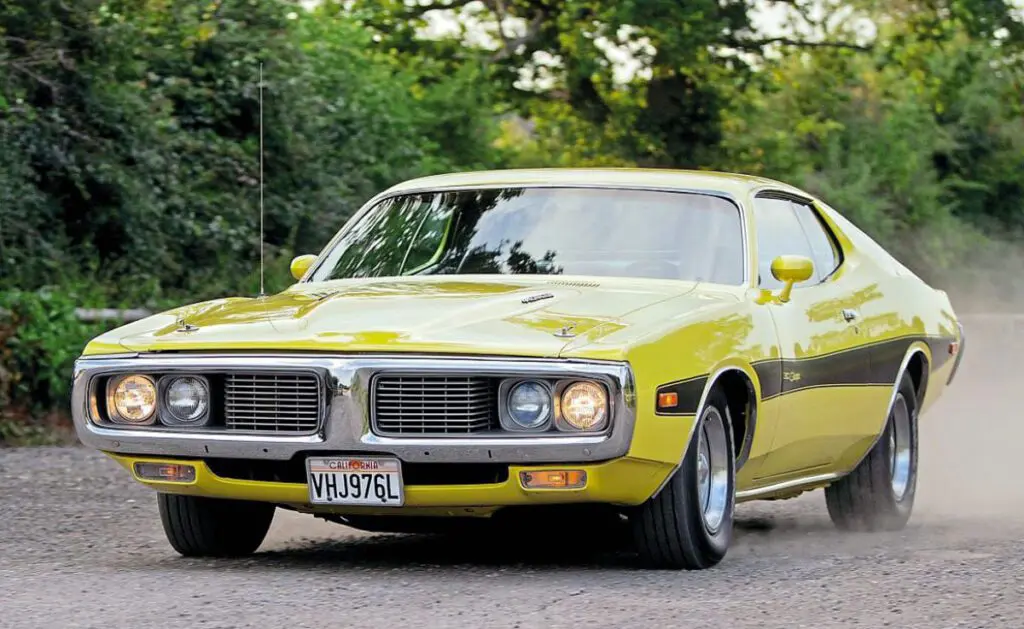 The joy of this era Mopars is that the Vehicle Identification Number combined with the stamped 'fender tag' on the driver's side inner wing gives us virtually anything we'd like to know about Jase's Charger. It'saMagnum 440-powered Coronet/Charger high price class two-door hardtop, built March 19, 1973, at the St Louis, Missouri, plant to US specifications and fitted with a code E86 '440cid 4 barrel V8 (high performance) 375bhp' engine and D34 'light duty automatic transmission'.
The body is code FY1 'Top Banana exterior color' with V6X longitudinal stripes, black. The interior is 'high-level trim vinyl bucket seats,' in black with 'Black Diamond int door frames,' a C16 'console w/woodgrain panel' and R35 'AM/FM stereo radio (10 watts)'. An A57 code means the Rallye Package was fitted, B41 is 'front disc-brakes w/standard 10in RR drums'. Other options include tinted glass, dual racing mirrors, air conditioning with heater, hood tie-down pins, inside hood release, limited slip differential and 'sport hood'. There's an N41 dual exhaust with N42 chrome exhaust tips and M85 front and rear bumper guards.
Finally, there's N95 option emissions control which, no doubt, relates to the California emissions decal on rear window. "The CO emissions were 39 grams per mile," laughs Jase. "I don't know if that's good, but I doubt it. I drove the Charger to the Le Mans Classic recently with four of us inside and all our stuff. It cost £1 a mile in fuel, but it didn't miss a beat there or back. It made no difference to the performance either – it just sat a bit lower at the back." That was no problem either since the Charger has air shocks on the rear; easily pumped up via the nozzle on the boot lid slam panel
California dream
The Charger's paperwork suggests it spent its life in Santa Ana, California, then was moved to Ohio in 2002 where it was completely restored. The interior was given new Legendary seat covers (www.legendaryautointeriors.com), headlining and carpets, and both bumpers were rechromed. The 440cu in V8 is the original factory-fitted one with a dual plane intake with Carter 600cfm carb and backed to a 727 Torqueflite, three-speed automatic. "It's got a lumpier cam and performance needle jets in the carb. I put it on a rolling road last week and got 380bhp and 490lb-ft of torque." According to the paperwork, all the suspension components are either clear-coated or painted the original colour – as apparently was the exhaust… The floorpans supposedly remain unwelded and the entire car is matching numbers.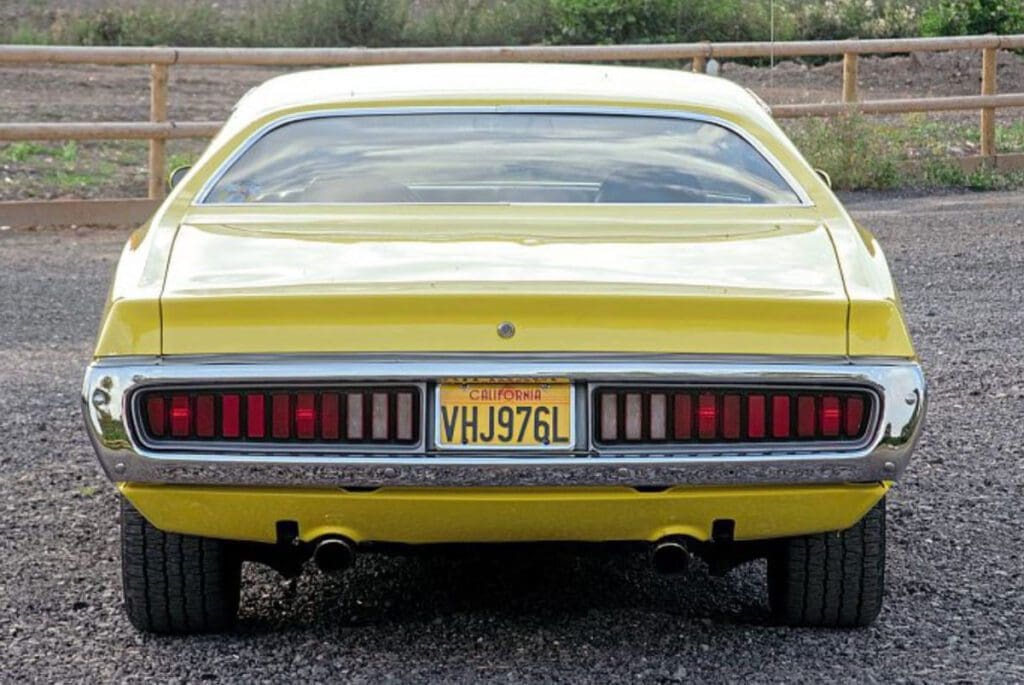 We won't reveal what Jase bargained the purchase price down to, but let's just say it's considerably less than half what you'd pay for the 1969 version of this car, and that's the crazy thing. This Charger drives just as well as any 1968- 70 big block Charger, it has the same presence, even the same noise, yet it's far cheaper to buy simply because it wasn't the star of a feature film or television series. Well, except for Speedtrap!, Vampire in Brooklyn, The Butcher, Phase IV, six seasons of Burn Notice, season five of The Mod Squad and not forgetting that '73 fitted with the snow plough in Out Cold. Surely it can only be a matter of time before values catch up?
Not that Jase especially cares what it's worth, he's too busy enjoying his car. "I noticed a leak on the inlet manifold just after I got it. I took it to the local garage and he made me stay and help him work on it. We replaced the gaskets which cured the problem. I phoned Real Steel (01895 440505 www.realsteel.co.uk) for the parts and as soon as I said the year, engine and model he knew he had them on the shelf; people have always told me you can get most parts very easily, but it still surprised me. Of course, it was completely restored in the States so it hasn't really needed much doing.
"I'll tighten up the steering in the future since I feel it needs a little more feedback, but otherwise there's nothing I would change about the Charger and not a thing I don't love about it. It's all about the noise," laughs Jase as he waves us goodbye and heads home. Did he layalittle bit of BF Goodrich Radial and make that big V8 scream as he left? That would be telling…