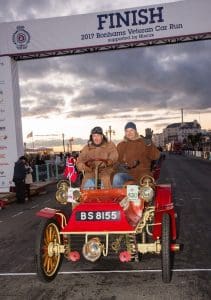 1904 Cadillac driver from Norway wins Regularity Time Trial on
Veteran Car Run route from London to Brighton 
 
The 2017 Bonhams London to Brighton Veteran Car Run, supported by Hiscox, not only witnessed more than 400 cars from the dawn of motoring travelling from Hyde Park down to the Sussex coast but also provided participants with the extra challenge of a competitive element.
First introduced in 2014, the Regularity Time Trial which is now sponsored by Chopard, pits the wits of the drivers and their passengers against-the-clock and the initiative has really captured imaginations. Just 52 entered the inaugural contest – a figure that rose to a record 313 entrants in 2017, fuelled by the prize of a Chopard Mille Miglia Chronograph, worth £4,900, awaiting the winner.
Far from a race, the competition called on entrants to nominate target average speed for the 13-mile section on the route between Crawley High Street and Burgess Hill. Taking into account the pre-1905 vintage of the veteran vehicles on parade, the options available were 8 mph, 10 mph, 12 mph, 14 mph, 16 mph and 18 mph.
This year's winner – Ymer Sletter – opted for a 12 mph average between the two points and came closest to his nominated speed. Driving a Cadillac dating back to 1904 (photo above), Sletter's actual speed for the allocated section in the Sussex Downs was an amazing 12.01 mph. Chris Rolph finished second in his 1904 Wolseley having averaged 11.97 mph against a similar 12 mph target time while Patrick Hemphill finished a commendable third among the time travellers aboard his 1903 Oldsmobile, having averaged 12.07 mph also against his 12 mph goal.
Article continues below…
Advert
"While this wonderful event is all about participation rather than competition, we are delighted that the Chopard Regularity Time Trial is adding additional dimension to the famous drive from London to Brighton and proving so popular with more and more of those privileged enough to be partaking in this historic Run," said Antonius Kerssenbrock, Managing Director of Chopard UK who took part in the Run for the first time this year himself.
"We congratulate all those who entered this year's Chopard Regularity Time Trial – notably our winner who came within a tenth of a second of achieving the perfect result. Precision and reliability have been key characteristics of all Chopard timepieces dating right back to the company's dawn in the 19th Century, and those two attributes were key to those winning this increasingly sought-after award."