This rockin' truck has evolved over the years with modifications by each new owner, and its latest owner has more new ideas about further mods to come, as Garry Stuart discovered…
Words and photography: Garry Stuart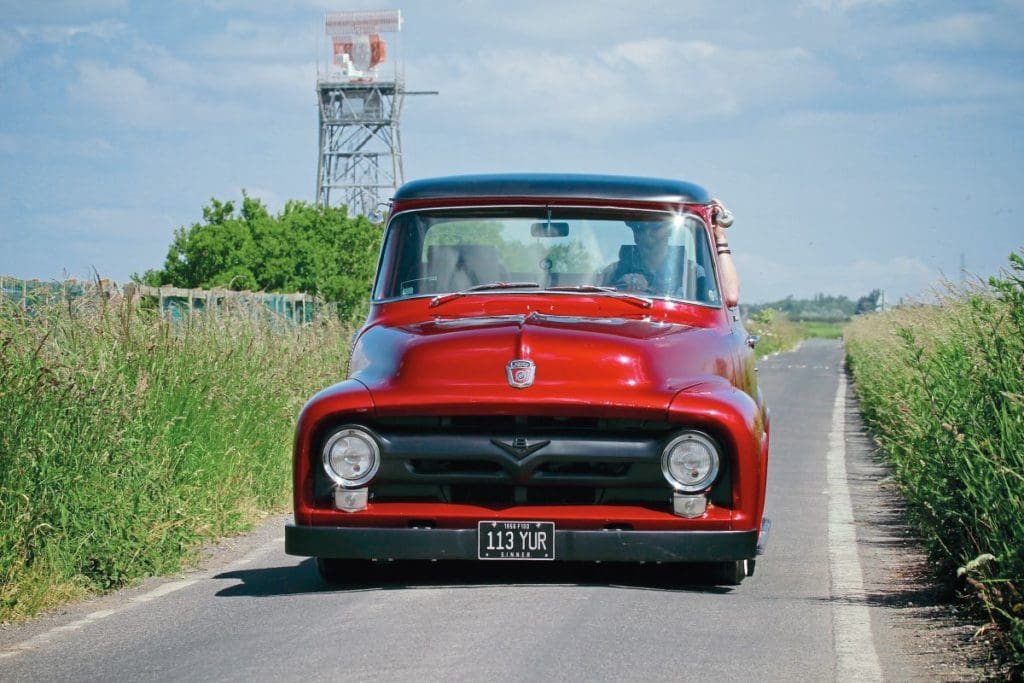 Some custom cars/trucks have a stance and an attitude that makes them stand out, a cool menacing self-confidence which you can see in Marlon Brando, James Dean or in any English bull terrier. This bad ass '56 Custom Cab F100 truck has all this in spades; the Ace of Spades maybe but, hang on, no. This is a rockin' truck, not a heavy metal beast.
Meet The Sinner, a truck that is so cool rockabilly band The Neutronz wrote and recorded a song about it (which you can hear on YouTube!). Now, it wouldn't be right if The Sinner was owned and driven by some dweeb and, thankfully, this is not the case, as you will realise when you meet Colin, or 'Rockabilly Col', as he is known to his mates.
Colin is the third UK owner of The Sinner since it was transported across the pond and he has owned it for the past six years. He bought it from friend Si Miles, who was the guy who christened it The Sinner after the Preston Sinners Rock and Roll Club that both Colin and he attend regularly. As is always the case with a custom car, this truck has evolved over the years, with modifications by each owner. Colin has ideas about further mods, but more about that later.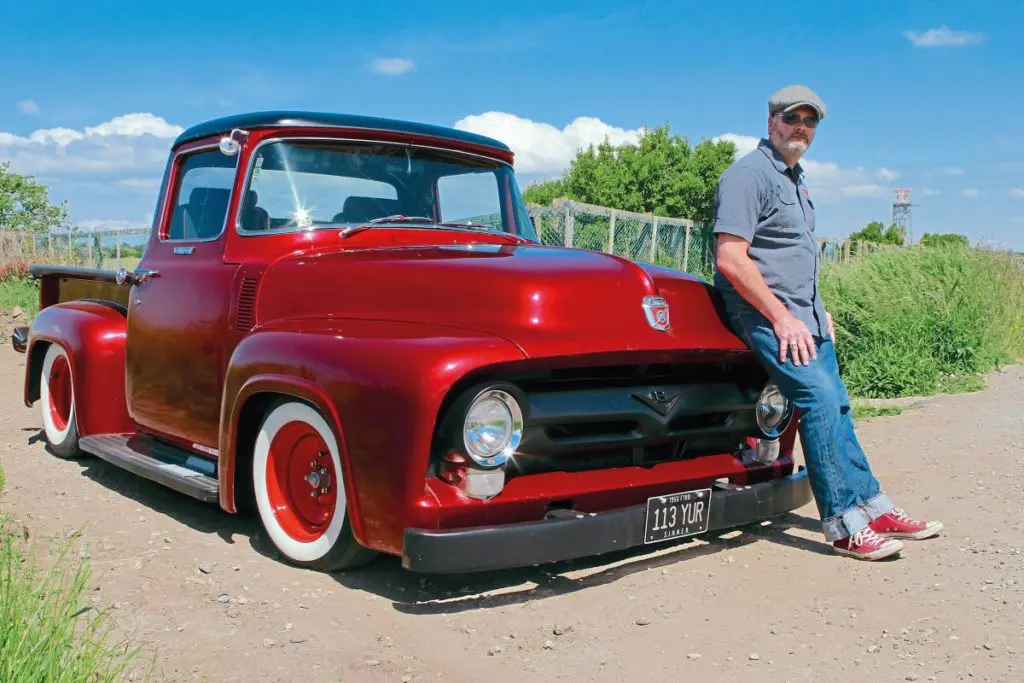 This 1956 Custom Cab F100 is powered by a Dodge 360 motor breathing through an Edelbrock carburettor and manifold. Cam lifters and valve springs are Edelbrock RPM Performer range, while the air filter is a standard 14-inch cold air intake. Petronix Electronic Ignition provides the sparks at the right time to explode the mixture, which arrive efficiently through ported and polished cylinder heads.
The engine was worked on by Tom Parry Bespoke Auto Engineering, Bamber Bridge, Preston. The exhaust gases are carried away through ceramic-coated headers and stainless-steel exhausts exiting in front of the rear fenders on each side. The exhausts are silenced and muffled, giving out a throaty deep V8 burble which is actually quite neighbour-friendly when you consider how noisy it could have been. The transmission is a Torqueflite 727 three-speed auto. It has an aluminium case replacing the previous cast-iron units, saving about 60lb in weight. This weight-saving plus its bombproof durability made the 727 a favourite among drag racers and monster truck drivers.
Colin uses his truck daily and it was on a tip run to Manchester that the power output proved too much for the standard differential, which gave up the ghost. As we all know, one man's breakdown is that man's excuse to uprate and spend money, so wiping his credit card down on his jeans, Colin shelled out for a Powertrax Pro Grip limited slip differential. Half shafts and bearings are Moser and the propshaft yokes were uprated from 1310 to 1350. The propshaft was beefed up by an order of plus 50% in diameter.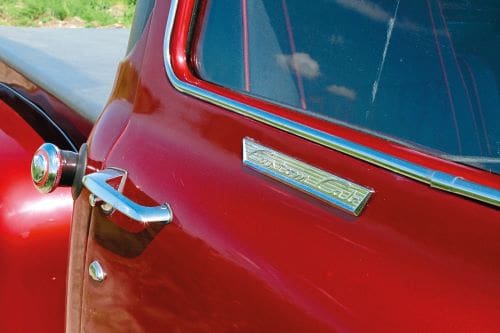 When Colin got the truck it had leaf springs all round. These have been replaced by coilover springs and a Mustang II front clip has been fitted. This includes front axle, steering rack, disc brakes and the coilover suspension. The ride height has been dropped four inches for that cool tarmac-hugging look. Ford drum brakes are retained at the rear. Wheels are steel rims with a smaller than stock five-bolt pattern. The front wheels are seven inches wide, the rears eight-inch shod in Goodyear whitewalls (205-70-15 front, 255-70-15 rear). The rear axle has been shortened two inches either side and two-inch arches cut into the rear bed to allow tyre clearance required because of the lowering of the truck. In the cab, a Dakota Digital display unit in the dash provides Colin with very accurate mph and fuel readouts. It's a customisable unit which allows for accurate setting up for fuel level.
Colin used his sat nav to set up the speedo over a GPS measured mile. The comfortable seats are from a Lincoln Continental which have been re-covered in imitation black leather. All of the glass is original, but with new rubber seals. The deep, candy-apple red paint was applied back in the US and is thick and durable and still looks good a decade later.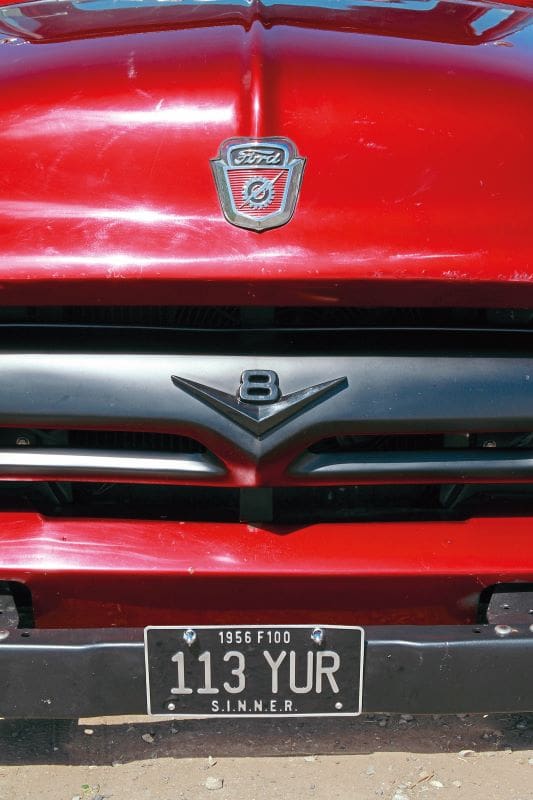 Apart from the window frames, all chrome has been replaced with a satin black powder coat finish, as Colin professes to hate the smell of chrome polish. The cab roof was rolled, filled and painted black to match the front fender, grille and rear tailgate. The black painted areas give The Sinner a subtle and suitably moody look. Would black wheels have been a touch too far? Probably. The front fender ends are curved, and Colin wonders if this is a Canadian export feature as he believes they should be straight-edged. The tailgate was handmade by Tom Parry.
Living in rainswept north-west England encouraged Colin to uprate the stock vacuum windscreen wipers to more effective electric units. The headlights are standard, while the indicators are LEDs and all lenses are stock.
Colin is a top-class racing bicycle mechanic who once worked with the Olympic cycling team and Bradley Wiggins and now runs a bespoke service to serious cyclists − Colin Gardner, The Bike Magician (see: www.bikemagician.com).
He uses this truck daily as it is his only transport apart from a bicycle, so it is definitely no show pony.
Colin likes to get out and about the country in The Sinner as often as he can. One of his favourite events is Hot Rods and Hills in the Lake District, which he attends most years. Soon after he bought the truck, he was on the Hot Rods and Hills cruise, which involved descending from Kirkstone Pass on a famously steep road called The Struggle when the drum brakes faded to nothing; it was only transmission braking that saved him from running into the much more expensive hot rod ahead of him. Petrol-wise, this event is probably the cheapest that he attends. He has done 600-mile round journeys to attend The Hot Rod Hayride and The Trip Out which, at around 15mpg on a good day, appear eye-wateringly expensive to most folks; however, Colin merely shrugs and says it's the price he willingly pays to drive the truck of his dreams.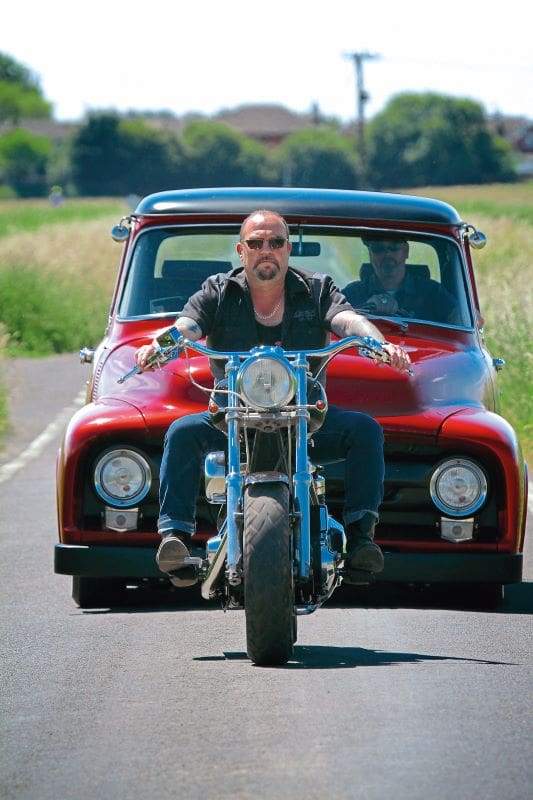 Colin and The Sinner are regulars at Run What Ya Brungs at Santa Pod and Melbourne Drag Strips, showing that he's not afraid to cane it either. He's creeping into the lower 15-second quarter-mile nowadays and his ambition is to one day get into the 14s. To facilitate this, he is currently mulling over future performance upgrades such as a supercharger. Colin worries that it would be parasitic of power in his day-to-day running and further reduce the mpg and maybe a small Pro-charger supercharger would be the best choice. Then again maybe a twin turbo? Whatever the cost of the extra performance which Colin craves, you can be sure that The Sinner will be forgiven and continue to creep up to the staging lights for years to come!