Subtle modifications mark this Trans Am out as a remarkably original-looking muscle car, with some trick upgrades that translate into unparalleled performance…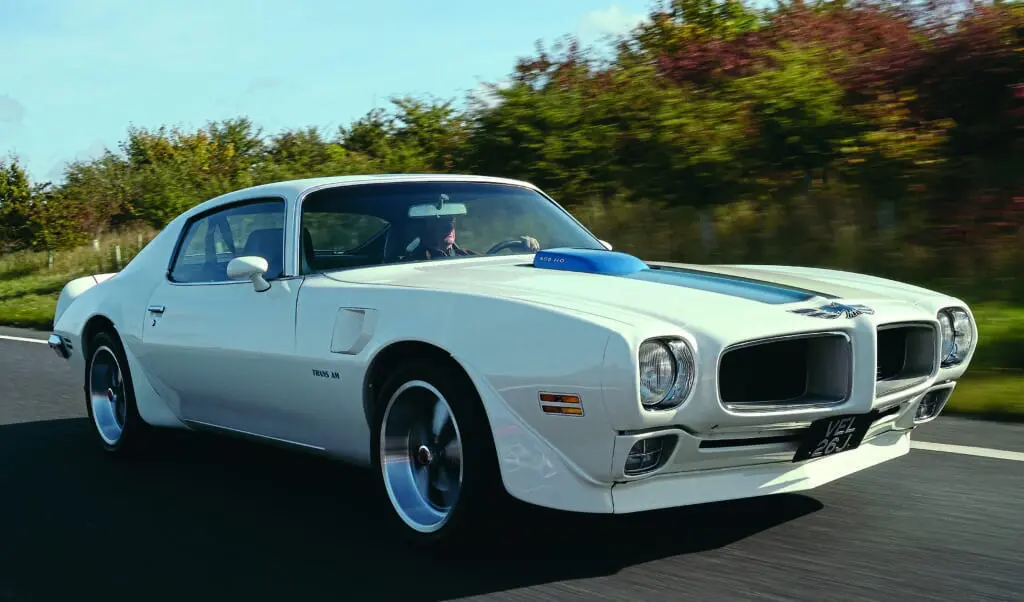 At first glance, Mark Todhunter's '71 Trans Am looks every bit a pristine, stock example of a classic 'F'-body Pontiac – exactly as it rolled out of the factory. A closer examination however reveals that the car sits a little lower and is fitted with modern high-performance low-profile tyres on some very convincing reproduction Rallye II alloy wheels. The shaker hood spells out '455 HO', denoting that it is a 1971 model, and its V8 burble is characteristic early Seventies Pontiac muscle.
For all things Classic American, like our page on Facebook here!
[otw_shortcode_button href="https://www.instagram.com/classicamericanmag/" size="medium" icon_type="social foundicon-instagram" icon_position="left" shape="round" icon_url="https://www.instagram.com/classicamericanmag/" color_class="otw-red" target="_blank"]Follow Classic American on Instagram![/otw_shortcode_button]
The interior has the Trans Am trademark machined aluminium dash with Rally gauges, including tachometer and a leather-wrapped, three-spoke 'Formula' steering wheel. The seats look stock, but they are in fact Recaro bucket seats which have been expertly coloured to the correct blue to match the rest of the interior. Finished in immaculate Cameo White paintwork (painstakingly detailed by Robert Taylor − Taylored Valeting and Detailing, Maulden, Beds − tel 07766 910366) with a Lucerne Blue hood stripe, this Trans Am looks the part, and unlike some classic performance cars that look the look, but don't have the performance to back it up, this Trans Am has the performance to match – it's the real deal!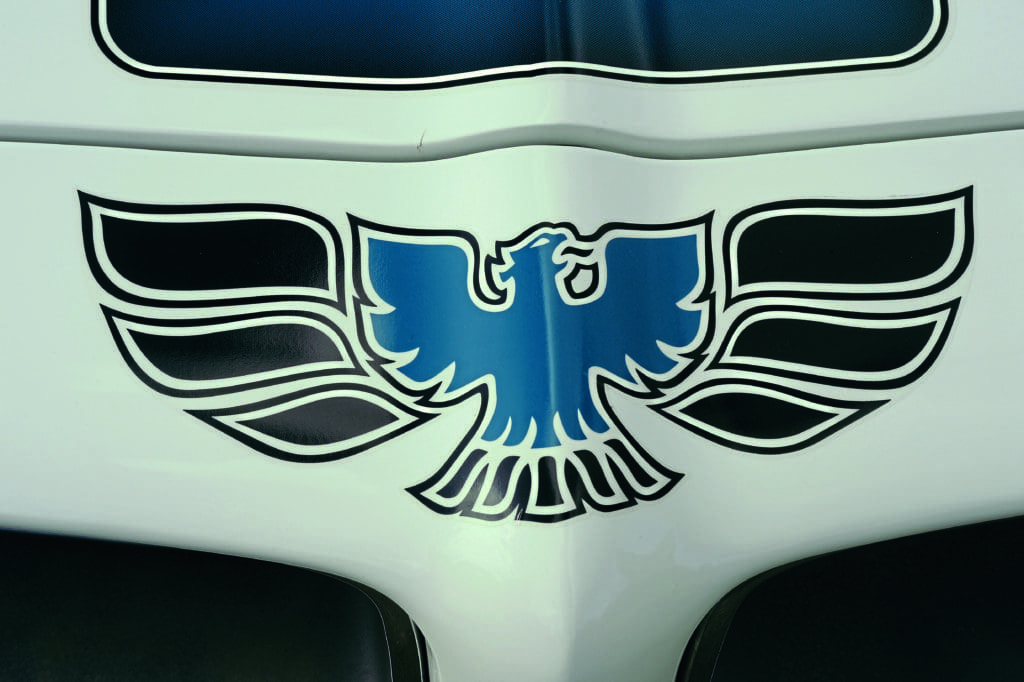 Mark Todhunter's Trans Am has been in the UK since February 1977, when it was imported by its original owner. Since then it has had at least two other owners, one of whom put more than 100,000 miles on it. But, because it has been serviced regularly and looked after, it has remained in tip-top original condition – a condition befitting an early 'Bullnose' Trans Am. The car is one of only 885 Trans Ams to be built with a manual transmission – in this case, a four-speed. Total production for Trans Am that year was 2116. The LS5 455 HO V8 was originally rated at 335bhp and was the only engine available. The original Rallye II wheels would have been shod with F60 x 15 tyres.
Mark bought the car in March 2010, but committed to the car in 2009. Much of the mechanical and servicing work had been carried out by Robin and Tom Gray at Autopontiac (tel 020 8894 5930/www.autopontiac.co.uk) in Hounslow, West London, so it was a fairly well-known quantity. Mark has had several muscle cars prior to this, including a 1974 Pontiac Firebird and a 1992 Pontiac Trans Am GTA, and, much as he liked the '92 GTA, it didn't have the performance which Mark associated with a premium high-performance American sports car.
Then the '71 came up for sale and that was it – he said 'yes' to it. However, he still wanted a car that performed and handled like it looked; and one that would drive as well as any modern high-performance sports car.
A tall order maybe, but then that's where Robin Gray comes in.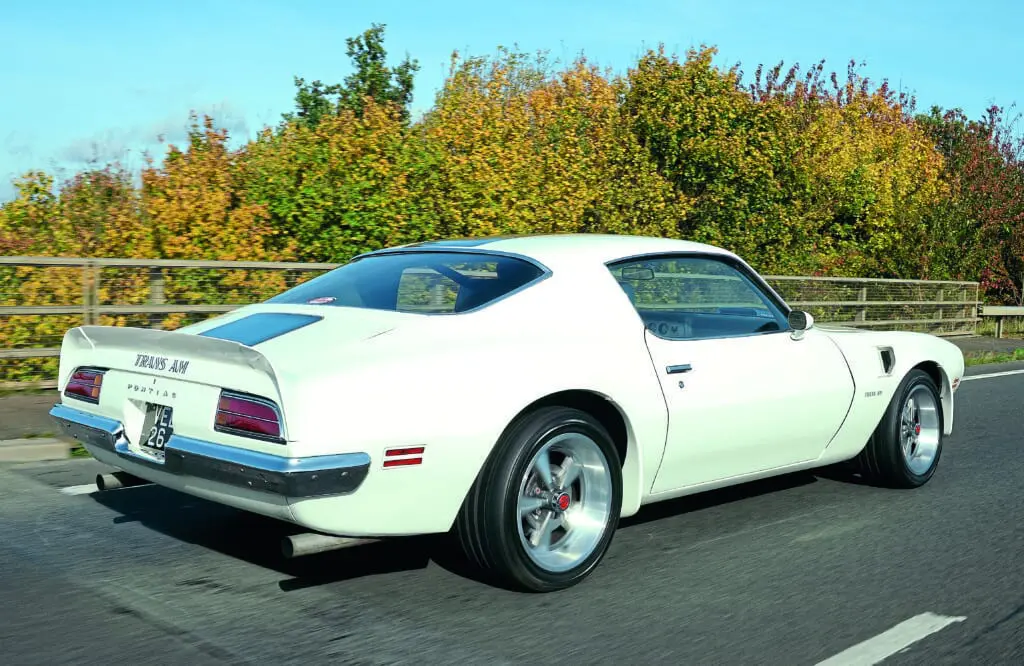 A subtle Trans Am transformation
Mark had taken the Trans Am back to Autopontiac to have the usual servicing carried out and asked Robin if his spare race car engine would fit in the Trans Am. The answer was an affirmative, and Robin duly placed his 455 race car engine in Mark's Trans Am. He drove the car with this engine in for a while before deciding that it was time for the next stage in the plan, a plan that included putting the original 455 back in. The car was taken off the road for a complete refit. The Cameo White bodywork was resprayed, complete with Lucerne Blue shaker hood and hood stripe, and the only new addition to the interior was a carpet set; the rest of the work was in the engine, steering and suspension departments.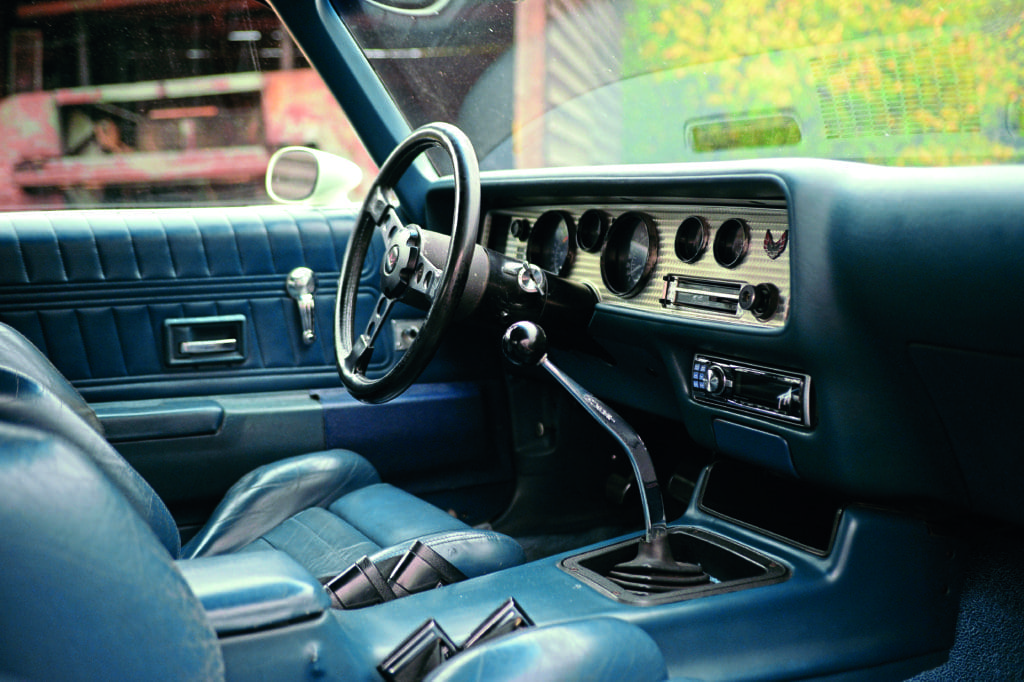 The engine
Robin Gray started getting on with the job of maximising the potential power out of the engine, while keeping it looking stock and making it work well in all road conditions. First he carried out a crank re-stroke from the original 4.21 inch stroke to 4.50 inches and took the bore to 4.21 inches. This effectively brought the displacement up to 501 cubic inches – a good eight-and-a -quarter litres in anyone's language. With 560ft-lb of torque and a compression ratio of 10:1, the engine was now capable of putting out 500bhp without straining itself. Much of this was achieved by utilising new internals to cope with the increase in displacement: a steel crank with 'H' beam big-block Chevy rods and Ross forged pistons, a solid lifter cam to Robin's own design, PRW aluminium roller rockers, stainless steel valves and springs to match and a duplex timing chain. He also fitted a 6-keyway crank sprocket so that the cam could be dialled in accurately. Alloy valve covers were fitted and an evacuation pump system which is driven off the front of the crank on a belt. The heads are fully ported and 'Doug's Headers' are fitted with a 2½ inch exhaust system.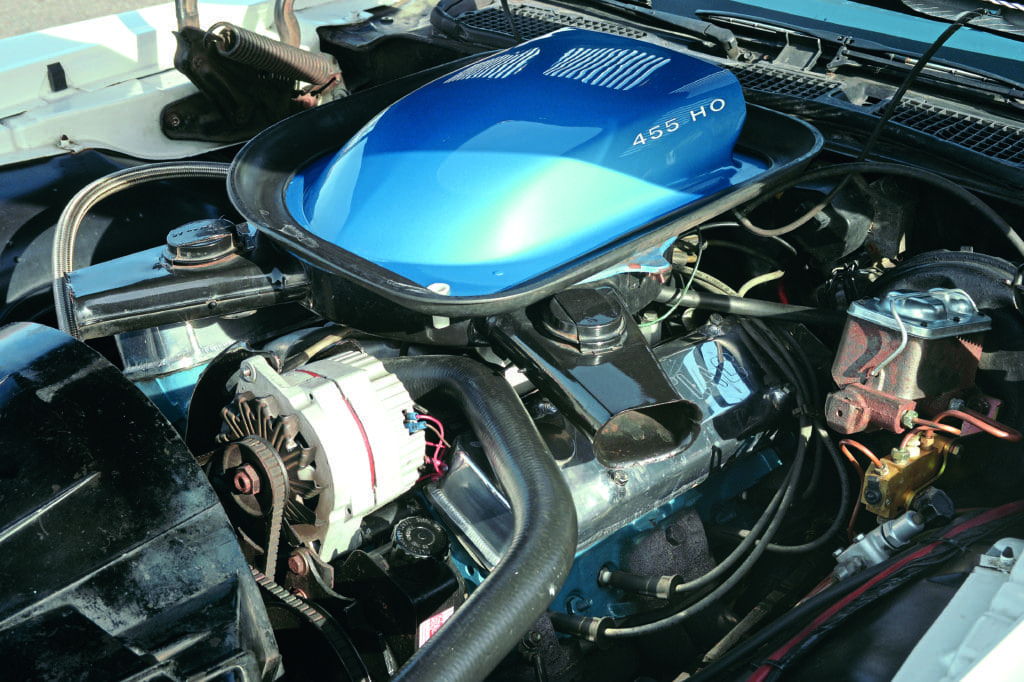 Trans Ams all had power disc brakes as standard on the front and drums on the rear, so initially, the front brakes had drilled, slotted discs and later, a rear disc brake conversion with '79-'81 factory calipers was fitted. Both front and rear have 'yellow' race compound brake pads. After the suspension and steering received some changes, the new Rallye II repro alloy wheels were then fitted with Falken 265/40Z-R17 tyres.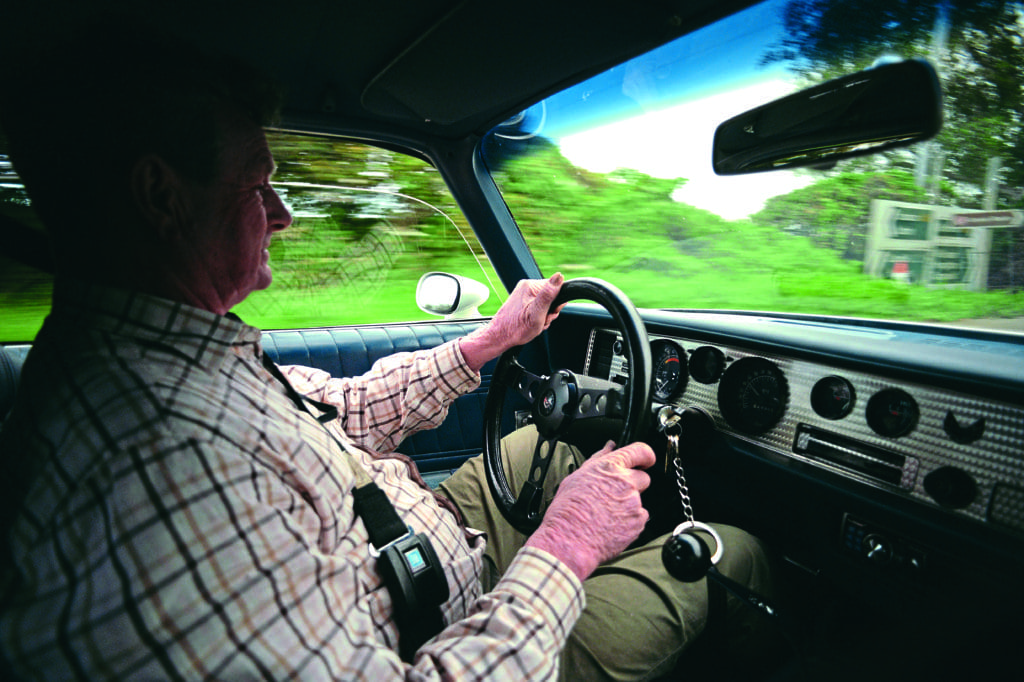 Suspension upgrades came in the form of Hotchkis 600 pound springs on the front, which lower the ride height by two inches, and fully adjustable top A-arms with Howes top ball joints − a taller ball joint which alters the roll centre of the car by moving the top A-arm up by half an inch, allowing for plenty of castor and camber adjustment, thus preventing any unwanted roll when cornering. A set of VariShock aluminium shock absorbers were specially built in the States and fitted on the front and rear. An AGR billet steering box completed the front end and a 3.08 Positraction (Safe-T-Track) differential ratio and Rancho heavy-duty rear springs completed the back end. The Trans Am was now a proper road version of a race car!
[otw_shortcode_button href="https://www.instagram.com/classicamericanmag/" size="medium" icon_type="social foundicon-instagram" icon_position="left" shape="round" icon_url="https://www.instagram.com/classicamericanmag/" color_class="otw-red" target="_blank"]Follow Classic American on Instagram![/otw_shortcode_button]