John Symons fancied restoring one classic Corvette until an offhand remark by his son, Rob, led them down a path that produced this dazzling trio.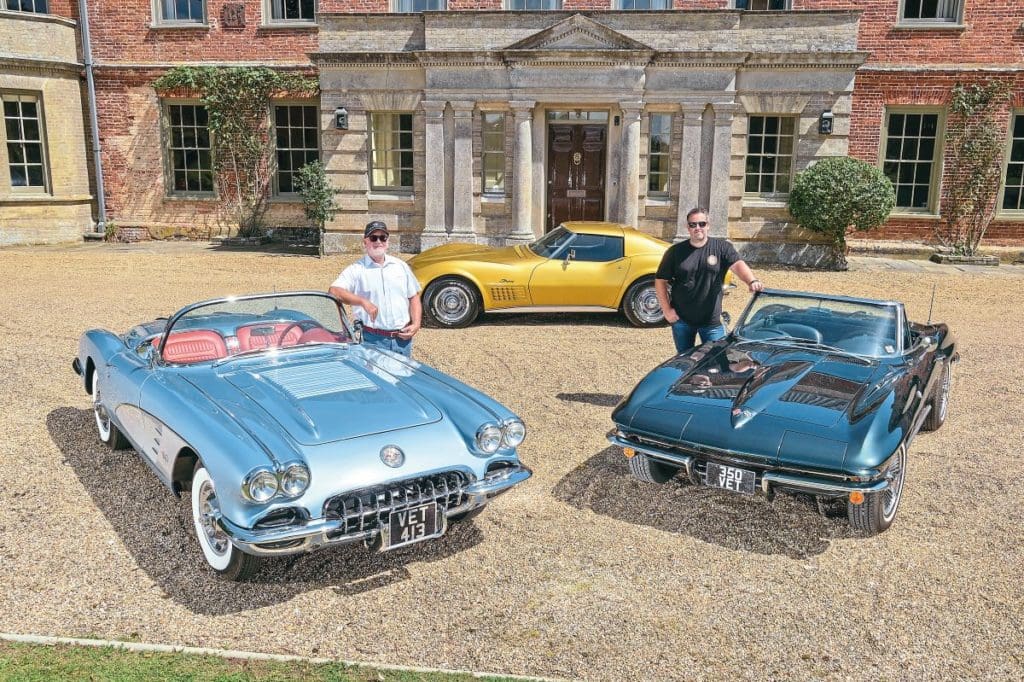 Words: Nigel Boothman
Photography: Matt Woods
What did it say on that old poster? Careless talk costs lives. Well happily, that's no longer a danger for us, but careless talk can certainly cost a lot of money – and bring a lot of joy. Rob Symons tells us how it happened. "My dad was just finishing off the restoration of the green 1965 car you see in the photos when I made a throwaway comment about how nice it would be to get the whole set – one of each Corvette generation from C1 to C3. I didn't think anything of it at the time, but my dad must have taken it to heart."
It's not much of a spoiler to say that they did indeed wind up with the full set. But we're getting ahead of ourselves, and to understand how these two gentlemen became serial Corvette restorers we must begin at the beginning. And for John Symons, that's 55 years ago. "My dad had his first Corvette at the age of 21 in 1966, a silver 1957 model with red trim that cost him £500," says Rob. "He always had a passion for American cars and music, but moved over to Ford Mustangs before a return to Corvettes with a C3 in the early Eighties, a car that I remember because I was taken to primary school in it by my mother. But that one moved on, and it wasn't until 2011 that he felt he wanted to fully restore one."
John had always had old cars in the garage, or indeed younger cars we'd now call classics, and quite a variety too – an early Porsche 911 Turbo, RS Cosworths and a host of Triumph TRs. "I had all of them over the years," says John. "TR 2, 3, 3A, 4 and so on. Still, I'd been hankering after another Corvette since I sold a 1967 Mustang convertible. But which one? The C1 was probably the most desirable, but also the most expensive, so I looked at C2s and found a shiny red roadster on eBay in Anaheim, California. It looked good, so I bought it blind and it was shipped over."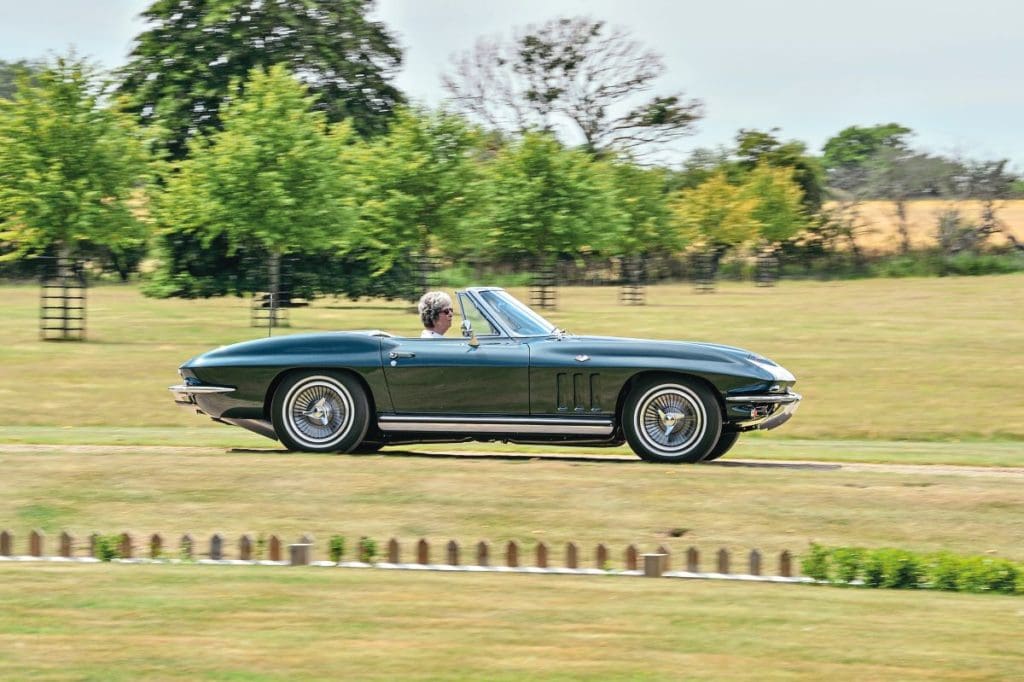 If that sounds rash, remember John was looking for a project and was fully equipped to deal with anything that arrived – Rob reckons his father's owned more than 230 cars in all, and has professional experience as a coachbuilder as well as thousands of hours of garage time for his own hobby. Sure enough though, when the car arrived, John decided it would be getting a full body-off restoration and they tore into it. "It took about 18 months in all," says Rob, "finishing towards the end of 2012. And it had a full nut-and-bolt job."
He means that literally, with every corroded fastening replaced with stainless steel where possible. Suspension components were removed, stripped and powder coated, anything in the way of a perishable or consumable part, from bushes to hoses, belts, weather-sealing, bearings and seals was replaced with new parts, while the 327cu in Chevrolet V8 engine went away to a specialist for a full rebuild with aluminium heads, reducing weight over the nose, while also allowing the use of unleaded fuel with no additives. Behind the engine, a new five-speed automatic transmission was chosen.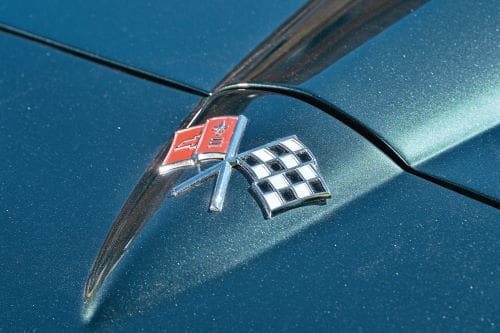 "This car, like the other two, was purchased as a matching-numbers example" says John. "As the plan is to keep and use the cars, we've made some modernisation for driveability, though I hang on to all the original parts." Rob's work sometimes takes him to the States and he had an interesting moment in airport security before boarding a return flight. "They opened my suitcase to figure out what this sinister-looking metal object was, in there among my clothes," he says. "Luckily I knew it was just a Corvette brake master-cylinder."
The C2's distinctive GRP bodyshell can soak up a huge amount of hours, like any classic Corvette, if you need to fix cosmetic issues or change the colour entirely, as Rob and John were going to do. Yet John did all his own bodywork, including door alignment and gapping, plus priming the car and painting the underside, before it went off to Peter Teager Cars in Tunstall, Suffolk, for top coating. It's gone back to its original Glen Green, a sensational colour that really suits the sophisticated image: picture a 1960s Ferrari in Verde Scuro and this '65 C2 would look right at home alongside it. Green leather trim, to the original specification, came from Corvette Central and was professionally fitted to complete the job.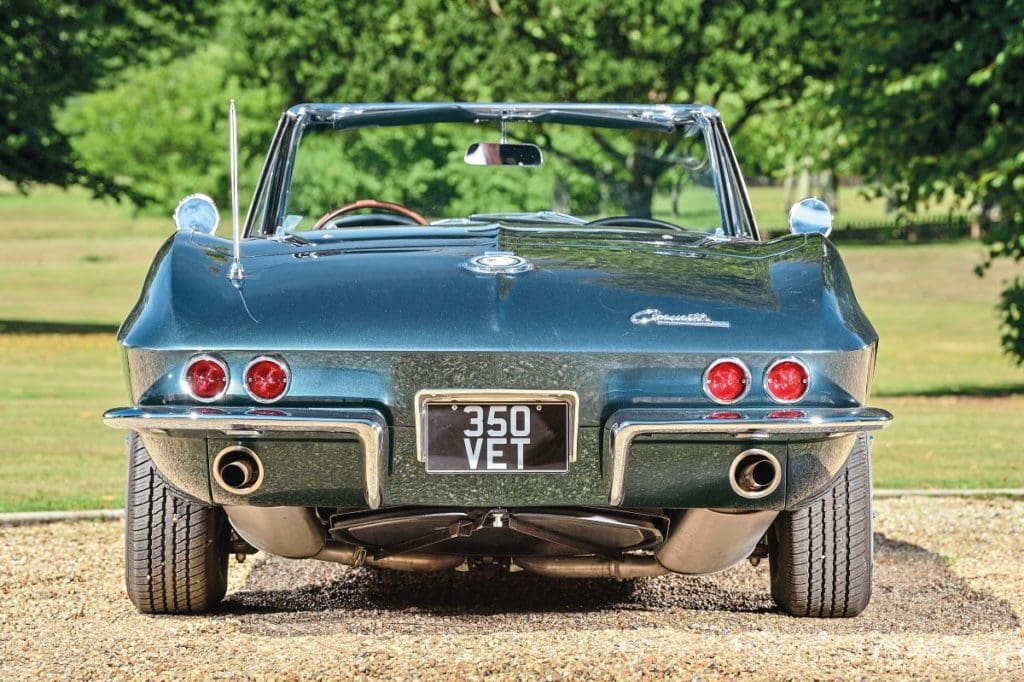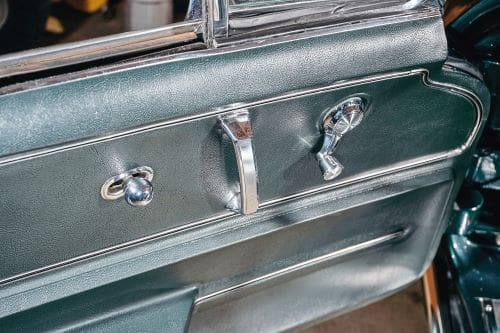 What next? Well, Rob had photographed the entire rebuild and created a detailed restoration photo book. He'd been well and truly bitten by the same Corvette bug that afflicted his father, so in 2014 he bought a blue 1972 C3 Corvette from Adrian Dromey, a well-known figure in UK Corvette circles, and left it at his dad's house while he and his wife went on holiday.
Rob had been planning a quick recommissioning job to get the car up and running, so he could enjoy it as a 'driver' rather than as another show-winning restoration. (Yes, we should say that the C2 is still in concours condition, having picked up a Best in Show prize as recently as 2019 at the Glemham Hall show in Suffolk.) But back to Rob's new car. He had rather a shock when he came back from holiday.
"Dad had taken the body off," he says. "He reckoned it deserved a full restoration, just like the other one, if we were going to do it justice." So it all began again. But rather than getting easier the second time, Rob noted so many changes between the C2 and C3 generations that at times, it felt like a whole new learning curve. "It was more complex, rather a different car. It did feel like starting over."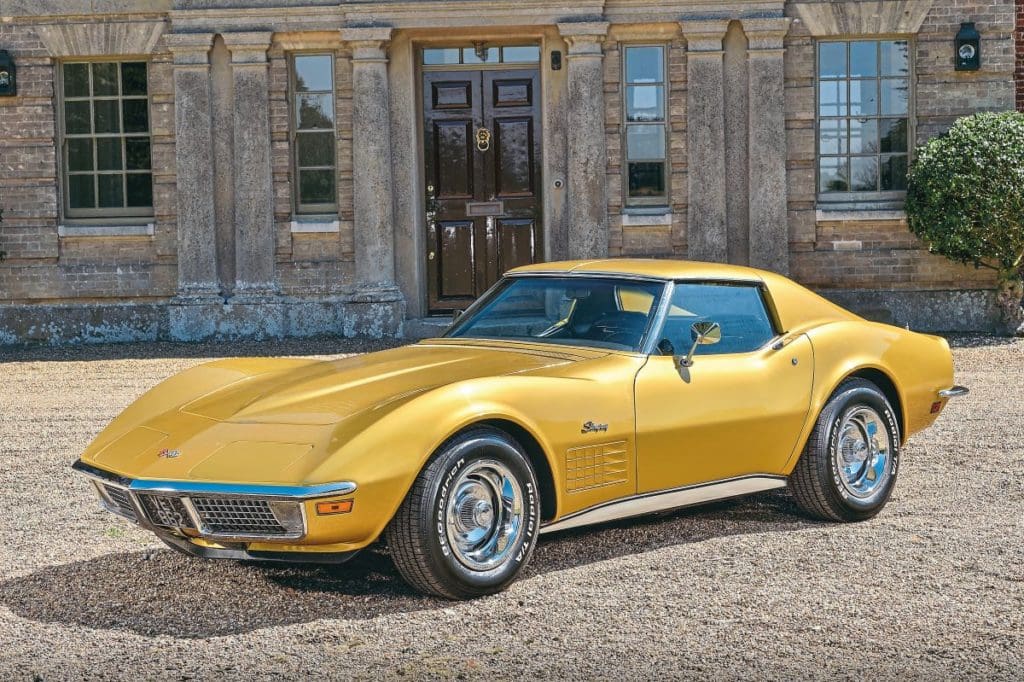 It's an interesting insight because those who aren't intimately familiar with Corvettes might assume that nothing much changed between about 1955 and 1982, bar the shape of the body shell. Underneath, after all, there was still a separate chassis and a brawny V8. It's worth covering a few of the key milestones to understand how John and Rob Symons' cars fit into Corvette history, and why they make such an interesting trio. The Corvette C1 had a famously slow start with very disappointing sales in 1953 and '54, but these were six-cylinder cars with two-speed automatic transmission and no kind of sporting edge… until the V8 arrived in '55. After that, the model was up and running, with a revised front end that switched from two headlamps to four in 1958, and ever-increasing power. The year before, Chevrolet offered fuel injection for the first time on a Corvette, bringing with it 283bhp at peak output… suddenly European exotics costing several times the Corvette's price were left eating its dust.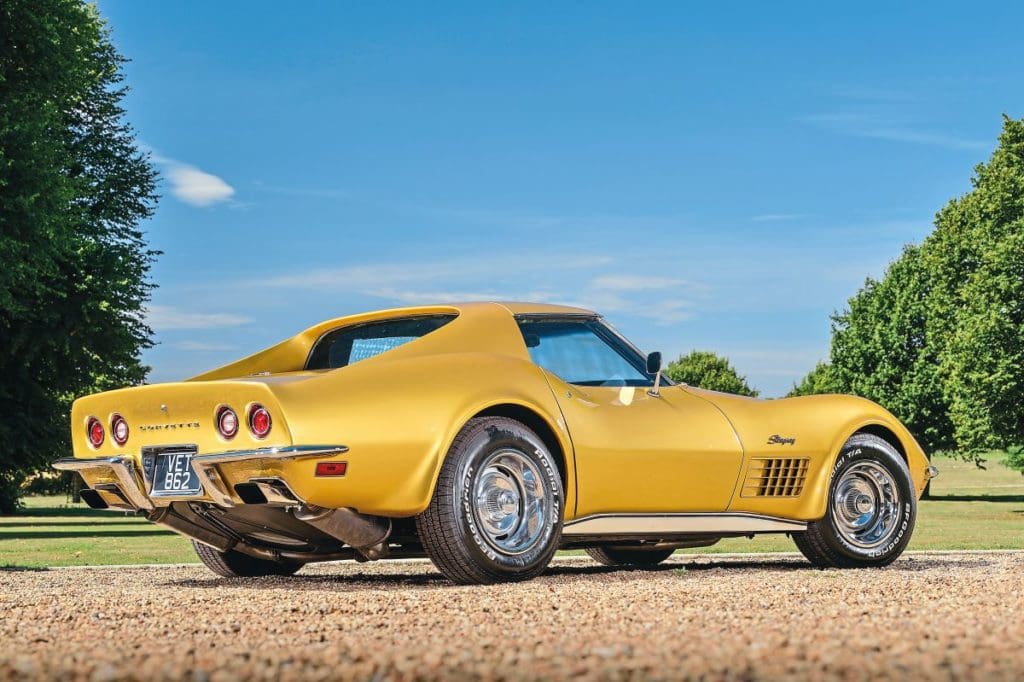 Until you got to a bend in the road. These powerful C1 Corvettes with the solid rear axle could easily overwhelm their narrow Fifties rear tyres and with very little weight over the rear end, were pretty tail-happy.
Zora Arkus-Duntov, the Corvette's famous Belgian-born chief engineer, was an experienced racing driver and he understood the value of high-speed handling, not just from a safety point of view, but for the credibility of the model. So while the 1963 C2 Sting Ray drew most attention for its dramatic styling, what went on underneath was more important.
Arkus-Duntov mounted the differential on the C2's sturdy chassis frame. With an anti-roll bar above it and a multi-leaf transverse spring below it, plus a transverse strut rod, the driveshafts out to each wheel were free to move on their own. It was similar in principle to the Jaguar E-type's IRS, introduced just two years earlier, although the E-type used coil springs, rather than a transverse leaf. The whole set-up was lighter than the C1's beam axle and in a slightly shorter chassis, improved handling considerably.
The addition of four-wheel disc brakes as standard in 1965 meant the Sting Ray had nothing to fear from any European sports car, whatever the price. After just five years, though, Larry Shinoda's amazing styling was starting to look dated – perhaps no surprise as it was based on the Bill Mitchell Sting Ray sports-racing concept from 1959. The basic shape of the next model, the C3 Stingray (all one word now) would last 14 seasons with various updates, from 1968 to 1982.
The C3 gradually changed from a high-powered, high-priced sports car to something more accessible. In the first few years before the Oil Crisis potent performance packages were still available, but after the muscle car boom faded away and insurance companies got nervous, American buyers worried more about mpg than mph. The Stingray's power output dwindled but the model's reputation remained intact – it was still America's fastest car in 1976, for instance.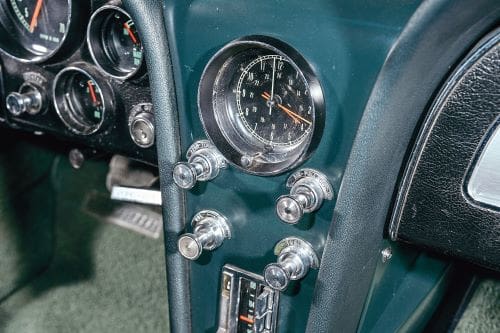 After 1972, Federal legislation forced a significant restyle with urethane bumpers capable of withstanding a 5mph parking nudge with no damage. In 1978 we got the glass fastback look, but the one feature that no C2 or C3 Corvette ever yet offered – an opening trunk – failed to appear. Seems incredible now, but then luggage capacity was never something people bought a Corvette for.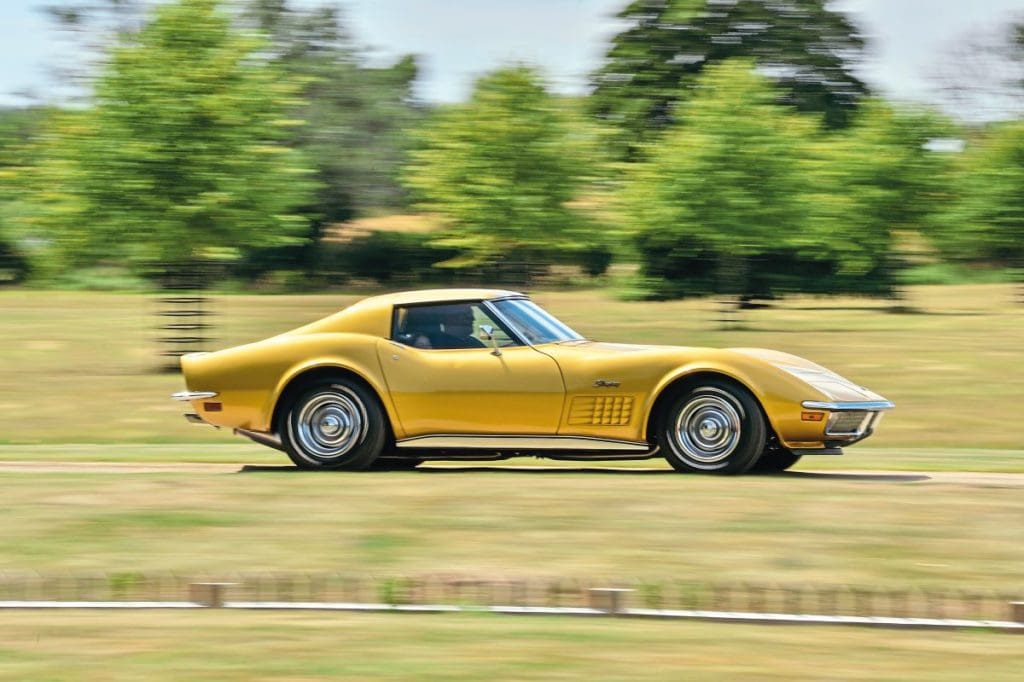 In some way, then, each of the three cars chosen by the Symons hits a significant point for the Corvette, or for themselves. Rob's 1972 C3 is the last year of the classic chrome-bumper look and it retains the 'Mako Shark II' concept-car styling common to the first Stingrays – and Rob was born in '72. The 1965 C2 roadster was the best-driving Corvette yet, thanks not only to IRS but the newly introduced disc brakes. And the 1958 C1 was the first year with quad headlamps; the only one with the fluted bonnet and those brightwork spears curving down the trunk lid to the bumper.
Ah yes, the C1. We haven't introduced that yet, have we? This car came along halfway through the restoration of the C3. "The C3 was being returned to its original colour too," says Rob. "It's called War Bonnet Yellow, but it's more of a gold, really. Dad prepped the body and it was painted in March 2015, then we got the body and chassis reunited later that year. But in November, Dad bought a C1 from America."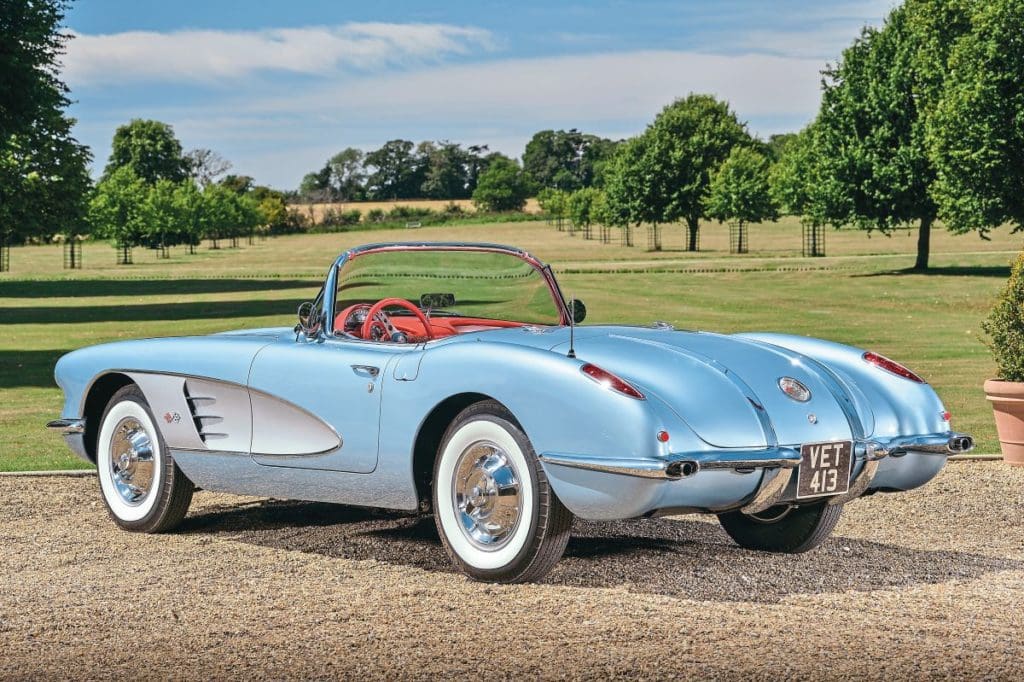 "It was the one I'd wanted all along," says John. "The shipping agent actually phoned me up when the car was taken to the East Coast to go on the boat, and he said 'Have you seen it?' because it looked so bad. And I said 'Well, I've seen photographs and I'm happy,' as I'd got to know the vendor and I knew it was a good car underneath." This vendor was Alan Jackson, who's based in Virginia and who has become a good friend, someone they've since met for dinner at the enormous Corvette meeting in Pennsylvania, Corvettes at Carlisle.
"The C1 did take some focus away from the C3," says Rob. "It meant we didn't finish getting the C3 back together and on the road until November 2017. Once again, we did everything to the highest standard we could, though – it took hours and hours of searching across multiple suppliers for parts not only right for the car, but of the right quality."
Rob says he found the Corvette specialists in the US to be generally excellent, but that he and John preferred to get original items, for instance chrome pieces, refurbished rather than replaced where possible. This is because a lot of what's manufactured nowadays is a pattern of a pattern of a pattern, so you can't expect it to fit so well.
Though the work on the C3 overlapped with the first half of the C1's restoration, Rob and John stuck to one dedicated Sunday per week, where possible, though since Rob became a dad in 2013 John piled in many more hours. The hours each car soaked up amount to around 1200, thinks John.
By February 2018, the C1 was built back up to a rolling chassis, with work ready to accelerate now that the C3 was finally done. By September 2018 it was sprayed in that beautiful pale blue with silver coves, then returned to the chassis and built up with the brand new red interior trim set that came with the car. This time, the original three-speed manual was replaced with a five-speed manual gearbox– and even an authentic-looking gearshift pattern plate illustrating all five speeds on the central console. It was pretty much finished a year later, when Rob bought a private 'VET' plate for the car in June 2019.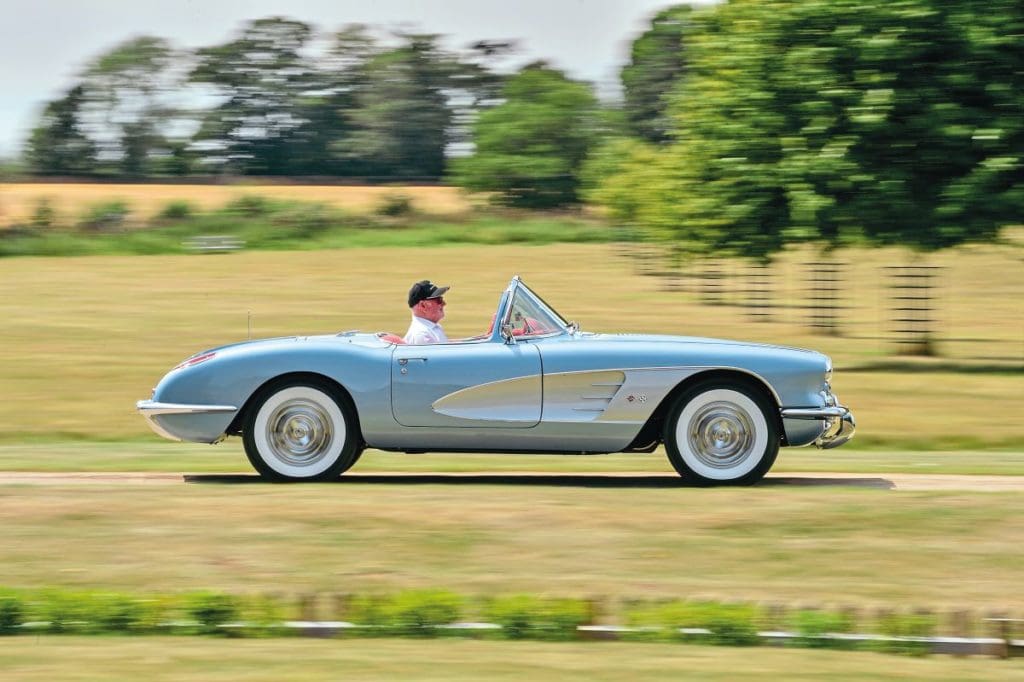 The following month, John and Rob travelled to Lidköping in Sweden for the Power Big Meet, where they were greeted with the staggering sight of 7500 American classics in one place. Sharing these trips to appreciate not just their own cars, but other people's, has always been part of what John and Rob enjoy. After speaking to them both and hearing all of the time and effort that's gone into returning these Corvettes to as-new condition, a couple of things strike you.
Firstly, you have to be impressed with the results. Yes, the paint finish is professional, but the build itself is all their own work. Seeing Corvettes of this era returned to the way they looked when leaving the factory reminds you what impressive cars they were in their time, and these beautiful original shades like Glen Green and War Bonnet Yellow are so much more evocative than a blow-over in sports-car red, as many examples have endured. Secondly, it's hard not to be jealous, and not just of the cars. Here we have a car-mad father and son who have arranged more quality time than most of us ever get with our parents or offspring, sharing something they love.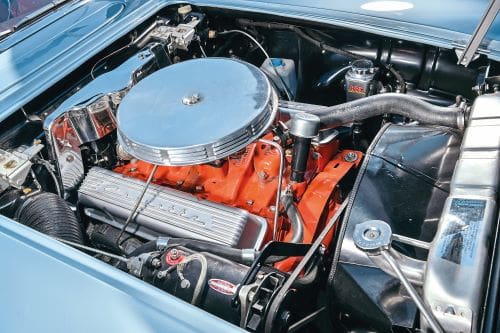 "Having spent the last nine or 10 years restoring these cars alongside him, I wanted them to be seen in an article like this as a tribute to Dad's passion for them," says Rob. "I think it's well deserved." We can't argue with that. But it still leaves one question unanswered… of the three, which one would they pick? John's reply is a bit of a surprise.
"I thought I would like the C1 best, but the C2 drives superbly and looks so good when that green paint sparkles in the sun, I'll have to switch my allegiance." Rob adds: "From my perspective I like all of them for different reasons but I'd have to pick the C1, because it's the root of all Dad's involvement with them, and the 1958 is special – I was always told it's the one to have, so I'll stick with that."
Perhaps the point of our story is that the journey is just as important as the destination, though as John points out, the destination hasn't quite been reached as they're now finishing off another 1972 C3, this time in Ontario Orange. The last one? Who knows. So for any fathers and sons (or daughters) looking for something to do on a Sunday, might we suggest turning to the small ads, and looking for a resto' project?