On September 21, 1893, the Duryea brothers took what is widely regarded as the first American manufactured, gasoline powered car on the road for the first time.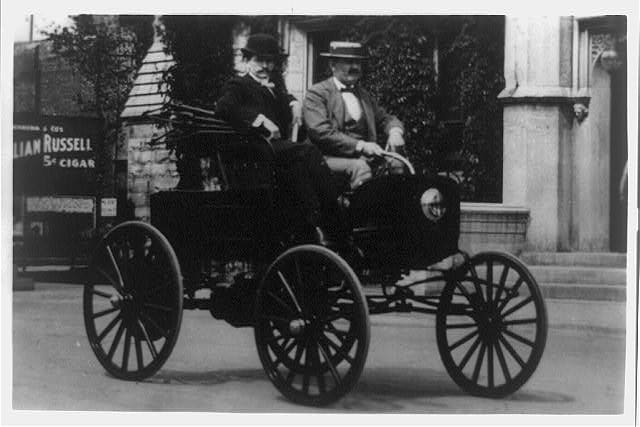 Charles Duryea was born in December of 1891 in Illinois. Along with his younger brother, Frank, born 1869, Charles was originally a bicycle maker in Washington D.C. However, the brothers soon went on to become automobile manufacturers, and road tested the first American car on this day in 1893.
The car was in fact an old horse drawn buggy, which the brothers had purchased for 70 dollars. Into this they installed a 4 HP, single cylinder gasoline engine. Their first test drive took place on the Howard Bemis farm in Chicopee, Massachusetts.
After a few hundred feet, the drive came to a sudden halt. The transmission had failed. However, Frank was able to make a few adjustments and soon had the car up and running again. They covered half a mile later in the same day.
This was not the only 'first' associated with the Duryea brothers. In 1895, they entered a second Duryea Wagon into the Chicago Times Herald race, the first automobile race in America. Frank drove the car himself around the 54 mile course. The Duryea won by a whole 75 minutes.
Following the Duryea's racing victory, demand grew and the brothers launched the Duryea Motor Wagon Company in 1986. That year they hand-built 13 vehicles, making the Duryea the first-ever commercially produced vehicle.
Article continues below…
Advert
Another first – a Duryea car was involved in the first known auto accident in America, when New York City motorist Henry Wells hit a cyclist with his Duryea. The cyclist broke a leg and Wells spent a night in jail.
However, by the end of the century, the Duryea brothers split ways over a financing dispute which would have required moving the company to Detroit. Frank went on to partner with gun manufacturer Stevens and produced Stevens-Duryea automobiles. Meanwhile, Charles moved to Reading, Pennsylvania and continued to produce Duryea vehicles until 1917.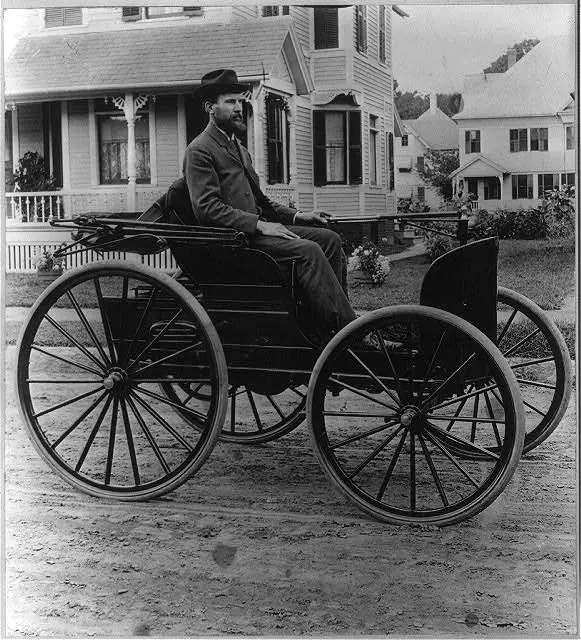 The past and present collide in Classic American magazine. If you want to learn more about car history or just read about some beautiful classic American cars, why not take out a subscription? You'll save money versus buying from the shops!