No sooner did the sun start to bake the ground than, yes, that autumnal chill in the early morning air has arrived… how soon the summer flies by!
Relive those lazy, hazy, crazy days of the summer of 2018 with the September issue of Classic American, which is packed with reports of super sunny show days and showcases cars that were pounding the freeways even before the long hot summer of '76.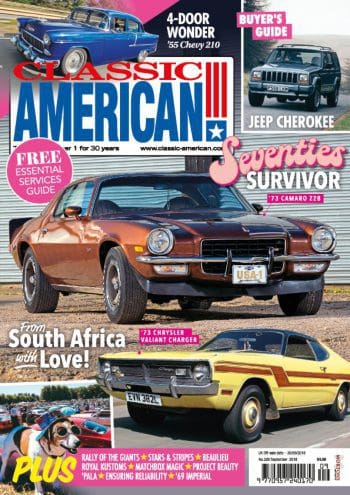 In fact, a Seventies survivor is this month's cover star… a 1973 Camaro Z28 which has quite a history. It's brown, but don't let that put you off… brown is the new black! Some clever headline writing (or a sheer coincidence!) means that article rejoices in the title Brown Sugar, and another Seventies offering in this issue also has a Rolling Stones hit as its heading… Emotional Rescue. That's Albertus Viljoen's 1973 Chrysler Valiant Charger, which was built in South Africa.
Our global journey continues with a visit across the pond courtesy of Huw Evans, whose monthly column from North America will entertain and intrigue. Huw's topic this month is technology, as he looks as the tech companies' drive (if that's the correct word!) towards autonomous vehicles… while studies reveal that Millennials actually like the freedom of driving their cars!
And for those with a penchant for the stylish, the well designed and the downright delightful, draw a deep breath as you drool over John Brewster's 1955 Chevy four-door in a deep and delicious blue.
We've got reports from the Classic American Stars & Stripes Show at Tattoo Park, where the grass looks more like golden sand, and the Hot Rod and Custom Drive In Day at Beaulieu. Find out who was the winner of the fourth heat of the Footman James and Kingstown Shipping Car of the Year contest – and, if you're looking for something special to take to cruises and shows in 2019, we've some stunning models in our pages of advertising, plus all manner of services and accessories to keep your classic in perfect running order.
Article continues below…
Advert
We also celebrate 65 years of Matchbox, whose die-cast cars set many a youngster on the road to motoring enthusiasm. Where will September's Classic American take you…? Buy it and find out!