This working wagon was bought for a song, but owner CJ Prew has added plenty of upgrades to make it a rolling advert for his Stromberg carb business!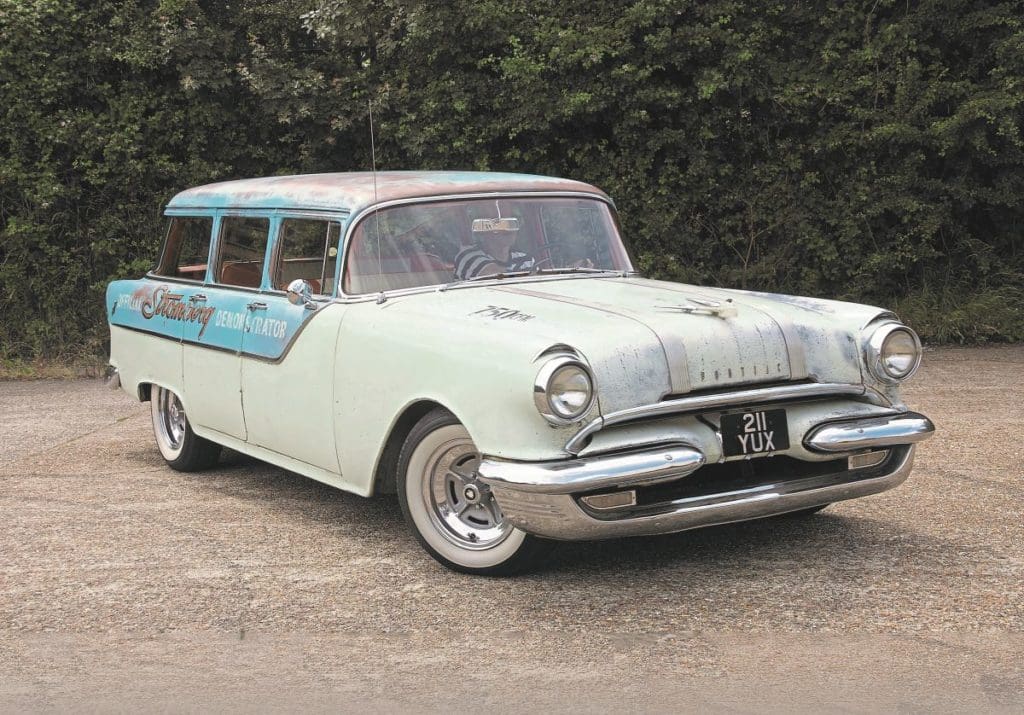 Words and pictures: Keith Harman
Writing this feature, I feel a strange 'circle of life' moment has occurred; the reason being that many, many years ago I remember reading features penned by a young staff writer affectionately known in print as CJ, working at a well-established UK hot-rod and custom magazine. Now, years later, the tables have turned, and I'm the one writing the feature on a car owned by the very same Clive (CJ) Prew.
Well, CJ did his time as a magazine writer, went on to career pastures new, and many years later, eventually found himself fully immersed in the hot-rod world once again, having revived, re-established, and now re-manufacturing the iconic US brand Stromberg Carburettors, as fitted to many a traditional hot-rod V8, with flathead engines being a particular speciality. We've mentioned Stromberg's products in our news pages many times, so the name should be familiar to you. When he's not running the now UK-based Stromberg company, or developing new products, you may very well find him at the wheel of this very rare, and very cool, 1956 Pontiac Chieftain Wagon, suitably lettered-up with a period feel as a Stromberg 'demonstrator'.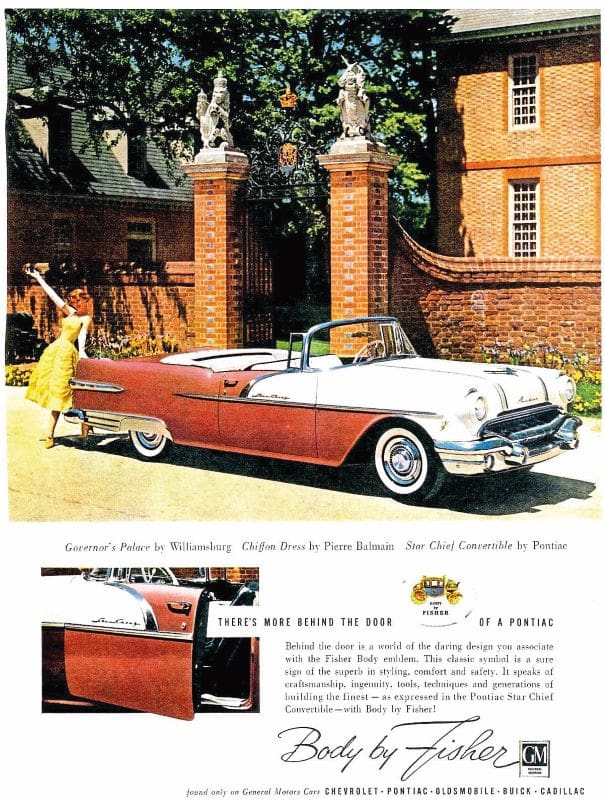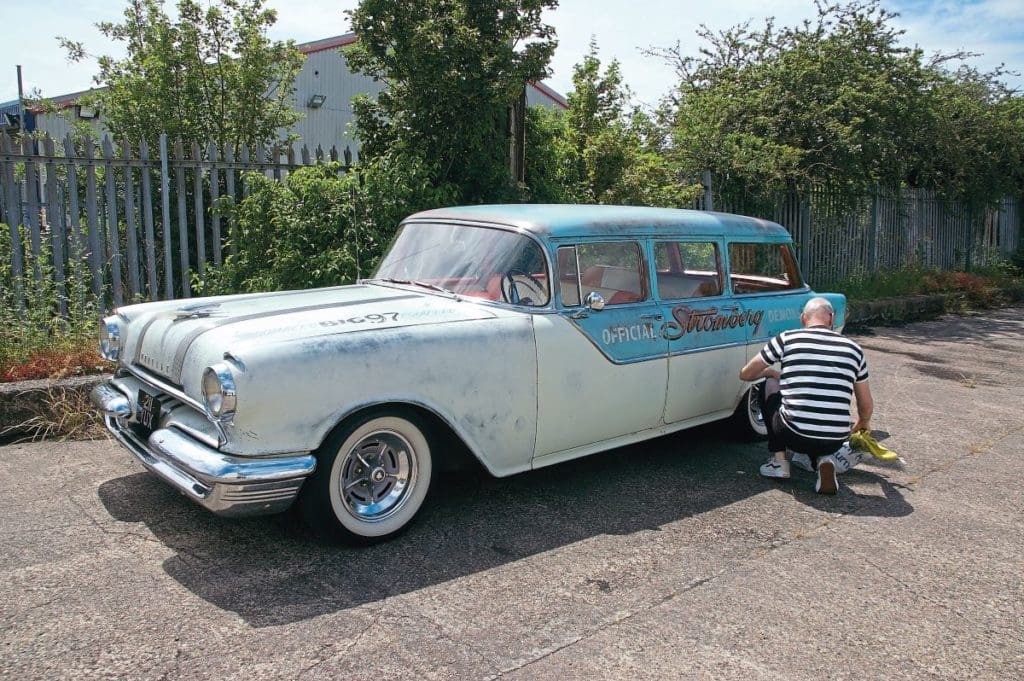 Having always wanted a Fifties wagon, Clive found and bought this Pontiac Chieftain 870 four-door on a well-known online selling site back in 2013 for an unbelievable less than $4000 purchase price. Actually, it was a proverbial barn-find from Oregon, complete with about 60,000 miles on the clock, and its original tags showing it last being used in 1976.
As you'd expect, the exterior of the car was showing its years of neglect with a liberal covering of surface rust, but Clive told us the pics of the interior he received showed it to be in extremely good shape… mint, even! The car also came with the cool Buick Wildcat chrome wheels, although Clive purchased a set of new Coker whitewall radial tyres for the wagon which came over in the back of the car.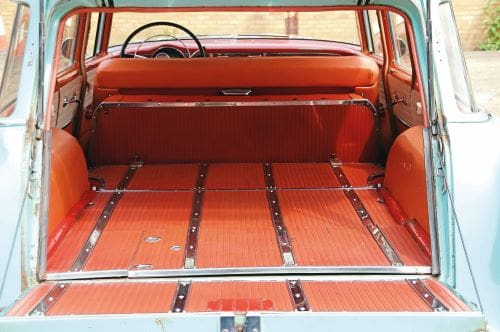 On arrival, the first job was, naturally, to get it running. So, with help from colleague and friend, Rick Pearmain, a flush of the tank and fuel lines, and a re-cored radiator and heater matrix, soon saw it running on the original 316 cubic inch V8; a motor introduced in the previous model year to upgrade the Pontiac line to an all-V8 model range over the old lacklustre sixes. Brakes next, and after they had been checked through and rebuilt as necessary, Clive had a driver, so turned his attention to the paintwork.
Clive told us: "I cleaned off all the old surface rust with a red Scotchbrite pad over a few weekends after seeing on TV how they did it on Gas Monkey Garage − in minutes. There's no clear lacquer used, of course, and so instead of polish I give it a wipe over with Gibbs oil now and again; it's holding up well so far." The underneath was also given a thorough clean, then undersealed, wax-oiled, including inside the doors and cavities and, as Clive added: "It'll see me out, easy!" Right from the start, Clive, who liked the genuine patina on the Pontiac, made a rule about "cleaning, but not painting" if at all possible, and this, coupled with his love for the old signwritten Fifties race-car support wagons, saw him drafting in top signwriter Neil Melliard to freehand the vintage-style lettering on the car; with that same old red Scotchbrite pad being pressed back into service to add the aged look afterwards.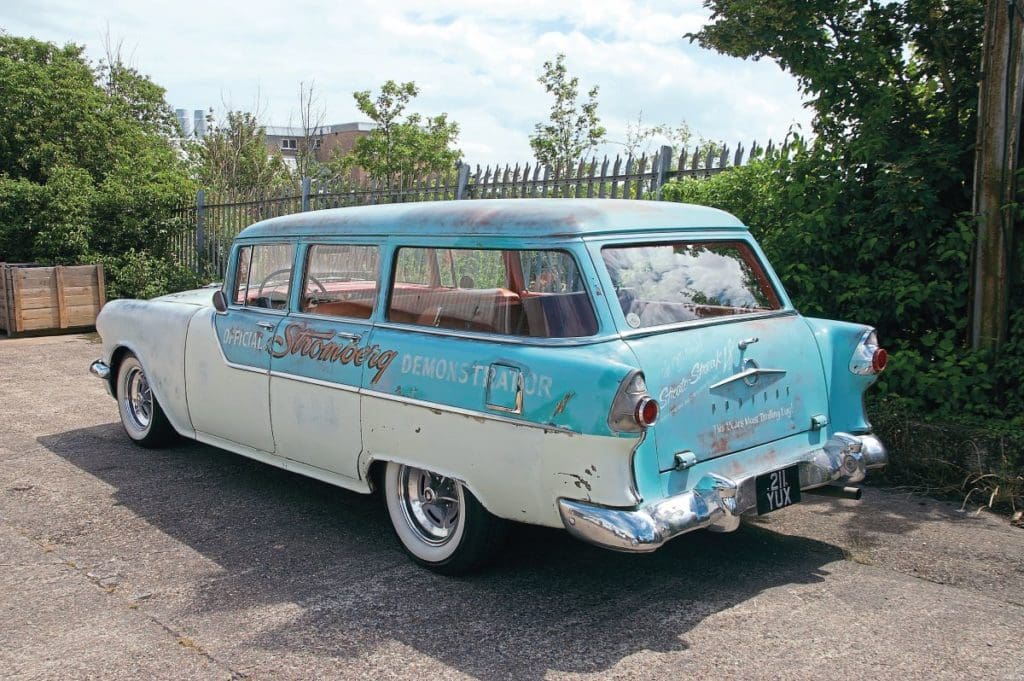 Clive soon turned his attention to the engine, having decided he wanted to have a complete rebuild done. California Pontiac Restoration (www.pontiacparts.net ) in Santa Ana, California, stepped up and supplied virtually everything needed. New old stock pistons, valves, cam, timing chain and bearings were all installed, plus a rebuilt starter and generator were fitted, along with a Pertronix electronic ignition system (www.pertronixeurope.com) for added reliability. All the engine work was carried out close to Clive's home by Nigel Woodhouse at N's Auto Services in Woodbridge, Suffolk. The four-speed Hydra-Matic transmission was also fully rebuilt, this time at Rogers Transmissions.
Obviously, Clive wanted to run Stromberg on the car, and three 97s were fitted on an old Offenhauser intake, although this was tricky as it meant there was nowhere to fit the stock dynamo. Clive considered other intakes in his shed, but they were all designed for racing, not street use. It was also found that the intake was not sitting high enough between the cylinder heads and this caused many running problems until another three-carb intake was tried which cured the issue. It was surmised that the previous one was probably also cracked inside and leaking out into the exhaust-fed heating passage beneath, thus weakening the mixture.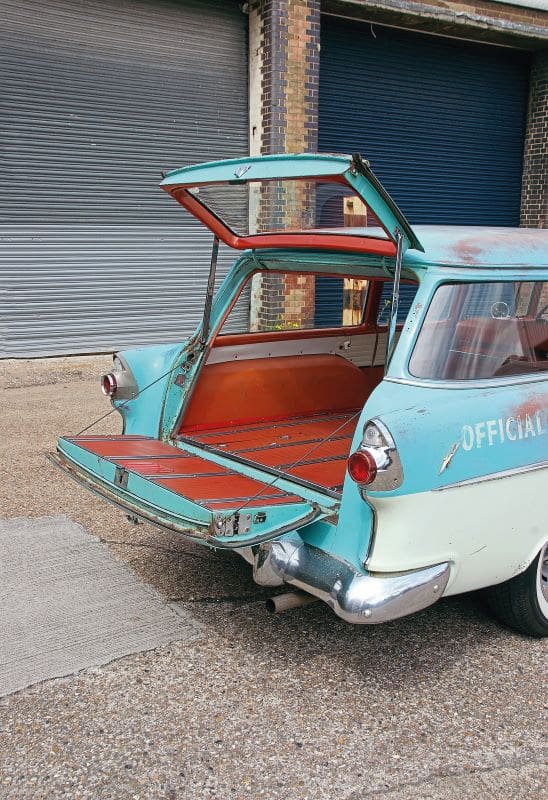 Another issue was the carbs, which kept flooding; this traced back to an overexcited electric fuel pump with dodgy regulators. Switching back to using the stock mechanical fuel pump resolved the problem. A further experiment with the fuel system which really delivered was using a Stromberg BIG 97 carburettor in the centre position as the primary carburettor, purely to see how it would run. Clive reports that with 250cfm available with just that one carb, more air is drawn in the same throttle position, meaning you can run higher rpm before the other two carbs are brought into play on the progressive linkage. With this set-up, the Pontiac will cruise all day at 70 on the primary carb, but really picks up its skirts and runs when you hit it, and all three carbs are opened up fully, the engine note changing drastically!
As we mentioned before, the original interior was well-preserved, albeit needing a thorough clean, with only the worn front seat needing a retrim at the skilled hands of Neil Tadman. Clive also installed the new red square weave carpets throughout. He also had the original Pontiac radio converted to modern technology including Bluetooth and phone systems, all done by a company called Tadpole in Colchester, Essex (www.tadpoleradios.co.uk). Next job is to add an amp and better speakers to improve the ICE even further. Other future jobs include converting the original clock, and also a front disc brake conversion (the spindles have already been dropped for a lower stance). Clive also reports that the car is now comfortable and super-reliable, having taken him all over the country in style already. We love the look of the car. It catches the essence of when big old station wagons often worked for a living as back-up support cars for many a hot-rod speed shop. All hail the Chieftain!