The British Drag Racing Hall of Fame (BDRHoF) announced the exciting news today that Steve Gibbs and Ed 'The Ace' McCulloch are flying in for the BDRHoF Gala Awards Dinner being held at the Sheraton Skyline Hotel, London Heathrow on November 19th. Steve Gibbs got his first drag racing job at San Gabriel drag strip in 1961. By 1969 he had become Advertising Director for the NHRA publication National Dragster, was made Competitions Director in 1972 and then NHRA Vice President Competitions in 1980, conducting some 400 NHRA National Events over a 27-year span.
He went on to initiate the NHRA Museum of which he is still a Board Member along with being a Selection Committee member of the International Drag Racing Hall of Fame. In fact he has been inducted into a whole bunch of Halls of Fame and received many Lifetime Achievement Awards. Steve has been instrumental in creating and organizing both the California Hot Rod Reunion at Bakersfield, now celebrating its 25th anniversary, and the 14th annual Holley NHRA National Hot Rod Reunion, Bowling Green. He continues to play an instrumental role in the planning and execution of both Reunion events.
Steve said, "It has been a long time since we visited Santa Pod in 1980 so my wife and I are both very excited over the opportunity to visit you folks once again in November. We have heard nothing but good things about the event. Also joining the entourage will be my daughter Cindy Gibbs Arias, a renowned motorsports artist in her own right." Ed 'The Ace' McCulloch began driving Top Fuel Dragsters in 1964 and Funny Cars in 1969. He won the first time he ever raced at the U.S. Nationals in 1971 and before the end of the season had acquired backing from model-kit maker Revell. During the next six years with the company, he made the car's name RRRRevellution famous. He has taken wins at the NHRA U.S. Nationals at Indianapolis six times.
Following his retirement as a driver at the end of the 1993 season he carried out tuning duties for Connie Kalitta, Don Prudhomme and Don Schumacher. For his successful drag racing career he has been inducted into the International Drag Racing Hall of Fame and the Motorsports Hall of Fame of America. To quote Jon Asher in his Motorsports Hall of Fame citation, "In motorsport there are drivers, tuner/mechanics and builders. It's rare that an individual occupies more than one slot. Ed McCulloch is one of those exceptions".
Ed said, "This will be my first visit to the UK and a long overdue one because I have heard so much about Santa Pod Raceway and the British Drag Racing Hall of Fame but never had the time to get over there. I'm really looking forward to meeting the fans and racers in Europe."
Beech Underwriting Bench Racing Session
As well as attending the Gala Awards Dinner in the evening, Steve and 'Ace' will be joining the Beech Underwriting Bench Racing Panel during the afternoon of November 19th. BDRHoF Sponsorship Partner Geoff Stilwell of Beech Underwriting said: "This promises to be a fabulous occasion with top drag racing stars reliving stories from back in the day. As well as Steve and Ace, the panel includes Bob Muravez, Fred Miller, Harry Hibler, Paula Murphy, Don Schumacher, Carl Olson and Dennis Priddle. The host is Bob McCurg. You would be lucky to find such a line-up of drag racing legends in one room anywhere in the world."Admission to the BDRHoF Bench Racing session will be by ticket only. You can apply for tickets to this very special event by sending an email to [email protected] to enable your place to be registered and confirmed. Tickets are going quickly.
The Gala Awards Dinner 2016
Ticket prices for the 2016 BDRHoF Gala Awards Dinner remain unchanged at £60 per person. Corporate tables of 10 are available at £580. More details are available from www.britishdragracinghof.co.uk/news-events/2016-bdrhof-gala-awards-new-venue/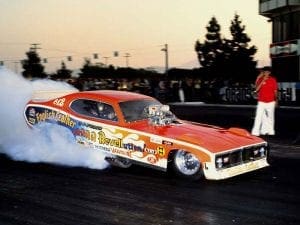 To reserve your tickets for the gala awards dinner please email [email protected] or telephone Stu Bradbury on 01933 279102.