Three of the celebrated stainless steel Fords built for Allegheny Ludlum Inc. went under the hammer in Auburn this September, offering a unique opportunity to acquire a trio of historic cars first conceived by the pioneering stainless steel producer in collaboration with the Ford Motor Company in 1935. Comprising a 1936 Ford Deluxe Sedan, 1960 Ford Thunderbird and 1967 Lincoln Continental Convertible, the Stainless Steel Fords will be offered without reserve as a single consignment at Worldwide's annual Auburn Auction, held over Labor Day Weekend in Indiana on September 5th.
In 1935, executives at the Ford Motor Company and Pittsburgh-based Allegheny Ludlum Steel joined forces on the production of a solid stainless-steel car, a 1936 Deluxe Sedan. That car became the focal point of a campaign to showcase the extreme durability and aesthetic appeal of the new metal. Only six of the 1936 Fords were built in total and all were far from being simply promotional trailer-queens; each was to log over 200,000 miles in the hands of Allegheny Ludlum executives until their "retirement" in 1946, outlasting most of their non-stainless body parts and multiple engines in testament to the superiority of the dynamic metal. Of the six stainless steel cars that rolled off the Ford assembly line in Detroit in 1936, four exist today, including this example that was retained by Allegheny Ludlum – now known as Allegheny Technologies – itself. The company donated the 1936 Ford Deluxe Sedan with brushed stainless steel body to the Heinz History Center in Pittsburgh, where it is on display as part of the permanent collection.
Allegheny Ludlum and Ford would later collaborate on two more stainless models, the 1960 Thunderbird and 1967 Lincoln Continental Convertible. Just two Thunderbirds rolled off the assembly line in 1960, with bodywork formed from T302 stainless. Both retain their original exhaust systems today, after 60 years and more than 100,000 miles each. The 1967 Lincoln Convertible was the last of the stainless steel cars produced. Except for the vehicle's body, all other parts and equipment on the car are standard for the 1967 Lincoln Convertible. Only three were made, once again proving that stainless steel's enduring beauty is matched by its toughness.
The Auburn Auction took place at Worldwide's Auburn, Indiana global headquarters on September 5th. The 1936 Ford Deluxe Tudor Sedan sold for $1,045,000.
Further details are available online at www.worldwideauctioneers.com or by calling (001) 260 925 6789.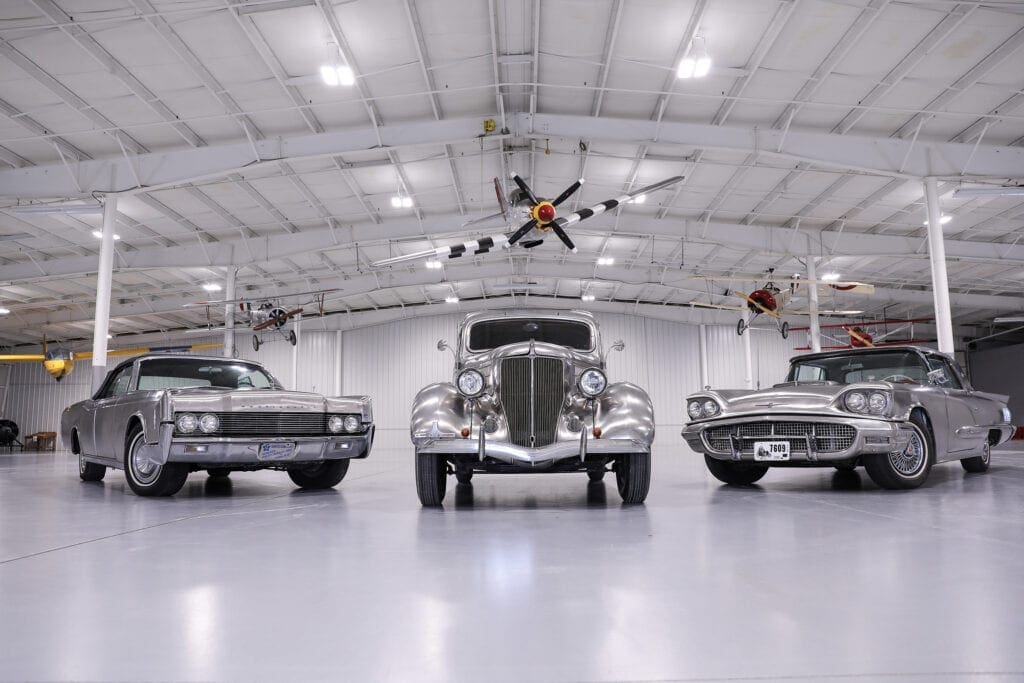 1967 Lincoln Continental, 1936 Ford Tudor Deluxe Touring Sedan & 1960 Ford Thunderbird.
Article continues below…
Advert