Chrysler's 'wing cars' were some of the most extreme machines ever to emerge from Detroit, and none are more exciting than those with a Hemi under the hood.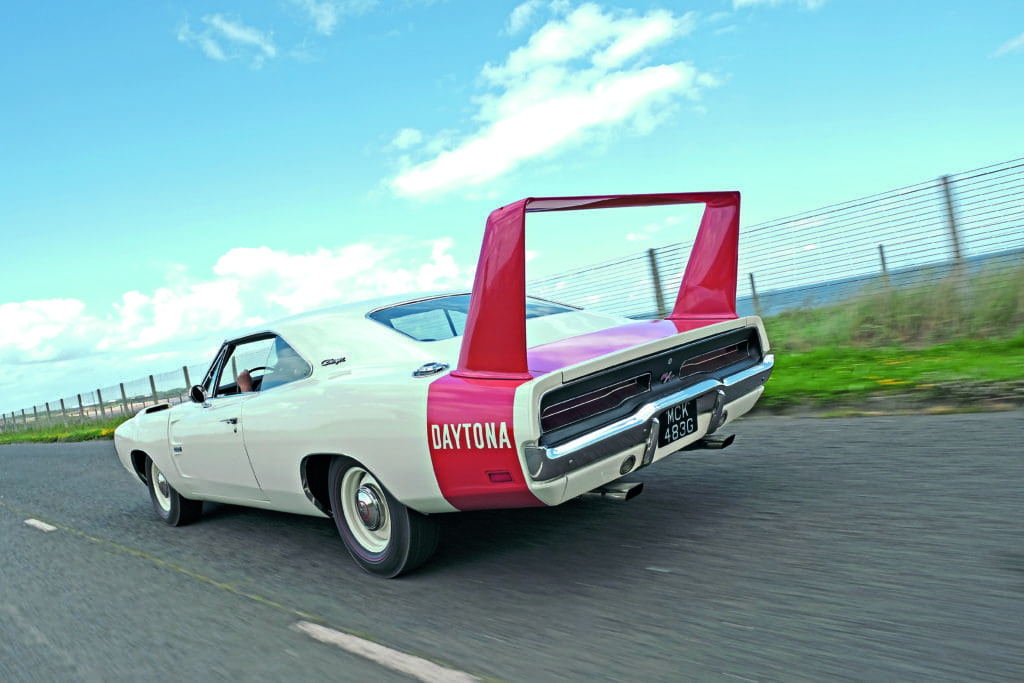 Savage – that's the word that springs to mind. Well, that and a couple of others we can't print. Andy Robinson buries his right foot in the floor and this great white projectile responds like a bull elephant poked with a spear. The narrow red-line tyres at the back give up in a howl of misery and the nose points a notch or two skywards. We take off in that relentless way you only get from tuned, big-cube engines… it's not the lunge of a turbo car, more like a grand piano falling off a cliff. Or a Saturn V rocket at the end of its countdown.
Andy snatches a couple more gears, each time producing another yelp from the tyres as the back end squirms for grip. The countryside is flashing past and the Hemi is bellowing, gaining revs more quickly than seems possible. All that mass of revolving metal, yet it picks up like a modern twin-cam. But then the Hemi was designed as a race engine after all, and that makes sense when you hear it – the sound it produces at the top end of the tacho should be echoing around Daytona International Speedway, not rural Northumberland.
For all things Classic American, like our page on Facebook here!
Sadly, the north-east of England is still waiting for its first 2.5-mile high-speed banked oval, so these quiet routes between Bedlington and the coast will have to do. The funniest thing is the reaction it gets from other road users and particularly pedestrians. Some of them point, some reach for a smartphone, but most just gawp. You couldn't create much more surprise if you flew past them in a UFO.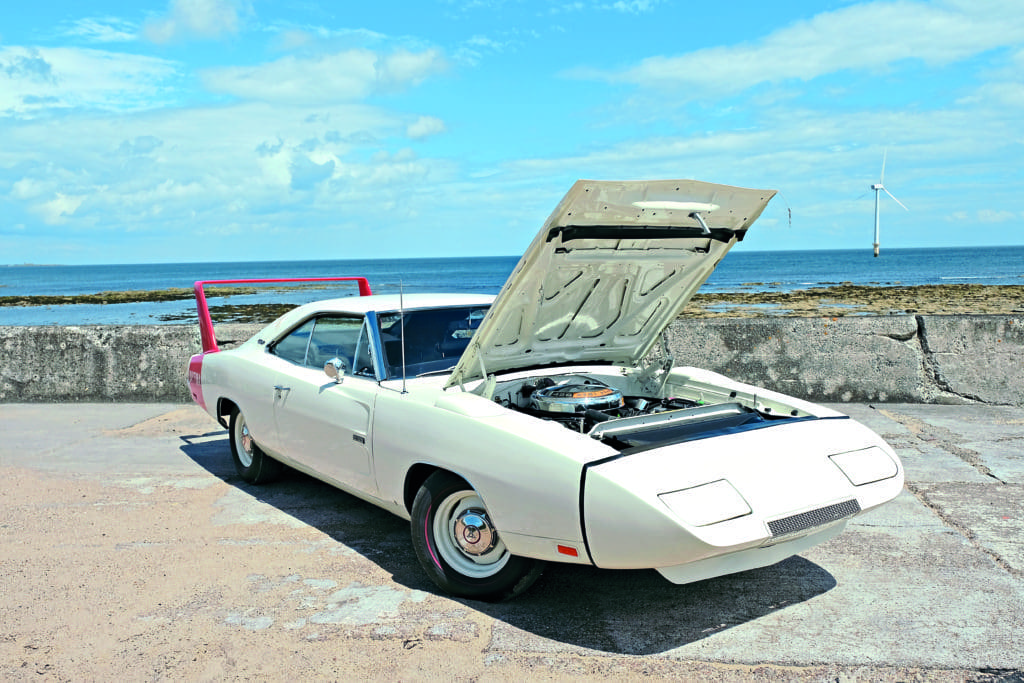 To be honest, it still draws your eye even when surrounded by other outsize machinery. We started the day at Andy's garage, which is a unit large enough to hide a massive American truck tractor and several Mopars. But you still look at the Daytona first. It has incredible presence, though with a strong period feel despite the brand-new condition. Part of this impression comes from the almost poster-paint colours; that red and white with steel wheels. It's a different feeling from approaching almost any other old car. It sounds odd, but it's remarkable to be near it. I feel I should be asking for its autograph.
But okay… cards on the table. This one did not start life as a Hemi Daytona and it's therefore a clone. Now the interesting bit – when you spend a few minutes with it, you soon put aside any concerns about clones versus 'real' ones, for a couple of good reasons. Firstly, this car has clearly been built with high-focus dedication to making everything as right as can be. That's the major things as well as the minor – the builder used a 1969 XS29 Charger that left the line as a four-speed 440-engined R/T car, exactly the series that was used to create the Daytonas. And the minor details fit too – there's the date-coded Dana axle, built in the correct month to be a correct Daytona item, and many more examples elsewhere.
The other reason this clone is worthy of respect comes from the vogue for rotisserie restorations on original cars. Shells are stripped, re-panelled, repainted and re-trimmed, with an engine that may retain no more than its original block. Yes, the piece of paper says the identity is that of a genuine wing car, but the reality is that it's a new build using some original Superbird or Daytona parts. Which is exactly what we have here.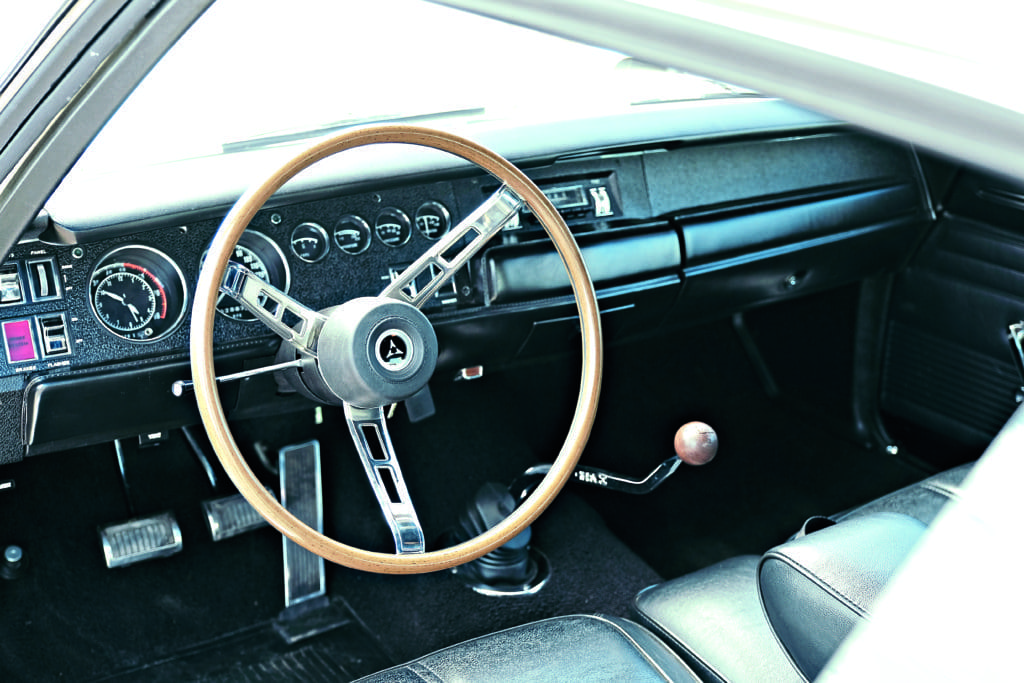 Creating perfection
The car was built over the course of around 18 months by Brian Bodensteiner, a well-known figure in the American Charger scene. An unusually talented body-man, he dealt with the extensive rust in the donor car's hull and also recreated all the Daytona-specific features, including the restoration of an apparently irreparable original nose cone. An inspiring 39-page thread at dodgecharger.com details continuous progress that culminated in a fresh 1969 Daytona Charger making its entry to the world in late 2010. We spoke to Brian at his shop, Bodensteiner Body Werks, in Waukon, Iowa.
"I've always been a Charger guy," he says. "My first car at age 15 was a '68 Charger and I've lived and breathed them ever since. For me, a Hemi Daytona is top of the heap so I aspired to build one for a long time. The chance finally came when I sold another Charger for a good amount, and I had the budget to do it."
Remarkably, Brian rarely allowed his build to infringe on his business hours, yet he churned through the immense amount of work needed to his rusty donor car and finished the detailed, high-quality assembly job in double-quick time. All the more surprisingly, Brian had a new addition to the family back then: "I'd start work at 2am on a Sunday morning and work through till noon, then I'd spend the rest of the day with the little guy," he says. "I get kind of addicted to these builds and I'm always thinking about the next step."
For all things Classic American, like our page on Facebook here!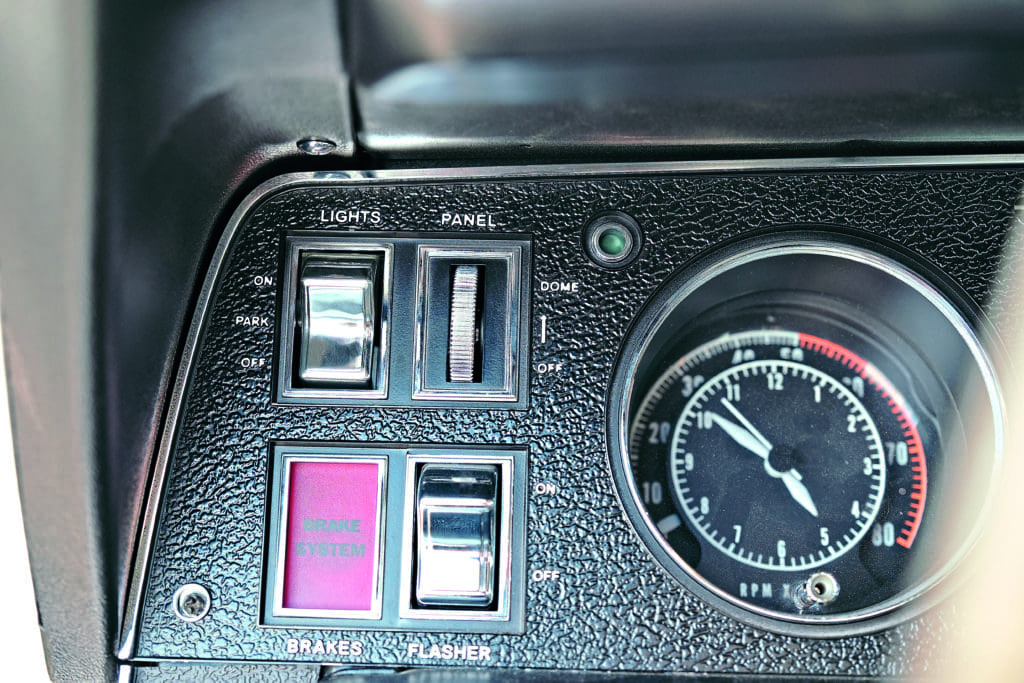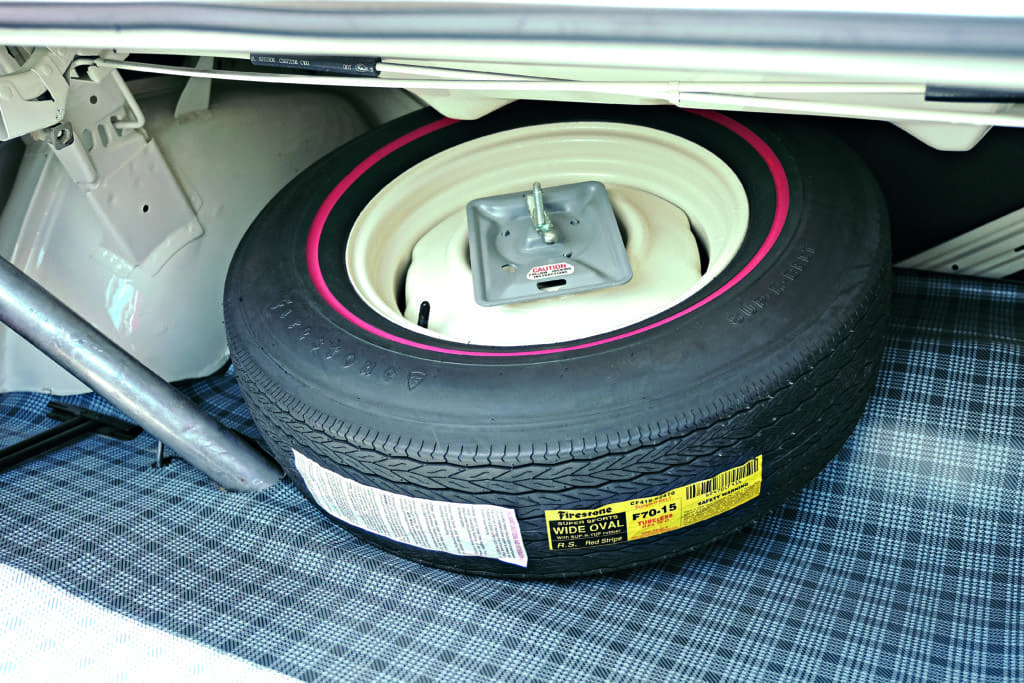 The addiction paid dividends in the incredible end result, as you can see, but another of Brian's characteristics (he says) is a tendency to get bored with things once they're finished – "It's more fun making them nice than keeping them nice." So in 2012 the car was sold to its next keepers, Brian and Jan Schlump of Ohio, who enjoyed it for a further three years.
Fast forward to the summer of 2015. Pete Jordan, a name familiar to many American car enthusiasts in the UK through his time with RPM (Rare Performance Motors) in Hampshire, makes a posting on a US car forum. It's a sad, very personal appeal – essentially, Pete has been diagnosed with terminal cancer and wants to enjoy his remaining days in the company of a properly exciting Hemi-powered Mopar. Ideally a cloned wing car. What's for sale?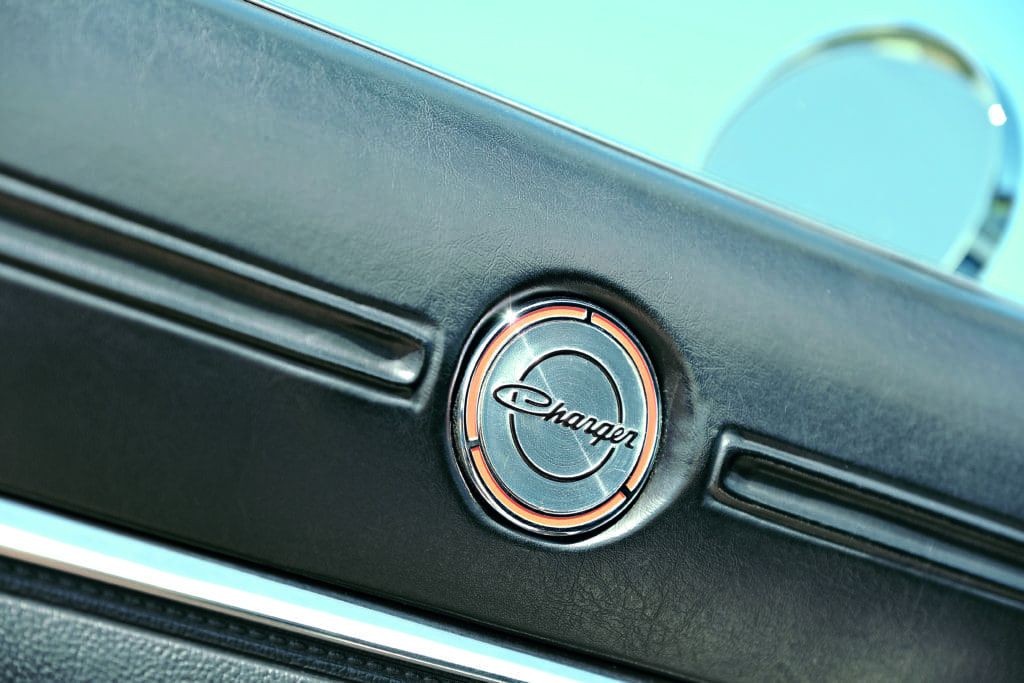 Brian and Jan Schlump weren't really planning to sell the Daytona, but they saw the posting and replied. To cut to the chase, a deal was done and the car arrived in the UK in August 2015. Pete's son Kevin remembers the next few weeks vividly. "My father only had six or eight weeks with the car before he passed away, but we had a great time with it. That engine is outrageous and with manual steering and brakes, it keeps your attention! He used to say it was 100% of the fun at 10% of the price."
Pete's dream was to take the car to the Mopar Nationals the following year, and as he was unable to see the day himself, his son Kevin took the car partly in tribute and partly to see if it could find a new owner. That it did. Andy Robinson saw it in the flesh and began to make enquiries. "I first saw a wing car when Tony Oksien brought his yellow Superbird to Donington in 1992," says Andy. "It blew me away and I've wanted one ever since." Some 24 years later, it was Tony who urged Andy to buy this one. Andy knows RPM's Martin Savill who put him in touch with Kevin and Steve Jordan.
"Tony said the car was so good I'd never find another like it, and at about a third of the cost of a genuine Daytona and an even smaller fraction of the cost of a genuine Hemi Daytona it was the right thing to do," says Andy.
The heart of the matter
The Hemi engine Brian Bodensteiner chose came from FHO (For Hemis Only) in Canada, and despite what it says on the air cleaner it displaces 518 cubic inches. The power output on the dyno peaked at an incredible 672bhp, leaving plenty for the back wheels even after losses to the A833 four-speed box and that Dana 60 with Moser hardened shafts.
The Hemi is the main event. This one is certainly a bit grumpy at low speed, idling unevenly and spitting raw petrol from the exhaust. But as we've established, it goes absolutely bananas when unleashed – there's a howling, bellowing violence that purées the tyres, or sometimes just one of them – all that urge seems capable of defeating the LSD. Even if you take into account the extra power this one creates versus a standard 426 Hemi, it highlights what strange, mixed-up things the wing cars were.
It belongs in a different world from the nice mid-market, buttoned brocade interior. Here is modest luxury with a giant Hurst shifter rising like a bent middle finger from the floor and reminding you where you really are. The three pedals are large, sturdy and placed far enough apart for a lumberjack to drive it with his boots on. The steering wheel is also huge. The back seat is there, as comfy as ever, and like any Charger you could take five cheerleaders down town without having to balance one on your lap.
For all things Classic American, like our page on Facebook here!
This leads to a split personality. Yes, you can drive slowly around town in it – Andy uses the word 'docile' at one point, and that long-stroke Hemi does have some usable low-speed torque compared to an original 426. You just need to be a little progressive with the throttle and take your time and it's easy to drive, as long as you have the stamina in your left leg to cope with a meaty clutch.
So… the wildest body kit in the history of the automobile, a howling-mad beast of a race engine and the interior of a well-appointed mid-market sedan. It even rides quite nicely. There's more stiffness than a standard Charger but all that does is modernise it a little; it's still far from uncomfortable and feels like a feather bed compared to many European sporting cars of the era. The cabin is pretty well insulated too. There's no booming from the exhaust at cruising speed and no rattle and roar transmitted up from the road surface. From the driver's point of view it remains a large, conventional coupe with the ability to transform itself into a ground-bound jet plane whenever there's enough open space in front of you.
I'm pondering this as we stop to get our breath back and take some photos across the water from Blyth, looking out to sea and towards the immense revolving blades of the wind turbines. They seem to have something in common with the Daytona, but whether it's the whiteness or the simple wing-shapes, or just the sense of outsize proportion, I couldn't say.
It's not really the point – the wing cars are all-time classics, and like any truly great classic they are copied and imitated. What we should celebrate here is the work of one man who can do such an incredible job of bringing a Dodge Daytona to life. It's brought some joy into quite a few lives already, and in Andy Robinson's careful ownership, continues to do so. Spending a day with it has been an unforgettable experience.
For all things Classic American, like our page on Facebook here!