Retired from the funeral business, this three-owner superlative Cadillac now enjoys European holidays towing a caravan, but looks in better nick than some cars 40 years younger!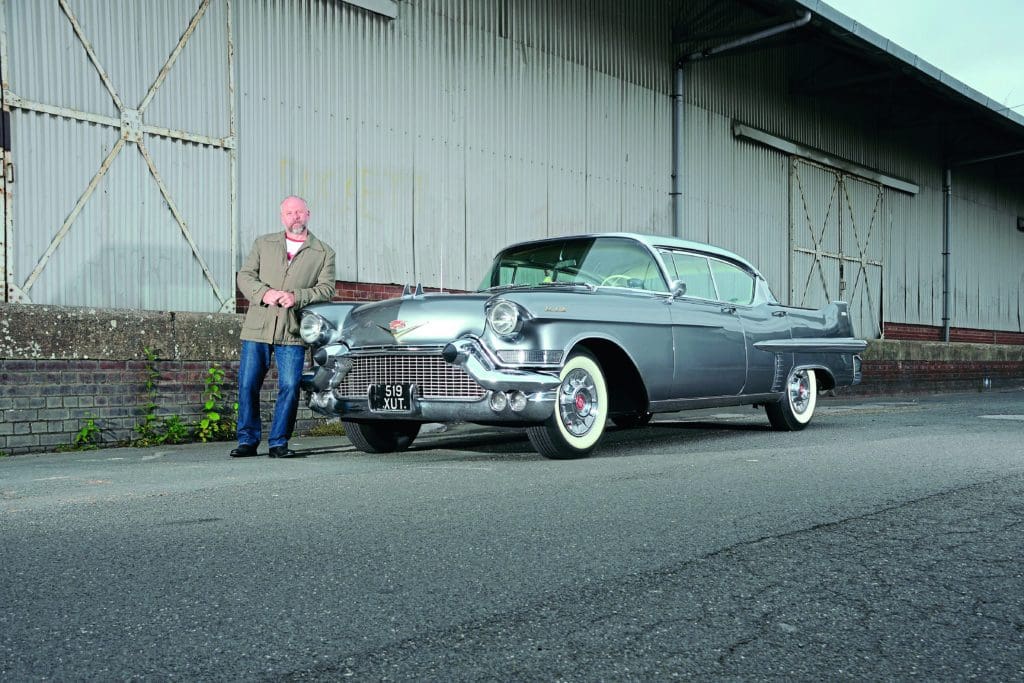 Words and photography: Jon Cass
It is now some five years since Simon Chesterman last graced the pages of Classic American. Back then, we took a closer look at his striking custom 1961 Chevrolet Brookwood station wagon. With lairy two-tone livery, 22-inch Billet wheels, Gabe's interior and huge sound system, this wasn't one for the purists, but it certainly stood out in a crowd. At the time, Simon reminisced about the countless classics he'd owned, but spoke fondly of his '57 Cadillac Sedan De Ville, a highly original car he cherishes to such an extent it's now become an integral part of his family. We decided to find out why this particular car holds such a special place in his heart…
Currently, Simon owns no fewer than six classic cars, several motorcycles and a pair of vintage caravans. His collection is varied to say the least, with a 1926 Dodge Sedan, an all-steel Model A Ford Tudor hot rod, a Belly Tank beach racer and a 1961 Bentley among them. "I've always been into oddball classics, there's just something about an unusual design which catches my eye," he explains. "My dad was equally passionate about unusual old cars; I guess it rubbed off on me." Simon's dad was also keen on motor racing, and many pleasant family days out were spent visiting various northern racing circuits. "It was the roar of the V8s and their sideways tendencies in saloon car classes that always made the American cars my favourite," Simon continues. "Add the glamour of fins and chrome and they were a real symbol of optimistic times."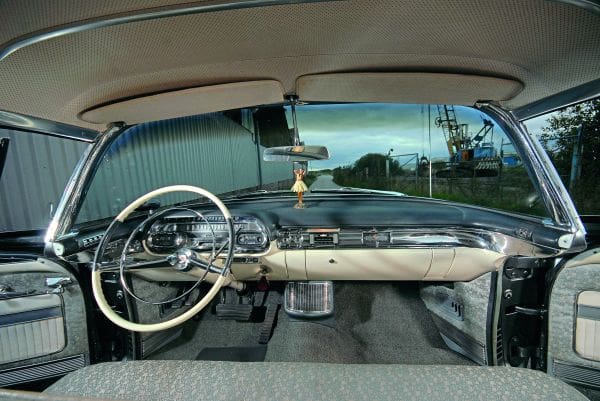 A late-Fifties Cadillac epitomises the height of the fins and chrome era perfectly and Simon's goal for many years was to own the best example he could find. "I looked at a few but could never find the right car at the right time," he remembers. "Eventually, I had the finances available just as this '57 appeared in an ad on an internet auction site." A late-Fifties Cadillac isn't the first car that springs to mind when you think of practicality, but with four doors and cavernous interior space, Simon knew it would make a perfect classic cruiser for his family. "I was sure my wife Julie and our three young children would really enjoy the experience too," he says.
Despite the car being located in Scotland, more than 200 miles from Simon's residence in Lincolnshire, Simon remained confident this would be a worthwhile trip. Fortunately, the advertised car didn't disappoint and a deal was soon struck, the Cadillac taking the return journey in its stride. "It drove all the way back without a hitch," Simon recalls. "I had a good feeling it wouldn't let me down." Cadillacs are well renowned for their engineering and reliability, and it seems this example was no exception. "It had been meticulously maintained throughout its life," Simon explains. "Its first 20 years were spent in service with a funeral director so it would have led an easy life there." One of a pair of identical cars ordered along with a Superior Hearse by funeral directors in Oregon, the '57 was treated to a special-order paint and trim combination to match the hearse.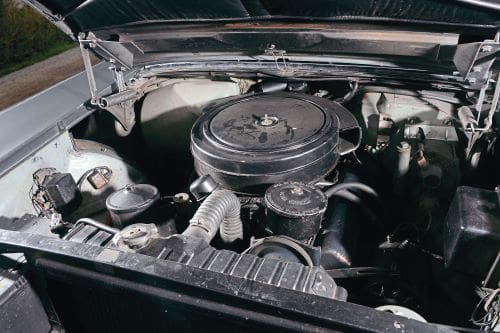 "The special-order paint was carried out post-production which explains the factory primer under the hood," Simon points out. "Silver brocade and white leather was specified for the plush interior." After 20 years of service, its long-time regular driver retired and the car was gifted to him by the company. "He moved to California and continued to use the Sedan De Ville regularly right up until he gave up driving," Simon continues. "It remained registered throughout his entire ownership." By this stage, any Fifties classic would have begun to attract its fair share of attention and unsurprisingly, the neighbour of the former funeral director had already expressed an interest in the unusual car parked next door.
"He was an Australian ex-pat and had asked for first refusal if the car ever came up for sale," Simon explains. "Unfortunately, by the time the original keeper gave up driving, his neighbour had moved to the Isle of Bute." Incredibly, despite the mammoth increase in distance, the pair stuck to their agreement and the Cadillac was duly imported into the UK. "It lived on the Isle of Bute for quite a while which must have created some attention," Simon laughs. "It was only when the owner bought a property in London without a parking space, he reluctantly advertised the Cadillac for sale."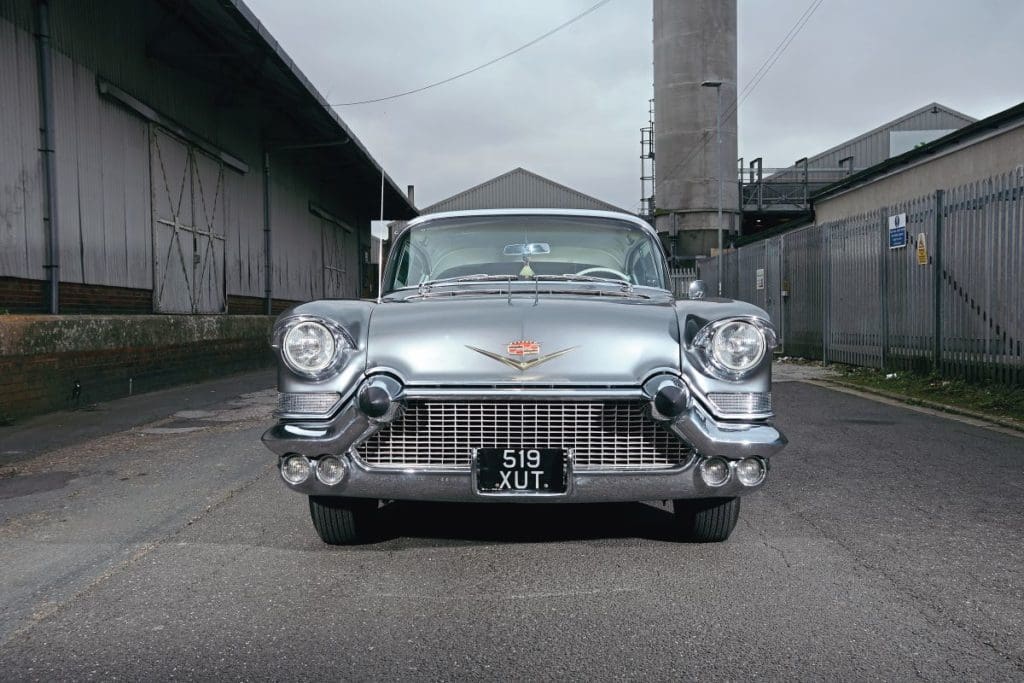 It's a bizarre journey to the UK for sure, but with only two previous drivers who undoubtedly cherished this rare classic, it all played into Simon's hands perfectly.
"I always planned to use the car as much as I could," Simon tells us. "This included taking trips to mainland Europe." Now, most of us would never consider using a '57 Cadillac to tow a caravan on a European tour, but this is exactly what Simon had in mind. "I fabricated a removable tow hitch which installs through a factory hole in the bumper behind the number plate" he explains. "A modern caravan wouldn't have looked right, so I bought a 1963 Avion T-20 caravan (a bit like an Airstream) which provides a genuine retro-camping experience."
When the car was first purchased, Simon received a history file dating back to the early Eighties, and was also pleased to see no restoration work had ever been necessary: "It had a repaint at some point in the Eighties along with a set of new carpets, but other than that it remained totally original," he adds. "It had never been off the road and always drove just as it should." After 10 years of ownership which included not just European holidays, but also festivals, weddings, children's proms and various other roles, Simon had noticed his Cadillac was starting to look a little tired. "By now, some of the required jobs were mounting up, so last year we took the major decision to make a significant investment in the future of our family Cadillac," Simon recalls. "We decided to leave it in the hands of our capable friends at Brighouse-based Motoburo (www.motoburo.com)."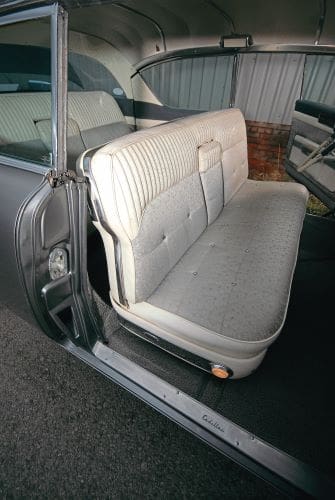 Simon knew he'd made the right choice with his friend Matt Heap and the Motoburo team, well-renowned specialists in all aspects of classic car restoration. "I was keen for the car to remain as original as possible and not appear to be overly restored, "Simon recalls. "The 365cu in V8 engine has never been rebuilt and still runs perfectly to this day, as does the four-speed Hydra-Matic auto transmission; I only had to replace the original GM exhaust two years ago."
The essential work required focusing on rebuilding the front suspension, installing electric wipers and renewing the padding in the seats. "Motoburo also repainted the cream metalwork inside and carried out a few minor repairs to the bodywork," Simon points out. "It was then fully repainted in its original special-order combination of two-tone silver and grey."
The stainless steel and chrome trim remains original, as does the glass all round while, amazingly, the almost-immaculate 65-year-old hub caps have somehow survived the ravages of time too. "The only feature that currently doesn't work is the clock," Simon confesses. "My dad was a jeweller and clock repairer and a few years ago, he offered to remove the clock to service it." At the time, the clock was working just fine, but it suddenly stopped not long after Simon's dad passed away three years ago. "I wish I'd taken my dad up on the offer," he admits.
The lack of a working clock is only a minor issue as the last thing on Simon's mind while cruising around in his Cadillac would be accurate timekeeping. And now that sympathetic restoration has taken place along with all minor niggles rectified, Simon and his family plan to enjoy this '57 for at least another decade of luxurious, hassle-free ownership. His collection of cars will no doubt continue to evolve, but the '57 Sedan De Ville will always remain a part of it.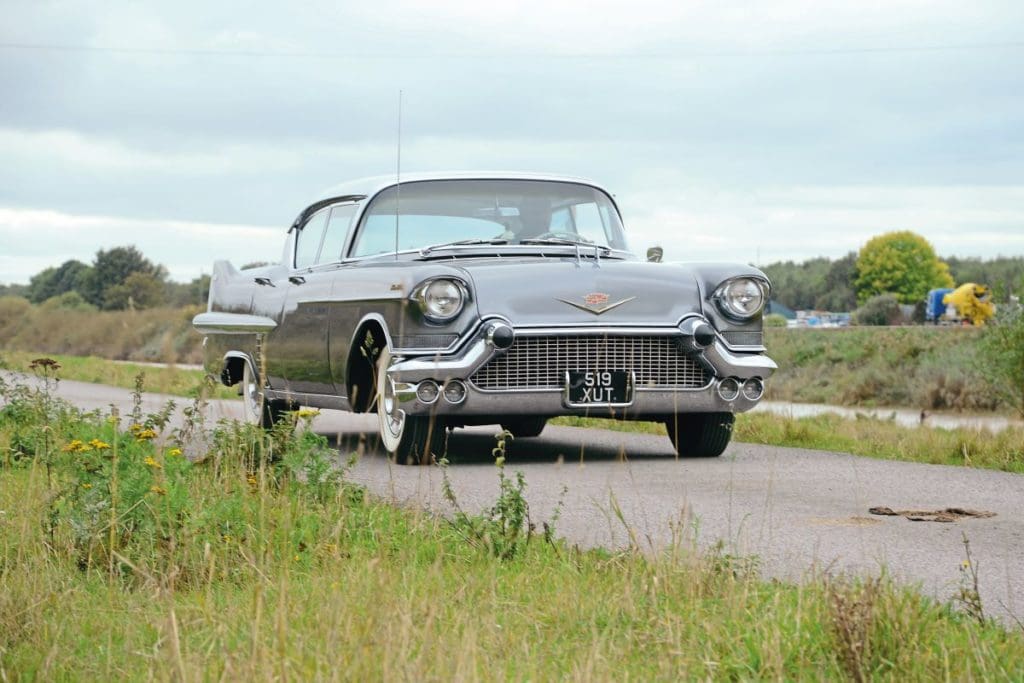 Harley Earl was the head of GM's design team during the development of the 1957 Cadillac Sedan De Ville. A major change for that year's model was the use of a new tubular X-frame without side rails which resulted in the advantage of lower body lines along with ample usable space. The front-end styling was improved with the introduction of rubber bumper guard tips and dual circular parking lamps located within the lower bumper area, while all models now featured dual tail lamps and revised side trim.
Meanwhile, all '57 Cadillac Series 62s benefited from a 365cu V8 with Rochester four-barrel carburettors producing 300bhp. Combined with power brakes, power steering and Hydra-Matic auto transmission as standard on all models, this resulted in a refined experience behind the wheel. Nothing less than you'd expect from Cadillac!