Brian Forsdike spent several years searching for the perfect 1957 Ford Thunderbird to purchase, we'd say it was time well spent…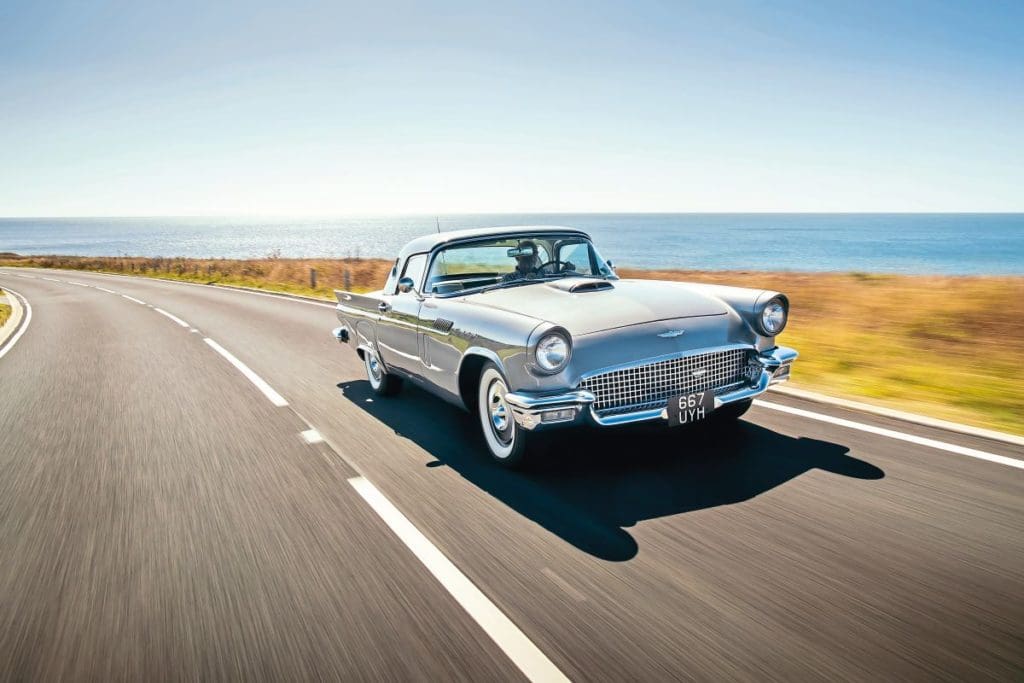 Words: Mike Renaut
Photography: Jonathan Fleetwood
Finding your ideal car is worth some extra effort, after all it's usually a big investment and one you'll have to live with. Brian Forsdike was certainly prepared to put several years into his search for a really good Thunderbird. "I found this 1957 in the UK after a long search that included looking at cars in collections as far away as Holland," admits Brian. "I wanted a small 'Bird, one of the 1955 to '57 two-seater cars. I'd always liked American cars even when I was a child, there weren't many on the roads but I saw them at the motor show when I went with my father and featured in books and comics. The styling was flamboyant compared to our English Fords and Austins. I had Dinky Toys and Matchbox cars, one of which was a Thunderbird so they became a bit of a passion."
Brian's first American car was a Plymouth Barracuda, "a 1967 or maybe '68, it was a convertible because I've always had convertibles. I liked the Pony cars; I had a Firebird 400 then later a Mustang Cobra Jet, although then I got into English sports cars. I was in Chicago in 2005 and admiring the commemorative Thunderbirds launched to mark 50 years of the model. While searching for a two-seater 'Bird in 2012 I found a 2005 Anniversary Thunderbird in Belgium, I still own that car. It made me more determined to have the first and last Thunderbirds.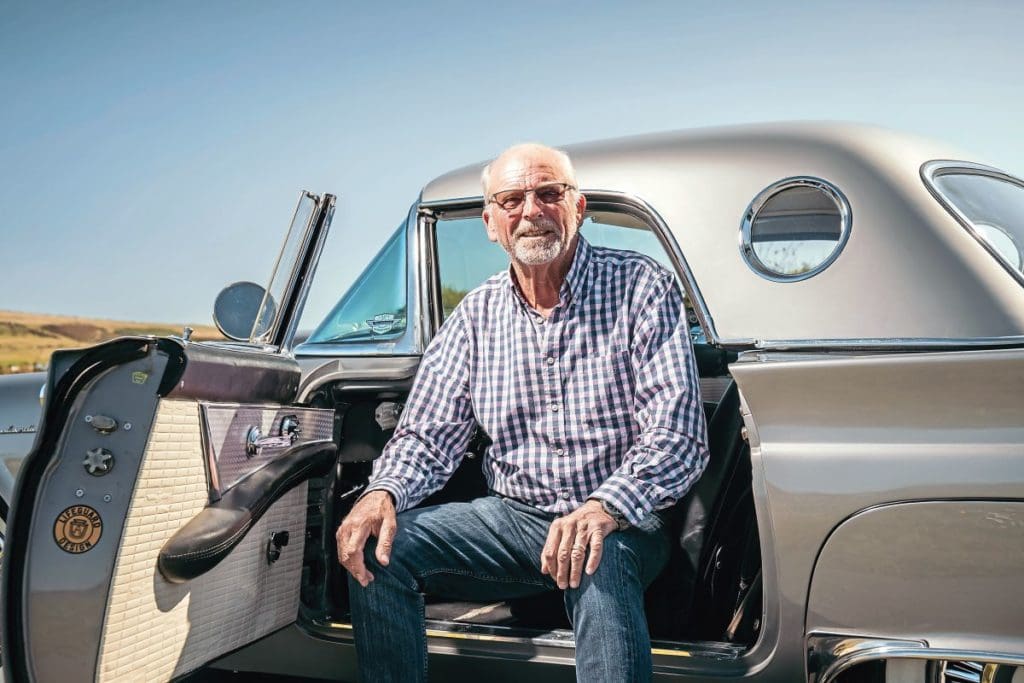 "I bought this 1957 in 2017, unfortunately there wasn't much history with the car. Going solely by info posted on the Thunderbird Registry website, it was restored in 2002, although I don't know to what extent the work was done – it may have merely been repainted. In 2003 it was owned by a doctor of psychology in Beverly Hills and she was apparently married to a famous Hollywood actor / writer. It was then sold through Heritage Classics in Los Angeles to someone called Andy in the Hampshire area who imported it to the UK. There was apparently a decent history file that the couple I bought the car from didn't receive. I'd love to find out more if anyone reading this knows Andy or recognises the car."
The Thunderbird was in excellent condition and all Brian has had to do since is replace a couple of deteriorated rubber seals. "I also overhauled the suspension but otherwise it's not needed anything. That was the appeal for me; the car drove well and didn't need restoring. As you get older you don't want to get into tearing an old car apart.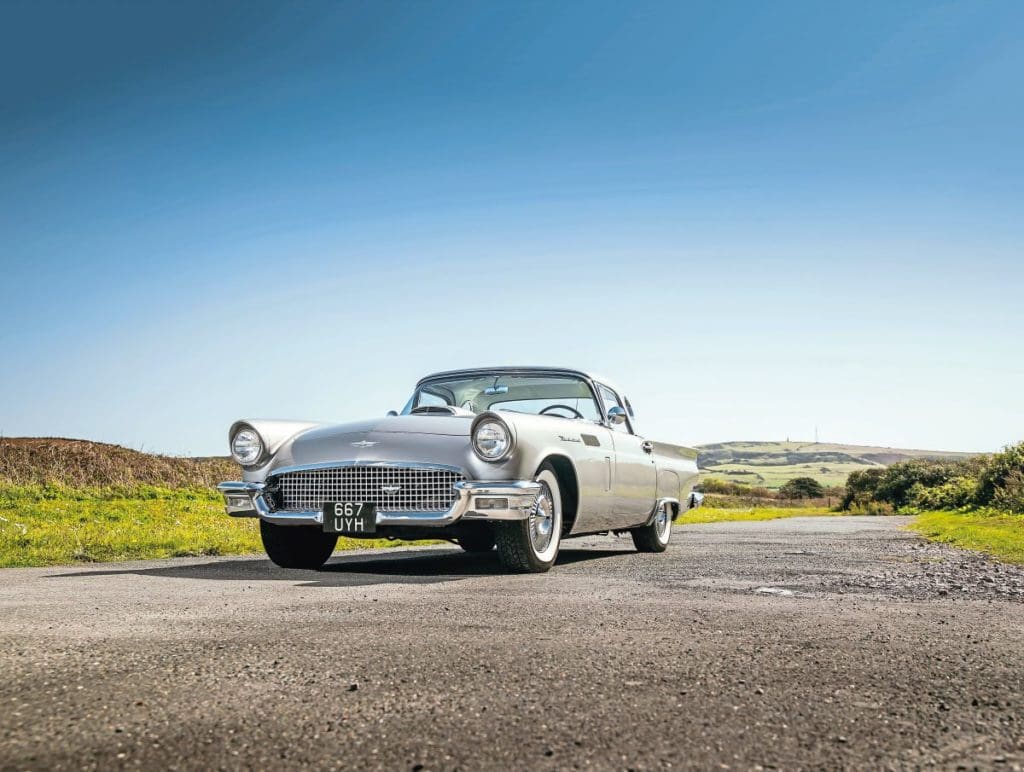 "The other thing I liked was the colour. I saw lots of red, blue or white Thunderbirds, but this Ford Gunmetal Gray is unusual and suits the car. It's the original colour as stated on the VIN tag on the firewall; I've been all over the car and that's the colour even under the dashboard. I saw several examples that had been resprayed but hadn't had the doorjambs repainted. This one was done correctly and has really good panel gaps all round. Fixing gaps in body panels or respraying in areas of poorly applied paint takes a lot of time and effort."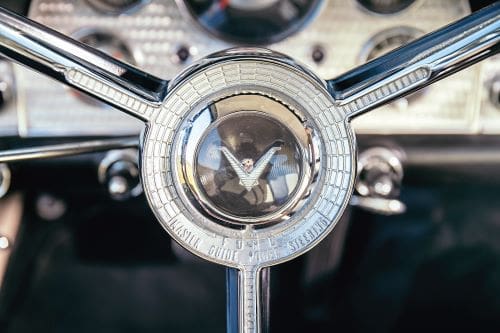 Thunderbird was go
Ford had more or less always had a Thunderbird model on the drawing board. Stylists were constantly playing with two-seater versions of the existing products but sports cars accounted for less than one in every 400 new cars sold in America, so what was the point? Then in January 1953, Chevrolet launched the Corvette. Within weeks work on the car that would become the Thunderbird was underway. There were several stipulations, the body should be steel with roll up glass windows – the fibreglass Corvette had clear side curtains. It would also be a 100mph, 2500lb car, V8-powered and – despite early advertising and the internal factory moniker of 'Fairlane Sports Car' – a personal car, not a sports car. The theme was European-style with American comfort.
The timing was perfect since the 1955 Ford model line was undergoing a complete restyle and the engineering was being vastly improved for the 1954 cars. That included a new overhead valve 256cu in V8 earmarked for the Thunderbird. It would sit in a hefty box section frame with an X-brace in the centre based around Ford's convertible chassis. When news leaked in late 1954 that next year's Corvette would have a V8, Ford bored out that 256 to 292cu in. The Thunderbird was also the first American car to use tubeless tyres.
According to Thunderbird chief stylist George Walker, the car was named after the Chairman of the Board's golf club, the Thunderbird Club in Palm Springs. But another story credits the name to young stylist Alden Gibson who suggested Thunderbird after the Native American god. Gibson was later awarded an expensive handmade suit. Other, unsuccessful, model name suggestions included Escort, Wheelaway, Ty-Coon, Barracuda, Road Runner, Challenger, Hep Cat and Beaver…
The prototype Thunderbird debuted in February 1954 at the Detroit Auto Show and production began that September. Although it weighed 2980lb (somewhat over target) and at 190bhp was slightly underpowered compared to the Corvette, the Thunderbird was an instant success. In the first 10 days 3500 were sold; it went on to outsell the Corvette by 16 to one.
For 1956 there was little need for changes; Thunderbirds got fresh air vents in the front wings, door-mounted wind wings on the A-pillars and, early in production, portholes in the fibreglass top to remove a potentially dangerous blind spot. The spare wheel now sat on the revised rear bumper and the tailights, doorcards, seat pattern, mounts and door latches were mildly tweaked. A 312cu in V8 borrowed from Mercury was now an option too.
Introduced on October 3, 1956 alongside the other 1957 Fords, the '57 Thunderbird marked the first significant restyle for the car. Despite Ford's plans to introduce a four-seater for 1958 the '57s got a longer body, smaller 14-inch wheels and larger brakes and fuel tank. The ride quality improved as the spare wheel was moved from the rear bumper inside under a new, larger bootlid that provided extra boot space. The styling craze for tailfins improved the look, as did a deeper grille behind an elegant new stepped front bumper. Inside, the dashboards were padded, sun visors were now standard equipment and new seats boasted horizontal pleats.
Interestingly, an ahead-of-his-time Ford stylist had proposed a T-top roof with lift-off panels for the '57 Thunderbird. One aftermarket company offered a replacement bootlid and fold-down dickie seat package called the 'Birdnest,' and a small number of '57 Birds were built with Paxton-McCulloch supercharged V8s offering 300bhp and 0-60mph in under seven seconds. Yet Ford had begun a feasibility study into a four-seater Thunderbird as far back as October 1954 and approved the plan on March 9, 1955. It was common knowledge this was the last of the two-seater models and a total of 21,380 Thunderbirds were built for the 1957 model year before production ended on December 13, 1957. Sports car fans mourned the loss but the 1958 Thunderbird sold 37,892 examples.
Thunderbird-o-Matic
Under the bonnet of Brian's 1957 is a 312cu in V8 with a Ford-o-Matic automatic transmission (a $215 option.) It also has a $63.80 optional four-way power seat, "although it's not the Dial-o-Matic version with a memory that returns the seat to the previous position when you turn on the ignition," explains Brian. "This one is controlled via switches on the driver's door." Also included are the heater/demister ($45.40) windshield washers (a $10 option) and Ford's 'Lifeguard' seatbelts. Brian's Thunderbird has the standard removable hardtop with optional porthole windows, but it also came with the optional soft-top roof that stows behind the seats and a tonneau that can be unzipped to cover the whole interior or just the passenger side.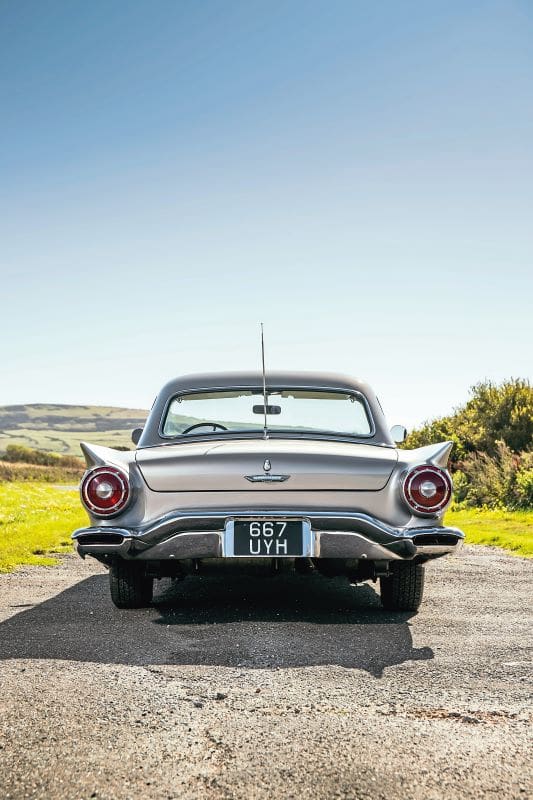 A new option for 1957 was the transistor-powered Volumatic Signal-Seek radio that replaced the previous year's vacuum tube model. Once set, it raised the volume automatically as road speed increased and came with a rear-mounted radio antenna. There's also power steering ($68.70) and power-assisted brakes ($37.10) with drums all round. Ford claimed its power brakes were so sensitive you could put a light bulb between your foot and the pedal then bring the car to a full stop without breaking the glass. The power steering was said to remove 75 per cent of the steering effort.
"I try to keep my cars as close as possible to factory specification," explains Brian. "The only changes on this one I'm aware of are the radial tyres and the passenger side door mirror – although that's useless since you can't see around the door post. People have suggested I fit a disc brake conversion but then it wouldn't be a '57 Thunderbird anymore. I've also got a '73 big block Corvette and a modern 600bhp BMW M6 if I want to drive somewhere fast. The Thunderbird isn't about performance, it's about style. I think Ford made a terrible mistake when they made the four-seater Thunderbirds; this car was ahead of its time. It starts on the button, drives really nicely and rides softly over bumps. I'll never get bored of it – it's iconic."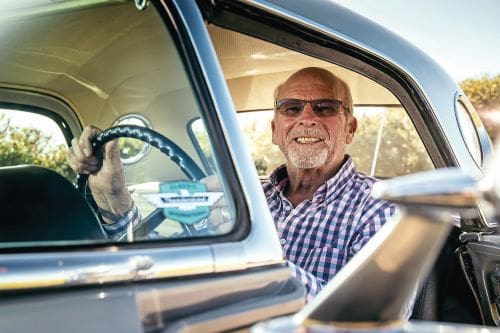 ---

Enjoy more Classic American reading in the monthly magazine. Click here to subscribe.
Sell your Classic American car here.