Classic American meets one lucky chap and his bargain of a full-size American luxury Lincoln that proves you can get into Yanks on a budget, with a bit of luck, a bit of technical know-how… and a spirit of derring-do!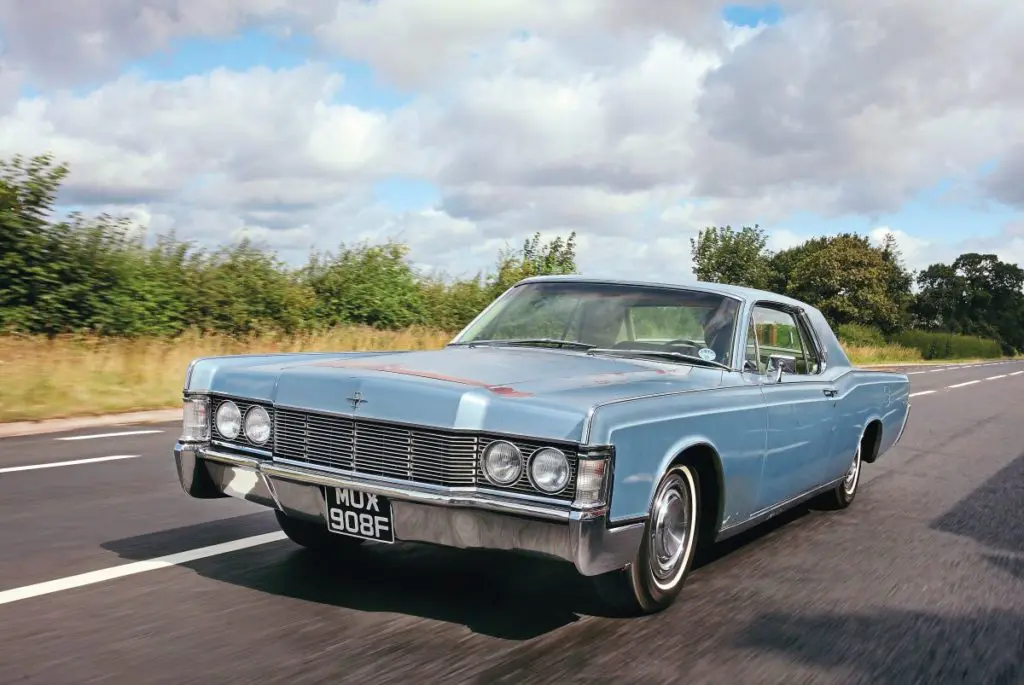 Words: Ben Klemenzson Photography: James Mann
Here at Classic American we're sometimes criticised for featuring big-buck cars and even bigger-buck restorations. "Why can't you feature cars I could imagine myself owning or buying?" is the common refrain. Well, we'd be lying if we said that the American car hobby is an inexpensive one; the fact is that you get what you pay for and the days of hundred-pound bargains are long gone. However, that's not to say that there aren't any bargains out there to be had, if you know where and what to look for and if you're not absolutely fixed on having a particular make, model, year or even type of vehicle. Take the 1968 Lincoln Continental coupe featured on these pages, which belongs to Simon Hodgson, a professional floor-fitter from the South West. I recall seeing this car on eBay several years ago and thinking that it looked a nice straight, solid car, if a little scruffy. Simon obviously thought the same thing, as he ended up buying it and it's actually his first classic American car as well – talk about diving in at the deep end!
"I was looking for a car for myself… a three-series BMW or something like that, then this blue car came up and I really liked it. I'd never thought about an American car before really. I kept looking at it on eBay and the auction would end and it wouldn't sell and then it would be relisted… I said to myself 'I need to go and have a look at it and put myself out of my misery… it's bound to be a bag of hammers and full of rust.'" Simon went along to see it and the vendor hadn't really 'dressed' the car to sell (it hadn't been cleaned or vacuumed and looked scruffier than it actually was) so Simon made him a cheeky offer which the seller declined, although the next day he called him back and accepted the offer.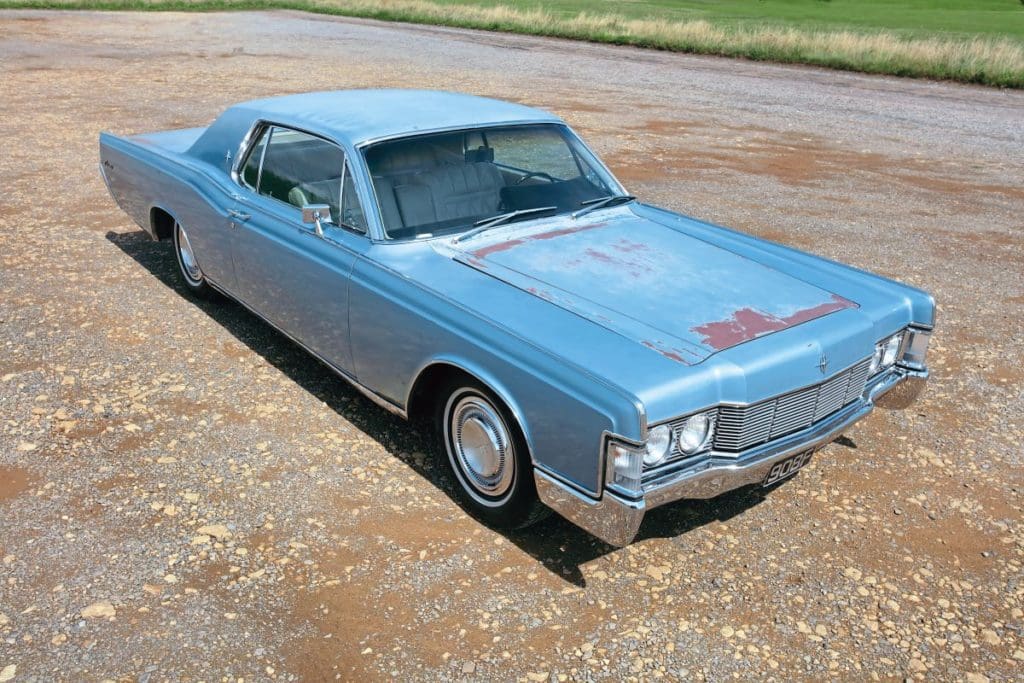 So, what exactly had Simon bought? The Lincoln wore a few clues as to its origins. First there was the 'Associate Member, 1981' sticker for the Illinois Sheriffs' Association and more intriguingly the dealer badge (done in scripted chrome) for Fran Kral Lincoln-Mercury of Rockford, Illinois, a small city about 90 miles west of Chicago. Fran Kral closed 12 years ago, but all this points to the fact the car would appear to have spent most of its life stateside in Illinois, not a state renowned for its warm or dry climate, more for its snowy winters and abundant use of salt. It surely must have been garaged to escape those winters and remain in such good shape today. Simon reckons it was taken off the road and put into storage for a couple of decades, almost certainly another reason why it's a genuine survivor. The odometer reads 85k, although whether that's first-time round or second is anyone's guess…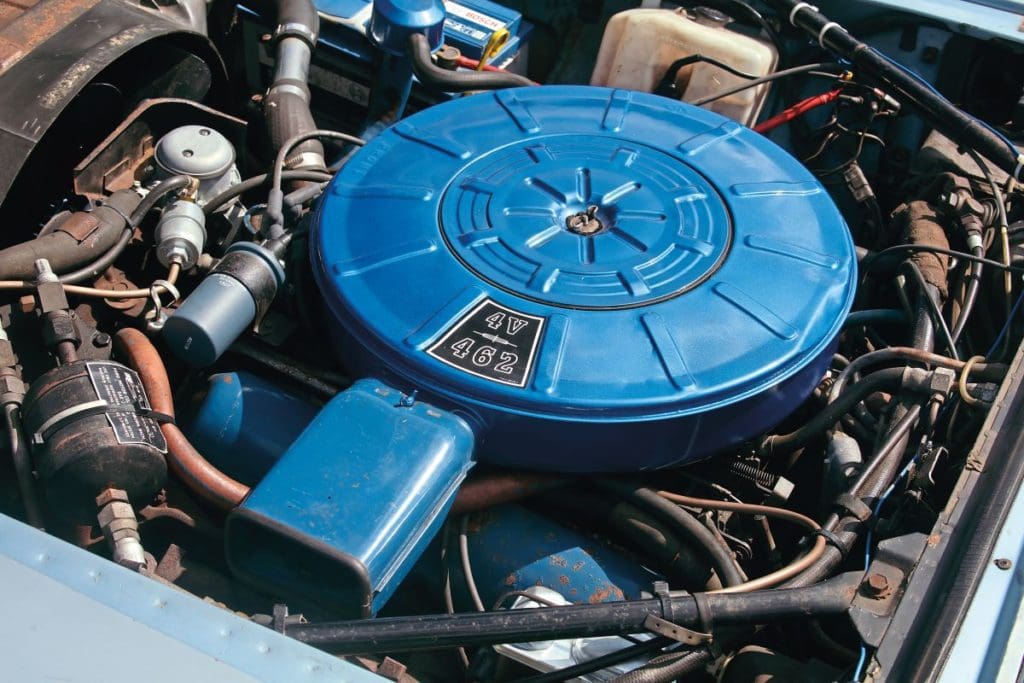 Inside, the Lincoln's white leather front seats have suffered the ravages of time and look a bit worse for wear, whereas in contrast the rear seats almost look new and as if they have never been sat in. The dash was reworked for 1968 and took its inspiration from the Thunderbirds of the time, putting all the instruments in a binnacle in front of the driver, with matching push-button controls for heating/AC on one side and the radio on the other. The front seat passenger got to look at the clock and some air vents! Continentals of '68 vintage came with a lot of standard equipment, including power windows, power disc-brakes, two-way power seats and C6 automatic transmission hooked up to a big torquey 460 V8.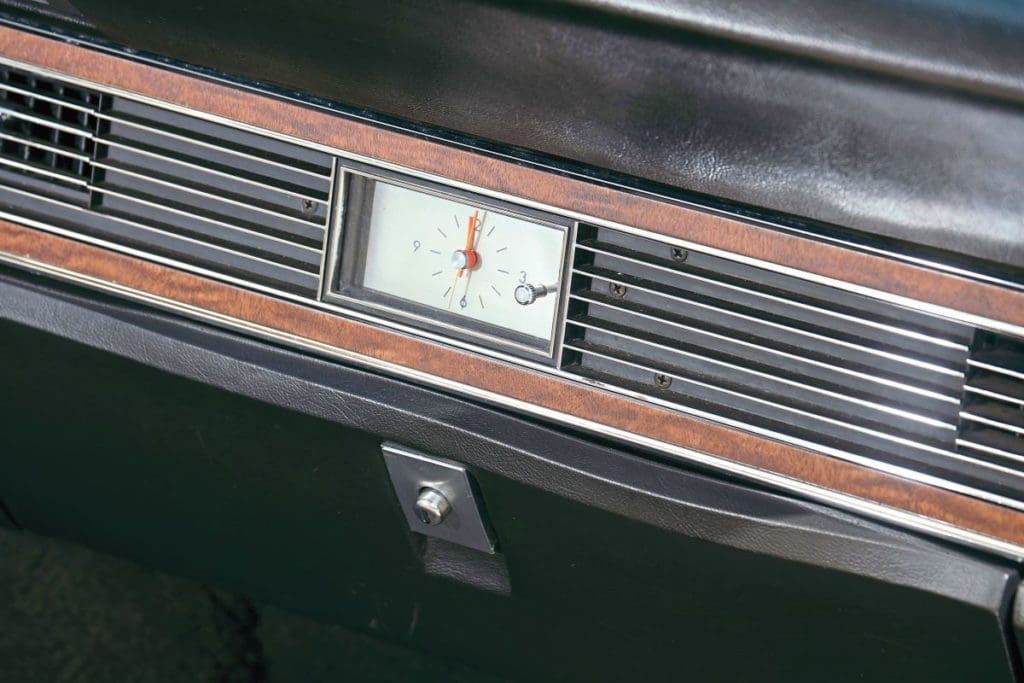 The standard wisdom has it that during the Fifties and Sixties manufacturers steered clear of mentioning 'safety equipment' as they didn't want to put off buyers; accidents and mangled cars were neither sexy, nor a recipe for selling more vehicles. However, Ford became the exception and often marketed their cars on their safety credentials. These Lincolns came with seat belts and four-way flashers, as well as the now mandatory Federal side lights and even the upright hood ornament was dropped from '68 for safety reasons.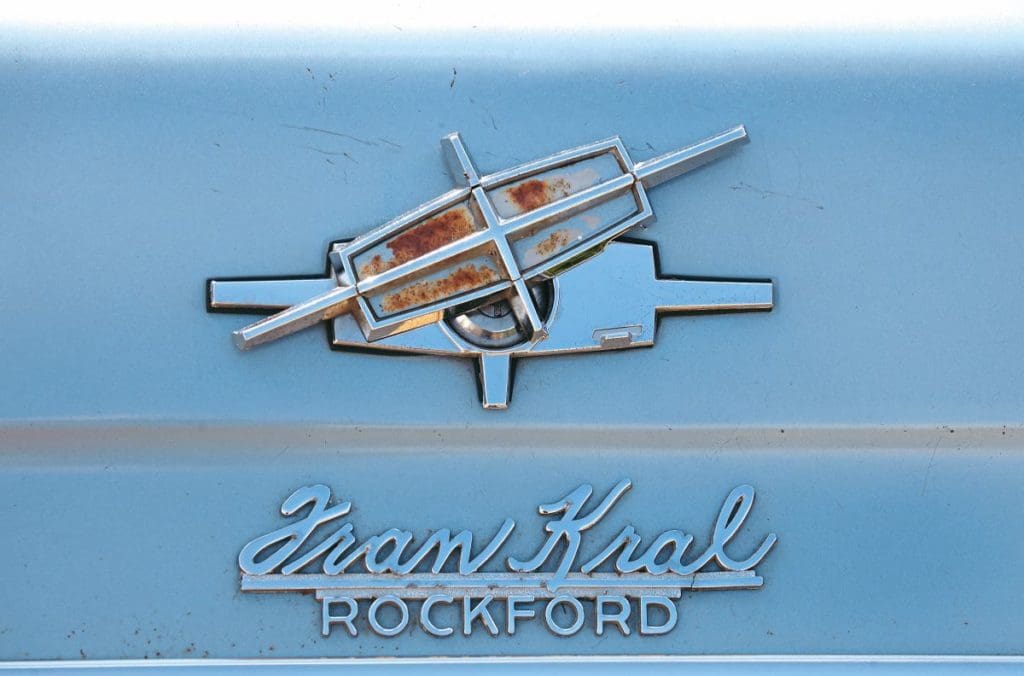 Going and collecting the big Lincoln was a voyage of discovery for Simon and despite the car having just over half a tank of fuel in it, he felt it prudent to stop and fill up en route. Unfortunately, the car wouldn't start after refuelling and a feeling of dread and horror slowly sank over Simon: "Oh my God, what have I gone and bought?!" he thought to himself (it's a situation many of us can probably relate to). As it turned out it was just a loose battery terminal; however, shortly after, the car refused to start again, this time resulting in the AA coming out and completing the rest of the journey on a recovery truck. Likewise, this latest 'failure to proceed' also turned out to be a relatively easy-to-fix problem, caused by overheating: a new viscous coupling, re-coring the radiator and fresh antifreeze fixed it in a jiffy. While in the UK, the previous owner had a new set of tyres fitted and did some welding to the floor pan and replaced the brake pipes and bushings on the suspension arms. The biggest expense Simon has incurred in seven years of ownership was replacing the exhaust manifolds which were blowing.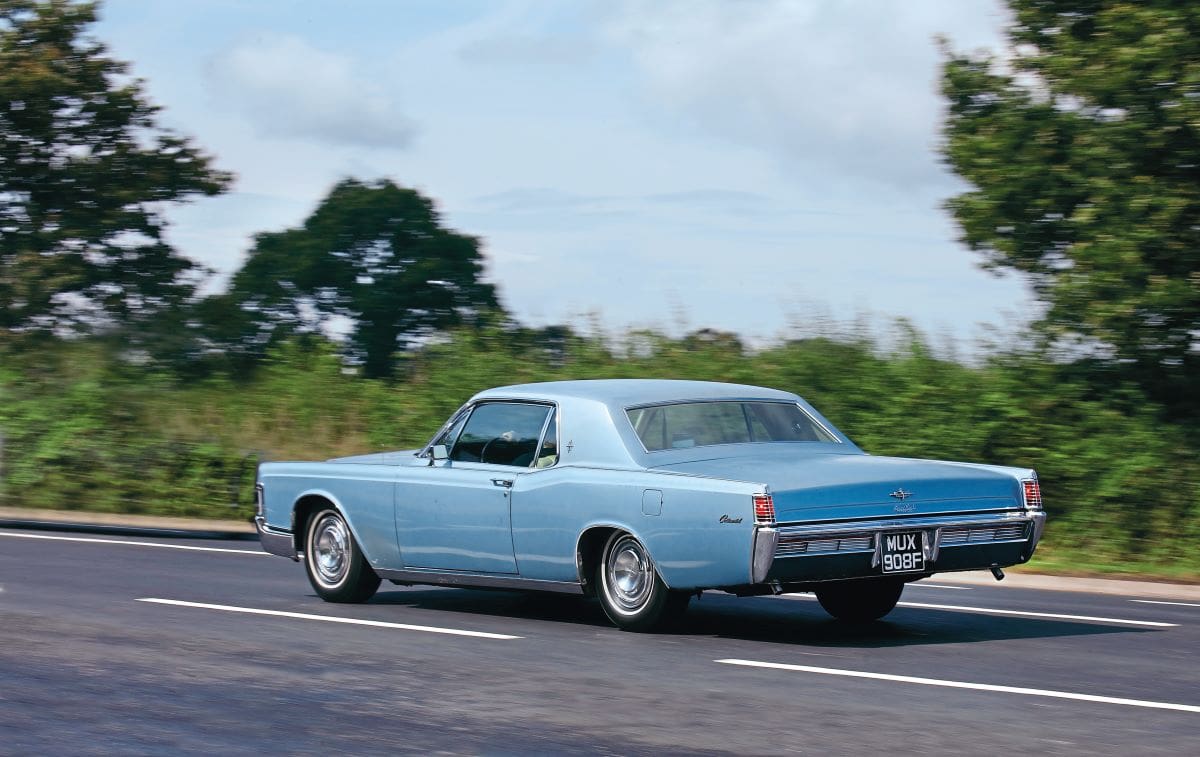 Interestingly, not only was this Simon's first American car, but it was also his first automatic vehicle, so that in itself was a steep learning curve: "I didn't realise you had to put it in Park or Neutral to start it…" he laughs. Cue more catastrophising that he'd bought a bag of hammers when it wouldn't start (in Drive!). Despite these initial challenges, Simon's happy to drive the Continental locally and even took it to the Rally of the Giants last year, a round trip of some 265 miles from his home in Stroud, Gloucestershire. On a run like that Simon reckoned he was getting somewhere between 18-20mpg (we did say that American cars aren't a cheap hobby!) although that drops to around 14mpg in town – well, what would you expect with a 460cu in V8 engine?!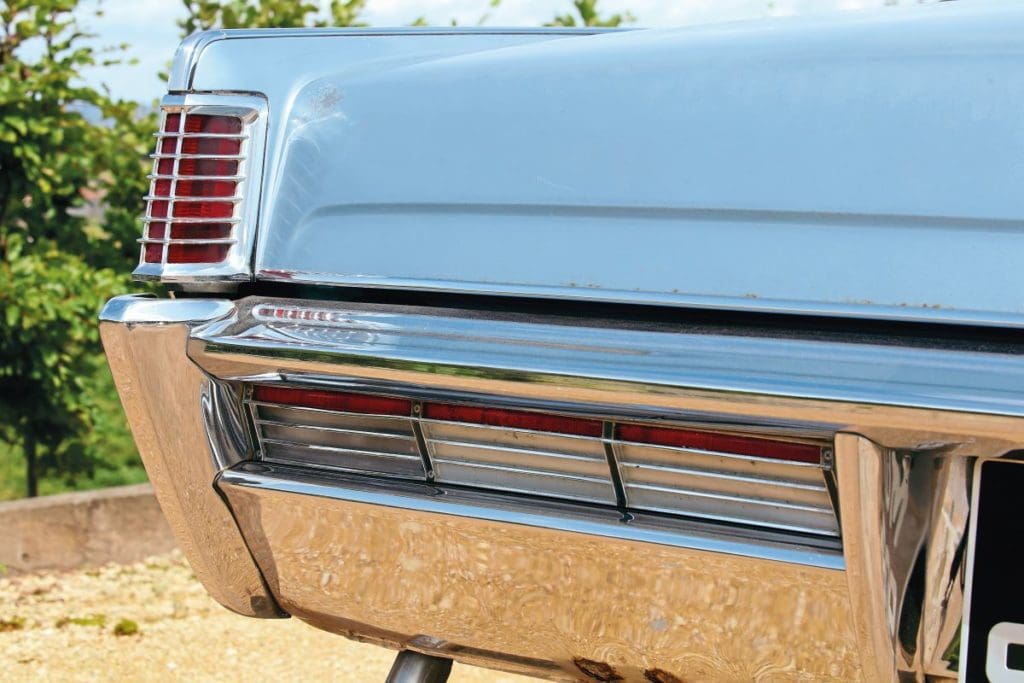 So, what's it like to drive? "I love it!" laughs Simon, "I find it stress-relieving. If I've had a busy week or a rough day, I just get in my Lincoln and have a drive – it's like sitting on your sofa and wafting down the road." And its lived-in appearance means he's not particularly uptight about where he leaves it or parks it, although two days' worth of polishing has revived the paintwork to some degree. Patina suits some vehicles more than others; pick-up trucks can look very cool with a bit of scruffy sunburn and paint peel, luxury cars however usually don't, although Simon's Lincoln is an exception to the rule. It looks like a fine, weather-worn piece of furniture or a boat and it's only down to primer on one section of the bonnet, whereas elsewhere on the car it's a bit flat, but we reckon could be bought back with a bit of elbow grease – after all, it's only original once, right?! We're lucky to have an enormously wide variety of types of American cars in this country, so it's great to see something as fun and impressive as this Lincoln making for an affordable (in terms of purchase price at least!) entry to the classic American car market.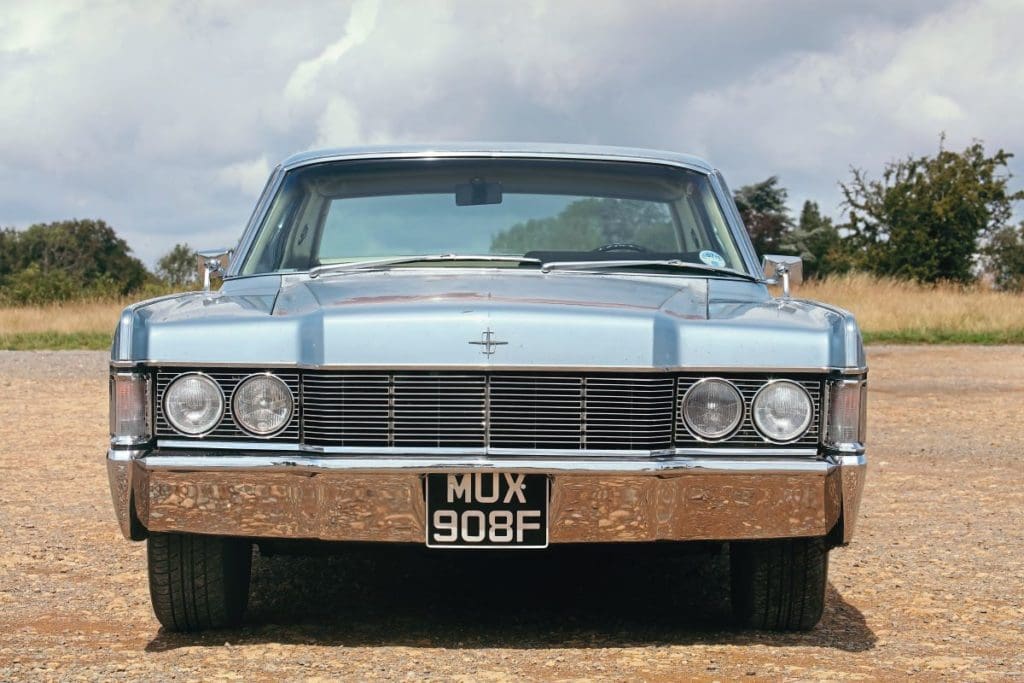 Anyone else out there bagged a bargain Yank? We'd love to hear from you if you have!
What the critics said
"The Lincoln Continental cruises its way into '68 as luxuriously, quietly, and expensively as ever – but not as elegantly. This car – once called the epitome of automotive design – has slid a little further down the ladder. Fiddling with sheet metal changes over the past few years has done a lot to take the edge off the basic tasteful lines of the Continental…. Although not the visual standout of old, the Continental is still one of America's best luxury cars." Car & Driver, December 1967.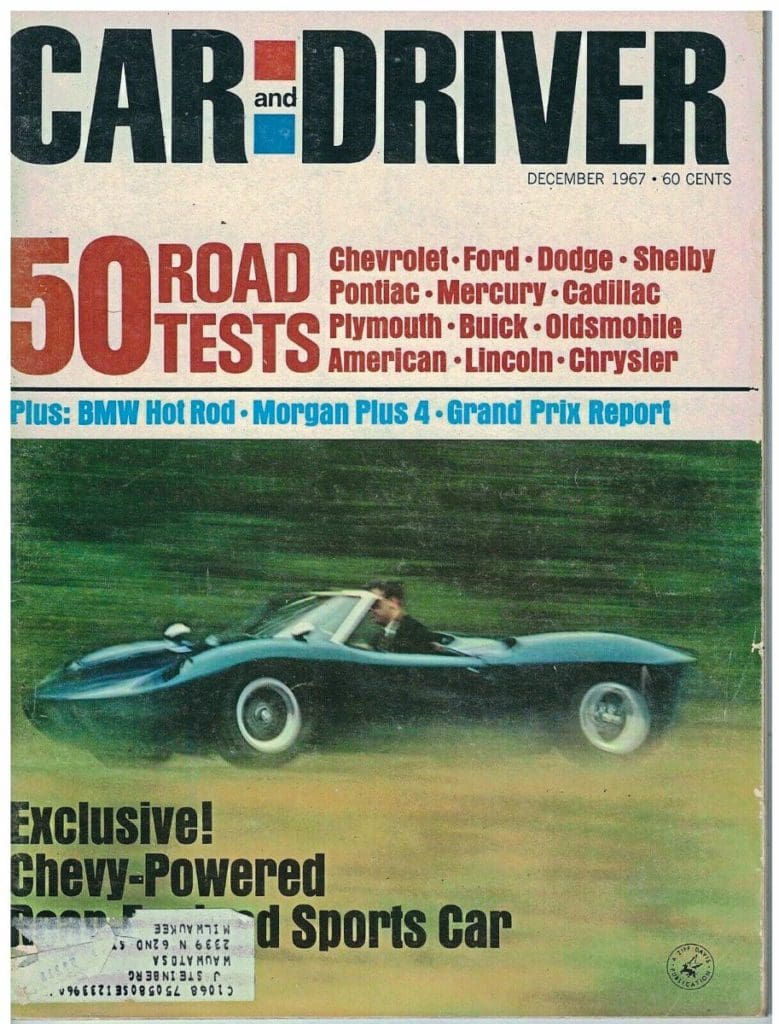 Lincoln Continental 1961-1969
This generation of Lincoln Continental (the fourth) was introduced in 1961 and was around for much of the decade until 1969. The '61 was a clean sheet design and so different from the previous Titanic '58-'60 generation, that unless you knew they were both Lincolns, you'd assume they were from different manufacturers. Available as a four-door sedan and a four-door convertible, the '61 to '63s were pretty similar, with the first big change coming in 1964 when the car was stretched four inches to allow for more rear passenger foot room.
Disc brakes were introduced in 1965 while 1966 saw the introduction of the Continental coupe, like the model shown here, as well as the C6 three-speed automatic transmission that was in production until 1979; 1967 was the final year of the convertible, with 1969 being the last year of the car's 'suicide door' layout. Cadillac was always the leader of the luxury pack during the Fifties and Sixties, but Lincoln always offered an intriguing alternative and some would argue that this generation of Lincoln offered a more restrained, tasteful alternative to GM's top dog offering, Cadillac.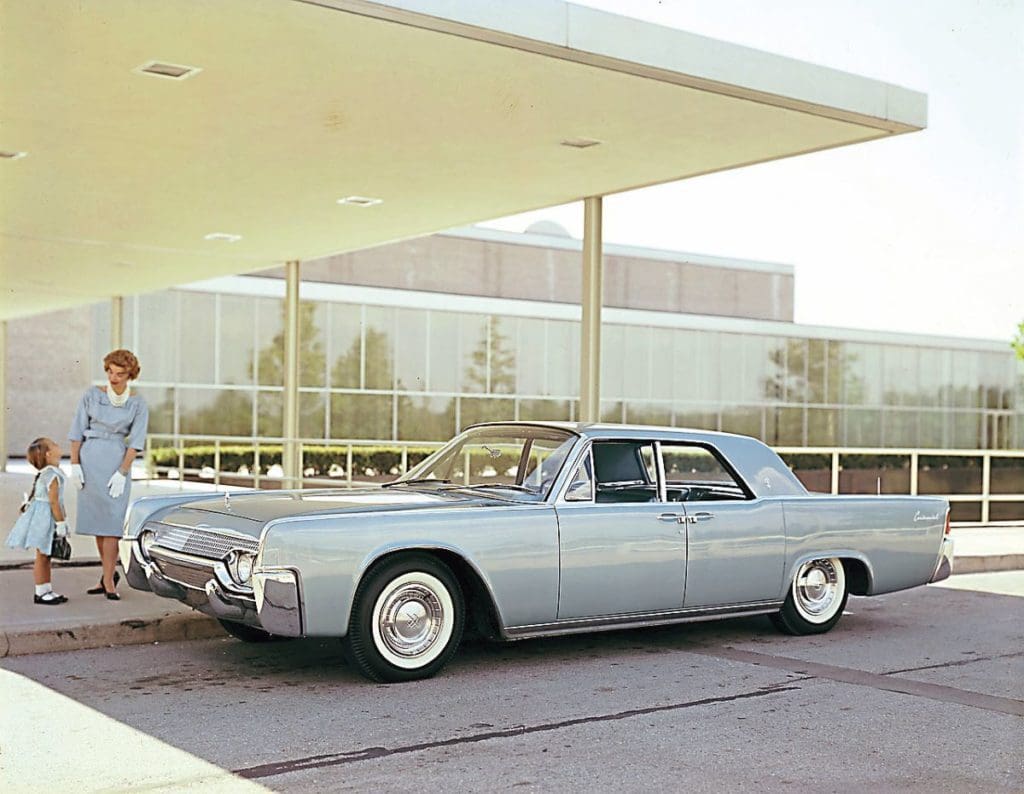 Sales of Continental coupes like this model must have been stymied by the launch of the glitzy 'talk-of-the-town' Lincoln Continental Mark III the same year (from April 1968, although it was considered a 1969 production model) and indeed sales fell by almost 2000 units from 11,060 in 1967 to 9415 in 1968. With a price difference of only $850, punters obviously decided it was worth paying the extra money for the Mark III, which was considered a sensation at the time.