Before you know it, that autumnal chill has arrived in the air, the nights are beginning to draw in, the hedgerows are brimming with blackberries and children are eyeing their new school uniforms with a sense of inevitability.
Yes, August is fast heading out the door, and classic car owners will be looking at their treasured motors and wondering how many more glorious dog days of summer are left to cruise in their stylish Yanks.
The answer – there's life in the old dog days yet! There's a feast of super shows right through September, which can be one of the most settled, balmy, sunny months weather-wise. So make sure you join in the final hurrah of 2017 and support the organised events, shows and rallies listed in the pages of September's Classic American magazine.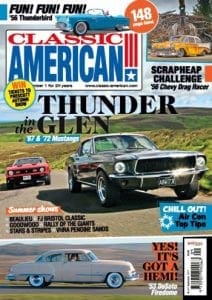 There's plenty more to enjoy in the latest issue, including a chance to win tickets to the Prescott American Autumn Classic on September 30 and October 1, and to read reports from all the shows that Classic American newshounds have been to over the past few weeks.
All manner of classics are gracing the pages of the latest issue, including Trevor Williamson's delightful 1928 Buick Master Six, Bjorn Melin's beautiful 1953 DeSoto Firedome, Kevin Pooke's 1969 Oldsmobile Ninety-Eight Luxury Sedan, Chris Guite's 1966 Dodge Charger, Brian Preston's pair of Mustangs and Keith Atkinson's stunning 1956 Ford Thunderbird.
Our special American & Modified section features the most amazing 1956 Chevrolet 210, which does 0-60mph in just over a second.
Article continues below…
Advert
Plus we've news, your letters, and a selection of excellent readers' cars for sale as well as a host of advertisers who can help make your American car-buying dream come true. So if you don't yet have a classic American car to cruise in, but would like to join those who do, here's your chance to get involved!
Check out a preview of the September issue of Classic American here:
https://issuu.com/mortons-digital/docs/classam_15-08-2017?e=7600234/52060328
Article continues below…
Advert