This resto-mod 1962 Corvette roadster is one man's ideal of a classic supercar − but you have to look carefully to spot the clues…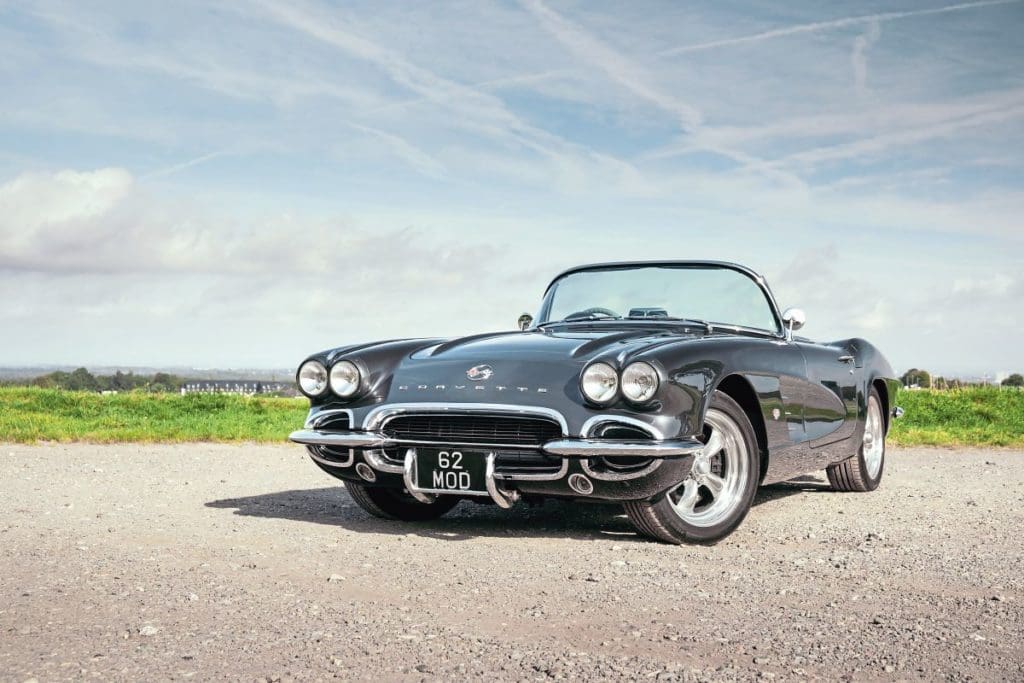 Words: Nigel Boothman Photography: Jonny Fleetwood
The Torq Thrust II wheels are probably the first thing you notice. They're such a popular addition to American classics from the great V8 years of the Fifties, Sixties and Seventies that we don't immediately associate them with niches like 'hot rod' or 'resto-mod'. Quite often, they're the only modification the owner has made. That's not the case here, not by a long chalk.
Those exhaust tips are the next clue. Four of them in the middle…was that ever an option? No, but custom Corvettes have sported four tailpipes before. Usually in a more obvious manner, not a neat job like this. The paint isn't a 1962 Corvette colour, but then it's not a 'look at me' shade of candy pink or tangerine either. It's a sober gunmetal finish, one tone all over, which was indeed normal for 1962 after the optional white side-coves were dropped in 1961.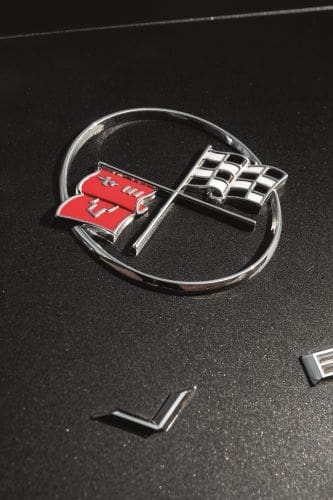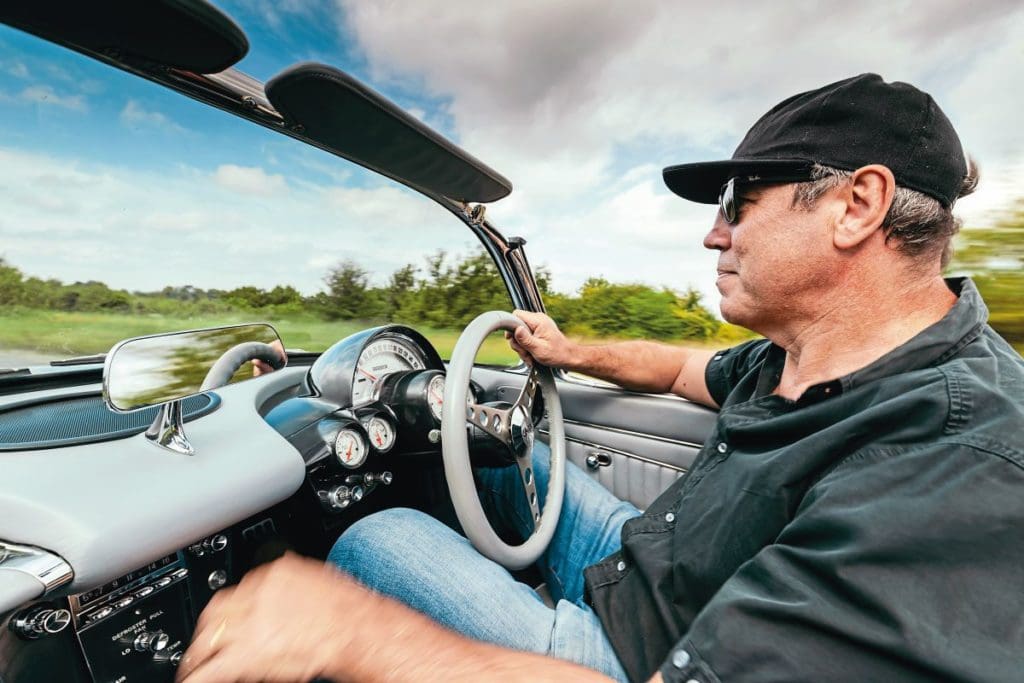 As you walk around the car, you also notice the clear lamp bezels at the rear before the most obvious thing suddenly hits you − that steering wheel. It's on the right-hand side. Conversions from left-hand drive are not unknown among UK Corvettes, but they're definitely rare, and it's when you peer into the cockpit that you start to appreciate the scale and detail of this build. The gauges are all non-standard, but have a suitably retro look.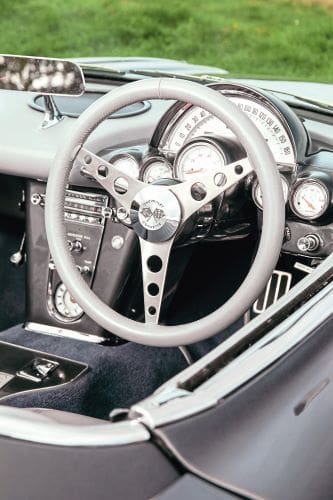 The wheel is a Corvette item, trimmed in the same grey leather as the rest of the cabin, like that more modern-looking gearstick gaiter. And there, next to the gearstick, is the little brushed steel plate showing the shift pattern…complete with six forward gears.
Time for some explanation. This car was bought as a part-completed project by Mark Hemsley in 2016, when he saw it advertised with Claremont Corvette. He'd fancied a C1 Corvette for a long time, ever since seeing another right-hand-drive example some 15 or 20 years before, when a house purchase kept it out of his reach. But as time moved on, he realised he was in a position to create his perfect Corvette. And lo and behold, he found one that was part of the way there already.
"It was effectively a rolling chassis and body," says Mark, "but with this excellent paint-job already complete and an engine built to a very high specification by Knight Racing Services. I was looking for a longer-term project, and there was still a fair bit to do on this one, but the more I looked at the bills for the work and the recent photo record, the more confidence it gave me."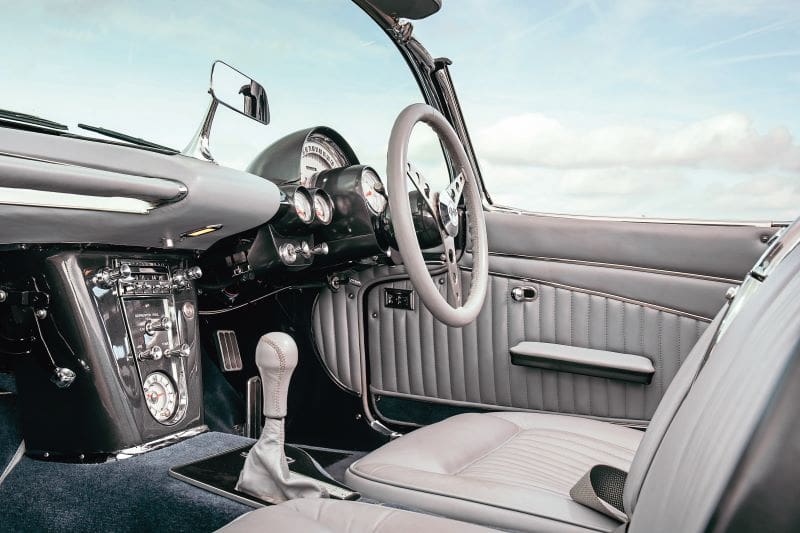 In other words, why not grab a head start? It would certainly be difficult to resist the temptation of that engine, especially once Tom Falconer of Claremont sourced the engine build sheet and confirmed it had been assembled by Peter Knight himself. It's an iron small-block stretched out to 383cu in, carrying a forged steel crank and topped with Dart Pro-1 aluminium heads. The camshaft is a Crower 277/286 fast road/race item and the engine is fed by a Holley 750cfm double-pumper, fired by MSD's electronic ignition and an MSD Blaster high-output coil. It was dyno'd on completion at a peak of 425bhp… but that was without the additional shot of nitrous which the original build had intended. And more of that, a bit later.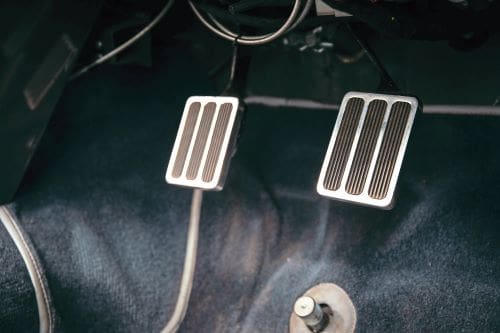 From the very beginning, this was going to be more than an old car with a hot engine. Mark was also attracted to the project because it was built on a Street Shop aftermarket chassis frame, which is both stiffer than the original and comes with suspension pick-ups for much more capable axle control. In this case, the Corvette's original solid rear axle is now five-linked to the chassis, making a vast difference in efficiency of power delivery. As you'll know, if you've ever driven a C1 with a V8, you can provoke a loss of traction at that rather skittish rear end even with the lowest of Chevy's standard outputs. Keeping well over 400bhp in check demanded a bit of thought, as Mark explains.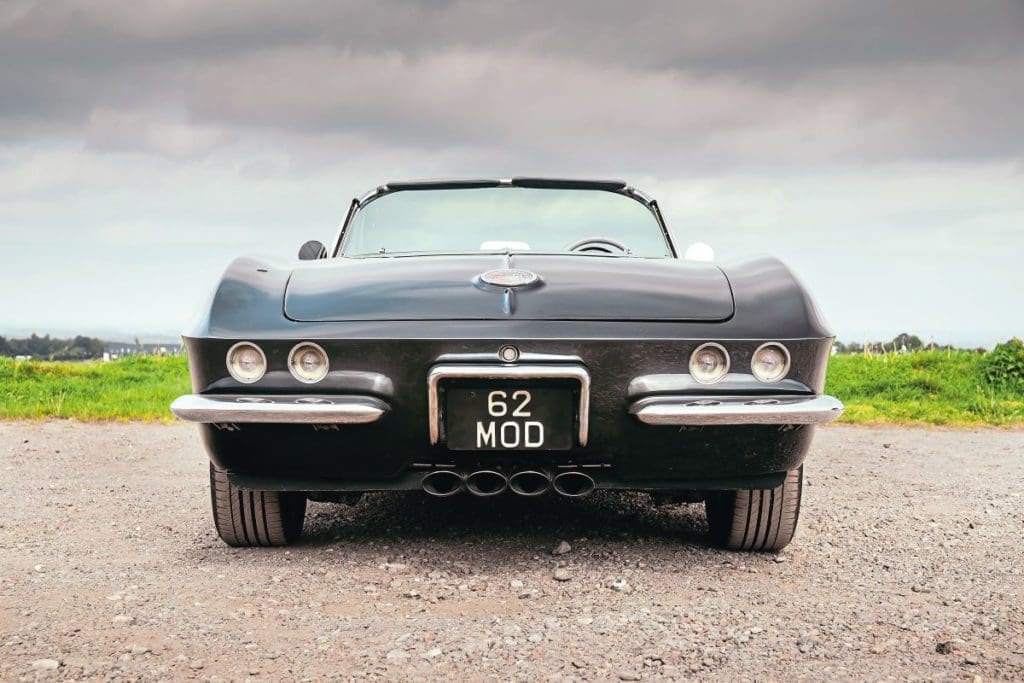 "There are front and rear anti-sway bars and the original leaf springs have been replaced with Aldan coil-over spring and shock-absorber units," says Mark. "It has to stop properly too − the original drum brakes would not be adequate for a car this fast, so it's running vented disc brakes all round, helped by an electric servo." Once Mark bought into the car's completion, the biggest single job for Claremont to tackle was the right-hand-drive conversion. "It was a vast preference for me," he says, "not because left-hand drive is impossible to cope with, but when you're re-engineering an old car with this level of performance, any extra element of control is a good thing. And you don't want to be on the wrong side of the car when overtaking!"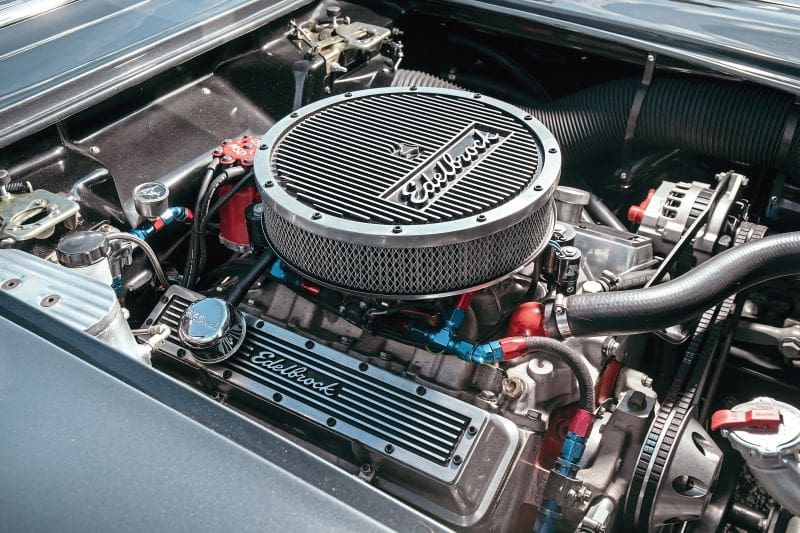 It's quite an involved process when you consider modifications to the bulkhead, and it's one that Mark was able to trust to Matt Davis at Claremont. The alteration is much more than a mirror-image of standard C1 Corvette steering, as it seemed sensible to change to a power-assisted rack and pinion set-up when the chance presented itself. The parts, produced by a company called Flaming River, add a good deal more precision to the steering feel than the old GM recirculating ball arrangement.
As well as fundamental technical changes, Mark also had the luxury of choosing his preference for visual features. One example is in the coves behind each front wheel − those three strakes are a 1961 Corvette feature, but Mark prefers them to the balder 1962 look, so on they went. Someone encouraged him to go further and fit the 'mouthful of teeth' grille from the 1960 model, but Mark knows his own mind. "I like the car's fairly restrained look − there's enough chrome already," he says.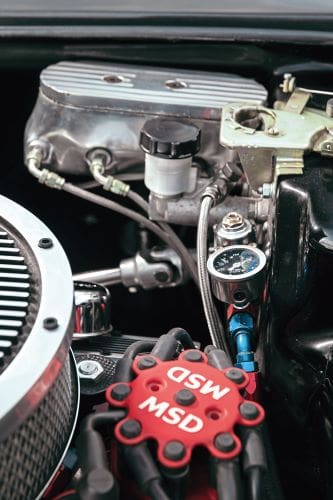 Back to the cabin, and there were some interesting developments afoot. The gauges came from Auto-Meter and tread a careful line between clarity, modernity and a suitable period look. The really fun bits, though, are harder to spot. Flick up the ashtray lid and inside is a small collection of switches with strong echoes of James Bond. Rather than firing you up in the air, these controls are there to pin you back in your seat.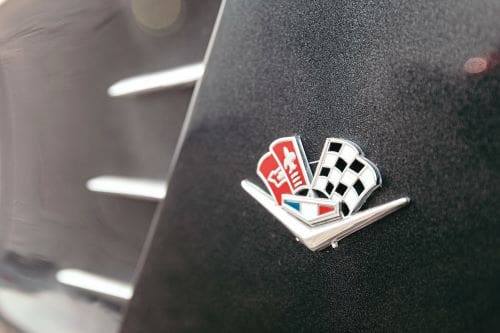 "They're the switches for the nitrous system," says Mark. "I researched what was available and the technology for nitrous oxide systems has moved on a bit, so I upgraded what was originally intended for the car to a Nitrous Express Max 4 progressive system. It comes in at 50% throttle − we had to source and fit a throttle position sensor − and then releases an increasing proportion of nitrous right up to 100% charge at 100% throttle." The result, at peak, is a terrifying 599bhp. And in case that makes you nervous for even these incredibly high-spec engine internals, there is a gauge that Mark has cleverly hidden in the right-hand side of the dash to give an air-fuel ratio reading and ensure it never gets too lean. "It's the only digital gauge in the car, and it stays under a little cover most of the time," says Mark.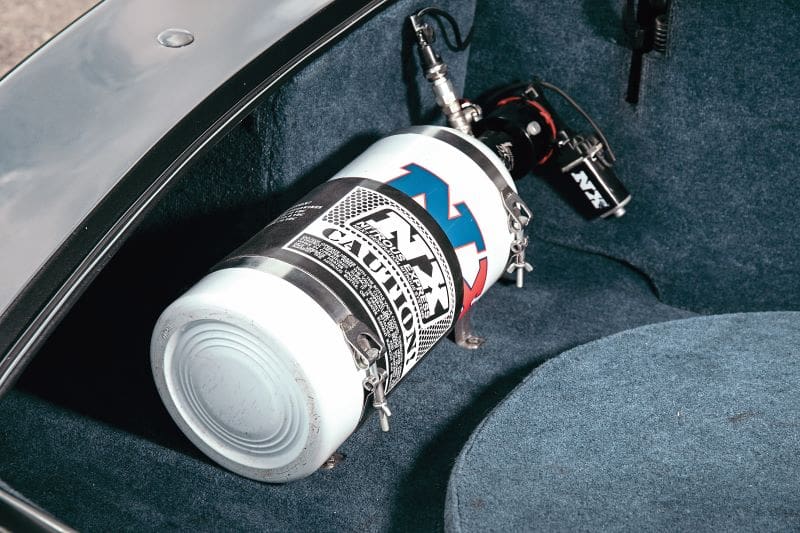 Despite all this potency, the car is meant to be a pleasant, appealing way to cruise around. So the carpets, the mohair hood, the leather seats, dash covering and door cards are all custom made. The Wonder Bar radio conceals FM and Bluetooth-compatible internals and there are SPW electric windows to take the chore out of cranking your own glass. It's all a very likely temptation to the light-fingered element in society, but figuring out Mark's combination of battery isolator and immobiliser means it must be more secure than any modern car you can steal with a hacked smartphone. Which leaves one big question…what's it like on the road?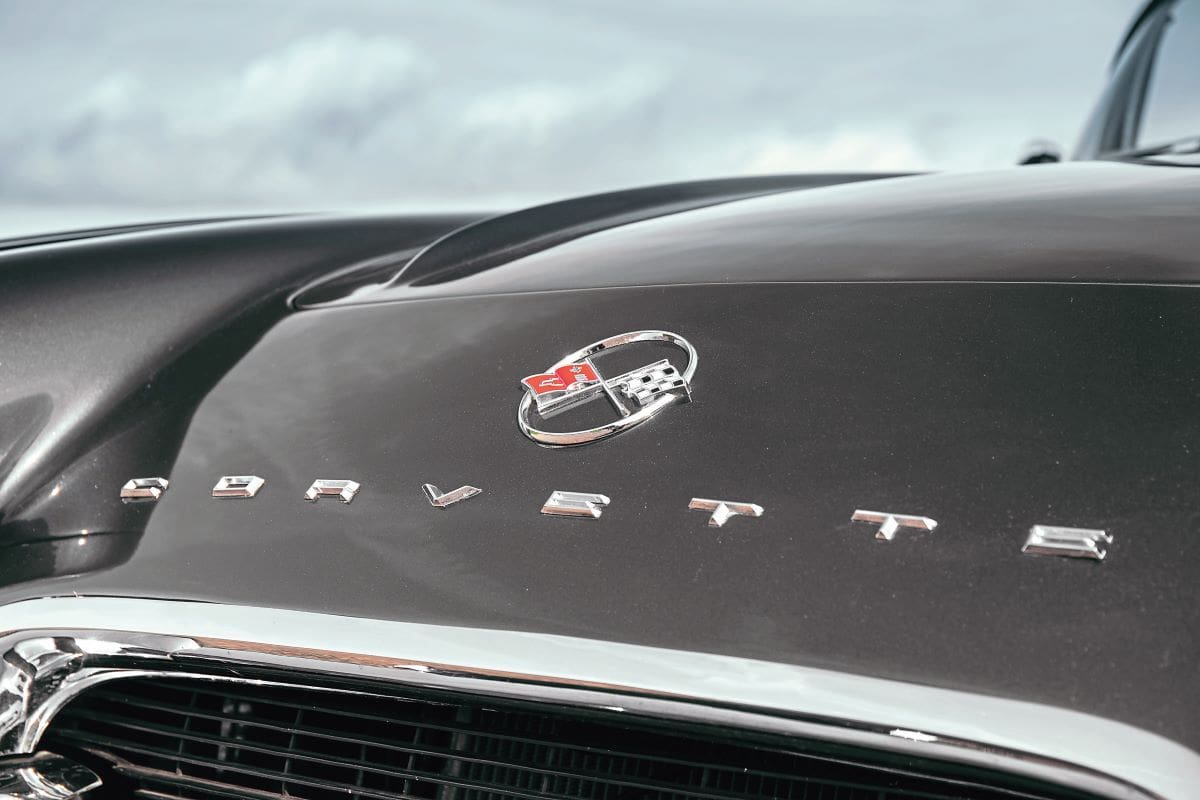 "It's been great fun to own," says Mark. "It was more or less finished in 2018, but a year or so of ironing out teething troubles means it's really only been in use since February last year. It feels very sure-footed, thanks to the disc brakes and the five-linked rear axle. The steering is great too."
Yes, yes, but what about the power? We can hear the smile in Mark's voice as he answers. "There's a lot of performance. And, yes, it will still step out of line if you put your foot down. But it doesn't feel scary and it behaves itself in normal traffic." Has it proved to be what he wanted? "Absolutely. It's powerful and fast, but still not a complex car…you can do maintenance without plugging in a computer. I've had newer supercars like Ferraris, but they lack the character of older cars, which is exactly what I wanted to preserve in the Corvette. And I think it's worked."