Martin Skipper missed out on his 1949 Cadillac Series 60 Fleetwood four-door sedan once – so when it came up for sale a second time, he was determined not to miss out again. But it wasn't all plain sailing, as Keith Harman discovered…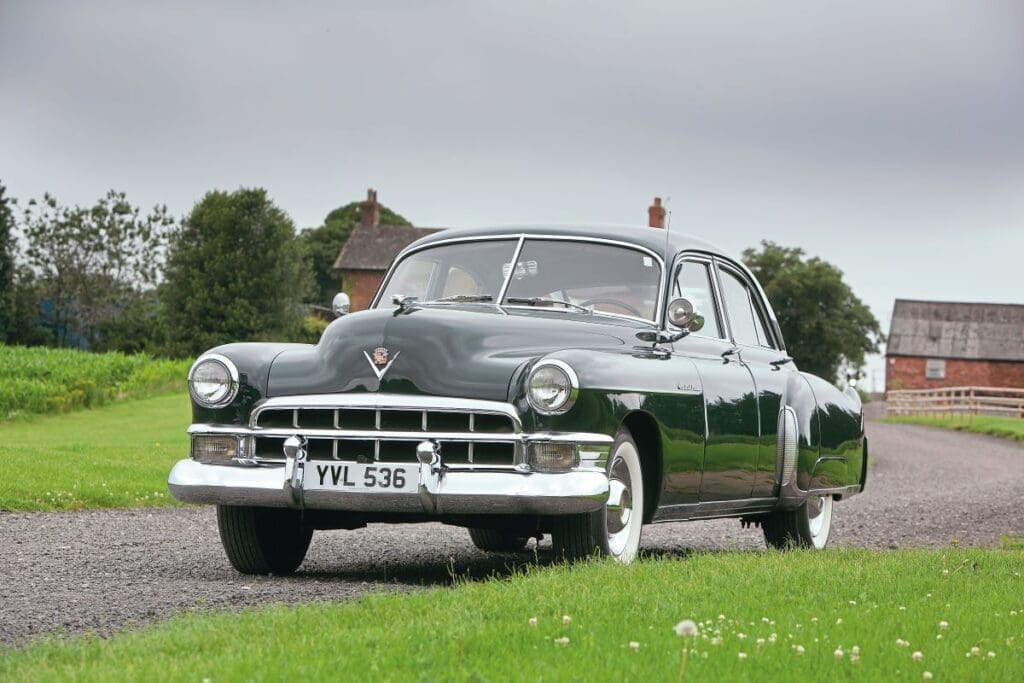 Words: Keith Harman Photography: John Colley
Martin Skipper of Sandbach in Cheshire is getting to be such a regular in Classic American, he'll soon have his own office with his name on the door! Regular readers will recall our feature on his stealthy sleeper '52 Mercury and, as we mentioned in that feature, he has previously had three of his other cars in the magazine in the past. We also mentioned that Martin had bought most of his cars from the same source, a trader in classics over in California called Steve Snyder of
Vault Cars.
However, Martin's fine '49 Cadillac is the exception – this one he found himself while browsing online, it being listed and ready to be sold at a Barrett-Jackson auction back in 2014. In fact, we found the original listing too, as interestingly, BJ keep archives of all the cars that go across their block on their website. Obviously as Martin was unable to attend the auction himself, the Caddy ultimately went under the hammer and was bought by a dealer called Kevco Motor Cars of Sioux Falls, South Dakota. By chance, Martin found the car again, both in Hemmings Motor News and on Kevco's own website. This time he didn't let it get away and by June of 2014 he had made it his own.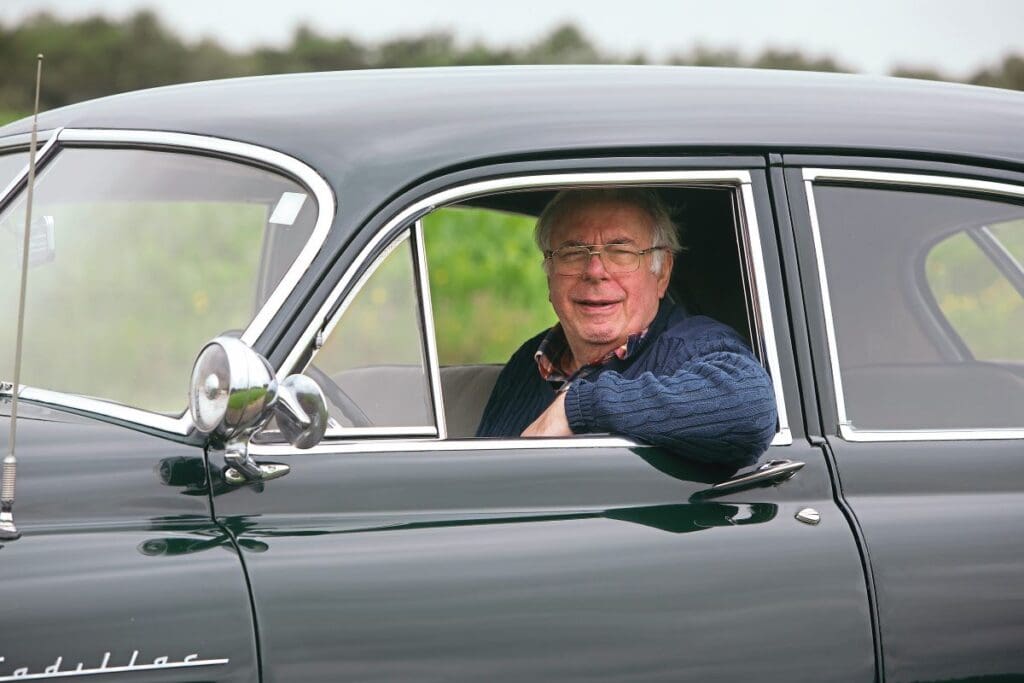 Obviously, buying a car unseen without anybody 'on the spot' to check it out is a bit risky, but Martin says he was lucky, apart from the issues he was about to face with the engine once he had got it home. It's true that the car was advertised even at the BJ auction of not having much history, there's nothing prior to 1991, but from '91 to '96 it belonged to one Augustus Higginson of Santa Barbara, California, and then a lady in Missouri called Debra Mahanna. Supposedly it'd had an engine rebuild back in 1993, as well as other mechanical work, before being laid up for the following 15 years, this being the only history that came with the car.
Unfortunately, although the car arrived in the UK soon after purchase, family health issues meant Martin's time and attention were needed elsewhere for the following three years. When he did get time to spend getting to know the car however, he soon found issues with the engine that needed attention. "It always seemed difficult to start, and never ever felt like it was running right," Martin told us. In 2017, the decision was made to have the engine rebuilt and the car was shipped off down south (to a company that shall remain nameless) for the rebuild.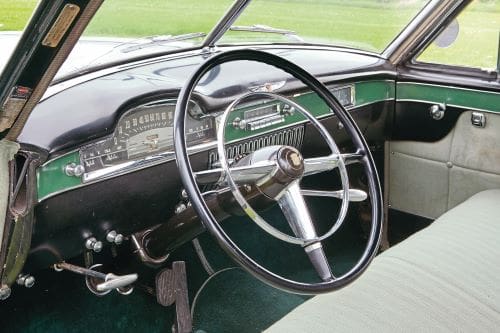 Unfortunately, whatever the company did, it wasn't right and Martin was forced to return the car for rectification. The engine was supposedly rebuilt again, but on its second return, bad oil leaks when running showed the company seemed to be seriously out of its depth with American V8s.
Martin decided to look elsewhere to get it sorted for good, eventually settling on E G Wright's of Ashton-under-Lyme (Tel. 0161 344 0054). This time Ernie Wright did right by Martin, including regrinding the crank which was seriously out of balance, something either ignored or not discovered by the first company which wasn't good. Martin wouldn't now hesitate to recommend Wright's for its work and customer service, and so also entrusted the business to rebuild the Hydramatic transmission too, as previously it was sometimes proving difficult to select gears.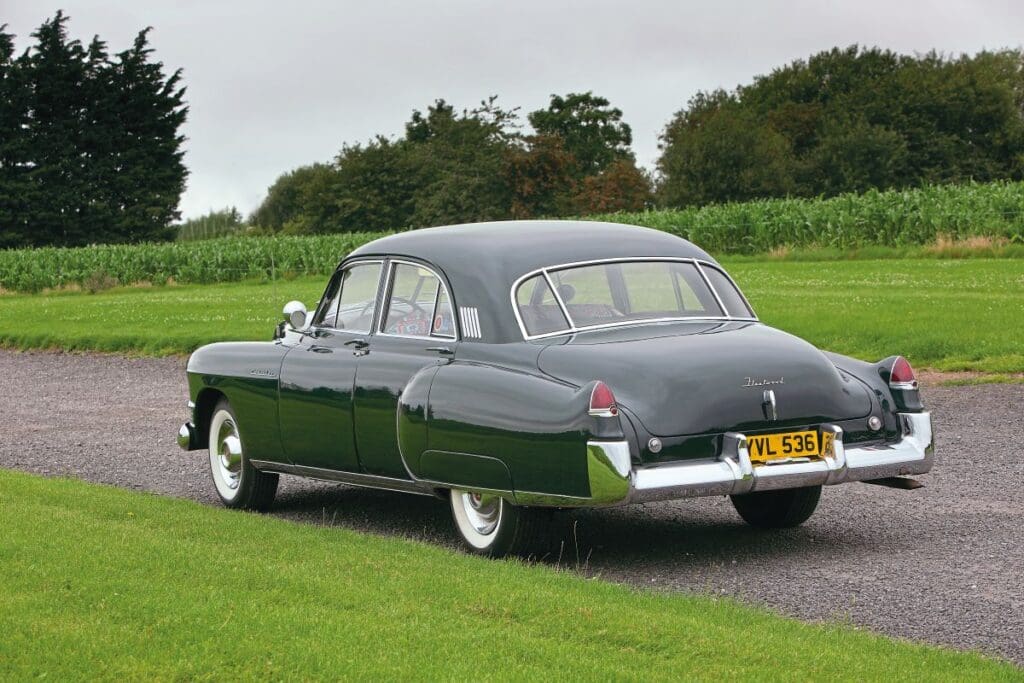 The front suspension was gone through as well, including removing the wooden blocks discovered wedged into the coil springs (!). Since the rebuild, the single carburettor has also been rebuilt, Pertronix electronic ignition has been installed and the radiator reconditioned with a modern, more efficient core. The Caddy has also had an upgrade to electric wipers and a partial rewire, as much of the original loom was showing its age. Martin intends to also upgrade to an electric fuel pump, and once that's done, he'll consider the car as reliable as it can be.
The year 1949 was the second year of Cadillac's finned rear fenders, thanks to designers Harley Earl and Frank Hershey, setting a styling trend that would be a hallmark of Cadillac for the next decade or so. The '49 is a handsome design, and was the first car to garner a Car of the Year award from Motor Trend magazine; the fact that it was also the first year of Cadillac's overhead valve V8 probably had something to do with it too, the high compression 331 cubic inch motor becoming an instant hit.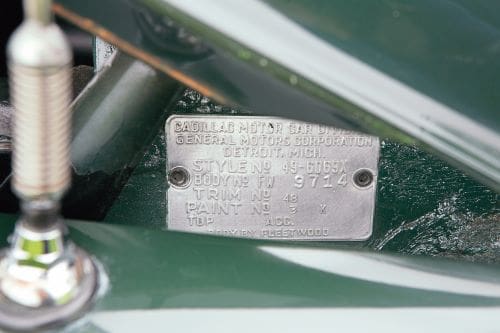 The 60 Special Fleetwood was Cadillac's flagship model for 1949, and looking at Martin's lovely Dartmouth Green example, it's easy to see why. The car has been resprayed at some point in its life, but just requires a few small touch-ups to make perfect. Otherwise the car is in very solid and original condition body-wise, perhaps pointing to a life lived on the West Coast during its early ownership. The substantial bumpers have been rechromed at some time, a fact mentioned on the Barrett-Jackson notes when it sold in 2014. The '49 also features the classic 'sombrero' full wheel trims, still a sought-after accessory item for owners of custom 'leadsleds'.
The stylish interior is also mostly original, and the dash in particular is an exercise in classy design and restraint, the instrument cluster echoing the grille in design, and with the solid band of exterior colour across the centre and just enough chrome, it's a comfortable and pleasing place for driver and passenger to pass the miles. The dash also features the stock radio, and Martin says that the seat squabs have been re-covered at some time using the stock fabrics, and the carpets certainly don't look as if they were first fitted in 1949 either. The driver's side screen pillar features an accessory spotlight with internal adjusting handle, the only non-stock accessory on the car.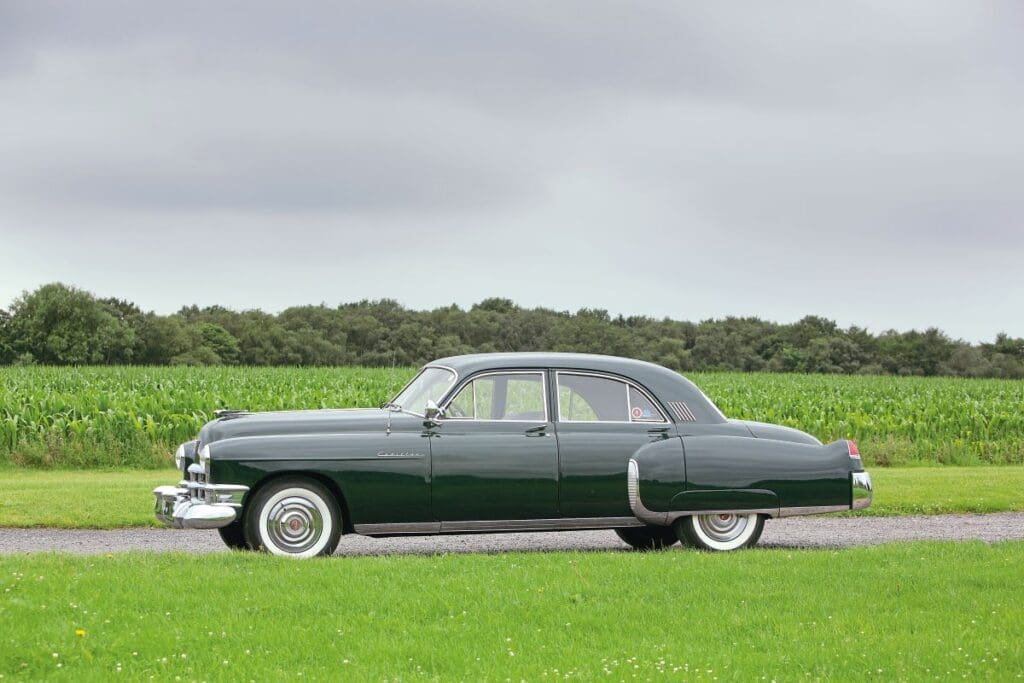 Switches on the upper door panel show that power windows were standard on this model in 1949, but the huge steering wheel indicates that customers had to wait another couple of years before power-assisted steering became standard fitment on Cadillacs. The '49 is yet another car imported in the last couple of years that's yet to be appreciated by fellow enthusiasts around the country due to the general restrictions we've all had to endure, but we're sure that when Martin does get out and about in the Cadillac, it will create a lot of interest and appreciation from other Cadillac owners, Fifties fans and everybody else who sees it.