Not many of the first Corvettes built were sold. In fact their sales were so underwhelming, it almost looked as if the model might be cancelled. This rarity factor made for a difficult search for one British fan of the model – but he got one in the end, as Paul Bussey found out…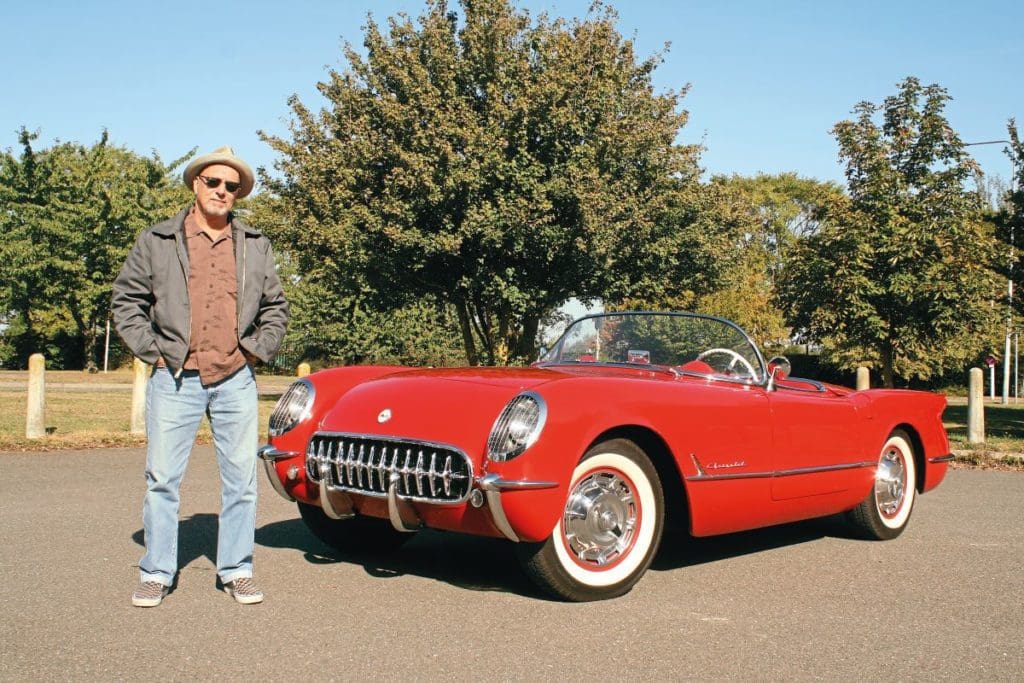 Words & Photography: Paul Bussey
The Corvette C1 was the model that started it all, the model which initially gathered slow momentum into that enduring roller-coaster ride of continuous generations and development, which went on to be recognised as America's favourite sports car – and that roller-coaster ride is still very much alive and moving today.
At one stage it was feared that the Corvette would actually suffer a premature ending. Following the first 300 cars built at Flint in 1953 − the first car rolling off the line on June 30 − production moved to St Louis for 1954. Of the 3640 that were produced, more than half remained unsold in early 1955. Not good, when you realise that the target sale for 1954 was 10,000 cars. People, in their droves, were buying the Ford Thunderbird, which in contrast to the Corvette was built from steel and powered by a V8 engine – not with a glass fibre body and essentially an aged six-cylinder truck engine for power. However, in a higher state of tune, the C1 did have a top speed of 110mph and a 0-60mph speed of 11 seconds.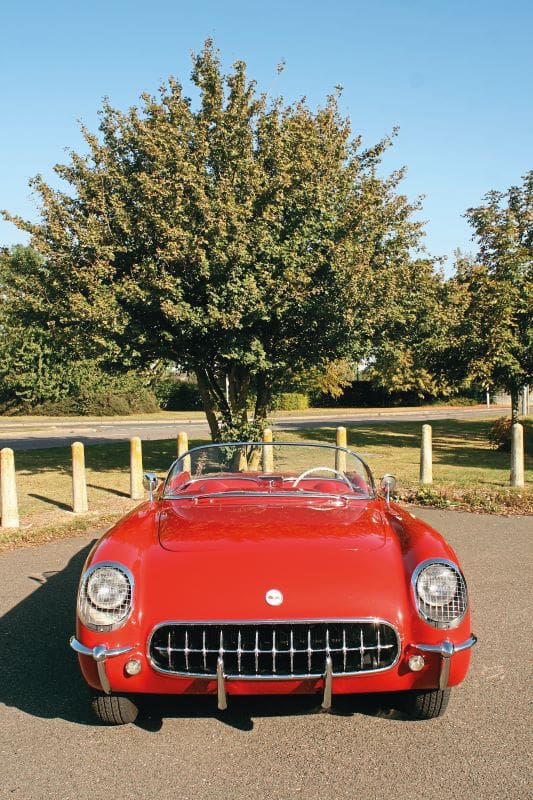 Options were extremely limited to say the least. The first 300 cars were only available in Polo White, with red interiors. Pennant Blue was available from 1954, as was Black, but fewer than 10 were painted in Black, and you didn't even get wind-up windows. Future Corvette production was on a knife edge. The heads of department at Chevrolet rallied around the model, as they still believed that they were on to a winner, especially with the introduction of V8 power in 1955 – and of course, not forgetting the invaluable input of Zora Arkus-Duntov, Chevrolet eventually saved the Corvette from an untimely demise.
Actually coming across a Corvette C1 model here in the UK is fairly rare. You may be lucky enough to see one at the CCCUK Corvette Nationals, as they have been known to attend on rare occasions. Around five or six years ago when Andy Robinson decided he wanted to own a C1, a couple were available for sale in the UK, but one of them didn't float his boat and the other was well above his budget, so it looked like he was going to have to source one from the US.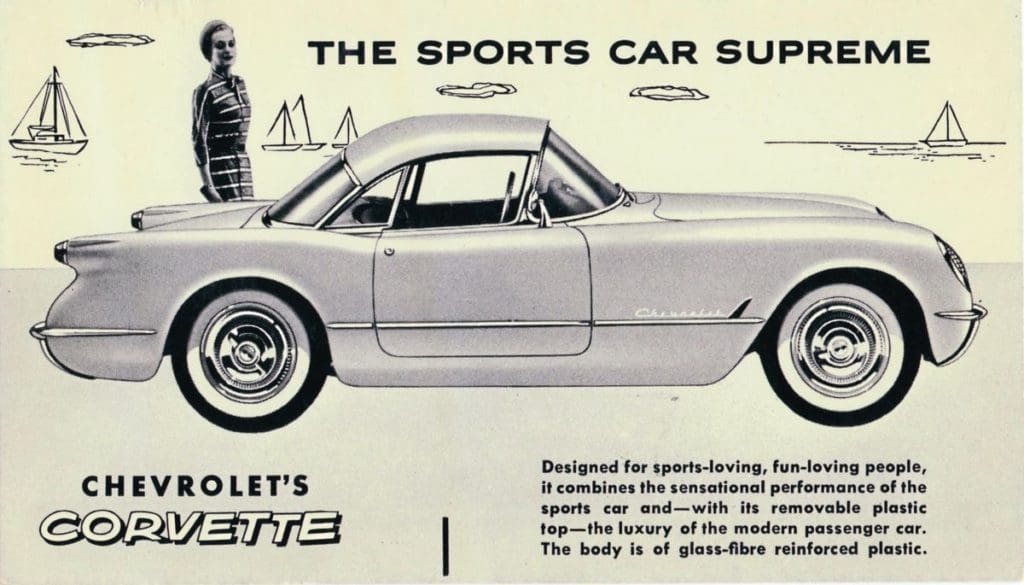 Andy Robinson is no stranger to classic car ownership, with a penchant for American cars. Indeed, he was driving around in a first-generation Mustang when he was only 18 years old, which he went on to sell to purchase an Aston Martin DB5, not in the best condition and which he sold for £750 − if only he'd kept it, he laments! He then expanded into doing a little dealing in Yanks many years ago in the Seventies. He's owned Mustangs, Trans-Ams, Corvettes (two C2s) and hot rods (which still remain his main passion).
"It was something of a wrench to have to sell my '32 and '39 coupe hot rods in order to finance the purchase of a Corvette C1," says Andy. "However, there's just something about the shape and styling of the C1 that's so appealing – I really love it! I remember seeing a C1 for the first time and it was like something out of a Dan Dare comic, it had a space or jet age look. My first choice of colour combination is Sportsman Red paintwork with a red interior.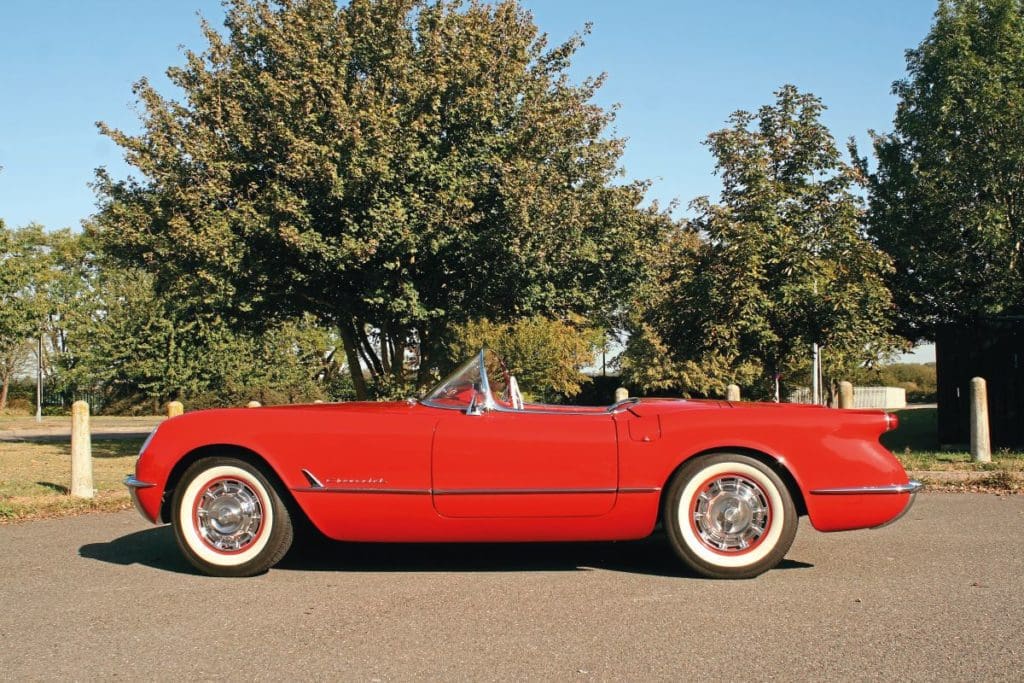 "I did spot a C1 for sale in the US, but that was Polo White with a red interior and had been converted from automatic to manual transmission. This car had been sold before I arrived in the US for a holiday, but nevertheless the vendor kindly let me have a drive of it. Changing the transmission hadn't done the car any favours. It was fairly lively with a three-speed manual, but a bit like driving a tractor. I did view another C1 for sale, but it needed too much restoration work for my liking. It seemed the only cars that were available were wrecks needing full restorations, or fully restored at hugely expensive prices."
Still totally committed to purchasing a C1, Andy bided his time and then quite by chance, a 1954 model came up for sale in 2019 through a company called DD Classics in Brentford, Middlesex. As luck would have it, Andy knew the proprietor Danny through his dealings with American cars back in the Seventies. "Danny offered me a really good deal on the C1 and was very fair," says Andy. "I purchased the car on the proviso that if anything wasn't quite right or needed attention, then Danny would remedy any problems at his expense." Well, you can't be much fairer than that.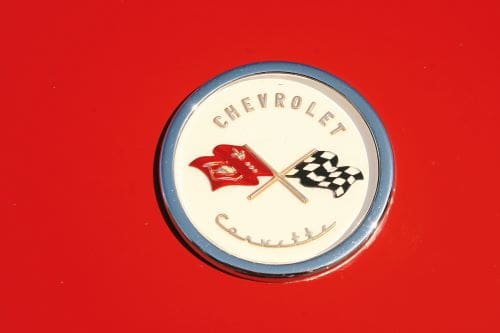 Since driving the car to a few shows in the late summer of 2019, Andy has discovered that there are a few problems, notably with the back axle, gearbox, and an engine oil leak, which were sorted out over the winter months. As far as he is aware, his C1 spent the last 10 years residing in the South of France, but any earlier history is not known. The C1 was part of a large collection which was purchased by DD Classics, which is how the car ended up for sale in the UK. "The car didn't have a set of side screens, but I managed to source a pair in the US, which will need restoring," says Andy. "Fortunately, the beige-coloured soft top is in perfect condition. I reckon the car was fully restored around 10 years ago and remains in excellent all-round condition. The underside of the bodywork is every bit as clean as the top and I can't find any evidence of damage or repair work. Underneath the wheel arches, the surface had been painted in satin black and they are silky smooth to the touch, no rough GRP edges anywhere. Whoever completed the restoration did a very good job."
Andy reports that the 235cu in Blue Flame Stovebolt-Six engine (rated at 150bhp) runs very well and features a triple Carter one-barrel side draft carburettor set-up, with bullet-style air intakes attached to each carburettor which, together with the inlet manifold, actually fill almost half the engine bay itself. This is coupled to a PowerGlide two-speed automatic transmission. "The only problem with the triple carburettor set-up is that if you want to fit power steering or a dual circuit braking system, then you have to lose one of the air filters," points out Andy.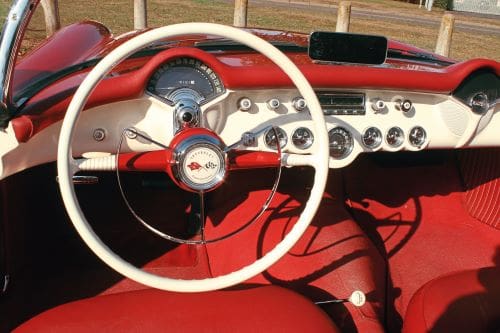 "In reality, I find the steering really beautiful and the brakes work well too. The steering wheel is quite upright, there's very little rake and it's close to your chest. The wheels are currently shod with radial tyres, which obviously enhances the handling qualities, though someone said to me that fitting crossplies would be better, but I don't know how that works. I once owned a hot rod shod with crossplies and we became stuck in the tramlines made by lorries and couldn't get out. A friend following me behind thought I was having a fight with my partner Sharon in the car. The other two Corvettes I viewed prior to purchasing this one all had damaged and repaired side trim. You can't get hold of this any more, but fortunately the trim on my car is in excellent condition."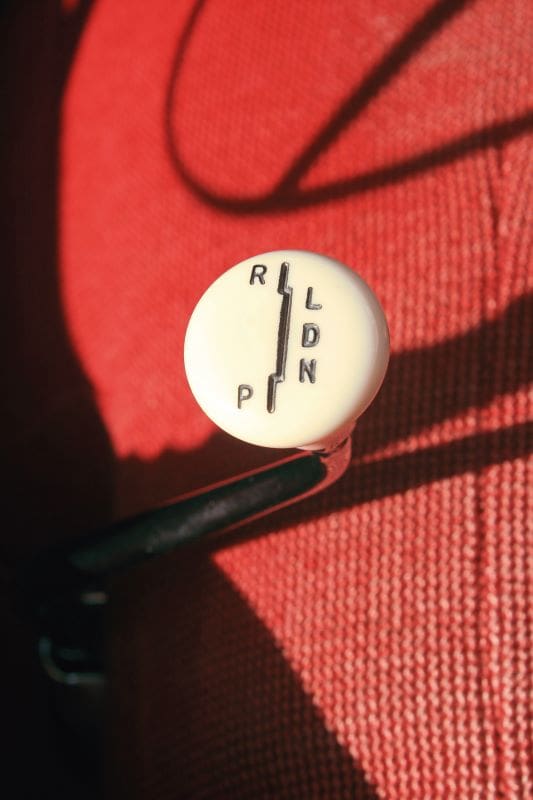 Andy intends that his 1954 Corvette C1 will definitely be a keeper; he sold two hot rods in order to finance its purchase, something that he didn't do lightly at all. It certainly represents a stunningly fine example of an early model and one that he hopes to be deriving maximum driving pleasure from in future. We're not sure that he'll ever get around to fitting those side windows either. The C1 is in its element, being driven on warm sunny days, soft top and windows firmly stowed away.
This model is all about the beautiful flowing curvaceous lines, from the symmetry of the dashboard design and the wraparound windscreen to the gorgeous Robert McLean penned bodywork, with its toothy chrome grille, recessed headlights, faired-in rear number plate, jet pod tail-lights and such delicate and discreet brightwork trim. Feast your eyes!