FIA/FIM European Finals, Santa Pod Raceway, Thu.7 – Sun.10 September 2017
Santa Pod Raceway is gearing up for the biggest drag race of the year. The FIA/FIM European Finals will bring some 250 teams, on two wheels and four, from 15 or more countries to the racetrack on the Bedfordshire/Northamptonshire border to settle the season's major continental championships. The European Finals takes place from Thursday 7th to Sunday 10th September.
Top Fuel Dragsters, the world's fastest, most powerful racing cars – 300mph, 10,000 horsepower – are the headline attraction, showcased in a feature unique to this event known as 'Friday Evening Nitro'. The second Top Fuel qualifying session is held at dusk on Friday evening when these astounding machines are seen at their most spectacular, with exhaust header fire leaping six feet high as the cars launch thunderously into the twilight. Nitro Funny Cars, flame-throwing Jet cars and a firework display will also light up the occasion – plus a new addition, Gerd Habermann's extraordinary Jet School Bus, which proved so popular on its UK debut at Easter.
Finland's reigning FIA Top Fuel champion, Anita Mäkelä, is making hard work of her title defence, with three first-round defeats nullifying strong qualifying performances. Malta's Duncan Micallef holds a commanding championship lead, having risen from lower qualifying positions to inflict two of those damaging defeats on Mäkelä himself. However, races at Hockenheim (Germany) and Tierp (Sweden) take place between now and the Finals and could easily change the picture. Britain's Liam Jones qualified on pole in each of the last two Santa Pod FIA races (2016's European Finals and May's The Main Event) and will be gunning for his first victory in drag racing's Formula One class.
The Finals also includes a combined FIA European/MSA British Drag Racing Championship round for the hard-charging Pro Mod cars, machines with saloon-car replica bodyshells that cloak pure racing chassis and colossally powerful engines. Bromham, Bedfordhire's new young star, Bobby Wallace, is challenging for the British championship and will pilot his colourful, 1941 Willys-bodied missile, powered by 13 litres of nitrous oxide-boosted V8, into battle against the cream of Europe's contenders.
Article continues below…
Advert
Pro Stock and Top Methanol are the other FIA championship eliminators, supported by a broad array of Sportsman classes with entries from far and wide. On two wheels, the FIM-Europe championship shootouts feature Top Fuel and nitro Super Twin Bike, Pro Stock Bike and Super Street Bike classes.
The European Finals takes place over four days from Thursday 7th to Sunday 10th September, at Santa Pod Raceway, near Wellingborough (NN29 7XA). Alongside the daily programme of European and national championship racing, there is a full schedule of family-style entertainments on, off and even over the track. Access to the pits and to the Live Action Arena, with its Monster Truck and Stunt Displays, is free. For full event information and to book tickets, please visit www.santapod.com or telephone 01234 782828. Tickets may be booked online and printed at home, with discounts available up to 1st September, and as ever, KIDS GO FREE – under-16, three per paying adult.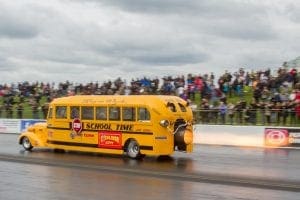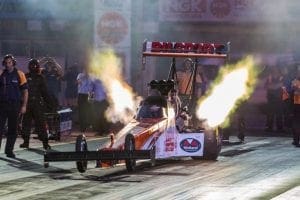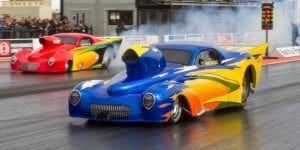 Article continues below…
Advert
Images: Jet School Bus from Germany makes a return visit; Top Fuel Dragsters – twilight spectacular; Bedfordshire's young star Bobby Wallace (near lane) in 230mph Pro Mod action. (Pictures: Dave DJ Jones, Santa Pod)