The ever-popular Autumn Classic event at the famous Prescott Speed Hill Climb will once again be all-American, celebrating the biggest and brightest cars this side of the pond. Saturday 
and Sunday, October 1 and 2, will see special displays by American car clubs, alongside American-themed entertainment, while competitors in a range of national championships tackle the 1127-yard course set deep in the glorious Gloucestershire countryside.
Prescott will play host to the final heat of the Footman James Car of the Year competition and there will also be special displays include American car clubs and motorcycles, as well as hot rods, Model Ts, custom choppers and a dedicated 'show 'n' shine' display area. Also doing their stuff will be the Demon Drome Wall of Death, Rich Goodwin and his Pitts Special aerobatic display, the popular Stars 'n' Stripes comedy stilt walkers and much, much more!
Thinking of displaying your American car at Prescott American Autumn Classic?
Special offer for all American car owners – buy one ticket and get one free with complimentary forward parking display pass for £20 for two people (one day) or £35 for two people for the entire weekend. Show 'n' Shine is open to the first 150 entries through the gate before noon.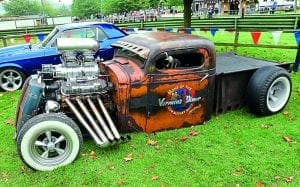  American Car Owners Reference Code: AMC16 – This code is for American car owners only.
 Gates open at 8am, first cars on the hill at 9am.
 Under-14-year-olds 
go free
 Disabled parking available
 Advance tickets £15 
per person, on the gate price £20.
For all the up-to-date information, please visit: www.prescott-hillclimb.com