While the Classic American stand was busy with the Footman James Car of the Year at the NEC in November, we had a chance to browse the show and take a look at some of the cars that were very definitely not factory standard, writes Keith Harman.
It seemed that this year 
there were more than ever, showing that the scene and clubs are a lot more relaxed about non-standard classics than in years gone by. It seemed nearly every club of both US and UK/European marques had something custom or modified on display, including many of the dealers, some specialising in nothing but custom stuff, especially trucks, which still seem to be flavour of the month.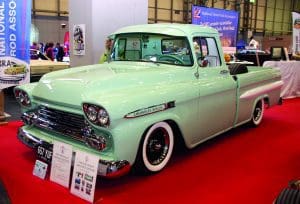 The National Street Rod Association always has a stand at the show of course, and alongside several top-class street rods there was a very tough Two Lane Blacktop clone '55 Chevy, and an immaculate '59 Apache Chevy truck (right) showing the diversity of rides owned by NSRA members. Meanwhile over on the UK Tri-Chevy Club stand, their display interestingly contrasted two very different '57 Chevys, a stock appearing four-door hardtop, and a cool 210 two-door post that, although stock bodied, hinted at being a real street bruiser.
Perhaps the biggest surprise, though, was the Pre-'50 American Auto Club, once a bit staid, who displayed a radically customised rat-style early Fifties Chevy Styline Sedan, complete with heavy roof chop, exposed patch welding and a clear-coated bare metal finish. The UK drag-racing scene was well represented also; Santa Pod Raceway had a stand, and so did the ever crowd-pleasing Outlaw Anglia Club. The body style may be unmistakably British, but they all sport heavy US hardware under the familiar little British Ford design. Stock classic, or custom and modified… yep, the NEC pretty much had it all covered.