Mitchell Langridge is a Ford man through and through, so it should come as no surprise to discover his first foray into American metal is this stunning '67 Galaxie, to which he's added some custom touches of his very own…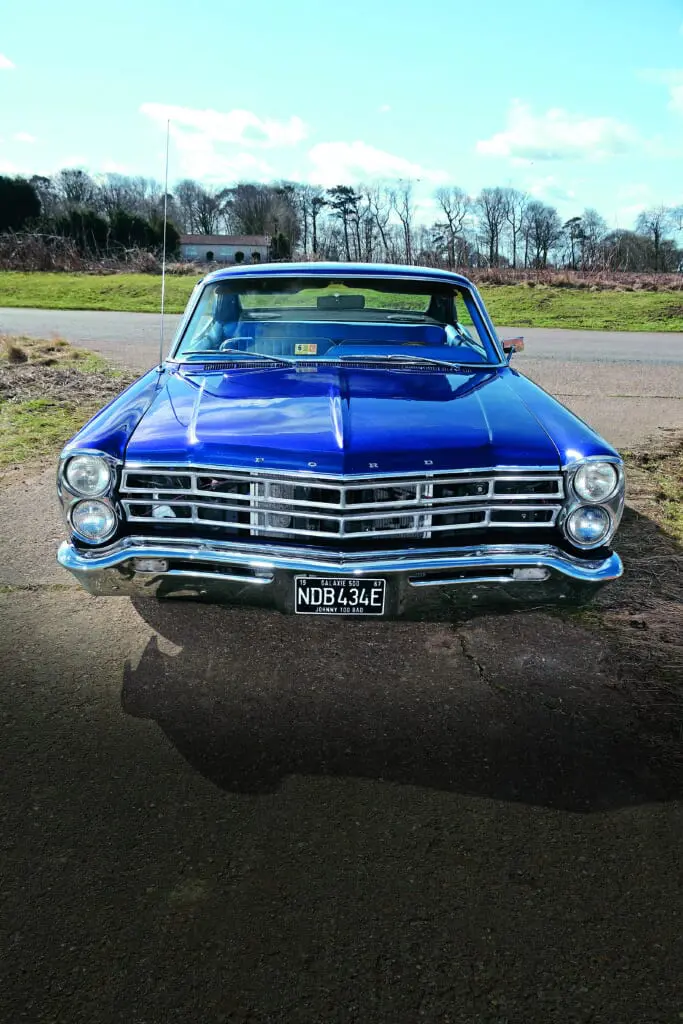 Brand loyalty certainly isn't uncommon and the Ford badge has always been up there when it comes to retaining its faithful followers. Perhaps that's down to Ford's long, illustrious history and motorsport successes and undoubtedly they've manufactured a huge diversity of cars over the years. Mitchell Langridge has been a Ford fanatic pretty much all his life and the amount of blue oval-badged cars that have passed through his hands is truly staggering, beginning with a Fiesta when he was just 16 and making his way through numerous XR3s, Cosworths and RS turbos in quick succession.
"I won't pretend it's easy or relaxing to drive, but it's always good fun…"
Despite already having three desirable performance cars in his collection (Mk1 and Mk2 Focus RS and a Sierra Cosworth), Mitchell still regularly browsed the online classified ads just to see what was about. "I've had a fondness for American cars for decades and I decided to check out the prices of the classics on offer," he recalls.
"A Mustang would have been an obvious choice, but there are loads of them around. I fancied something different, but still a Ford, obviously!"
Then, standing out among the many Mustangs was an advert for this '67 Galaxie 500 fastback coupe.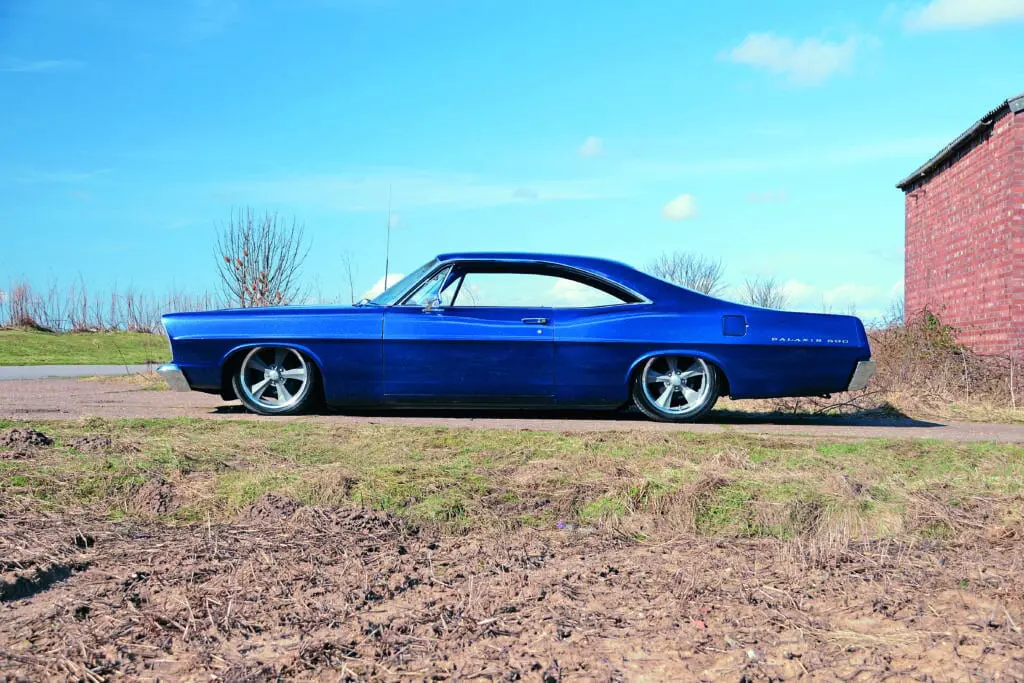 "I loved the looks straight away and it was a coupe too, which was a bonus," Mitchell smiles. "It's also quite an unusual sight in the UK."
Mitchell happened to be attending the popular Fordmeet car show in his Sierra Cosworth the same day he was due to take a look at the Galaxie. "I'd been slightly over ambitious and had to drive down from the car show in Yorkshire to Leicestershire in the Sierra later that day to view the car," he remembers.
"It was quite late on when I eventually got there, but as soon as I heard the V8 fire up I was sold!" A deal was struck, and the vendor was kind enough to hold the Galaxie a further agonising two weeks for Mitchell to sell his Cosworth in order to fund his new purchase.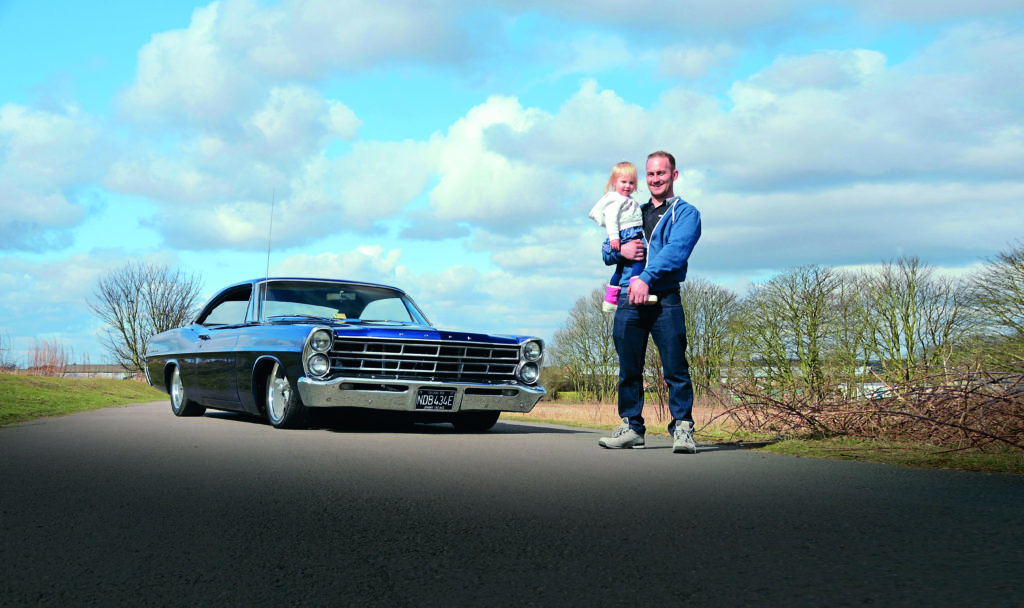 "Once I'd paid for the car, I was now placed in the situation of driving it back home a few hundred miles. This was just as the vendor happened to mention the car hadn't been driven further than 20 miles in one trip for the last few years," Mitchell remembers.
"His words didn't inspire me with confidence, but the Galaxie got me back without a hitch, other than me having to hold the roof lining away from the windscreen with a metal pole!"
The original 390 FE engine had long since been removed and replaced by a 302cu in V8 Mustang unit from an 88-92 model. The electronic injection system had already been carried over too, along with 24ib injectors instead of the stock Mustang's 18ib versions. A Trickflow inlet manifold and four-speed Trickflow auto trans also help out with the all-important traffic light sprint, but after two months of casual driving the original fuel pump failed.
"It hadn't been running right for a short while and the problem was diagnosed to the faulty fuel pump. I replaced it with a Mallory high pressure fuel pump and set up the ignition properly, which solved the issue," Mitchell confirms.
"While the car was off the road I decided at this point to take things a little further…"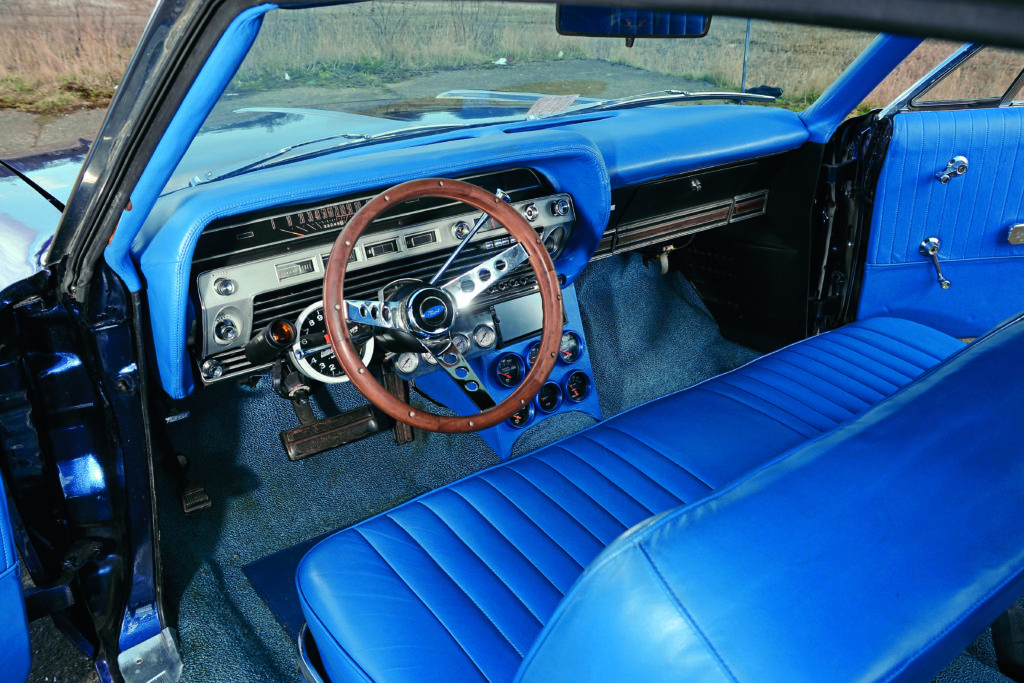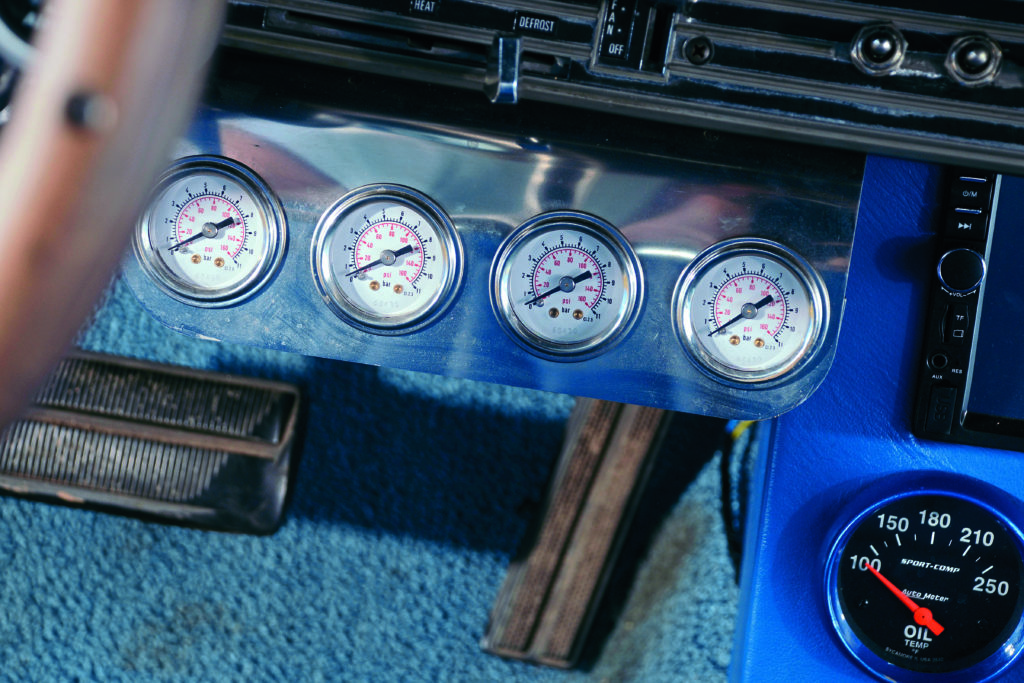 The Galaxie's bodywork, although straight and rust free, had been unsympathetically repainted in the past. "It had left the factory in a light metallic green, but had since been repainted white, including the bumpers and chromework," Mitchell laughs. "Everything was white."
To banish the vast extent of whiteness, the shell was quickly stripped of its glass, interior and trim and despatched to Richardson Ford of Bridlington for a fresh coat of paint, in a new colour chosen by Mitchell this time. "I had to transport the car to the paintshop once it had been stripped down, which posed a problem," Mitchell explains.
"With no transporter or tow truck to hand, I ended up driving the Galaxie around 10 miles with no glass, interior or lights, sitting on sofa cushions so I could see out of the windscreen."
This clever improvisation did the trick and the bodyshop soon tackled the respray in Sparkle Blue, a shade which came courtesy of Sheffield based Custom Paints.
"I picked this colour from the sample charts they had available as I wanted something that would stand out, but not be too over the top," Mitchell tells us. "It switches from blue to purple in sunlight, which I reallylike."
We'd agree too, his choice of Sparkle Blue suits the Galaxie's lines perfectly; the car looks stunning in the sunshine.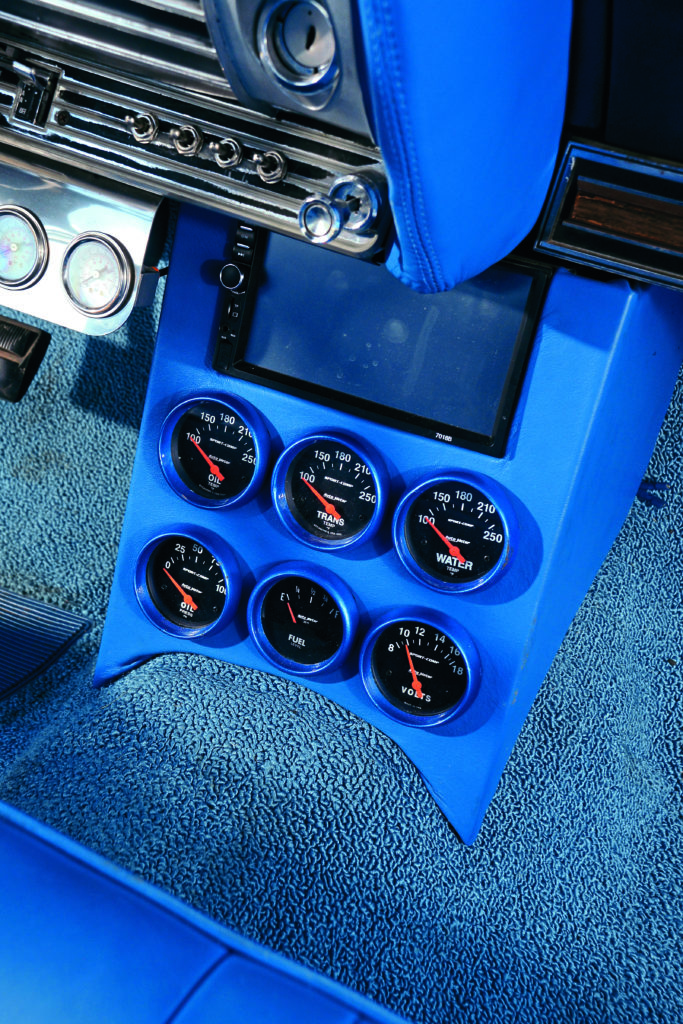 Meanwhile, the white bumpers were sent to be rechromed, and luckily the original lights were salvageable. "I decided not to refit all the exterior trim, so I could achieve a cleaner look, which hints towards the custom style I was aiming for," Mitchell adds. "The only parts I really needed which I struggled to find were the air flow vents which I managed to source from a specialist in the States."
The interior too was pretty much a blank canvas; it had been left in its original state, but was in very poor condition. "I'd heard great reviews about Paula Norcliffe's work in Sheffield," Mitchell explains. "I decided to let her retrim the seats and dash as I wanted them to be done to a high standard."
The seats would have originally worn a floral pattern with vinyl and fabric, but the new blue full-leather hide covers with seams and straight stitching blend together well with the car's exterior, while the dash and door cards have been retrimmed to match too. Mitchell replaced and fitted a fresh carpet himself and removed the aftermarket stack gauges.
"I restored and refitted the original speedo and managed to get the interior and dash lights working again; you wouldn't believe the man hours in those jobs alone," he laughs.
The modern stereo has been cleverly relocated low down in the centre console, keeping the period radio in its original position to retain that authentic look.
Extra gauges are also housed in the centre console where an Autogage rev counter sits prominently in full view of the driver. Those 18-inch five-spoke grey Rocket Racing wheels came with the car and were one of the few aftermarket additions Mitchell really liked: "They suit the car and I'd always planned to retain these, but I was unhappy about the car's ride height." For that full-on custom look, Mitchell turned to the world of air ride, removing the original springs other than the spring mounts themselves and custom-made his own air ride system. This is based around air tanks supplied by Rayvern Hydraulics (www.rayvernhydraulics.co.uk) and two compressors of 25 and 20 litres in size. "I piped everything up and built the switches into the dash panel, so they wouldn't look out of place, but there was a lot of trial and error ensuring the car would sit just right and not foul the arches," he tells us.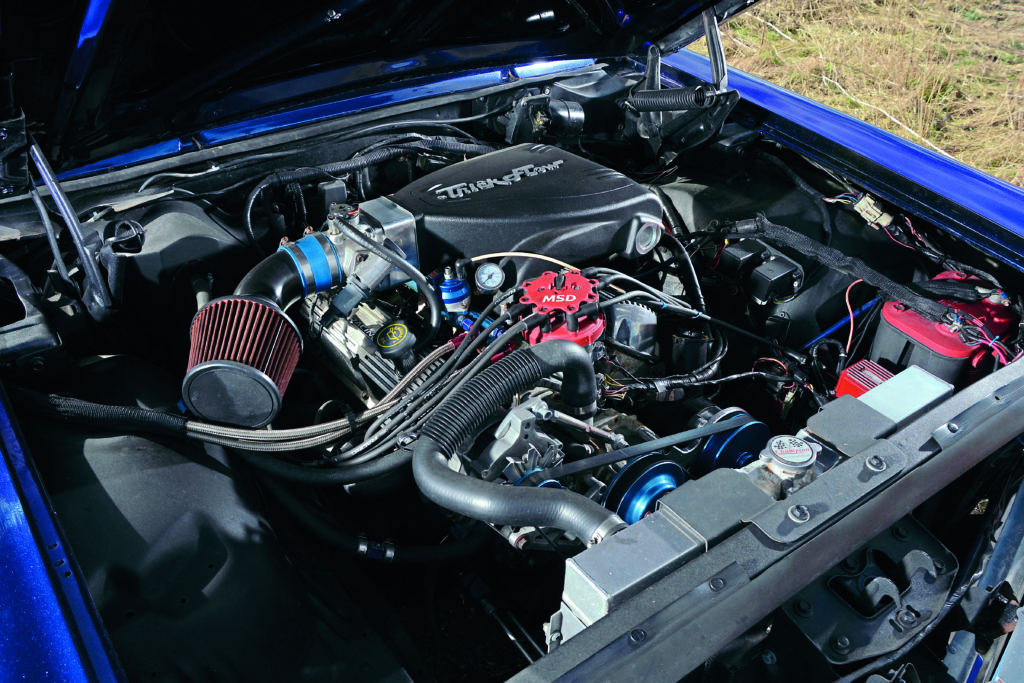 Since its completion Mitchell's '67 has attended numerous shows, though he's just as happy nipping to the local shop or supermarket in the car whenever he can. "I use it as much as is realistically possible and often find an excuse just to drive it," he smiles. "It's a Sixties American car on air, so I won't pretend it's easy or relaxing to drive, but it's always good fun."
As you'd expect, the reactions of pure amazement are pretty much non-stop when Mitchell is out and about in his Galaxie, even compared with his eye-catching European Fords. Mitchell has already bought himself a 390 FE big block, not dissimilar to the engine the Galaxie would have rolled out of the factory with back in '67, though this one will come with a twist, something he's keeping under wraps for now! There's also plans for a Ford F150 as a follow-up project or maybe even a LWB Chevy C10 pick-up.
Could a Chevy be Mitchell's first deviation from the Ford badge? I'm sure we'll find out soon enough…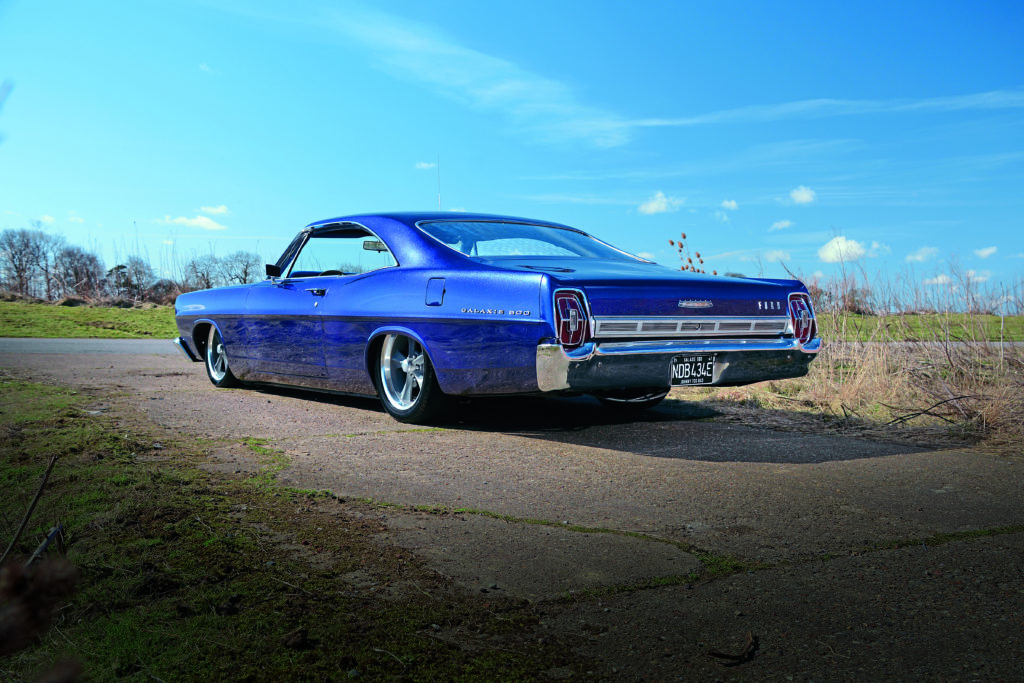 Tech Spec: 1967 Ford Galaxie 500 fastback coupe
Body
Custom Sparkle Blue paint
Chrome trim removed
Chassis
Custom air ride system
Rayvern Hydraulics air tanks 25 and 20 litres
Two compressors
Original spring mounts
Rocket Racing grey five-spoke wheels 18×8" (front) 18×11" (rear)
Marshall tyres
Drumbrakes
Engine
302cu in V8 (Mustang GT)
MSD electronic ignition
Trickflow inlet manifold
24ib injectors
Transmission
Four-speed auto Trickflow trans
Trickflow inlet manifold
Electronic injection system
24ib injectors
Interior
Original seats retrimmed in blue full leather hide by Paula Norcliffe
Original speedo and gauges restored
Secondary stereo located in centre console
New carpet
Dash and door cards in blue leather hide
Air ride switches located on dash
Extra gauges located in centre console
Autogage rev counter
Words and Pictures: Jon Cass
★ Thanks to Paula, Norcliffe Rayvern Hydraulics MVM Garage, Bridlington 01262 679888