In 2014 the British Drag Racing Hall of Fame introduced the Sydney Allard Media Awards. These pay tribute to the influence of journalists and photographers in the promotion of drag racing, along with the role played by Sydney Allard in establishing the sport in Europe during the early 1960s. This year the awards are sponsored by Mintex, manufacturers of brake pads since 1908 and one of the sponsors of the 1964 International Drag Racing Festivals organised by Sydney Allard. The crystal trophies will be presented at the 2016 British Drag Racing Hall of Fame Gala Awards Dinner held at the Sheraton Skyline Hotel, London Heathrow on November 19th.
Photo Journalism
The outright winner of the 2016 Sydney Allard Photo Journalism Award is Julian Hunt for a flame burnout photograph of Bob Hawkins in his blown and injected Chevrolet methanol-burning dragster called Time Traveller. It was taken during the 2016 Dragstalgia Meeting at Santa Pod Raceway using a Canon EOS-1D X with a Canon Lens EF 100-400mm. F/4.5-5.6L IS II USM. The independent judges were David Lillywhite, Editorial Director of Octane Magazine along with the magazine's designer Robert Hefferon. They initially selected the Top Ten. Pink Floyd drummer, Trustee of the National Motor Museum, Beaulieu, and Co-Patron of the Allard Chrysler Action Group, Nick Mason, chose the top three and placed them in order. They are all winners really.
Second place went to Stuart Mitchell for his photo of Tony Betts' 1934 Ford Coupe with a blown and injected 526 cubic inch Keith Black engine. Again this photo was taken at the 2016 Dragstalgia Meeting. Third place went to John Kennedy for his photo of Mark Moseley's Nissan R32 Skyline with an RB30 engine. It was taken at the 2015 Flame & Thunder event held at Santa Pod Raceway.
Written Journalism
Choosing a winner for the 2016 Sydney Allard Written Journalism Award was very difficult but Brian Taylor is the judges' final choice for his work in compiling the 24 page 2015 British Drag Racing Hall of Fame Gala Awards Dinner Souvenir Programme. The Chief Judge was Guy Loveridge, Deputy Chairman of the Guild of Motoring Writers. He said: "It sounds an easy task to write and edit an event programme, but a good programme is crammed with information, profiles, facts and the full course of the evening. The process of collating this information is hindered by ever changing facts coming through as the copy date gets closer. All copy has to be approved by the show organisers and those featured in the programme – some based overseas. Then there are the advertisers to consider and liaison with the programme designers and printers."
"To edit anything is a tricky business, but to edit seamlessly, so that one reads and is not distracted by the editor's own 'spin' is a rare gift indeed – and for that reason Brian must be recognised for his programme production." Guy continued, "A very special mention is for Martin Drake whose astonishing on-line photo book 'Power of Sport – Drag Racing' read as an impassioned essay on our sport. If a picture paints a thousand words Martin has aced Shakespeare for word-count! And highly commended for a range of pieces entered, all of which entertained and informed, is Keith Lee. His work demonstrates knowledge and skills that convey the message clearly and the excitement of drag racing with passion."
The Gala Awards Dinner 2016
Ticket prices for the 2016 BDRHoF Gala Awards Dinner remain unchanged at £60 per person. Corporate tables of 10 are available at £580. More details are available from www.britishdragracinghof.co.uk/news-events/2016-bdrhof-gala-awards-new-venue/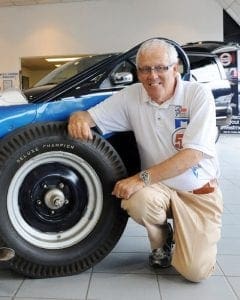 Below: Julian Hunt and winning image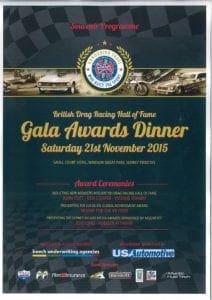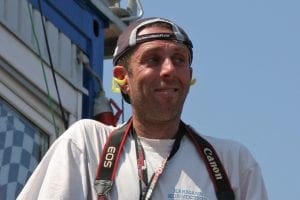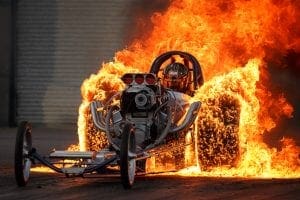 To reserve your tickets for the gala awards dinner please email [email protected] or telephone Stu Bradbury on 01933 279102.
Photo credits: Christine Cowler, Julian Hunt, Stuart Mitchell, John Kennedy and Karen Parker.