Robin Shackleton's very red 1963 Ford Galaxie 500/XL was purchased largely out of admiration for a similar car raced by Jack Sears in the Sixties. Mike Renaut takes a look at this very special full-size Ford…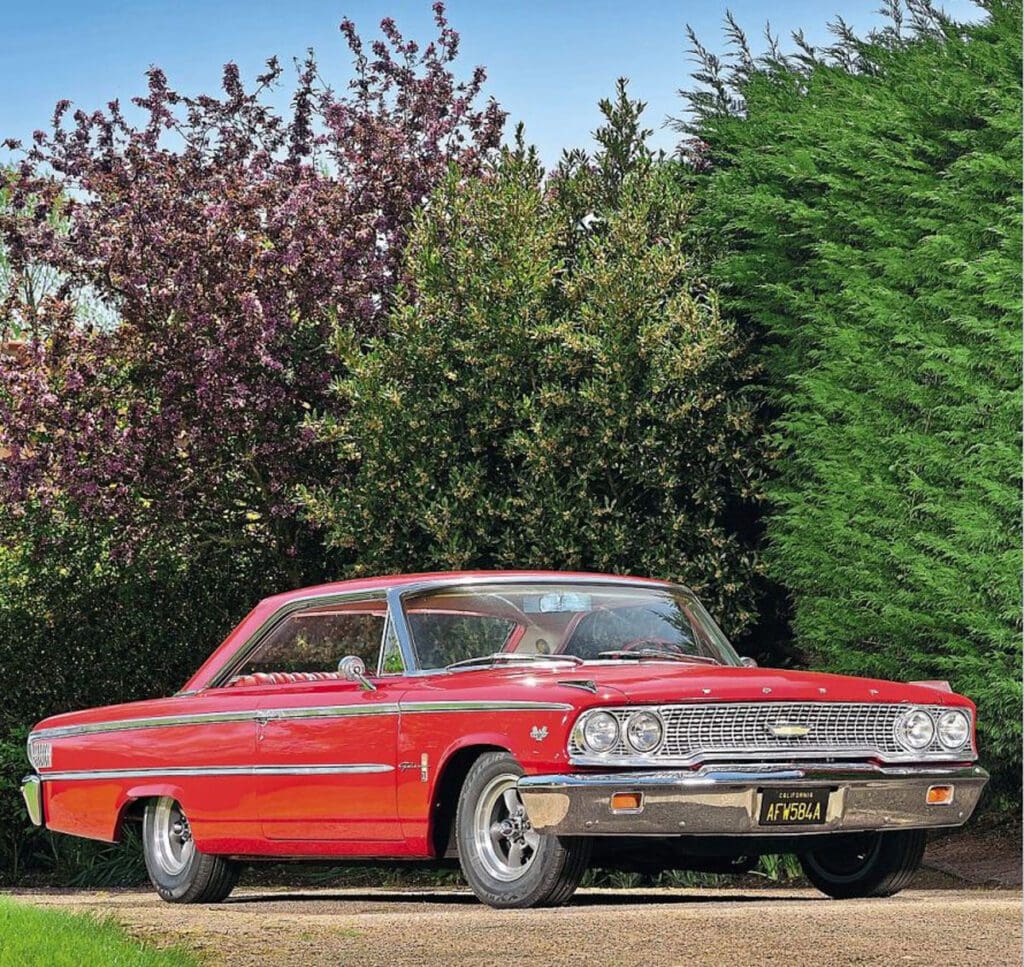 1963 Ford Galaxie 500 XL Words: Mike Renaut Photography: Matt Woods
Robin Shackleton is a big fan of racing driver Jack Sears. "I'm too young to have seen him drive back in the Sixties," explains Robin, "but I've been to the Goodwood Revival a number of times and was fascinated by the 1963 Ford Galaxies in the saloon car races. They just looked so ungainly, getting to the first corner ahead of the pack through superior acceleration, then being caught by the Minis and Lotus Cortinas because they had to brake so much earlier for the bends.
"I owned a black 1964 Galaxie, but that's the wrong year for the race cars and I'd always preferred the 1963 styling, so I sold it and went onatwo-year hunt. It had to be a 1963 Galaxie two-door with bucket seats, manual four-speed and ideally a 500/XL.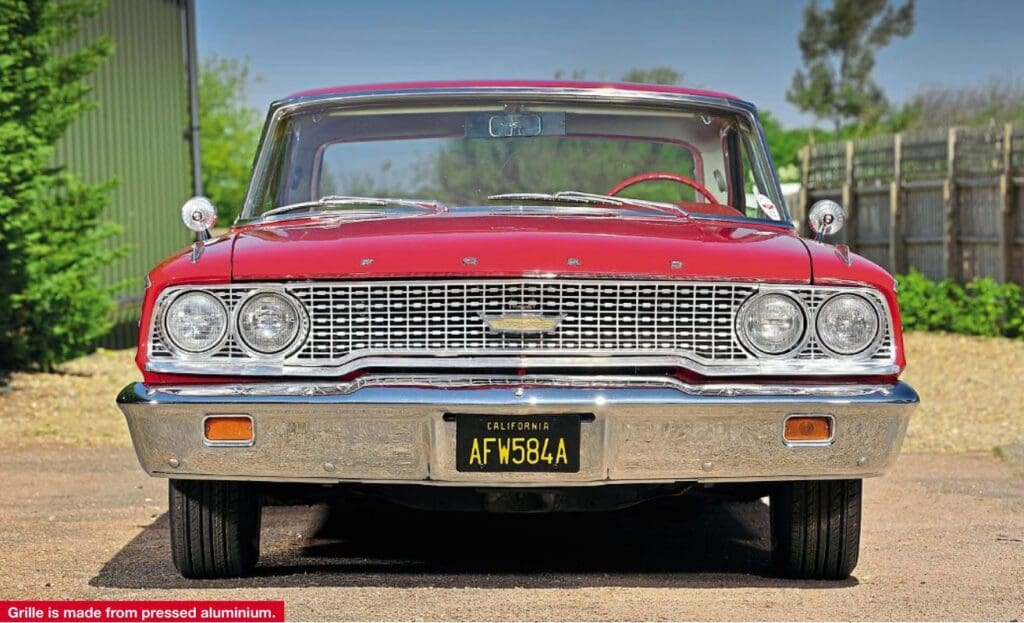 I saw some rusty UK cars then spotted one for sale at Frankman Motor Company in Sioux Falls, South Dakota. It was described as a rust-free California car with no power options, which was perfect because I wanted to avoid all those electrics; I didn't want to be dealing with potential electric windows or power-seat problems. It was Rangoon Red and I was especially impressed by the immaculate interior, and it came with Torque Thrust five-spoke wheels which I liked because the standard steel wheels always look too narrow to me."
Robin contacted the dealership and received an email containing 80 photos. "I couldn't bring myself to buy the car sight unseen and was working out a plan to fly to New York, then South Dakota, when the dealer phoned saying he'd just sold a car to someone in Malta. He was shipping that car to New York and could get the Galaxie to the port in New York at the same time for $700, but the transporter was coming next week.
I decided I'd go for it and had Schumacher Shipping (www.schumachercargo.com/uk) put the Galaxie in a container to England. I was tracking the ship online, it was coming to Felixstowe then sailed straight past to Germany for two days," laughs Robin. "I was panicking that someone had taken my car, but it arrived when they said it would.
"Driving the Galaxie home, it felt big and loud. It has drum brakes with no servo and far more power than it needs. I'd describe the handling as 'wibbly-wobbly'. It had mis-matched tyres so replacing them was the first job, otherwise it's not needed anything except new shocks. I also fitted a wider rear-view mirror since you can't see anything in the door mirrors."
Galloping Galaxies
It might not appear an ideal basis for a racing car, but the 1963 Galaxies competed in various forms of motorsport. Following on from the fastback Starliner in 1960 and '61, Ford designed a 'sports hardtop' roofline to improve aerodynamics and reduce lift on the NASCAR banked circuits. Wind tunnel testing confirmed airflow over the new roof was 23% cleaner than the previous year's.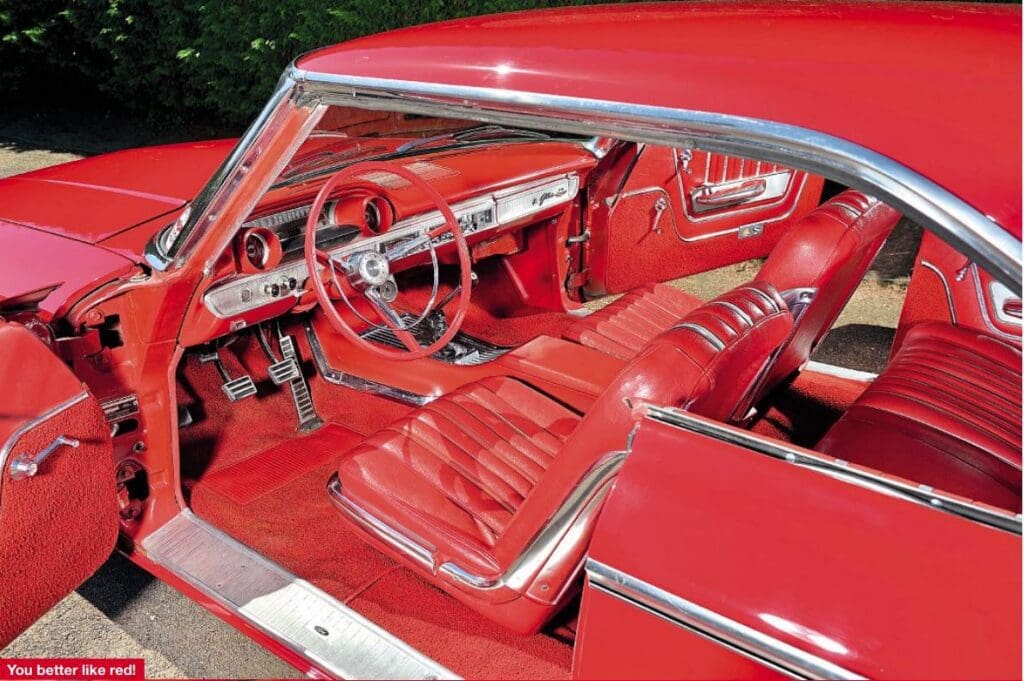 It had no merit for street driving, other than improving the looks of the cars, but sports hardtop models outsold the squarer boxed-roof Galaxies. Galaxies competed with a new 425bhp, 427cu in V8 designed to meet both NASCAR and NHRA drag racing rules regarding maximum seven-litre engine displacement. Known as R-code cars, these 427-powered Galaxies came with a Borg-Warner T-10 four-speed, 4.11:1 rear axle and heavy-duty suspension and brakes.
Weight-saving measures included a fibreglass bonnet, bootlid and front wings, aluminium bumpers, transmission and bellhousing. Heater, carpeting and even armrests, ashtrays and dome light were removed − reducing weight by 170kg. The Galaxie 500, introduced as the top of the line model for 1962, was joined midyear by the 500/XL model − Ford claimed it stood for Xtra Lively. It came with a more luxurious vinyl interior including bucket seats and centre console. Ford built 33,870 Galaxie 500/XLs for 1963, but fewer than 100 had the R-code engine and apparently 10 of those were convertibles. Ordering a 427 added $570.60 for the cost of the engine alone.
But how did they come to race in the UK? Back to Robin's hero 'Gentleman' Jack Sears, who first won the British Saloon Car Championship in 1958 driving an Austin Westminster. In 1963 he won again driving Cortinas and, for four races, a 1963 Galaxie 500. It was another star driver, American racer Dan Gurney, who'd showed the might of American saloons when he campaigned a new V8 Impala in 1961, promptly outrunning the previously dominant Jaguars. A broken wheel put him out of the race, but the point was proved.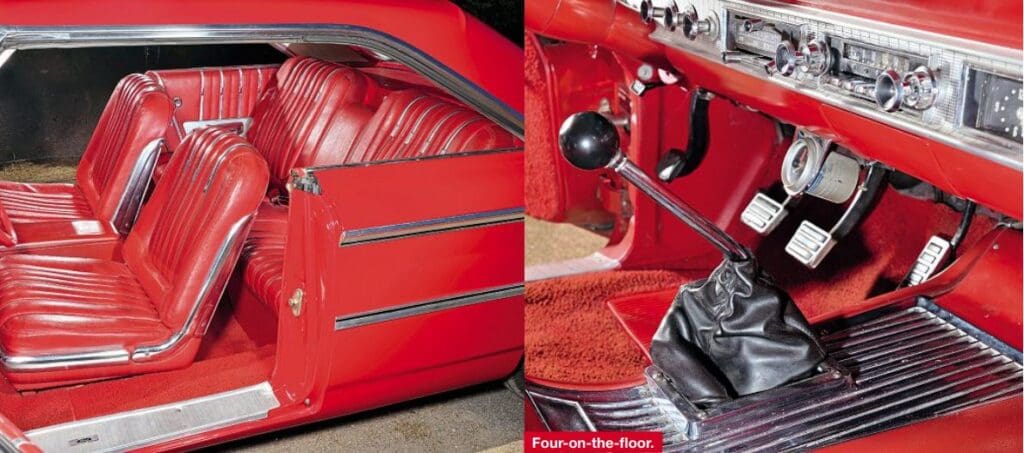 In late 1962, UK Ford dealer John Willment was discussing forming a racing team with experienced saloon car racing friend, and future team director, Jeff Uren. They considered importing a NASCAR-prepared stock car until Uren approached Ford – then keen to compete in all forms of racing − and secured the newly created John Willment Automobiles Ltd team, three Cortinas and a Galaxie. Uren asked Jack Sears to drive them.
That 1963 Galaxie 500 was a Holman-Moody prepared car (two others would also come to the UK) that arrived by plane in spring 1963. Lightened to 1629kg, it had extra shock absorbers, strengthened wheels, extra air ducts and a fan to cool the differential. Most intriguing to UK eyes was the full NASCAR-style roll cage which extended through the back seat into the boot.
Over time it was reduced, since scrutineers felt it added unfair chassis strengthening. Sears raced the white Galaxie, registration BML 9A, at Goodwood on Easter Monday. Much of his testing was done on road tyres inflated to over 50psi since his Firestone racing tyres hadn't arrived, leading to one rear tyre exploding…
With Firestones fitted, Sears qualified on pole, then made a very gentle start to avoid wheelspin and clutch wear. The three rival Jaguars tore away, but lost the lead on the first straight as the Galaxie passed them all in one manoeuvre. Despite the talents of drivers like Graham Hill and Roy Salvadori, at half-distance Sears had a lead of more than 20 seconds. After getting the signal from the pits to ease off, he took a comfortable win, increasing the touring car record up to 92.42mph in the process.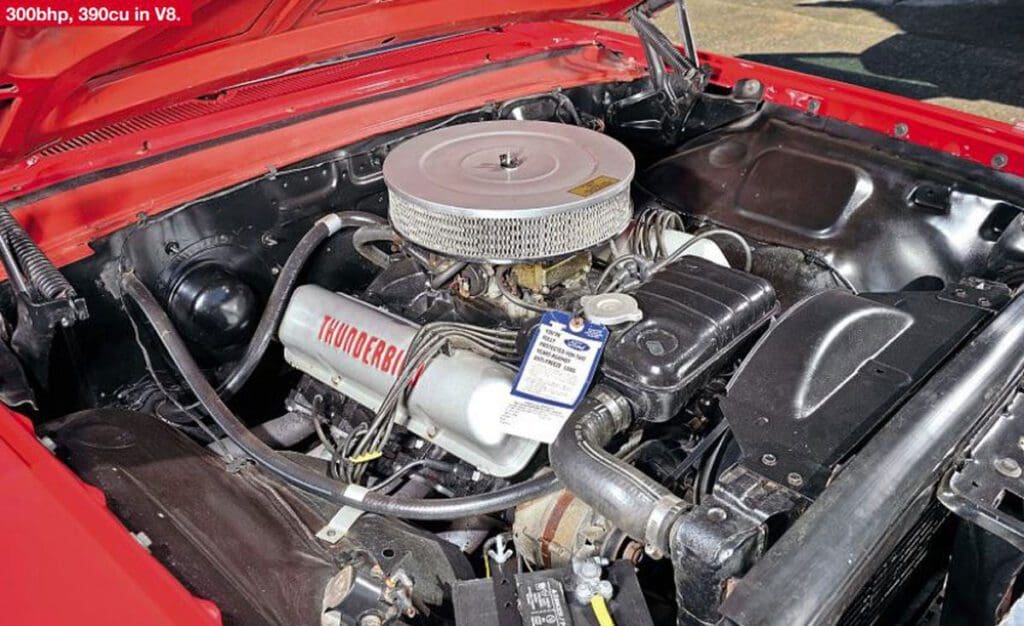 Sears recalled in his biography: "In that first race I had drum brakes with metal-to-metal linings so they didn't fade and were actually quite good; I found the Jaguars were not outbraking me. By the end of the second lap I had a comfortable lead though was still worried about the clutch, so left the Galaxie in fourth gear for the rest of the race – I never changed gear again."
The Galaxie raced in South Africa later in 1963, returning to the UK for the 1964 season, setting a new lap record at Goodwood on Easter Monday. A number of wins followed, but a flat tyre and then ignition problems robbed Sears of the 1964 championship title. In 1989 Sears bought the car and had it recommissioned. Although no longer racing, he drove it until his death in 2016, after which it was auctioned by Bonhams. Doubling its estimate, the Galaxie sold for £471,900 – not bad for a car originally purchased for $3342.98.
Sixties style
Robin's Galaxie has the optional 300bhp, 390cu in V8 with a four-barrel. "I hadn't realised it had aftermarket Hooker header exhausts," admits Robin, "but they're a period modification just like the wheels. They go four-into-two-into-one since it's a single exhaust pipe system. It shows 70,000 miles on the clock, which I'm willing to believe is correct. The dealer bought the Galaxie at auction and it was a one-owner car. The dashboard and parcel shelf are perfect with no cracks or fades, so it was likely garaged in California out of the sun. It doesn't look used; the bumper chrome looks original too, with no dents or scrapes. The badges are a little faded, but fortunately all the trim is still in place since those pieces are hard to find – there's a lot of it. The underside is also very clean, with no signs of welding."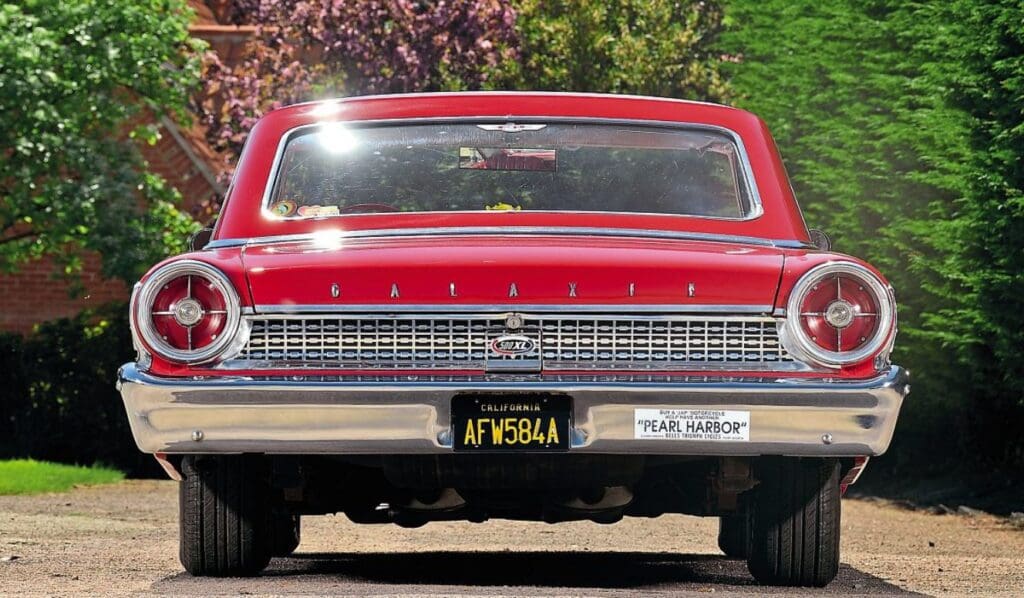 The data plate in the door jamb decodes as a Rangoon Red 500/XL with red interior, 390 engine, four-speed and 3.50:1 rear axle. It was built at St Louis on May 13 and was regular production rather than special order. "It's got an original radio that doesn't work, but there's no aerial fitted, so either the hole was covered over or it had an internal one. The paint's excellent, there's only a small circle about an inch across on the bonnet that's been touched up.
"You have to be aware of the brakes which need a hefty push. It leans in the corners and weaves about a bit, so I'll probably Polybush it in the future. But it's a very usable car. It feels luxurious with that great interior, but certain parts look cheap such as the grille made of thin alloy painted black – that's the only part of the car that's lightweight. Being so long it jams up Waitrose car park, but usually makes people smile." Will Robin ever take the car on to a track to emulate his hero? "I doubt it, I've never even put my foot more than halfway down on the accelerator…"