Mike Renaut paid a visit to the latest Bonhams auction to check out some fabulous American iron…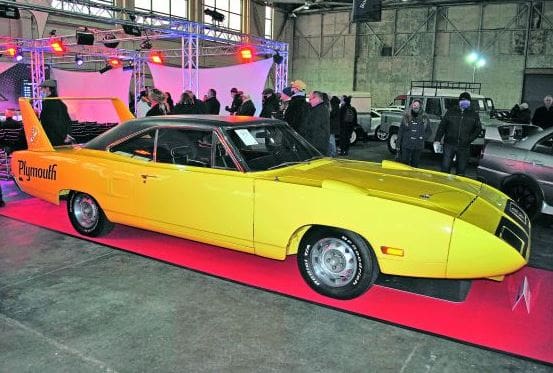 Damp and cold with condensation fogging up your glasses isn't the best way to assess the condition of any old car you might fancy buying, yet many American car enthusiasts still braved the rain to visit Bonhams' MPH December auction. For within the cold, dark – very dark – confines of Bicester Heritage's Hangar 13 lurked a number of unusual classics. Star of the show was a Lemon Twist yellow Plymouth Superbird. Released from three decades in a barn, its dented passenger front wing didn't deter someone from paying £90,000 (plus the additional 12.5% buyer's premium) for the 440cu in, four-speed, matching numbers car with its appropriate PLR440 number plate.
Also sporting a dented front fender was an otherwise decent 1963 Thunderbird coupe which may well have been Rose Beige with a white leather interior (it really was dark in that hangar…). Said to be running and driving as it should, £10,125 sounded about the right money. As it was with a 1967 Thunderbird Landau – the first year of this four-door model. Looking smart in baby blue, a few small but awkward dents in the trim didn't prevent it selling for a reasonable £11,250.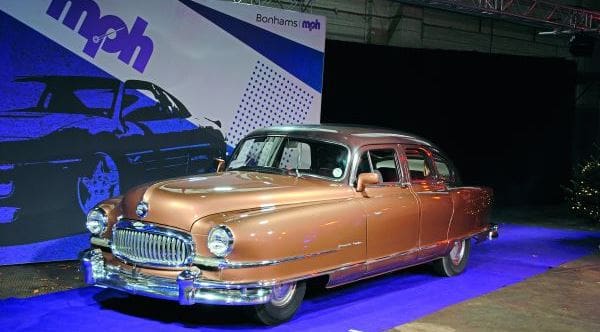 The 1951 Nash Ambassador Custom Sedan seemed a particularly nice example; like many of the American lots it was part of the Peter Black Collection and evidently had not been driven for some years. Selling for £14,625, the Nash also had in common with others from the Collection that it was unregistered and liable for 5% import tax if it remained in the UK. Alongside was a Rotterdam-constructed 1953 Kaiser Manhattan similarly described as needing recommissioning. Boasting overdrive and a Phillips record player in its very smart interior the attractive two-tone blue sedan had all its rare trim intact and achieved £15,187.
I was also particularly taken by a solid-looking 1964 Chrysler Imperial Crown Sedan in white. Despite the best efforts of staff, its 413cu in V8 was reluctant to jump start and evidently there might have been transmission issues too. Selling at just £4500 (hopefully to a Green Hornet fan rather than a banger racer) it worked out about £1 per lb and might have been the bargain of the event – assuming there were no major mechanical issues.
A pair of Corvettes were punted, the 350cu in four-speed 1972 Coupe selling for £17,437 – or half the price of the other; a 1966 Sting Ray coupe.
Article continues below…
Advert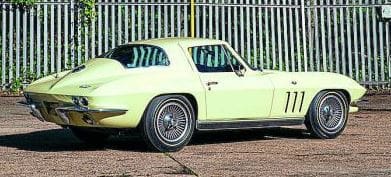 That '66 was a Sunfire Yellow 327cu in with black vinyl interior, air conditioning and automatic 'box. Just £32,625 seemed a bargain for this C2 – presumably the lack of a four-speed put buyers off.
Finally, buried among the European lots was an unusual 1975 Chevrolet El Camino. South African-built, the right-
hand-drive pick-up was apparently fully restored in 2000 and likely shares more DNA with an Australian Holden than any Chevy. Perhaps the lack of a V8 discouraged bids, since it had a 250cu in six with three-speed auto, but I felt £6750 was a bargain and I rather wish I'd put my hand up for it. Sadly the only thing I went home with was a headache and my only purchase was chips. Next time maybe…
Read Mike's full report in the February issue of Classic American, now on sale.
Article continues below…
Advert