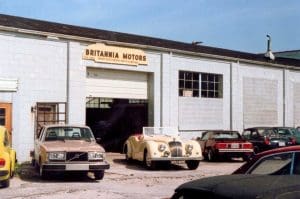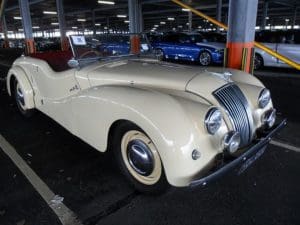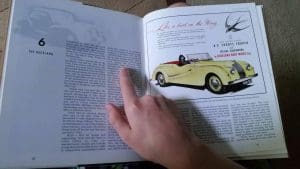 A vintage Buckland car is being shipped to the United States for the second time in  its history after being bought  by the grandson of one of the original builders. Bristol-based car shipping specialists Autoshippers were called in to transport the rare 1950 AC Buckland Tourer to its new owner in Houston, Texas.
Adam Limerick from Autoshippers said fewer than 80 of the elegant tourer were made – and this model had a particularly rich history. "The AC Buckland was made in limited numbers at Buckland Body Works in Buntingford, Hertfordshire. Records were lost in a factory fire but we believe somewhere between 70 and 84 were constructed."
He went on: "We are now shipping the Buckland over to the States – for the second time in its history. It has been bought by a fan in Houston and we are hoping to get the car to them early this month." The new owner is David Wightman from Houston, Texas – who has a personal connection to the vintage marque. David said: "My Grandad Sam Wightman was involved in the design and in the building of the cars. He was a Master Coachbuilder and the foreman at the shop.
"This particular car, HOU800, was imported to the US port of Wilmington, North Carolina in 1986 when it was purchased by a friend of my father, Dr Blaine Nashold. "My Dad David Wightman owned a foreign car repair shop in NC and told the doctor of my Grandad's involvement with the car. "He in turn found one and purchased it, no doubt as a gesture of kindness to my Dad. My Dad and I picked the car up in Wilmington, NC when it arrived.
"The car was sold back to the UK a few years later. It swapped hands a few times in the last couple of decades while there and then came up at a classic and retro car auction. "I will be driving it and hopefully showing it from time to time. I am restoring another AC Buckland but this one was purchased because of the close family history."
Article continues below…
Advert
Autoshippers recently shipped a brace of True Brit ice cream vans to an ex-pat in California and airfreighted a fully restored 1976 Jensen Interceptor in the hold of world's biggest passenger aircraft to another ex-pat with an eye for vintage cars. Mustangs, Aston Martins, Rolls Royce's, and older classics such as the Austin Westminster A110 have all been packed up and shipped out with the same attention to vehicle safety.
For further details go to www.autoshippers.co.uk