Blenheim Palace, Oxon. July 10th 2022, Words: Ben Klemenzson Photography: Ben Klemenzson & Zack Stiling
The Pre-'50 American Auto Club's Rally of the Giants is one of the oldest American car events on the UK classic car calendar; at it you will see cars and people that you won't see at any others and for that reason, if you've never been I'd highly recommend you mark it on your calendar next year.
Over the year's it's evolved from being primarily older cars (and by that, I mean pre-war and even 'brass era'…) to now being open to all and every era, although Fifties and Sixties seem to be more in number, although this is where you will find more older cars out of all the American car shows in the UK. In a way it's nice, as this opens the gates of the hobby to youngsters like Jarrod Davage, 20-years-old who made it all the way along from Pontypool, Wales in his 5.0-litre SN195 new edge Mustang, his first Yank. Still, there are plenty of real Duesies in terms of pre-War cars, such as the stunning 1930 Packard 745 which took best in show.
Somewhat younger (car and owner!) was Tommy Roberts, from Finchampstead in Berkshire, who was attending for the first time with his 1970 Plymouth Superbird that he'd only acquired the previous winter. It's always nice to hear stories like Tommy's who related how he'd known the car as a youth when he'd seen it driving around when it belonged to a chap called 'Blondie Melbourne' (possibly a stock car racer of the time known as 'The Guv'?). It turned out the car had been laid up in a barn for 30 years only four miles from where he lived and he was lucky enough to acquire it from Bonhams from one of their auctions late last year. As a nice ending, it went on to pick up the 'Best Plymouth' at award at
Prize-giving time.
Another muscle car making its debut was Paul Cunliffe's 1968 Pontiac GTO, which originally hailed from California, although when Paul saw it for sale on Facebook, it was for sale in Kent. Featuring a 360bhp 400HO V8 and four-speed Muncie with Hurst shifter and close ratio 'box the Poncho looked every bit of the bare bones racer it's turned out to be.
For me, it's the sheer variety of types of cars that always makes RoG so compelling, XXX XXXX really is the UK's 'Mr Pontiac' (he's been featured in Classic American previously with his Ponchos,) and he'd brought along his recently acquired 1937 Pontiac cabriolet on the back of a trailer. Featuring a 4.1-litre straight-eight motor and rumble seat, it'd been in the UK since new, but had been laid up for 40 years. Xxx Plans to get it back into tip top mechanical condition, then use it as is complete with patina. Now that will look cool!
Of a slightly earlier vintage was a 1930 Model A truck, which looked stock, until you saw under the bonnet a 2.3-litre Ford Duratec Diesel engine hooked-up to a manual transmission, all presumably sourced from a Ford Transit van. Shocking vandalism, or an ingenious way to make an old classic truck relevant to modern driving conditions? I errr on the side of the latter, I have to admit, after all, it's not like there aren't a lot of Model As knocking about and they are hot rodders' favourite.
Beautifully original and in the UK from new, was Colin Shepherd's stunning 1960 Buick Invicta, again another lovely car with an equally lovely story. Sold new via Lendrum and Hartman, Colin knew of the car for many years as it belonged to a friend's uncle. Still wearing its original paint of Casino Cream (a very pale, elegant green) the car was used for a road trip to Italy in 1961 – One can only imaging the impact it must have made on the Continent – and was always garage-kept, hence it's fantastic condition.
The turnout at this year's show was good, although there was a feeling that the Met Office's dire warnings of extreme heat and their first ever 'Red' warning may have put some people off coming… It was hot, of that there was no doubt, but the beauty of Blenheim is it has plenty of trees and shade and everyone took advantage of this. Proceedings gently relaxed into prize-giving and onlookers were treated to the spectacle of some of the finest Classic American cars in the UK. What more could you possibly want?!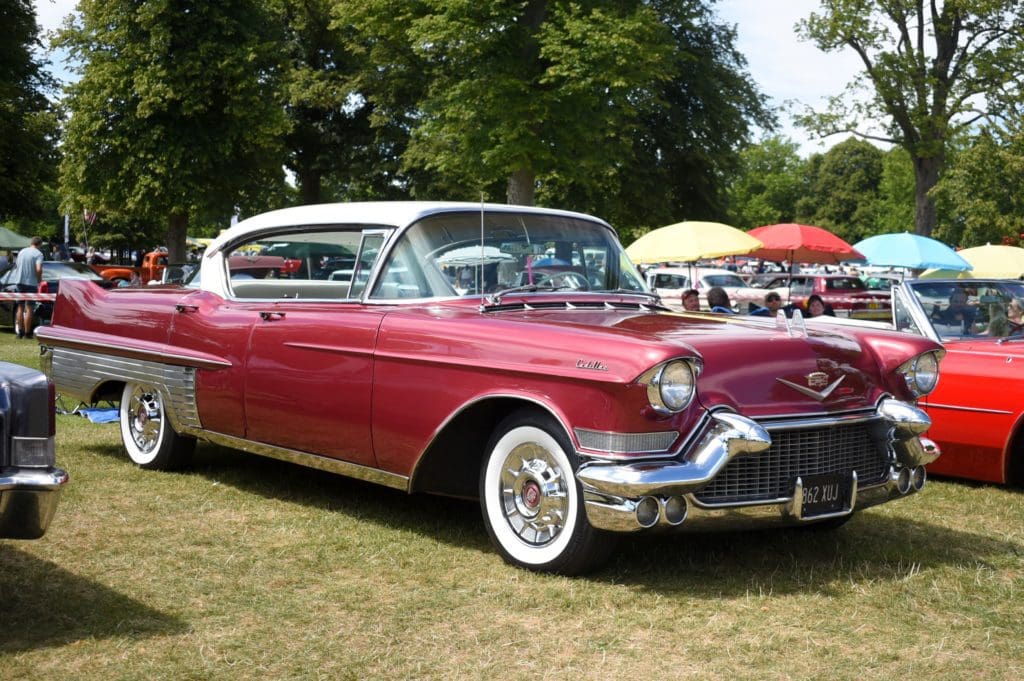 Kingstown Shipping Car of the Year competition Heat 3.
The Rally of the Giants is always a treasure trove of Pre-War and older American classics and as such is a great place to showcase the breadth and richness of the classic American car world with a vehicle from this era for our Car of the Year heat winner. This year was no exception and we were immediately attracted to the stunning 1936 Cord Westchester Sedan belonging to Trevor Cowell, who is a garage owner and American car enthusiast (we featured his big black, 1967 Pontiac Bonneville in our January 2022 (# 269) issue.
Originally hailing from Maryland, the car has been restored in 2010 and ended up in Sweden, coming to the UK in about 2016. Although it was running when he acquired it, he's gone through it and rebuilt the brakes, added subtle amber turn signals and had the interior retrimmed. Not only that, but Trevor also drove the car to and from Blenheim Palace from his home in East Grinstead. Just wow!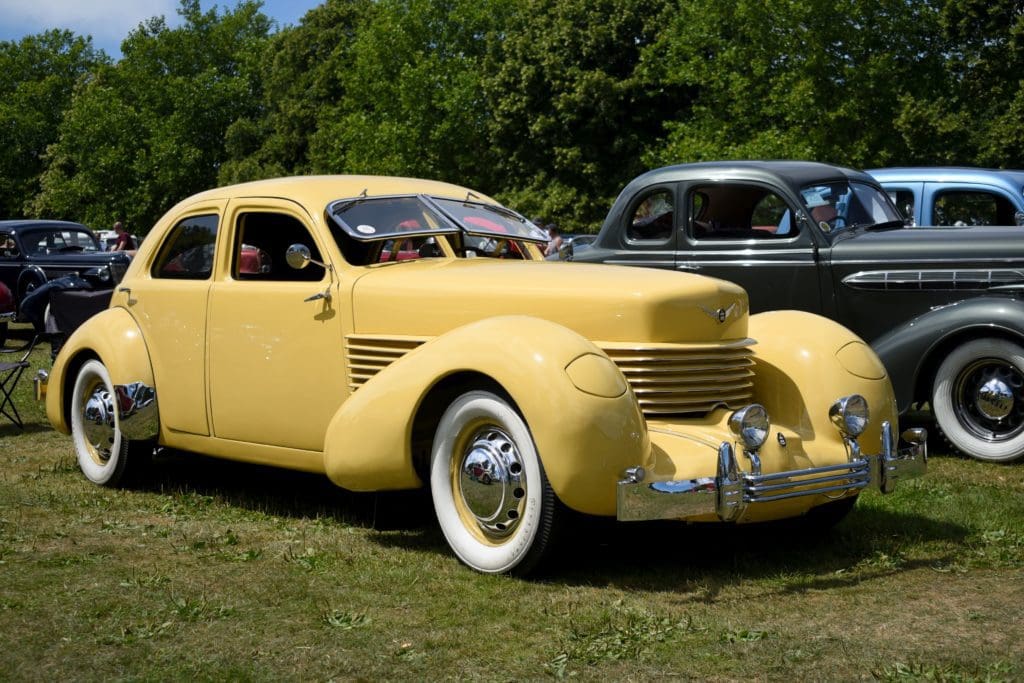 ---

Enjoy more Classic American reading in the monthly magazine. Click here to subscribe.
Sell your Classic American car here.