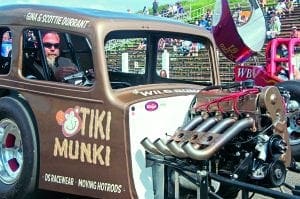 It was with shock and sadness that the UK drag racing scene and wider hot rod community heard of the sad passing of Scott 'Scottie' Durrant back in June at only 44 years old. Many knew Scottie from his Moving Hot Rods business, based in Reading, Berkshire, that specialised in transporting hot rods, race cars, classics and Yanks around the country, all done with care, professionalism and most of all, with a big ol' smile on his face.
A lover of rodding and racing all his life, Scottie gained notoriety as a member of the Dog Squad hot rod club, well known on the rod run scene in the Nineties, with a mad succession of modified vehicles, which naturally led him to experimenting with drag racing. Things got serious when he joined the Wild Bunch drag racing series with a Fiat Topolino running in the altered class. Another Topolino race car followed, but proved expensive to run, so a decision was made to build a lighter Pinto-powered dragster, the first incarnation of the Tiki Munki, as his cars were named. Several versions were raced over the following years, the car instantly recognisable to everyone due to its radical and unique '38 Austin Ruby sedan body. It was with this car that he won the Don Garlits Spirit of Drag Racing award, the highest accolade possible in the Wild Bunch a few years back.
Friends of Scottie universally agree that as dedicated as he was to his family and his racing, he would also be the first to come and help you out if you needed a hand at any time, and we know from the many tributes, both online and at this year's Nostalgia Nationals at Shakespeare County Raceway, that as a larger-than-life character he will be truly missed. We are sure all readers will join us in sending our condolences to his wife Georgina, and his kids, Zak, Beau and Emily May.