The popular American themed Autumn Classic returns to Prescott Speed Hill Climb, Cheltenham on the weekend of the 6-7 October 2018. The annual all-American Stars and Stripes event celebrates everything American and automotive. The action-packed weekend attracts a wide variety of cars competing on the historic hill climb course, with special classes for American cars and hot rods, as well as spectacular American car displays, a dedicated 'show n' Shine' area and fantastic USA-themed entertainment from the thrilling Demon Drome Wall of Death to live bands and Vegas Showgirls.
The paddock will feature an awesome display of American classics, hot rods and muscle cars, as well as Indians motorcycles and Custom Choppers and a whole host of other American vehicles, all of which will take to the iconic hillclimb course in a special lunchtime cavalcade. The Orchard features a dedicated 'show n' shine' display area which is open to all for American vehicle owners.
Notable vehicles this year include the Penske PC22 Indy car raced by Stefan Johansson, whilst making its debut is the awesome Dodge Challenger SRT Demon designed for one thing: dominating the quarter mile. Powered by a Supercharged 6.2L HEMI® SRT Demon V8 engine, it is the World's fastest ¼ mile and 0-60 production car and can also claim the highest horsepower and highest G-force – even faster than a Chiron.
Article continues below...
Other debuts include the NASCAR Xfinity Series South Point Hotel & Casino Chevvy Camaro #62Ford EcoBoost 300 car to the Bond, Hannis & Osbourne "Nuthing II Fancy" drag racer. The team recently raced into pole position at the NSRA Nostalgia Nationals at Santa Pod at a staggering speed of a 222mph in just 6.57seconds setting a European record.
The popular Indian Motorcycle Club makes a welcome returns alongside The Chopper Club of Great Britain who will be showcasing some marvellous custom engineered machinery.
On track – Saturday sees the championship rounds for the TVR Car Club, The BOC New Barn 'B' Licence, Downton Motor Club and TR hillclimb championships supported by saloons, sports cars and single seaters Bugatti Owners' Club Handicap. Whilst Sunday sees competitive action from the 500 Owners' Association, the Aldon Classic Championship, Morgans, Austin Healeys, Flatheads and invited American Cars.
It's not just about the cars either . . .
Demon Drome Wall of Death: Off track the oldest surviving Wall of Death the 'Demon Drome' dare devil riders will cheat gravity on their 1920's Indian motorcycles, performing amazing feats of virtuosity within mere feet of your eyes. As 'Dynomyte Dave' Seymour said "We want to keep the Demon Drome true to its roots but keep innovating and putting on the best shows we can". Each year they wow the crowds and this year will be no exception. The roar of the bikes thundering up the wooden walls is loud, adrenalin is high and the acrobatics is thrilling. They are performing four times a day and entry is included in the event ticket price. See board for times.
Prescott's Hot Rockin' Bands: Non-stop 'Hot Rockin' live bands throughout the weekend (worth the ticket price alone!) include the 'Kings of Swing' the talented Ding Dong Daddios performing an infectious blend of Jump Jive and Swing with a hint of early rock and roll. Plus the fantastic Jon Clare and The Fabulous Doughboys – think Jerry Lee Lewis, but there will be no 'Great Balls of Fire' being a motor sport venue! and the ever popular Lady & The Sax duo and marvellous songstress Betsy Harmony – all guaranteed to have you up on the dancefloor.
Last Heat for Classic American Car of the Year 2018 Competition: We are delighted to announce that Prescott will be play host to the last 'heat' of the prestigious Classic American 'Car of the Year' competition 2018. Aficionado Ben Klemenzson will be looking for cars either original or restored and 'stock', without aftermarket wheels or such like. The Prescott heat winner will be guaranteed a place on the Classic American stand at the Classic Motor Show, held at Birmingham's NEC in November, and will also win a bespoke hand-cast brass trophy, a cheque for £100 and a large feature in Classic American magazine. All American vehicles on site will be part of the judging process. The winner will be announced on the Sunday at 3.00pm, with a presentation taking place at 3.30pm near the start line gantry. The winner must be able to attend the NEC in November. Last year the overall winner of the national competition was one of our exhibitors!
Prescott Welcomes Back the miles for Smiles Charity: Prescott will be once again be supporting the 'Miles for Smiles' charity founded by local American car owner Brett Pillinger. Prescott will host special guests from Acorn's Children's Hospice (Local to Prescott) who will be treated to a fun-filled day out. Thanks to the members of the VHRA and Swindon Rod n Custom car clubs the children and their families and carers will be treated to passenger rides. As Brett says 'Prescott will give the miles, and the car owners will bring the smiles'.
Ticket Prices: Advance tickets to the event cost £15 per day or £25 for the weekend. On-the-gate: £20 and £35 respectively.
Admission includes: All entertainment, entry into the Wall of Death, free parking plus children under 14 years old go free!
2 for 1 for all American Car Owners
If you own an American classic car and would like to attend, you'll need to register to obtain a special reference code prior to purchasing your tickets. All American car owners are entitled to a special 2 for 1 on event entry tickets to display their vehicle. Just enter the number of tickets required, and in the promotional box enter code: AMC18 and being an American car owner it will provide you with a discount. It automatically recalculates and adds a vehicle display pass to the basket, which will be sent to you. https://www.prescott-hillclimb.com/events/tickets/autumn-classic-weekend-2018
For more event information, or to book tickets visit: www.prescott-hillclimb.com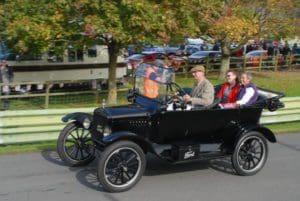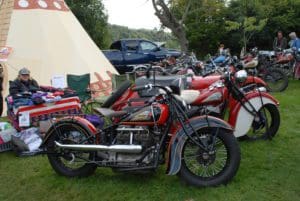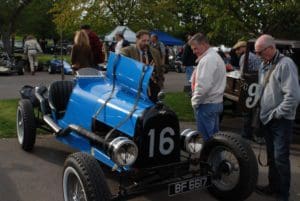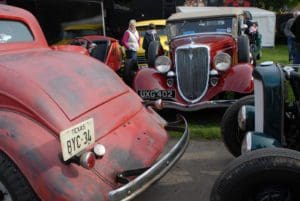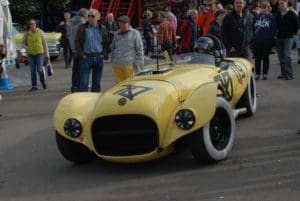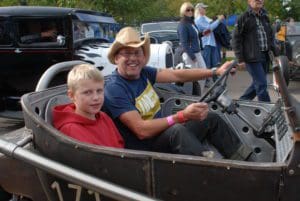 Enjoy more Classic American reading in the monthly magazine. Click here to subscribe.
Sell your Classic American car here.