As we hurtle into the main holiday season, we hope there'll be plenty of opportunities to tuck into a picnic in the park, on the beach, or during a ride out in a classic American motor.
Now in its third year, the P-15 Picnic is already attracting an impressive number of cars, but you'll have to wait until the autumn to enjoy this particular event.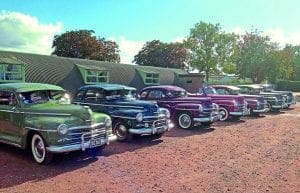 It's an informal meet, specifically aimed at 1946-1948 Plymouth, Dodge, DeSoto and Chrysler cars, but 'guest' classics are very welcome and there's always a great selection of Forties and Fifties iron on show.
The main event will take place at The National Museum of Computing at Bletchley Park, on Sunday, October 1, between 11am and 4pm. Block H at Bletchley, where the first Colossus computer was housed in the Forties, is the perfect venue for these cars, and will make an ideal backdrop for pictures.
A record number of cars are already booked to attend so the line-up will be spectacular. The day will start with a 30-minute cruise to Bletchley from Woodland Manor Hotel, departing at 10.30am. For more information, please call Dean on 07802 355035 or email [email protected]