Bought in the States, shipped to the UK and now boasting some interesting upgrades, this original-looking half-ton Ford provides entertaining, reliable transport. Paul Guinness explains more…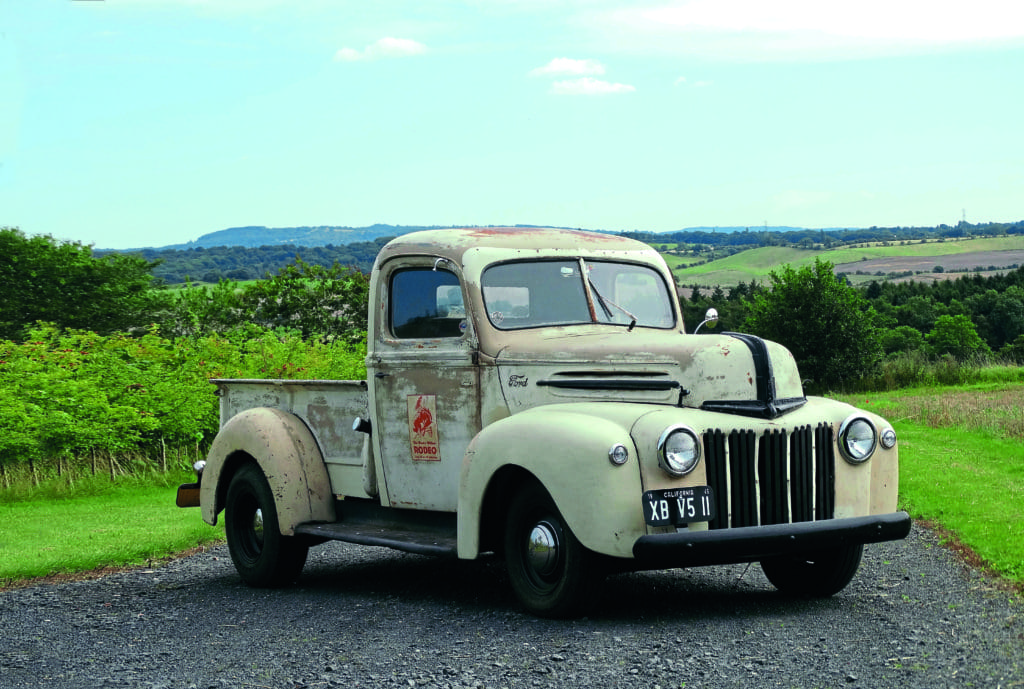 Buying any classic unseen can be a tricky business, although the risks are potentially even greater when the vehicle in question is more than 5000 miles away. Even if the California-based vendor appears to be honest and trustworthy, the logistics of the purchase can be complex. Yet in the case of the half-ton truck you see here, the ending is very much a happy one, with what looks to be an original vehicle now hiding a few juicy secrets beneath its fabulous patina.
The lucky owner of this 1945 Ford is Yorkshire-based John Kellett, a man whose real passion in life is the hot rod scene. He frequently visits the States and, as founder member of the UK-based Originals Hot Rod Club, is a regular attendee at annual events like California's Hot Rod Reunion. While at home in the UK, however, John likes nothing more than browsing for potential bargains on Craigslist; and it was while doing this a couple of years ago that he spied this '45 half-ton truck at what was a very tempting price. "There was just one photograph of the side of the truck, and it looked to be in good, original condition," recalls John. "I answered the ad by text and asked the owner if the other side was as solid. He then sent me a selection of photos – and indeed it was!"
For all things Classic American, like our page on Facebook here!
A price was agreed with the Ford's owner, and John contacted a friend of his in Bakersfield to ask if he could help with collection and storage: "The truck was back at my friend's ranch in the August and stayed there until I was over for the Hot Rod Reunion in the October. That was the first time I'd seen it in the metal – and I was pleased to find it was exactly as described. We then arranged for the truck to be transported to Stanton-based California Shipping, while I spent the rest of my time in the States shopping for parts."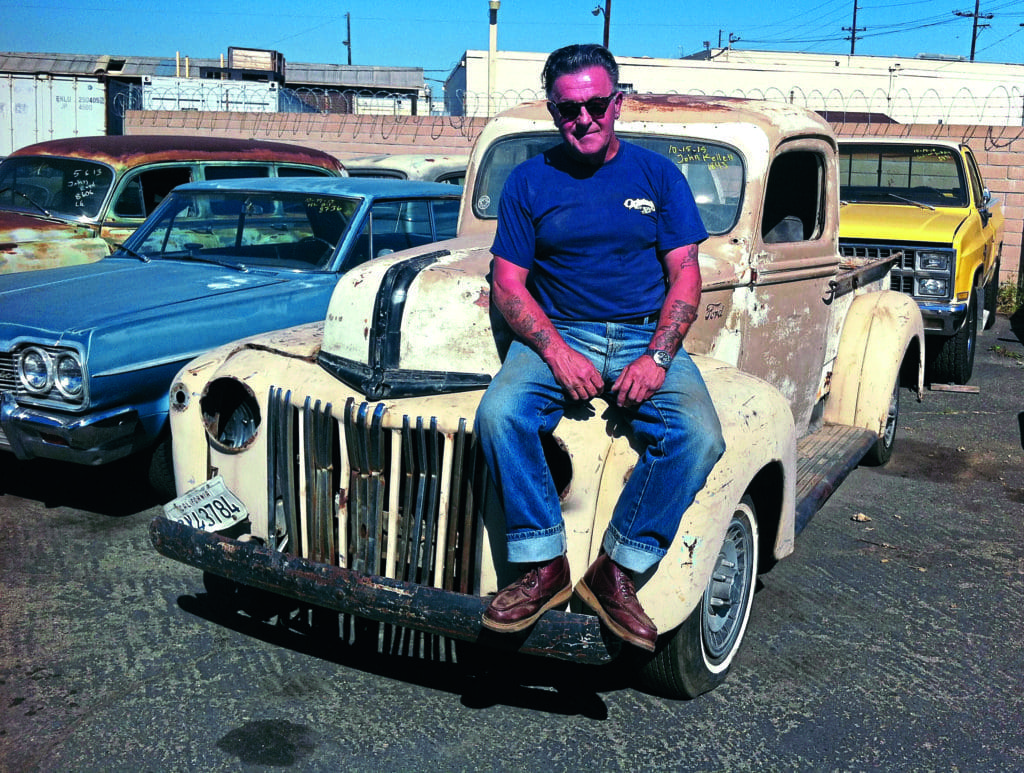 John was keen to retain the original, untouched look of the Ford, but wanted to give it some extra power and drivability: "I spotted a guy's ad on Craigslist who was breaking an El Camino with a low-mileage 350 Chevy in it, and so I – along with a couple of other Originals members who were over there with me – headed to Escondido to collect the engine. With my pick-up by then full of parts for other club members' projects, it was simply a case of arranging the shipping and – once back in the UK – awaiting the Ford's arrival."
COMPLETE STRIP-DOWN
With the help of a few Originals club members, John began completely stripping the truck and was delighted to find it was as solid as he'd hoped. The 70-year-old chassis needed no repairs and was simply cleaned and repainted, while the bodyshell required only very localised welding where small areas of rust had attacked the corners of the cab. John wanted to retain his truck's original paintwork, however: "I've left the outside of the truck as it was when it came over from California, with just small areas of primer where minor repairs have been carried out. The rest of the Ford still has its original 1945 paint – and looks all the better for it in my opinion."
Work on the truck progressed with the help of good friend (and fellow Originals member) Gaz Shaw, who also provided John with garage space throughout the project. The small-block V8 that the two had rescued from the El Camino was installed, with the matching TH350 transmission treated to a Lokar shifter kit. The essential ancillaries were all replaced with new, a list that included a lightweight alloy radiator. And while the front axle was kept stock, the rear was swapped for a nine-inch Ford set-up; the truck now boasts 15-inch wheels all round, with the wider (8×15) rears being from a later F100.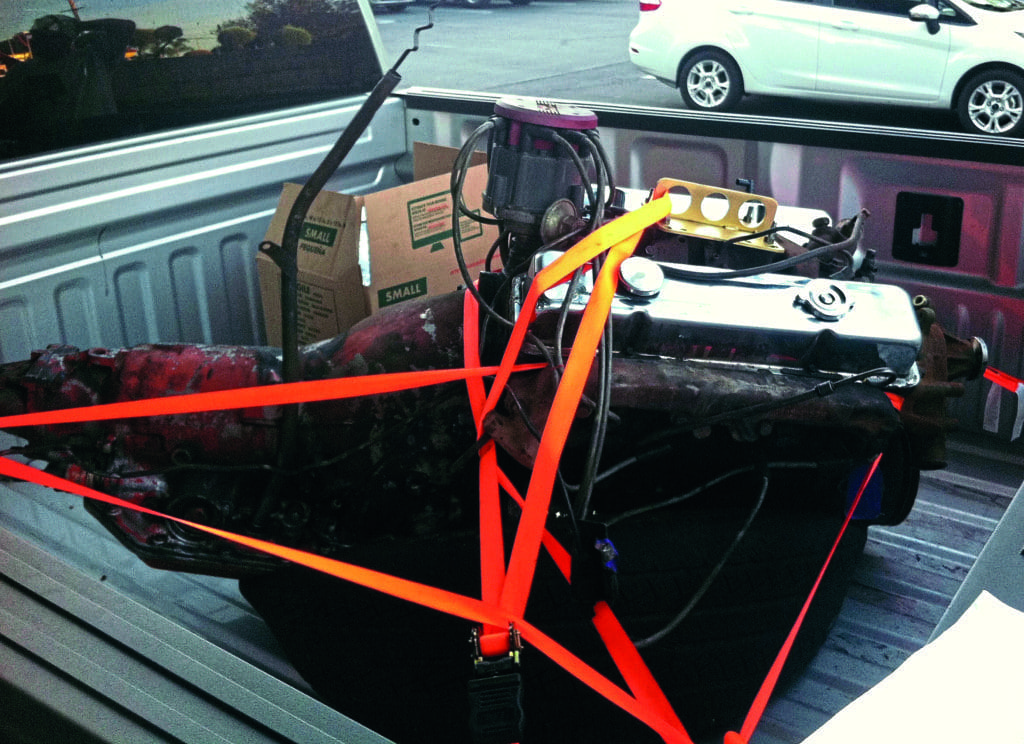 A new prop-shaft was inevitably required, while to ensure reasonable handling and ride quality the truck was also treated to gas shocks and F1-style aluminium shock mounts. A disc brake conversion was carried out, with a new master cylinder and servo fitted at the same time. The steering box was also rebuilt, and a bespoke exhaust was created to order.
With the truck coming together well by late 2016, it was simply a case of carrying out a few finishing touches before registering it in the UK and returning it to the road.
A new front grille was hand-made to replace the missing original, and a steering wheel from a '41 Ford Deluxe sedan was fitted. The original (and rather worn) bench seat, meanwhile, was reupholstered in a shade of brown that complements the cream-coloured paintwork. The headlining was also replaced, now featuring an original-type fold-down Stetson holder that no self-respecting cowboy should be without.
Since hitting the road in the UK for the first time, the Ford has proved to be both reliable and usable, and has taken John around the country attending numerous events: "It drives really well, and sounds just as impressive. It's great on a long journey, and obviously turns heads wherever it goes." Frankly, we're not surprised… ★
For all things Classic American, like our page on Facebook here!
NEW-LOOK PICK-UP
When Ford announced its new-look half-ton truck in 1942, opinion was divided as to whether it was an improvement over its predecessor. With faired-in headlamps, a 'waterfall' grille and a generally flatter-looking front end, the newcomer was certainly distinctive; but it was a superb workhorse, with its sturdy ladder-type chassis (featuring four cross-members for extra strength) ensuring longevity and ruggedness.
Other updates included the replacement of Ford's old-fashioned transverse-leaf suspension with semi-elliptic springs and hydraulic shock absorbers, while the initial engine line-up offered a choice of two different V8s plus a six- and a four-pot. Civilian production ceased in late 1942 as part of Ford's war effort, but resumed in 1945 and continued for a further two years.
To read more, you can purchase a back copy of our February 2018 edition here!
For all things Classic American, like our page on Facebook here!