We're often reading about people who have an ideal car in their mind, and who wait decades until that dream becomes a reality. We meet another beautiful dreamer, Tom Aspinall, and his Detroit-inspired dream from Mother Mopar…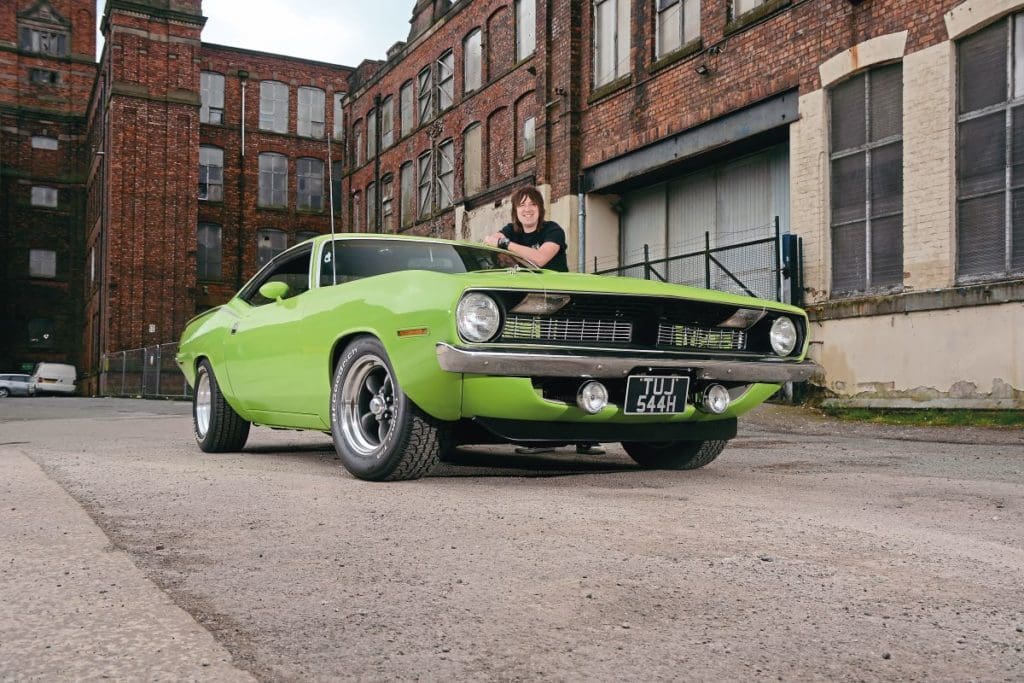 Words and photography: Jon Cass
For as long as he can remember, 30-year-old Tom Aspinall has had a fascination with American cars, especially those from the late Sixties and early Seventies. "Even my Hot Wheels collection was full of Mustangs, Camaros, Chevelles, Roadrunners and Challengers, to name but a few," Tom smiles. "I was totally obsessed by them." Plenty of variety for sure, but there was one American car in particular that always stood out above the rest for Tom and that was the Plymouth Barracuda.
"I've always been drawn to the '70-'74 Chrysler E-body, there's something about its low and wide stance I can't get enough of," Tom explains. "The '70 Barracuda was – and probably still is – the coolest-looking thing I've ever seen." Residing in the North West of the UK, Tom was unlikely to witness '70 Barracudas burbling past his house on a daily basis. He first stumbled across an example in a book about old Detroit iron he received as a Christmas present when he was 10.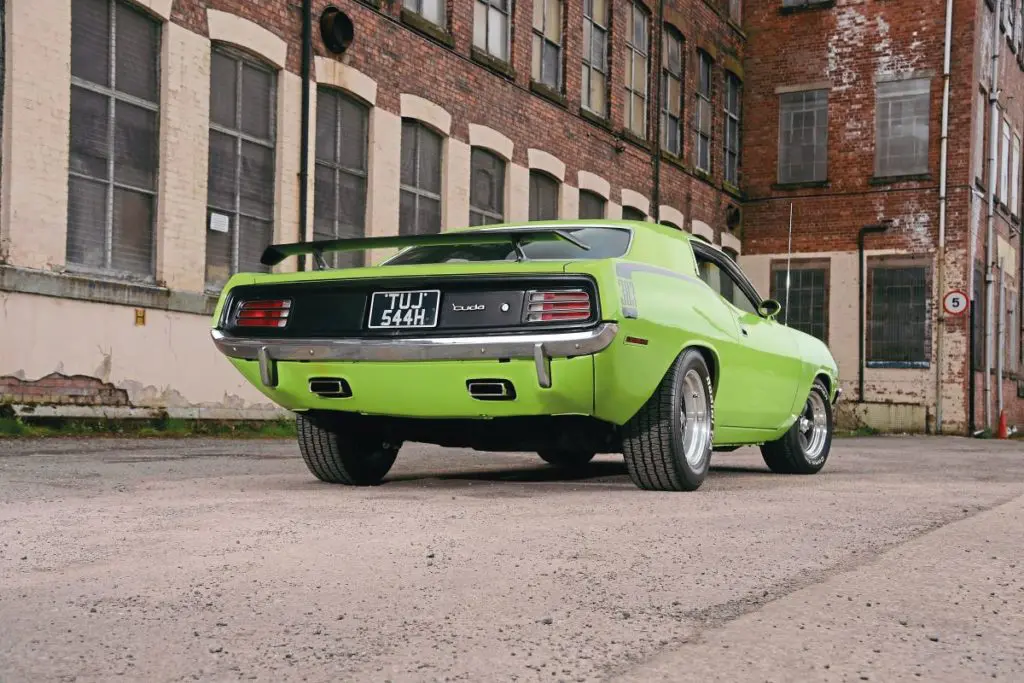 "Although it's similar to the Challenger, which I also love, it's the slightly sharper lines, the shorter wheelbase and single front headlamps of the Barracuda that seem to give it the edge for me… I've wanted one for a long, long time!" Tom laughs.
A natural stepping stone towards muscle car ownership has for many years been to go out and buy a Capri, and that's exactly what Tom did. This wasn't any ordinary Capri, being a 2.8 Injection and it also arrived wearing highly attractive deep blue metallic paint, normally found on Eighties Toyotas. I added a few tasteful mods, including period spoilers, deep-dish 15-inch RS four-spoke wheels and I managed to get the stance bang on," Tom smiles. "I'd enjoyed the whole experience of Capri ownership, but after a few years I was itching to step up to a big-block American V8 muscle car."
While many of us would prefer to avoid remembering the first lockdown in spring 2020, for others the fine weather and time away from work had its plus points. We'd say Tom remembers April 2020 fondly, as that was the month he finally decided to take the plunge and buy himself an E-body Chrysler. "Trawling through the classifieds for muscle cars had been a daily hobby of mine for years, then just after the first lockdown began, I stumbled on an ad for this '70 Limelight green Plymouth Barracuda with a 383 V8," Tom explains. "It was the right year, right colour and right engine – and the ad appeared at just the right time!" The only major dilemma was Tom needed to either sell, or part exchange, his beloved Capri to fund the balance of the Plymouth. "I knew I couldn't realistically keep both cars, but luckily my mum stepped in to buy my Capri," Tom tells us. "She wasn't just buying it to help me out, she genuinely didn't want to see the car go as she'd shared a Capri with my dad when they were young, and it seems they'd grown attached to it."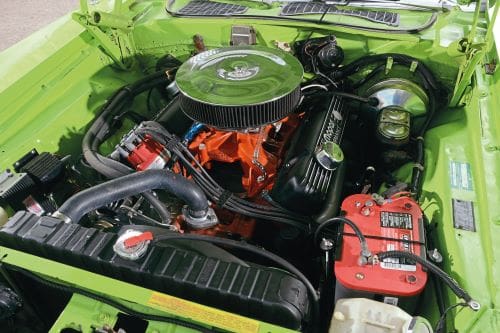 Not wanting to miss this rare opportunity to buy his dream car, Tom wasted no time in approaching the vendor and a deal was quickly done. "The car arrived on the back of a transporter one dreary April morning, but the last thing on my mind was the weather; when I saw the car in the metal for the first time my jaw hit the floor," Tom recalls. "My neighbours all came out to clap – and I don't even work for the NHS!" Aside from the desirable Limelight green paintwork and that 383cu in big-block V8, the '70 Barracuda also came with a Torqueflite 727 transmission, black vinyl interior complete with a front bench armrest and a rim-blow steering wheel, all just prefect in Tom's eyes.
"I spent around half an hour stood in the rain just taking it in," Tom laughs.
"As this would be the first left-hand-drive car I'd ever driven, I spent the next hour just pottering around my estate at 10mph with the exhaust burbling away while I got used to the characterful handling and new blind spots." Tom soon got to grips with manhandling a big V8 Yank around the less than generous sized roads of his home town and by that same evening he was confident enough to give it the beans on a local dual carriageway, and pretend not to notice the admiring glances as he cruised around his local town centre.
As the summer approached, Tom became keen to add a few of his own personal touches to the Plymouth. "It arrived with 17x9in Year One aluminium wheels which are a great tribute to the classic 15-inch Rallye rims, but this wasn't the look I wanted," Tom explains. "I was always blown away by the orange Hemi Dodge Challenger R/T in one of the Fast & Furious films and was keen to replicate that car's wheels and stance." North Hants Tyres (www.northhantstyres.com/tel. 01252 318666/email: [email protected]) came up trumps, able to supply Tom with the correct 15x8in Torq Thrust II rims wrapped in BF Goodrich tyres, complete with the essential white lettering. The rear wheels have a slightly different offset to the front, providing a deeper dish, while the wider 245 tyres on the back compared to the 235s up front give the Plymouth the aggressive stance Tom was aiming for.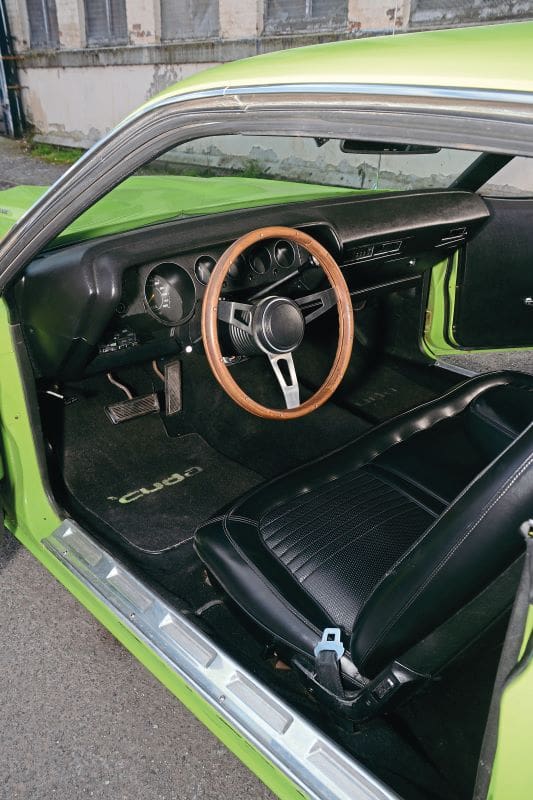 "I then started looking at bonnet pins," Tom recalls, "complete with their wires, they just look right on an E-body Chrysler." In his eagerness to complete the task of fitting pins as quickly as he could, Tom prepared himself to drill the apertures in his immaculate bonnet. "My wife Katie talked me out of drilling the bonnet myself and I took the car to a friend's body shop instead," Tom laughs."In hindsight Katie's advice was probably right."
To complement the bonnet pins, Tom was keen to add a subtle front spoiler which began with a few failed attempts to fit Gen 1 Camaro spoilers. "I got in touch with Spoilers by Randy (www.spoilersbyrandy.com) over in the US, who specialise in fabricating front spoilers for muscle cars," Tom tells us. "I'd heard their products were good and they made me a bespoke aluminium spoiler which fitted perfectly; I'm absolutely made up with it." The only aspect now letting the front end down was that tired-looking Argent silver front grille, which has now been neatly resprayed in Organisol black to match the tail-light panel, a huge improvement.
Reading up on the history of his car, Tom discovered that after being built in December 1969 at Chrysler's Los Angeles plant, it had spent much of its life in Washington state, not an especially dry and warm state. "As far as I'm aware, they salt the roads during the winter there and this had taken its toll on some of the lower body panels," Tom points out. "The lower rear arches had received repairs and the general paintwork had been tidied up upon its arrival in the UK." Only when you begin closely scrutinising the bodywork can you begin to notice any imperfections, and Tom isn't keen on the idea of owning a spotless, concours car anyway: "If I owned an immaculate classic car, I'd find it too stressful to take it out of the garage in case it got damaged," he laughs. "I'd rather own a car you can use and enjoy." Having said that, Tom has already bought the correct replacement rear lower repair panels for when the time comes…
That big-block 383cu in V8 was certainly a major factor when it came to Tom choosing this car, and he was pleased to discover it had received a major overhaul shortly before export to the UK in 2018. The 383 V8 now benefits from a hydraulic roller cam, Doug's long tube headers, a Magnaflow three-inch exhaust, electronic ignition and a Holly Street Demon carb matched to a Holly Street Demon intake. "The previous owner, who is a friend of mine, Bob Malin, drove this car from his home in Scotland to Santa Pod and back to compete on the quarter-mile, "Tom tells us. "The engine ran without a hitch and he managed to achieve 13-second, 100mph quarters on the strip." Tom has also driven the Plymouth to Santa Pod from the North West and again there were no issues. "It managed an average of 12mpg, which I didn't think was too bad for a 51-year-old V8!" Tom laughs. "You don't buy cars like these for fuel economy anyway and I loved every minute of the trip."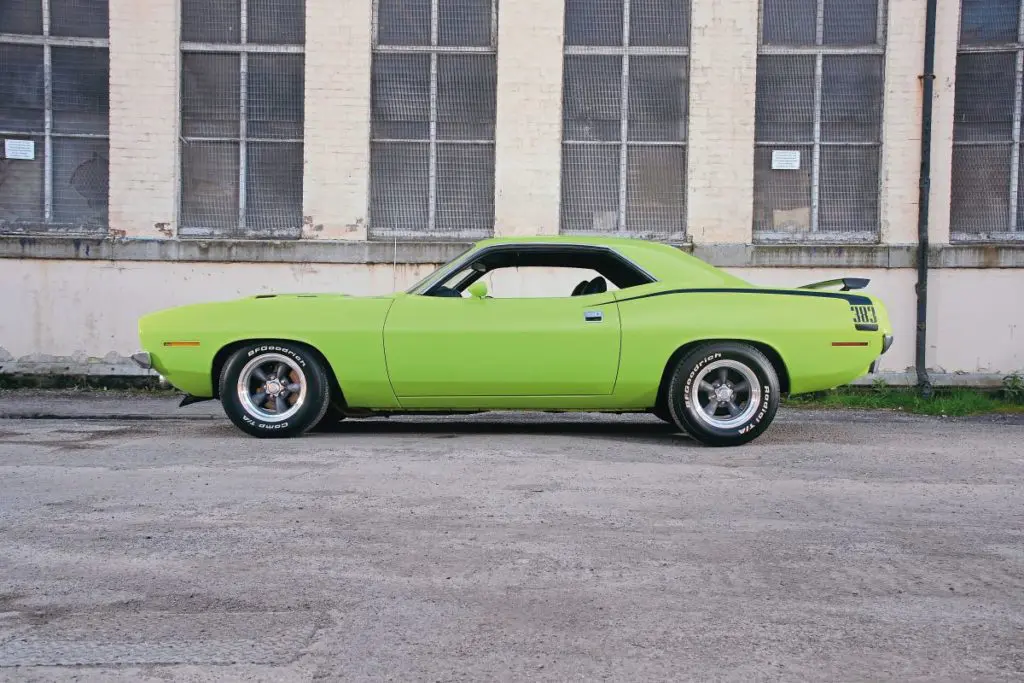 As you'd expect, wherever Tom takes his Barracuda, a big crowd usually ends up surrounding it, but that's all part of the experience. "One thing I have noticed is more young people are beginning to take notice of the American car scene," Tom explains. "In the last few months alone I know of numerous people under 30 who've bought an old American car, and that fills me with confidence that the cars I'm passionate about aren't likely to die out any time soon." He's also noticed a few friends move from the modified Japanese car scene into muscle car ownership; the burble of a V8 seemingly taking priority over turbo chargers, electronic gizmos and four-wheel-drive handling. That all sounds positive then.
After waiting 20 years to get his hands on a '70 Barracuda, Tom's dream has finally come true. "I'm absolutely blown away to have finally got there," he smiles. "Sometimes I just open the garage door to look at it. A car of this era is a thing of sheer beauty and, combined with the colours, noise and power, there's nothing quite like them." His only regret is not finding one sooner!