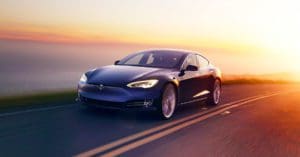 But a third won't & the top 10 reasons why
Over a third (37%) of drivers, who do not already own an electric car, would consider one as their next vehicle (male 42% v female 32%), with younger generations aged under 34 (49%) the most keen.
There was record demand for the alternatively fuelled vehicle segment in May 2018, according to the Society of Motor Manufacturers and Traders (SMMT), with the demand for hybrid and pure electric models at a record 4.4% of new cars sold.
The new Opinium survey* of 2000 UK drivers, commissioned by InsuretheGap.com, a provider of Guaranteed Asset Protection (GAP) insurance for new and second-hand cars, found Londoners (49%) the most willing to consider an electric car for their next vehicle, followed by the South East (41%) and Northern Ireland (41%).  Regions least likely to consider an electric car are the North East (27%), East of England (29%) and East Midlands (33%).
However, almost the same proportion (36%) would not consider an electric car (male 36% v female 37%) and a quarter (26%) are still unsure.
Of those that would not consider an electric car, the main reason is the lack of charging points in their local area (61%) and the worry of completing a long journey in an electric vehicle (60%). The top 10 concerns are:
Not enough charging points in my local area – 61% (male 57% v female 64%)
Worry about completing a long journey – 60% (male 63% v female 57%)
Too expensive – 53% (male 59% v female 46%)
Take too long to charge – 47% (male 48% v female 45%)
Not able to set up a charger in current property – 30% (male 27% v female 33%)
Don't know how I would charge the car – 29% (male 24% v female 34%)
Don't trust the technology – 29% (male 26% v female 31%)
Worry they're not as safe and reliable as petrol cars – 16% (male 10% v female 22%)
Can't imagine myself in an electric car / I would feel a bit odd driving an electric car – 16% (male 13% v female 19%)
Don't run as quickly as a petrol car – 14% (male 15% v female 12%)
Electric cars divide into three types, pure electrics, which run off rechargeable batteries, hybrids, powered by both petrol and batteries that recharge as you drive and plug-in hybrids, which charge up via a lead and drive on electricity or run with petrol or a mix of both. Buyers of Ultra Low Emissions Vehicle are eligible for government grants from £4,500 for fully electric cars to £2,500 for hybrids.
"Electric cars are moving into the mainstream. The combination of generous government grants, improvements in battery ranges and the growing number of charging points is all fuelling demand for electric cars, but it remains to be seen if they can reach the government's new target of 30% market share for electric vehicles by 2030," said Ben Wooltorton, Chief Operating Office at InsuretheGap.com.
"Electric car buyers need to weigh up a number of factors.  Pure electric cars, like the Nissan Leaf, have reduced range compared with a hybrid car, such as a Toyota Prius, but they are cheaper to run as they use no other fuel than electricity.  For those living in remote areas or doing a lot of long distance driving a hybrid might be better, and hybrids are still generally more fuel-efficient than diesel or petrol cars," Wooltorton concluded.
For anyone buying a car, whether electric, hybrid, petrol or diesel, if it is written off or stolen the insurance company will usually only pay the market value of the car, not what was paid for it, so drivers could be facing a potential 'gap' in their finances, particularly if they still have a finance agreement or loan to pay off.
A GAP (Guaranteed Asset Protection) insurance policy from a specialist insurance provider, like InsuretheGap, protects drivers from this and tends to be significantly cheaper than those offered by car dealerships.  InsuretheGap.com sells GAP policies from just £54.55** for vehicles worth up to £150,000.  It covers 'gaps' up to £50,000.
 *Research was conducted online by Opinium research amongst 2,001 adults who drive and have owned a car between 10 – 15 January 2018.