Dragstalgia this year was memorable for many things, but particularly special was the match race of restored slingshots between octogenarian hot-rodder Ken Cooper and 'King' Harold Bull, the owner and builder of the first dragster to make a pass at Santa Pod Raceway wa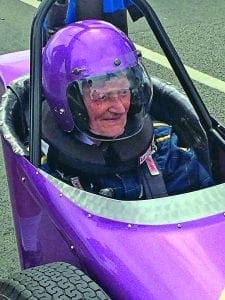 y back in the Sixties.
Harold is 91 but that didn't stop him donning a race suit and climbing into Stripduster, a replica of his original rail dragster that was recently built by his youngest son,Simon. Ken was also in a replica of his original Flathead powered car, but it was the lighter four-cylinder car of Harold that took the win. Once a hot rodder, always a hot rodder!