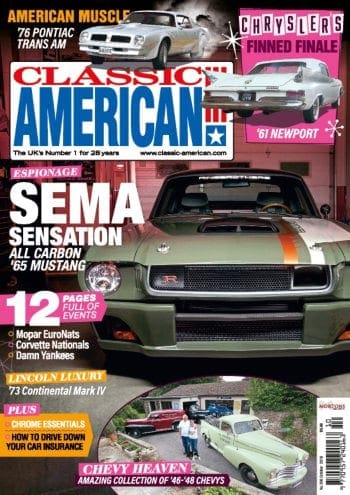 It's time to relive those hot summer days (yes, there were one or two) with a magazine of memories – highlights from this year's Corvette Nationals, Mopar EuroNats and Damn Yankees. If you were there, you might be pictured in the pages of the October issue.
As usual we've got a publication packed with classics for you to enjoy, including a 1976 Pontiac Trans Am, a 1973 Lincoln Mark IV and a 1961 Chrysler Newport.
Pete Kessler treats us to a tour of his amazing workshop that's designed to resemble an authentic 1940s Chevrolet garage, and guess what? He's got four Forties Chevy models there already and another on the way.
The latest American & Modified feature takes a look at Ringbrothers' all-carbon-fibre widebody fastback 1965 Mustang which rejoices in the name of Espionage and is, of course, licensed to thrill.
There's news, views, club events, an unusual Reader's Ride – a cut-down caravan towed behind a 1939 Oldsmobile – and tech information about the best way to cheer up your chrome.
Plus, of course, there are cars a-plenty for sale… ideal to pore over when it's pouring down outside!
So what are you waiting for? Foot on the gas down to your local newsagent to pick up a copy. Or even better, why not subscribe? Classic American will then be delivered to your door and you won't have to get your precious metal dirty!
Article continues below…
Advert