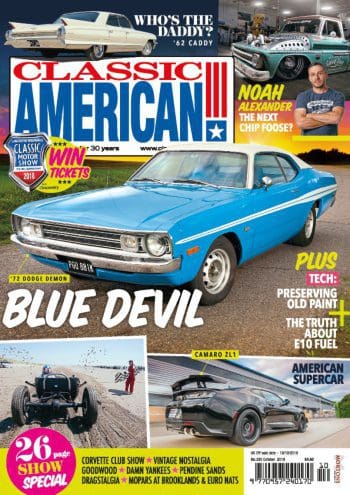 Cast your mind back to the summer… fantastic, wasn't it? With the odd exception, most weekends were full of sun, fun, and events where you could squander the day alongside the smell of candyfloss, the sound of rumbling V8s and the sight of gleaming chrome and polished metal parked on parched grassland.
Now the nights are drawing in rapidly, and many of the cars that took centre stage at so many summer shows and cruises are being carefully withdrawn to their winter quarters.
But here at Classic American, we're not willing to let the summer go just yet! In the October issue, out now, we're reliving those heady days of 20-hot-een with an events special that will banish those autumnal chills.
Our red-hot line-up features reports and photos from Chryslers at Brooklands, Classic Corvette Club UK Nationals, Damn Yankees, Goodwood Festival of Speed Silver Jubilee, Dragstalgia, Vintage Nostalgia Festival, Mopar EuroNats, the Hot Rod Picnic and Pendine hot rod races.
We've also got some excellent cars that leap out of our feature pages. Top of the tree is a 1972 Dodge Demon in a stunning shade of blue. Prize for the oldest model featured this month goes to Pete Walker's 1939 Ford pick-up, named Black Betty (and yes, people do sing the 1977 song by Ram Jam to him as he drives past!). Bam-a-lam…
Article continues below…
Advert
American horse power takes on a totally different meaning, as you'll see in our evocative feature on a 1966 Ford Bronco Roadster. It includes an incredible image of the vehicle leading a herd of wild horses, and you can find out how to buy a limited edition print, signed by the photographer Shane Russeck, with $100 from the sale of each going to raise money for the American Wild Horse Campaign, to protect wild mustangs on US public land.
Find out how to protect and preserve older paint in the latest tech feature… might be a good project for the winter? If you fancy less work, more dreaming, check out our readers' adverts… there's everything from a DeSoto Firedome Seville to a 1926 Hupmobile saloon, and many other pages of cars, parts and accessories for sale.
There's also chance to win one of 10 pairs of general admission tickets to the Classic Motor Show at Birmingham's NEC in November. Find out how in the October issue of Classic American!
Article continues below…
Advert